Oatmeal Stout
| Blackstone Restaurant & Brewery
BA SCORE
84
good
13
Reviews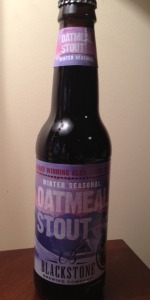 BEER INFO
Brewed by:
Blackstone Restaurant & Brewery
Tennessee
,
United States
blackstonebrewery.com
Style:
Oatmeal Stout
Alcohol by volume (ABV):
6.30%
Availability:
Winter
Notes / Commercial Description:
No notes at this time.
Added by BeerAdvocate on 03-01-2005
Reviews: 13 | Ratings: 61
4.1
/5
rDev
+12%
look: 4 | smell: 4 | taste: 4 | feel: 4 | overall: 4.5
Growler received in trade from unclejedi as part of the Double Trouble GIF. Looks great in a nonic, very dark chocolatey black with the thinnest of burgundy highlighting around the bottom of the glass and a frothy toasted-ecru head. Enticing roasted grain aromas -- the first oatmeal stout I've actually smelled oatmeal in! -- with a creamy chocolate and coffee in the background. The taste is a bit on the sweet side, with soft cocoa notes predominating. Somewhat of a husky grain flavor appears in the middle, alongside some earthy roasted coffee, finishing out in a surprising smokiness. Very intriguing! Silky mouthfeel, as with all oatmeal stouts, with the dry roasty character winning out over any oatmeal-chocolate sweetness. A soundly solid session stout, and one I'd be happy to have around regularly. Thanks for the opportunity, Jim!
843 characters
4.08
/5
rDev
+11.5%
look: 4.5 | smell: 4 | taste: 4 | feel: 4.5 | overall: 4
Poured from a growler to a pint glass.
Pours almost black, very appealing to the eye. Head poured to about 1 finger of a nice, dark khaki. Rapidly dissipates to a thin coating. Lacing is very fine, and notches as you drink.
Smell is a gentle roasted coffee with a hint of sharp hops.
As for taste, it is not as strong as I expected. It is a very well balanced flavor, starting with a nice sweet malt, a neutral middle, and a finish of vanilla and a hint of bitter hops.
The brew flows well over the tongue, very creamy and light. It lingers for a few moments and quietly fades out. Not drying in the least.
Overall, I was quite pleased with this local brew. It has definitely earned a spot as my session stout. An easy drinking stout with good, even taste that was quite good to drink. I am quite excited to pair it with some different food to see how it melds.
866 characters

4.03
/5
rDev
+10.1%
look: 4.5 | smell: 4 | taste: 4 | feel: 4 | overall: 4
Tasted On: 11-30-2012
Freshness: Best by 03-2013
Packaging: 12 oz. brown bottle, pry-cap
Glassware: Blackstone shaker pint
Purchased: Received at the brew pub
Labeled as their Winter Seasonal, for the first time in bottles for 2012
Appearance: Black beer, with only a little light able to shine through, leaving ruby highlights. A big luxurious tan head sticks around for a long time and leaves a very good lace on the glass.
Smell: Coffee, chocolate, and dark roasted malts. Very prominent coffee notes
Taste: Dark chocolate and coffee, starts off semi-sweet and rich, then follows up with a bitterness of coffee and earthy hops.
Mouthfeel: Smooth and creamy from the oats, lightly carbonated and full-bodied. Well balanced finish between the malt sweetness and bitterness of the roast.
Overall: A solid stout from Blackstone! I still like their chocolate milk stout (draft-only) better, but this is a good winter brew.
926 characters
4.01
/5
rDev
+9.6%
look: 4.5 | smell: 3.5 | taste: 4 | feel: 4 | overall: 4.5
I received a great package of Blackstone goods in a trade with unclejedi and must thank him for allowing me to try this.
The beer poured from my growler to my Blackstone pint glass a very dark brown/black with a large tan head that left spots of lace around the glass. Smell was a light fragrance of roasted malt. Taste was rich, creamy, with more roasted and caramel malts. Feel is somewhat chewy and med. bodied. This is a very drinkable and well crafted brew, I could easily polish off the whole growler in a session and be very satisfied.
547 characters

3.95
/5
rDev
+7.9%
look: 4 | smell: 4 | taste: 4 | feel: 3.5 | overall: 4
We went to the brewpub for my daughter's birthday so I started with the Oatmeal stout.
A-Opaque black with an ample inch and a half head which laced down the pint glass.
S-Roasty malt-accented aroma with hints of chocolate.
T-Malt-dominated flavor but was reasonably balanced with some hops. Soft chocolate flavors were very mild and pleasant.
M-Up front flavor was full bodied and rich but it had a bit of a weak finish.
D- I could have had several pints of this delicious stout!
This stout is well made and very true to style, mild & malty.
560 characters

3.89
/5
rDev
+6.3%
look: 4 | smell: 3.75 | taste: 3.75 | feel: 4.5 | overall: 4
Pours black with a slight mocha head. Aroma is nice and roasty bringing out the hits of coffee and chocolate I hope to find in an oatmeal stout along with some slight sweetness from the sugars of the oats, and a touch of caramel. Flavor is roasty with some nice dark chocolate and coffee tones, caramel and oats, and a mild hit of hops in the finish. A creamy, medium bodied mouthfeel. Overall, this is a nicely done oatmeal stout, IMO. Would happily drink again. Wish I bought more than just a single of this one.
My rating: 3.95
531 characters

3.78
/5
rDev
+3.3%
look: 3.75 | smell: 3.75 | taste: 3.75 | feel: 4 | overall: 3.75
Poured from 12 oz bottle into snifter.
A: Pours dark black with one finger mocha head that leaves some nice lacing.
S: Roasted malts and coffee mixed with light chocolate and vanilla.
T: Again, roasted malts, lactose, chocolate.
M: Full bodied and a bit chewy. Almost like a bowl of oatmeal. Finish is a little sweet and slightly bitter.
O: Nice basic oatmeal stout. Not crazy outstanding, but I could make this a regular buy.
440 characters

3.53
/5
rDev
-3.6%
look: 4 | smell: 3.5 | taste: 3.5 | feel: 3.5 | overall: 3.5
Had this one on tap at the Beer Sellar, after being offered a sample. Good looking beer, black in color with a thick, brown head. Good stability and thinck lacing. Smell had some roasted malt and a bit of chocolate. Very malty sweet taste, but I found myself wanting more flavor. Also found it a bit thin, not a full body like I was expecting. A good oatmeal stout, but I think I have had better. Still gets good marks, but I will always score a small local brewery a bit higher (just my opinion).
497 characters
3.49
/5
rDev
-4.6%
look: 4.25 | smell: 3.25 | taste: 3.75 | feel: 3 | overall: 3.25
This is one of my favorite styles, but I think the version that I brew is better than this.
Just a little too bitter, almost tart really. I wish it were a bit smoother.
170 characters
3.45
/5
rDev
-5.7%
look: 3.5 | smell: 3.5 | taste: 3.5 | feel: 3 | overall: 3.5
Had this one on tap at Blackstone ... presented as a semi-opaque black color with a thick, persistent head and good lacing. Nose is of roasted malt grains and a touch of cocoa. Predominantly sweet. As expected, very malty in tatse with some residual hoppiness making this one rather dry in it's finish. Lingering nutty character. A little thinner than I would have liked, but a good meduim-body none the less. Just a bit thin overall. A decent oatmeal stout to be sure. Not the best and not the worst ... not the best beer on tap at the Blackstone either, but worth a pint for sure.
582 characters
3.43
/5
rDev
-6.3%
look: 3.5 | smell: 3 | taste: 3.5 | feel: 4 | overall: 3.5
Near black pour with just a hint of brown around the edges. Just shy of one finger khaki head. Very light retention. Very thin lace.
Nose is mainly milk chocolate. Light roast coffee and just a hint of hop presence.
Smooth milk chocolate hits first, followed by a sweet finish with a hint of tobacco. Light coffee and mild hops add to the dry end.
Pretty easy to drink. No risks here, just a decent glass of stout. Nice creamy body, without feeling heavy.
You could do worse than this if you want a dark beer in Nashville.
529 characters
3.17
/5
rDev
-13.4%
look: 2.75 | smell: 3.25 | taste: 3 | feel: 3.75 | overall: 3.25
Pours a very dark brown, basically black, not head except for some creamy bubbles around the rim.
Smells of light vanilla, cream, milk chocolate, something like lactose maybe?, fairly light aroma but nice.
Some tobacco flavor, milk and vanilla again, a touch of chocolate, light roast or coffee.
Pretty soft creamy mouthfeel, good carb, very drinkable stout.
6.4/10
369 characters

2.64
/5
rDev
-27.9%
look: 3 | smell: 2.75 | taste: 2.75 | feel: 2 | overall: 2.5
Terrible stout..
Its black and mildly drinkable but its not a stout..
Red/ Amber color no head.
Smell is a hint of malts but not much going on..
Taste is pretty bad, some roasted bitterness followed by a watery flavor that makes you want to gag.
Feel is thin as water.. So far from what a stout should be.
Overall I'm always glad i tried something new but I will never but this again, for sure..
401 characters
Oatmeal Stout from Blackstone Restaurant & Brewery
3.66
out of
5
based on
61
ratings.