Oktoberfest Lager
| Ellicottville Brewing Co.
BA SCORE
82
good
15
Reviews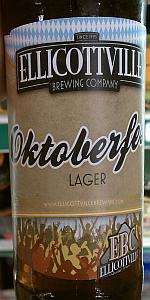 BEER INFO
Brewed by:
Ellicottville Brewing Co.
New York
,
United States
ellicottvillebrewing.com
Style:
Märzen / Oktoberfest
Alcohol by volume (ABV):
5.00%
Availability:
Fall
Notes / Commercial Description:
No notes at this time.
Added by orfeu on 09-11-2007
Reviews: 15 | Ratings: 32

3.26
/5
rDev
-7.4%
look: 4 | smell: 3 | taste: 3 | feel: 4 | overall: 3.5
Poured from the growler a brilliant clear copper into a .5 liter stein a thin lacey head atop,a strange sourness in the nose wich shouldnt be in a fest/marzen style beer Iam not sure where that comes from a bit of toasty malt shows up as well.A big green apple element shows up flavor wise wich is odd a toasty malt base shows up as well as a bit of leafy hop,slightly sweet but the green apple flavor really hits hard.There was some CO2 problems with the keg at the Orchard Park Consumers so that maybe the reason for the odd flavors,Andrew really liked this beer and I totally respect his judgment I might have to go to the brewpub to get the real taste of this beer.
669 characters
3.01
/5
rDev
-14.5%
look: 3.5 | smell: 2.5 | taste: 3 | feel: 4 | overall: 3
Pours copper with loose, thin head that quickly fades. The nose is nonexistent; maybe a little soapyness that fades with the head. The taste is very faint caramel and light malt and an even more subtle hop bitterness in the finish. The mouthfeel is light and smooth, and it has very light carbonation.
The flavor profile is weak and disappointing, and the nose gave off flavors if any at all. This was disappointing to say the least.
434 characters

3.3
/5
rDev
-6.3%
look: 3.5 | smell: 3.5 | taste: 3 | feel: 3.5 | overall: 3.5
Poured from bottle to a pint glass
Appearance - a golden/slightly copper color. Upon pouring formed head which dissipated quickly
Smell -A bit of caramel sweetness but nothing too strong.
Taste - A little bit of caramel malt flavor.
Mouthfeel - Pretty much on par with what would be expected with ~ 5 % brew. Appropirate of the beer style
Overall - A fine beer, but nothing exceptional. About average for an octoberfest beer.
430 characters
3.38
/5
rDev
-4%
look: 3.5 | smell: 3 | taste: 3.5 | feel: 3.5 | overall: 3.5
This Oktoberfest is on the lighter side for the style but still a dark gold nearing amber. There's lots of clarity to it and slow but consistent activity. The white head rises to a finger and fades to a wispy film after a bit. A thin ring and some spotting remains as it drops.
The smell is mostly sweet, breads with some green apple, but it's also well-hopped as Marzens go, offering a mostly leafy and floral note. The mix isn't too great on the nose, though, as it goes a touch on the sour side. With more strength, it could be above average, but it's light.
More comes out of the flavor, and the herbal and tea-like element mingles a little better on the tongue. Some caramel from the malts holds it down in this hop-forward version of the style.
The feel is almost too crisp at first but is tamed down, and the above-moderate carbonation does as well, leaving a decently smooth feel in the end.
899 characters
3.4
/5
rDev
-3.4%
look: 3.5 | smell: 3.5 | taste: 3 | feel: 3.5 | overall: 4
Copper coloured body with a tight white head. Sweet bready aroma with a touch of grassy hops. The flavours has lots of bready malts and a touch of brown sugar, but the hops seem to divorced from procedings, and I think this beer would be a lot better if they were more to the fore. For an oktoberfest its probably about par for the course (and I've rated it as such), but for me this is a bit of a miss. Mouthfeel is medium-light with moderate carbonation. Drinkable enough, but not really my thing.
499 characters

3.83
/5
rDev
+8.8%
look: 4 | smell: 3.5 | taste: 4 | feel: 3.5 | overall: 4
A: Poured from the bottle into a pilsner glass. Body is dark golden/light amber with a small white head. Some splotches of lace after each sip.
S: Not terribly strong in the nose. Modestly sweet with a hint of nuttiness.
T: Sweet, but not in an overwhelming way. Some toffee or caramel malt. Very tea-like in character, with some leafy hop bitterness providing balance. Finishes with a light lemony or minerally bitterness lingering in the aftertaste.
M: Light in heft, carbonation is a little light.
O: Solid offering. I paid $1.50 for a single bottle at Price Chopper and not disappointed at all. An easy drinker that's balanced between hops and malt billing, leaning a touch on the hops side showing the American preference/influence on the style.
754 characters

3.65
/5
rDev
+3.7%
look: 3.5 | smell: 3.5 | taste: 3.5 | feel: 4 | overall: 4
EBC Oktoberfest has a clear, copper-colored body and a small, off-white head. The head is made up of tightly packed bubbles, and leaves a few scraps of lacing behind.
A little bit of bready malt in the aroma, with some earthy hops as well.
I've only had a couple of other EBC beers, and I didn't like them. This Oktoberfest, however, is a pretty solid beer. It is definitely toward the hoppy side of the spectrum. First comes a good dose of earthy, floral hops that bring a moderate bitterness. Next, a light fruit element from the yeast. The malt finally comes through, with a clean, bread flavor and a bit of sweetness. As I said, skewed toward the hoppy side; it's nice that this one isn't loaded down with caramel malts also.
Medium-bodied with smooth carbonation.
I love Oktoberfest beers, and this was one that I enjoyed. EBC Fest is worth a shot if like hoppy versions of the style.
893 characters
3.6
/5
rDev
+2.3%
look: 3.5 | smell: 3.5 | taste: 3.5 | feel: 3.5 | overall: 4
This has a nice very caramel-sweet taste to it. It's smooth as hell. It doesn't taste at all like what you'd expect from an Oktoberfest, I would say that it's something closer to a Pale Ale that is extremely sweet.
This has a pale brown color to it, a very slight haze but basically clear. A decent, bubbly white head with some lacing. Very aromatic hoppy scent.
363 characters

4.36
/5
rDev
+23.9%
look: 3 | smell: 4.5 | taste: 4.5 | feel: 4 | overall: 4.5
Presentation: It was poured from a half-gallon growler into a dimpled mug.
Appearance: It had a nice, deep amber colored body with good clarity. The head was creamy white in color and thin. It faded fast leaving just a ring of bubbles on top of the body.
Smell: The aroma had earthy and herbal hops with a hint of sweet malt and a touch of lemon oil.
Taste/Mouth feel: Its flavor had a good mix of sweet, caramel and bready malts with leafy/herbal hops and a hint of sweet lemon. Its mild hop bitterness fades off the tongue in the finish. The texture is smooth and mellow with soft carbonation. It is very drinkable and medium bodied.
Notes: I love a good Oktoberfest and this one fits the bill nicely.
707 characters

3.75
/5
rDev
+6.5%
look: 3.75 | smell: 3.75 | taste: 3.75 | feel: 3.75 | overall: 3.75
Pours with bright clarity, perfect amber with light lager bubbles making their way to the top. Retention was poor, but poured a finger of off white foam. Left a thin ring and some patchy spots of lace. Nose was toasty, crusty bread and lager yeast. A very light malt sweetness on the nose. Taste is bold with bread and lager yeast twang. Has a gentle sweetness and finishes with a touch of bitter. It has a mineral quality to the taste and the mouthfeel is light and a bit thin. Had a citrus taste in the finish. My criticisms would be that the malt wasn't silky enough and could have used a touch more sweet presence in the drink. The hops were a bit too bitter for my taste and the yeast was powerful and a bit sour.
This is my first beer from Ellicottville and they did a great beer to style.
797 characters
2.94
/5
rDev
-16.5%
look: 4 | smell: 2.5 | taste: 3 | feel: 3 | overall: 3
Pours a nice copper gold with a thin white head.Not much retention, and just a bit of laceing.Aroma is of bready malts,but was on the weak side. This beer has a lighter body than many of this style, with a good amount of carbonation. Taste was pretty one dementional. Bready, and malty. I was expecting more from this brewery. Average at best.
343 characters

4.42
/5
rDev
+25.6%
look: 3.5 | smell: 4 | taste: 5 | feel: 4.5 | overall: 4
Pours a pale orange with an off-white head, little retention.
Smells of yeast, malty bread, caramel, toast.
Full on malt up front in the mouth followed by some caramel and roasted nut flavors, finishing with slight herbal bitterness. A very tasty Marzen, one of the best I've had.
284 characters
4.3
/5
rDev
+22.2%
look: 4 | smell: 4 | taste: 4.5 | feel: 4 | overall: 4.5
Growler filled at Consumer's Beverage on Sheridan Drive. Pale side of crystalline amber. Dusky ecru foam is surprisingly sticky and fat for a malty lager of this type. Reluctant carbonation streaks upward, barely stustaining the head. Soft bready aromas comingle with garden variety but spicy herbal notes. Initial hallertauer zest mellows out accordingly into a toasted dark bread flavor. Lager-smooth texture with soft carbonation. A bit of lemon-pepper herbal hop spiciness emerges later on, but the sturdy bread-crust malt balance in this one is no less than artful. Finishes somewhat aromatically with a lingering citric sweetness. Triumphantly hopped while remaining malt forward. A confident and marvelous example of a sessionable Märzen. And ridiculously fresh, to boot.
779 characters
3.83
/5
rDev
+8.8%
look: 3 | smell: 2.5 | taste: 4.5 | feel: 4.5 | overall: 4
Appearance - Pours an orangish-amber color with almost no head at all. Has a thin lacing.
Smell - Pretty feint but I detect some caramel and maybe some grains.
Taste - Very sweet with a strong caramel flavor and pale malts. Malty, bready, and leaves somewhat of a floral taste in your mouth.
Mouthfeel - Has a semi-thick body with mild carbonation.
Overall - This seems like a mixture between a pale ale and an octoberfest beer lol.. But I like it.
452 characters
2.23
/5
rDev
-36.6%
look: 3.5 | smell: 3 | taste: 1.5 | feel: 3 | overall: 2
I bought this growler and thought that I would give it a try. I really like the nice copper color. The foam on the head dissipated quickly. This had an earthy aroma and pronounced hops, that I thought gave it sort of a musty flavor and smell, sort of like my grandfather's cellar. Not what I was expecting an Octoberfest to be. The taste was a bit on the pungent side and not very smooth. The harshness of this one to sort of caught in my throat as I was drinking it. Maybe it is a bit too overbearing for my taste.
515 characters
Oktoberfest Lager from Ellicottville Brewing Co.
3.52
out of
5
based on
32
ratings.