Worker's Pale Ale
| Walkabout Brewery
BA SCORE
79
okay
12
Reviews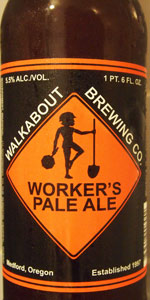 BEER INFO
Brewed by:
Walkabout Brewery
Oregon
,
United States
Style:
American Pale Ale (APA)
Alcohol by volume (ABV):
5.50%
Availability:
Year-round
Notes / Commercial Description:
No notes at this time.
Added by RedDiamond on 12-19-2004
Reviews: 12 | Ratings: 20

3.68
/5
rDev
+12.5%
look: 3.75 | smell: 3.75 | taste: 3.5 | feel: 4 | overall: 3.75
So here goes my 100th review, something new to me.
Pours a bright and hazy yellow, amber, with a small head that falls to bubbles.
Smell is citrus hops, pine, and apricot.
Taste is a mediocre balance of grainy malts and floral hops, with a slight tinge of bitterness that lingers. Kinda bland but I do not detect the off flavors that others have commented, its rather clean I think.
Feel is average, fits the bill so to speak.
Overall this is a decent pale and you won't be dissapointed with this, just won't be blown away either.
535 characters

3.68
/5
rDev
+12.5%
look: 3.5 | smell: 3.5 | taste: 3.75 | feel: 3.75 | overall: 3.75
22 oz bottle bought from Fred Meyer store in S.Salem. $4.17 Pours a slightly hazy golden with a good sized frothy/bubbly white head. Nice enough aroma, of caramel maltiness and a good floral/slighly spicy hops. Very well balanced taste the hops and malts ,meld beautifully with the hops only coming out at the end. Good mouth-feel! smooth,well carbonated and with a really nice hop after taste that invites more drinking. Overall a very nice APA.
446 characters

3.01
/5
rDev
-8%
look: 3.5 | smell: 3 | taste: 2.75 | feel: 3.75 | overall: 3
These must be some grim workers indeed. Pours a hazy dark amber in the narrow Crooked Line tulip. Excellent head that shows no signs of fatigue is the best feature. Fain vegetable and grain smell.
Big frothy mouthful is also pleasant. Taste is mostly broccoli slaw with hops. Bitter and dishwatery. An unfortunate note of the recycle bin (plastic and cardboard) keeps popping up. This seems so well made otherwise, except for the off flavor, I hope Walkabout is in it for the long hike. From the 22 oz bottle bought somewhere in Oregon.
538 characters

2.89
/5
rDev
-11.6%
look: 3 | smell: 2.75 | taste: 2.75 | feel: 3.5 | overall: 3
22oz, shared : tulip
from notes.
Pours copper with a thin, white head.
Light citric profile blends with a pale malt backbone. Decent flavors, but seem fairly subdued.
Medium body with prickly, active carbonation.
As mentioned above, the flavor profile was tasty but a overall, subdued/bland for my liking, which is why I went with the average scores.
354 characters
2.71
/5
rDev
-17.1%
look: 3.5 | smell: 2.5 | taste: 2.5 | feel: 3 | overall: 3
Yet another from the land of hated 22oz bottles. Poured into 16oz nonic. Poured an attractive yellow-orange color, that had a slight haze, with about 3/4 inch of just off-white head that had very good retention and light lacing.
The aroma had a light citrus hop scent, with some very light malts in the background, nicely balanced but kinda bland. The taste was pretty much the same, no real malt base, just a bit of lightly citrusy hops, and sadly, a somewhat funky off taste that I think was from the yeast.
The body was crisp and full, fairly typical for the style. Drinkability was OK, average for the style, and would have been good except for the odd yeasty funk. Overall, a mostly average version of the style. Probably worth a shot if you see it, not worth seeking out.
779 characters

3.5
/5
rDev
+7%
look: 3.5 | smell: 3.5 | taste: 3.5 | feel: 3.5 | overall: 3.5
My parents picked this up for me on their way back from Washington.
Appearance- golden color, thin head that recedes quickly
Smell- floral hops, malt
Taste- floral hops, sweet malt, pretty balanced, didn't seem too bitter to me
Mouthfeel- medium bodied
Drinkability- I thought it was pretty good. I would like to get more. Next time I go to Oregon I will.
361 characters
3.16
/5
rDev
-3.4%
look: 4 | smell: 3 | taste: 3 | feel: 4 | overall: 3
Pours clear amber with one finger of white head. The head recedes quickly and there are average lacings. Aroma is mild floral hops. Taste is immediate bitterness with too little malt for the style. Tastes like a very average IPA to me. Nice body with maybe a bit too much carbonation. Astringent bitter finish. My favorite style of beer is the American Pale Ale. I suggest the brewmaster buy a few cases of Caldera Pale Ale (just down Interstate 5 in Ashland) and see how tasty an APA can be.
492 characters
4.25
/5
rDev
+30%
look: 4 | smell: 4 | taste: 4.5 | feel: 3.5 | overall: 4.5
On tap at the Siskiyou BrewPub in Ashland, OR. This has been one of my favorite beers for many years, and finally the brewer seems to have mastered a bit of consistency in quality and delivery.
I'm not well-versed on beer-snob-speak, so I won't even try. Just that I'll suggest everyone seek it out and try it.
311 characters
3.33
/5
rDev
+1.8%
look: 3.5 | smell: 3 | taste: 3.5 | feel: 3 | overall: 3.5
Tasted on 10/20/08 on at Kaleidoscope Pizzeria & Pub
Appearance: Clear, deep gold with white foam
Smell: Floral hops, malt, little or no yeast aromas
Taste: Medium hop flavor & bitterness with good malt backbone. Finish a bit rough, yeast maybe? A nicer finish would really round this beer out.
Mouthfeel: Medium bodied, with medium carbonation.
Drinkability: Overall a very nice pale with high drinkability. One of the better beers I've had from the Medford area.
469 characters
4.25
/5
rDev
+30%
look: 4 | smell: 4 | taste: 4.5 | feel: 3.5 | overall: 4.5
I heard of this from a friend that is a very keen on his beer and loves Pale Ale. He told me this is one of the best he ever had so I had to try it myself. Lucky for me I found it at a bar right by my house. All I can say is he was right, this is a killer Pale Ale...
A: Pours a golden orange, with about an inch white fluffy head. Leaves a very thin lacing on the glass. Absolutly no visable carbonation
S: Strong hop presence balanced with sweet malt.
T: Very bitter in the beggining, then the sweet malt kicks in. The bitterness never goes away. It stays where it is and sticks with you until the finish leaving a very bitter aftertaste like grapefruit that lingers on for awhile. Very balanced as the malt is very strong as well. Hopheads will love this.
M: Even though there was no visable carbonation visable in the pour, there is a perfect amount noticable when you drink it. Medium bodied and oh so smooth.
D: This is a killer Pale Ale and I can't see it getting much better then this. All flavors are very distinct and in your face. A beer I would drink all the time if only it were bottled.
1,115 characters
3.6
/5
rDev
+10.1%
look: 3.5 | smell: 3.5 | taste: 3.5 | feel: 3.5 | overall: 4
I sampled this In a bar in Eugene, Oregon. I believe it was Sam Bond's Garage. Appearance- copper-gold beer was capped by a decent half inch or so head with good lace was good. It had the expected citrusy (grapefruity, orange-peel) aroma. The overall taste was hoppy and well-balanced with traces of caramel and a hint of coffee. The finish was dry and slightly astringent. Although not an exceptional beer it was much appreciated after a long flight from Boston as it really hit the spot with a salad and a slice or more of garlic pizza.
538 characters
1.77
/5
rDev
-45.9%
look: 3.5 | smell: 1.5 | taste: 1.5 | feel: 3 | overall: 1.5
Walkabout presents a problem for me in reviewing their beers. Three problems actually. They don't operate a pub, they don't bottle their beers, and they brew about 280 miles from my home making only sporadic distribution efforts in Portland. How do I locate their product and give it an honest appraisal?
My best effort was to drive nearly 300 miles to Ashland, where I found Worker's Pale Ale on tap at the Siskiyou Pub. The Siskiyou is a very respectable beer bar that formerly operated as the Siskiyou Brewing Company, itself an evolutionary offshoot of its previous incarnation as the Rogue Brewery and Public House. With only a secondary source to taste from I took what I could get and trusted the established reputation of the Siskiyou for maintaining clean lines.
Alas, these efforts were not enough to procure a drinkable pint. Though I can't assign a definitive cause for the problem, the golden, headless brew I was served was decidedly foul with a lamentable taste of yeasty funk.
I'll make further efforts to locate and reappraise this beer. For now I can only caution that my experience has been quite regrettable.
1,148 characters
Worker's Pale Ale from Walkabout Brewery
3.27
out of
5
based on
20
ratings.