Arbor Place Beverage Depot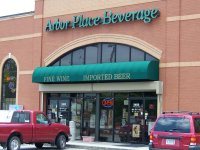 PLACE INFO
Type:
Store
7455 Douglas Blvd
Douglasville
,
Georgia
, 30135-1554
United States
(678) 838-9625 |
map
Notes:
No notes at this time.
Added by SilentSabre
Reviews: 15 | Ratings: 17
3.15
/5
rDev
-20.3%
vibe: 3 | quality: 3.25 | service: 3 | selection: 3.25
Selection was your average national distributed brands plus a reasonable size selection of locals. A small unorganized selection of bombers. Staff said hello on entering and thanks after purchase but that's about it. Overall it's an okay place to grab a 6 pack of something but not to geek out.
★
294 characters

3.06
/5
rDev
-22.5%
vibe: 3.25 | quality: 3.5 | service: 2.5 | selection: 3
Douglasville seems to be pretty much a craft beer wasteland but this is the one and only store I've found that carries a halfway decent selection. It is set up like most typical Georgia bottle shops, with separate sections for beer, wine and liquer. There is no "beer guy" that I have met in numerous visits so it's kind of self service. I'm fine with that most trips but they are mostly clueless if you ask about any upcoming/special release. One of the associates even once said they wouldn't even carry any special releases if the distributor didn't push them. The beer section is rather slapdash with dusty IPAs sitting on shelves with 2 year old bottling dates so I know to be very careful with what I purchase. Nonetheless this is the only place I've found in Douglasville where I have any chance at finding many local breweres' seasonal releases.
★
853 characters
4.45
/5
rDev
+12.7%
This is an updated review to one a while back. I did Dropped by to seek out Guinness FES and Vertical Epic 10-10-10. Was great to see Josh back after a noticeable absence. Hopefully his return will bring a bit of order back to the beer section. Prices were getting off a bit (Crank Tank for $6.99 - it's $3.99 elsewhere in Metro ATL), and organization had pretty much gone out the window. (Great Divide, Sam Smith and other brands found in multiple locations). Did find what I was looking for, enjoyed to chance to ask about some upcoming releases with someone who knows. The beer section is indeed growing, so if you're on I20, West of ATL, it's worth at least a stop.
★
669 characters
4.3
/5
rDev
+8.9%
Stopped in last night on the way back to Birmingham. They had a great selection IMO. It's no Green's, but they had a lot of what I was looking for at great prices. We can't get anything greater than 16oz containers in AL, so I found what I was looking for. Grabbed some Victory Wild Devil, Avery 15, and Avery Branandt. Got a 4 pack of DFH Festina Peche for good measure. Josh was great. Helped me find what I was looking for, and apologized profusely for what was on back-order. It's a convienent stop for me right off I-20 that I will continue to patronize on my trips through ATL.
★
583 characters
2.35
/5
rDev
-40.5%
Thank God Josh is back... Unfortunately, I will not be spending my hard earned money on beer at Arbor Place (except in EXTREME emergencies)! Looks like I will have to restart my monthly pilgrimage to Green's or HopCity! In his absence, the beer prices had gotten WAY out of control. However, when Josh first returned the prices on ALL of the beer started to come down to a respectable level. He seemed to understand what it would take to move more beer (especially in the crappy economy). However, last time I was in I noticed some 6-packs had been increased by 2 or 3 dollars... same situation with the bombers, etc. I spoke to Josh and it was obvious that he was being diplomatic becasue all he would say is... "It's no longer my decision." Arbor place continues to be on a roller-coaster ride in regards to price and service. I'm taking my $ elsewhere. Oh, and by the way, when I was in last I noticed that the assistant managers name is Linda... what are the chances that she is the 'lindapreferred' that gushed about the store in one of the previous posts.... Hmmm, look at the history.
P
S-Had to delete previous reviews to fit the updated one. Also, scores have been adjusted accordingly. the ONLY thing this place has going for it in terms of beer is Josh. They don't understand what they have and I am afraid he won't last much longer...
★
1,346 characters
4.5
/5
rDev
+13.9%
I dropped by Arbor Place Beverage today just to check out the selection and pick up a bottle of something (turning out to be chocolate oak aged yeti). It was my second time in the store and both times I wish I had brought more cash! I'll start off by explaining my ratings. I found quality, service, and selection to be pretty excellent but a 5 would be perfect and I don't think there's such a thing as a "perfect" beer store. Either way I was impressed the first time I came here and I was impressed yet again. The selection was pretty comprehensive. A decent six-pack selection was kept in the wall of coolers in the back, but the shining star in my opinion were the shelves of "warm" singles. They covered just about all styles and brewers currently distributed in Georgia. The man who handles the beer section happened to be there and we talked for a good while. He was very enthusiatic about good beer and definitely knew his stuff. Prices are comparable to other west georgia locations, maybe only differences of 50cents or a dollar, no biggie. Had a few gems here I hadn't found before in Carrollton or Hiram. If you're looking for a good location to pick up some craft brews in the West Georgia area, this is definitely a destination to seek out.
★
1,255 characters
3.85
/5
rDev
-2.5%
Jan - 09
*UPDATE - What a difference a couple of weeks can make! Josh is no longer there. While this may not mean a whole lot - I knew it was a struggle for him to get the beer selection where he wanted it. And don't look for any help from Rob (he's either mgr or owner). He's about as helpful and friendly as a kanker sore. As of right now, they still have the best selection. If anyone knows where Josh went to, please post it.
P.S. - I think they went up ($)on Stone IPA and the Sammy Smith in the last week or two.
Dec - 08
I have been shopping at Arbor Place Beverage Depot on and off for years. My brother-in-law actually worked there a few years ago. However, it has recently become my sole stop for quality beers. Great selection of six-ers, mixed/sampler packs, and singles (a whole glorious wall!)
The shining star of this store is Josh - the new beer guy (easy to remember, my name also). From the first time I casually asked for a recommendation and received the most enthusiastic 10 min of beer advice, I knew this was my place. He genuinely cares about the beer and has expanded the section greatly since his takeover. He told me he wanted to be the "Green's of the West". Well, I stopped at Green's the other day and was almost disappointed. The past few years have led me to believe Green's was the ultimate beer store - it's not as if the selection was bad, it's actually still really good. I guess its magnificence has been reduced to the fact that I have been spoiled in my home town.
The other thing I love about this place is that it is attracting beer lovers I never knew existed in D-ville. I almost always run into another patron, willing to engage in "beer talk" and offering recommendations.
Cheers to Josh for doing a great job!
- now let's see if we can sneak some DFH 120 min IPA in there!
★
1,827 characters
3.65
/5
rDev
-7.6%
I moved to Douglasville a little over a year ago and this place has improved by leaps and bounds in that period of time. That being said there is still room for more improvement. There is essentially one guy there that gives a damn about beer, and everyone else looks at that whole corner of the store like the red-headed stepchild. So if your looking for suggestions or info you might be out of luck. However, if you do meet the beer guy he is extremely friendly and very enthusiastic about his beer. His beer knowledge is not immense but he is constantly striving improve his proficiency and more likely than not he has tried the beer your looking at (if I could rate just him I would give him a 5). There selection is impressive, with a 12-14 foot section of singles opposite the coolers with all kinds of Belgians (including Rochefort 8 and 10, which are my penultimate beers, and reasonably priced at that). They also have Unibroue, almost the full line of Allagash, tons of american micro bombers (including tons of Avery), and if you don't see what you want let the beer guy know. If he can get it he will.
Last year they had a huge problem with out of date beer and they have since made some strides to improve upon this problem (you will notice a cart near the register, generally this is their way of getting rid of old beer so buyer beware). Also, I have noticed some of their prices creeped up about a dollar in the last couple of months, especially on six packs. I know with this economy, gas prices, and hop shortages this may be perfectly justified so I wont fault them for it. Also they are the only game in town if you want anything interesting (or belgian at all for that matter) so I am willing to pay a little more for convenience alone. Just an observation really.
All and all I love this place. Its a work in progress but that just makes it all the more interesting every time I go inside. Furthermore it impresses me to see the diverse clientele that I see perusing the beer isle. It just goes to show that there is definitely a market for craft beer in Georgia (even podunk nowhere Georgia.)
★
2,119 characters
4.5
/5
rDev
+13.9%
Went here to check it out because I was already in Carrollton, so what's a few extra miles. This place doesn't disappoint. I walked to the cooler section and immediately had the Storm King staring me down from aisle from the entrance. I thought I was crazy, but there she was. Off to a good start. Good selection of DFH, a lot of varieties niether Cheers or Showcase had in Carrollton. The cooler section is impressive but I almost missed the rather large shelf of singles in front of the coolers. Great variety here: Hitachino, Avery, Lagunitas, Rogue, Great Divide, etc, along with a huge amount of Belgians and other European brews. The best part of this store was the beer guy. I had a good talk with him (kid doesn't even look like he is old enough to drink, but he is getting the right idea and trying the right beers). He said he has access to whatever Green's has and just let him know and he will get it. Good to know because Douglasville is so much more accessible than Green's is. Saves time, gas and money going here. Definitely only going to Green's now if I truly need something.
Great store and great people.
★
1,123 characters
4.65
/5
rDev
+17.7%
Typically I visit this store every other week after dropping my daughter off at Ballet school, then I make my pilgrimaged over to this store as one of my stops.
I was impressed at the selection of Micros, and beer style varieties they now have compared to my other visits. Although they don't have quite the beer selection of Green's, given the area they're in, I'm still impressed.
Service is great (unlike Green's), and there's only one price (unlike Green's).
I think they get it in terms of beer, but they're taking baby steps in terms of beer varieties and expansion... as they should.
It would be great if they had an email list and sent email announcements of all there new arrivals.
Overall, good store, great people.
★
734 characters

3.7
/5
rDev
-6.3%
This place has changed exponetially after having changed hands yet again. This new crowd of folks clearly, at the very least, has somewhat of an interest in looking like they care about craft beer. The previous owners really let their beer area go to Hell with a woefully unorganised beer cooler and loads of beer that was very much past its prime. These new folks, though, have pulled all of the singles, 750mL and 22oz alike, out of the cooler and arranged them in a uniform fashion on a long stretch of shelving, thus opening loads of space in the cooler for 4 and 6pack offerings of craft brews. A 101% improvement over the trainwreck this place was this time last year.
Offerings I saw tonight were all the Allagash ($7,49/750mL and 2 or 3 $11-$14,99 for the odd balls like Curieux) All the Avery bombers, the whole line of St. Bernardus 12,8,6,Watou, Wit, etc. in 750mL, handful of Left Hand, including that Goosinator smoked Doppelbock, loads of other typical Belgians (McChouffe, Delirium, etc) Of course Great Divide, Highland, Lagunitas, Victory, DFH, and many others were very well represented. Of course there were a handful of odd-balls, but considering that we're in Ga., and West Ga. at that, this is a pretty fair selection.
The new staff isn't paricularly knowledgable [about craft beer], but they are at least friendly. There is, however, one guy who works there in the evenings who *wants* to be an uber-beer geek, but has much to learn. Hey, at least he's trying, and he *does* know a little bit. We all had to start somewhere, I suppose. Nevertheless, If you have a bad taste in your mouth concerning this place because of a past visit, I highly recommend you have another go at this place, the new folks have done a terrific job!
★
1,752 characters
3.5
/5
rDev
-11.4%
EDIT: May 08
I was in Douglasville today and stopped in. Things have certainly changed! I noticed a lot of new beer, and I really liked the new variety - products from Allagash, St. Bernardus, Urthel and others in both single bottles and 4-packs. Lots of sixers from Duck-Rabbit, Highland, the GA breweries, Dogfish Head, Victory etc etc.. overall is has really improved greatly over the past 6 months or so, and I would now consider this the premier beer store in West GA, awesome!
Original review:
I'm not really sure of the hate this place has gotten, but then again, today was my first visit.
I've seen this place from the road dozens of times and just assumed it was a Bud sort of place. I had a little time in Douglasville so I decided to stop in.
I know that at least some of the stuff is fresh, whether its something like Sweetwater Happy Ending and Sam Adams Doppelbock which are in season, or the Allagash which is simply new to Georgia. However seeing some Terrapin Imperial Pils kinda scared me, especially since I would think it is the probably the monster beer that most needs to be consumed quickly after brewing. So, overall, there are good spots but there are also things to be weary of, so check the dates if you can.
The selection itself was quite decent. No, not as good as Green's, but they are better than your typical package store, and at least average on the craft beer market.
Pricing was ok. A 6-pack of Sam Adams was $7.49 and the Allagash 75cl went for $11.99 - a bit more than I'd like to pay, but I'll take it.
The staff is something I generally don't care about,but I'll just say that I don't think anyone in there had anything beyond a basic knowledge of beer.
Overall it seemed like an ok place. Certainly not the dump that has been described below. I'm glad I stopped in and I will return occasionally if I am ever in the area, but I see no reason to make a trip specifically for this place when I'm already halfway to Green's if I'm looking for a good beer run.
★
2,006 characters
2.4
/5
rDev
-39.2%
Dropped in here on my way back to Birmingham after a trip to Atlanta and Green's. Wow -- this place certainly does not compare. The beers are scattered and the stock level was poor. I could not figure out there merchandising approach -- maybe there wasn't one.
I got the feeling this was more of a Bud and bottle of Cuervo place than a craft beer store. That being said, they have a long wall cooler -- probably 80 feet where they sell singles through cases. Many selections were listed and priced but not stocked.
No employees asked if I need any assistance and there was a line of customers, about 8 waiting to checkout at the only open register.
Maybe I just caught them at a bad time after a long holiday weekend.
If I need gas and a restroom break on returning from Atlanta, I will probably swing by again, but will not make a special trip.
Gotta Love Green's!
★
880 characters
4.45
/5
rDev
+12.7%
Quality:
The organization of the beer is not as good as Green's in Atlanta. The beer is primarily in the back in coolers, although there are a few displays in the center of the store of unrefridgerated combo packs and cases, as well as some hidden gems just opposite the back right coolers on both ends of the aisle. The store itself is large, clean, and easy-to-acess "beverage depot," just off of I-20 in Douglasville. It would easily be worth the quick exit off the interstate if you happen to be driving by or even the 2 hour drive from Birmingham if you are in dire need of a barleywine or a some other high abv beer. Also, it was nice to see they had a large selection of wine and other spirits. They will not break up six-packs.
Service:
The service was great. The girl at the checkout counter actually voluntarily grabbed a box with half of my selection in it and helped me carry it out to my car! I found them well-staffed, and while not the most knowledgeable about their beers, one was smart enough to refer me to another, who was able recommend the New River Pale Ale for me. All seemed very willing to help, were friendly, courteous, and energetic. Note: I was told "the beer guy" who knows more about their beer selection works in the evenings.
Selection:
I gleefully found a large a number of beers that are unavailable anywhere in Alabama. However, as mentioned in the other reviews, the beer selection could still be better. For example, they carried Great Divide's Old Ruffian Barleywine, but no other brews by Great Divide. They only carried nine varieties of Rogue, but they did have Old Crustacean, the DIPA, and the Imperial Pilsner. They had a nice selection of Belgian Belgians and American/Canadian Belgians, including wide selections by Ommegang, Unibroue, and Chimay. They only had the St. Bernardus tripel in stock and did not carry Westmalle Tripel, though they had Orval, Westmalle Dubbel, and Duvel. They had a few six-packs of Brooklyn Breweries' Ales including the Monster Barleywine, the Brown Ale, and the Lager. They also had some Baltika choices, SN Celebration Ale 2004, Traquair House Ale, and Aventinus' Eisbock.
★
2,163 characters
4
/5
rDev
+1.3%
Pretty much every Rogue available in Georgia, and a few that I didn't think were. Good selection of the Georgia micros (Sweetwater, Dogwood). Import selection is the standard fare for a nice beer store, with the Sam Smiths, Spatens, etc. Not much in the way of Belgians, but they did have some of the more commercial lambics. They also give a 5% case discount, which is nice.
Very friendly when I called and asked for directions. I didn't have much staff contact when I was there, but they seem like decent folks.
I have to say I truly didn't expect such a nice, clean, well-organized beer store (their true specialty is wine) in this part of Georgia. Quite a nice place for west central Georgia, but not really an incredible place. More like an oasis in a very dry land.
★
779 characters
Arbor Place Beverage Depot in Douglasville, GA
3.95
out of
5
based on
17
ratings.