Ben 'n Nick's Bar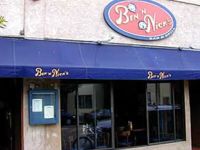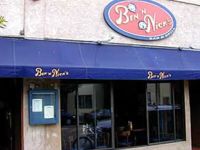 Bar, Eatery
5612 College Ave
Oakland
,
California
, 94618
United States
(510) 923-0327 |
map
mrcato.com
Notes:
PLACE STATS
Reviews:

10

Ratings:

pDev:

10.82%
Reviews: 10 | Ratings: 14

4.5
/5
rDev
+18.7%
vibe: 4.5 | quality: 4.5 | service: 4.5 | selection: 4.5
Let's start with it's a neighborhood dive bar, and a good one at that! Great music, sports on the TVs, plenty of seats at large full service bar. Lots of booths and table top seating too. Friendly locals drinking and some eating (haven't eaten here yet). Best part is fresh Pliny on tap everyday (3 kegs a week) happy hour is a buck off draughts, and lots of California handcraft to choose from, about 20 tap handles. Yes, if you want a bottle of Modelo, they have your back. Super friendly bartenders. WIFI is weak, but it works. Parking is catch as you can on meters along busy street. Will return repeatedly...
620 characters
3.94
/5
rDev
+4%
vibe: 3.5 | quality: 4 | service: 4 | selection: 4
Dark-ish pub (inside lighting) right on College Ave., one block from the Rockridge BART station. If you're doing a beer by BART type tour, it doesn't get much easier than visiting Ben n Nick's.
Tap list is generally the same, though 4-5 things usually rotate. At least this is my experience. Normally there are at least 3-4 good IPAs and some good Moonlight beers on as well. Otherwise, pretty standard craft beers that can be otherwise found around the bay area. It's a pub, and they do some things to separate themselves, but not quite on the level of what Barclay's is doing, just right down the street. Still very solid though, all things considered. Pliny the Elder is often on tap. 12 or so beers on tap at all times.
The bar is not too big but seats are normally available. Otherwise, tables, tall and short, are scattered throughout. This place is a bit dark, which is nice, but it's definitely darker than most other spots in the east bay.
Good vibe and worth checking out. Parking is very difficult, but as I mentioned, it's a block from BART, so that is your best bet. Ben n' Nick's and Barclay's stand head and shoulders over all other pubs/bars in this neighborhood.
1,185 characters
3.48
/5
rDev
-8.2%
vibe: 3.5 | quality: 4 | service: 3 | selection: 3.5 | food: 3
I visited Ben and Nick's after a an aborted trip to Barclay's. (See my other review there). Ben and Nick's was a much better experience. Atmosphere and theme was definitely leaning toward "Pub" rather than "Bar". The decor was involved enough to be somewhat interesting. I noted as others, the display of old taps on the wall. It was early on a Sunday so customers were scarce.
As for the quality; My cask ale was very close to perfectly kept, and served at the right temperature, and showed no signs of being past prime. My bartender worked the engine well and the foam composition was what I wanted. My wife's regular beer was tapped expertly from the tap.
While the bartender was very quick and helpful, knowledge about beer or specifics of the selections was not a strong point.
The tap list was not huge, but the oddities they had available made up for the modest selection (The ultra hoppy Pliny the Elder being a personal favorite).
Food fell right in the center of what you expect pub food to be. A variety of fairly tasty and filling things are offered on the menu. While more than adequate for eating lunch or quelling the beer munchies, definitely not a "food" destination. But you didn't log into Food Advocate did you? I had the burger and yes it was good.
Price wise. Prices run a tad lower than similar establishments in the area. I was mostly pleased, but, remember where you are at, it is still not going to be cheap.
My overall impression.
Definitely worth visiting, and I will likely return.
1,522 characters

3.66
/5
rDev
-3.4%
vibe: 3.5 | quality: 4 | service: 3 | selection: 4
The "other Rockridge bar", just south of the underpass from Barclay's. This place is a safe bet for Pliny the Elder, which makes it about twice as good as it would otherwise be. The selection is always changing, which makes it a bit more exciting, but usually its a lot of craft filler. Highlights are occasional Drake's, Moonlight, and the aforementioned Pliny.
Atmosphere and clientele lean toward Rockridge locals, usually late 20's to 40 or so suburban-turned east bay people. The general vibe is less interesting than most places, and it certainly doesn't have the character of a Toronado or Albatross. The waitstaff usually are not beer enthusiasts, so you're on your own in terms of selecting a beer-- which is fine with me.
Overall a good neighborhood bar, but not really a beer destination.
802 characters

4
/5
rDev
+5.5%
vibe: 4 | quality: 4 | service: 4 | selection: 4 | food: 4
This is a great little bar that is super close to the Rockridge bart station in North Oakland. About 20-25 taps with some good local representation: Russian River, Drakes, etc. Tap list rotates quickly, and changes often so you don't get bored. Food is solid pub grub, anmd prices are very reasonable when compared to the city and even other North Oakland establishments. The best thing about this place is the convival atmosphere, locals of all walks, and great music on the jukebox. When it's foggy, cold, and 70 in the city, and sunny and 95 in the East bay. This place makes a great little respite for city folks such as I. Recommended.
640 characters
3.83
/5
rDev
+1.1%
vibe: 4 | quality: 4 | service: 4 | selection: 3.5 | food: 3.5
I was told about this place but a co-worker who raved about the beer selection. I figured it wasn't that great, because I was looking for a Gingermans (Austin, TX), and knew I wouldn't get it, so I walked in with not the highest of expectations.
Went there for lunch today with my 9 month pregnant wife. I was impressed with the beers they did have. Though not a huge selection, and though very California-oriented, the place was better than I thought it would be. Wood interior, wooden bar top, beer tackers and serving trays decorated the walls. Tap handles from beers past (I assume) lined the tops of the walls, which were fun to point out and try to indentify.
The food was so/so, kind of how I imagined it. Wasn't horrible, would definitely go there again for a beer, and eat as an accompaniment to that rather than vice versa.
Like I said, the beers they did have were of good quality... Green Flash IPA, Buzzsaw Brown from Deschutes, a couple locals, a few I had heard of and not yet tried, the fabled Pliny The Elder, and a Bear Republic beer I have not found on Beer Advocate called Super Freak, which was really good. The server was nice, didn't seem to know TONS about beer, but gave her best effort, and I appreciated that. Was willing to listen to me wax nerdy about beer for a minute, conversed about Pliny, and was on her way. IT was a busy Sunday, and I thought the server was pretty stellar.
An apology on the menu said due to rising prices blah blah blah they were raising beer prices to $4 domestic $5 foreign/micro, and I kind of laughed because that's pretty cheap to me for a pint, for the area. I was told they almost always have Pliny The Elder on tap, so that's a plus.
Not the best pub in the world, but one I would make a frequent watering hole. Nestled in Rockridge right by the Rockridge BART in Oakland on College Ave, pretty convenient spot. Hit it up sometime.
1,903 characters

2.95
/5
rDev
-22.2%
vibe: 3.5 | quality: 3.5 | service: 2 | selection: 3 | food: 3
A friend dragged me to this place even though I wanted to go to Barclay's for the umpteenth time. The atmosphere was not bad, with lots of wood- but not in a polished sort of way, more like college bar style. So far so good. The service was surly, disinterested, and not particularly knowledgeable. The beer is kept fine, but the selection is kinda drab for the area. The food was just okay- and they don't serve that late either. It wasn't overpriced, especially for this part of town. For some reason this place has a following- I just don't get it. Bt far the better choice in the area is Barclay's (for beer and food) or Cato's (for just beer).
648 characters
3.23
/5
rDev
-14.8%
vibe: 4 | quality: 3.5 | service: 2 | selection: 3.5 | food: 4
I really wanted to like Ben and Nick's more than I was able. It's in a nice part of North Oakland and has a good woody, old pubby feel inside with high ceilings and dark colors. The wait staff was inexcusably slow, if polite and apologetic. Something I found inexcusable was that the board listing the beers only displayed the names of the beer, minus the brewery. I don't think this was just beer snobbery – I got the feeling it was a lack of attention to detail. The burger I had there was very good and cooked the way I order it. It seems California does not follow the disgusting tradition of messing around with mayo or sauces on burgers – I appreciate this lack of slatherence. The music in this bar was louder than it needed to be on a Monday night with a non-full house. The food is OK, but all the beers can be found elsewhere.
841 characters
3.94
/5
rDev
+4%
vibe: 3.5 | quality: 4 | service: 4 | selection: 4
The atmosphere is unique with lots of locals and their dogs. The dining area is not very spacious but appears to be adequate with sliding open windows facing the sidewalk. The bar area is somewhat cozy and stays packed.
Wooden tables, chairs, booths, and bar with some beer paraphenalia. Did not use the restroom.
The service appears to be prompt and helpful.
Enormous selection of beer includes Pliny the Elder and has two (I think) cask options.
The food appears to have some healthy items, however I did not eat here.
Reasonable.
547 characters
4
/5
rDev
+5.5%
vibe: 4 | quality: 4 | service: 4 | selection: 4
This place feels like it has been here for a hundred years. A very worldly old fashioned bar.
The not quite half oval bar is to the left. It is medium sized with plenty of bar stools. The bar is made out of wood. To the right is the booths and tables and chairs. Plenty of mirrors and liquor signs are on the walls. There is a good collection of beer serving trays along the walls for decoration as well. The hanging lamps provide an old fashioned feel. Behind the bar is a very old wooden structure which holds the spirits. It has stained glass doors, if they have not been broken.
The service was good. The bartender was on top of everbody's orders. She was in good form that day.
A very good selction of craft beers. Anchor Steam, Hoptown Vanilla Cream Porter(if you have not tried this beer you must.), Bear Republic, Moonlight, Sudwerk, Anderson Valley, Sierra Nevada, Drake's, Pilsner Urquel, New Belgium, Mactarnahan's, Pabst, Bear Republic, Lagunitas and others. They have two nitro taps and one cask. These rotate. Also Dry Blackthorn cider is on tap. Some bottled selections like, Spatan, Duvel, Chimay, Samuel Smiths and a few others.
They have one cask which has a rotating selection.
A great place to stop for a pint. Small, old fashioned and inviting. Give this place a try.
1,305 characters
Ben 'n Nick's Bar in Oakland, CA
Place rating:
3.79
out of
5
with
14
ratings