Scratch Beer 116 - 2013 (Fresh Hop Ale)
| Tröegs Brewing Company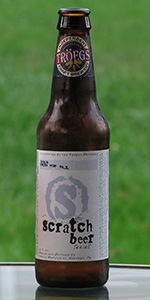 BEER INFO
Brewed by:
Tröegs Brewing Company
Pennsylvania
,
United States
troegs.com
Style:
American IPA
Alcohol by volume (ABV):
8.00%
Availability:
Limited (brewed once)
Notes / Commercial Description:
The crisp October air is thick with the aroma of fresh, green hops! This year, we brewed our annual Fresh Hop Ale with 400lbs. of freshly picked wet Chinook hops direct from the Yakima Valley in the Pacific Northwest. These über-fresh hops were harvested, packaged, and express delivered to our brewery all in the same day. To ensure the absolute freshest hop aroma and flavor, we brewed the beer within 24-hours of taking delivery of the hops. Dripping with the essence of oily hop goodness, Scratch #116 is all about those pungent, juicy little cones. The very first whiff releases potent olfactory hues of intense pine as well as subtle citrus and spices. You can't get any fresher than this, folks. This is "vine to vessel" brewing at its finest!
61 IBU
Added by orangesol on 10-05-2013
This beer is retired; no longer brewed.
Reviews: 7 | Ratings: 47
3.92
/5
rDev
-6.9%
look: 4 | smell: 3.75 | taste: 4 | feel: 3.75 | overall: 4
I picked this up at the brewery counterpressure filled fliptop growler enjoyed with tb69, drank from a teku.
The color is light amber color of tea with mild haze and thick 2 + fingers of fluffy creamy head with fine bead lace sticks well. The smell is floral with tropical zest and a slight hint of of malt in the aroma with subtle alcohol ester with some mild citrus and subtle hint of mango, pretty dank aroma. The feel is very good with moderate bitterness with moderately high carbonation with a tangy yeast and subtle sweet middle with semi-dry finish with a little alcohol warmth.
The flavor has some mild orange element with some light tangy herbal with mild yeast flavor which adds to the fruitiness with the honey adding a sweetness to the flavor and light citrus grapefruit and lime like taste in the finish. The overall enjoyment is pretty high. The alcohol makes the feel a little tough, but in general this is a pretty hop forward and enjoyable beer with a nice honey sweet accent to round things out.
1,019 characters

4.25
/5
rDev
+1%
look: 4.25 | smell: 4.25 | taste: 4.25 | feel: 4.25 | overall: 4.25
From 11/12/13 notes. Had a 12 oz. glass of this on tap at Blind Tiger...know nothing about it other than it was listed as a "fresh hop IPA". Served in a tulip.
a - Pours a hazy golden orange color with one to two inches of fluffy off white head and moderate carbonation evident.
s - Smells of pine hops, citrus hops, grapefruit, lemon zest, honey, tropical fruits, bread and earthy malts. Huge pine nose to it and super dank; very fresh and hoppy. Love the nose.
t - Tastes of pine hops, citrus hops, lemon, grapefruit, earthy notes, and light floral hops. Again, pine hops dominate here. Very nice, though not quite as much going on as the nose had.
m - Medium body and low to moderate carbonation. No bitterness at all for a DIPA and pretty easy to drink. Very nice mouthfeel.
o - Overall a great DIPA from Troeg's; really digging the last few Scratch beers I've had from them. This one has a ton of dank pine hops and no bitterness, making it pretty drinkable. Great beer, would highly recommend it and would love to have it again.
1,039 characters

4.25
/5
rDev
+1%
look: 4.25 | smell: 4.25 | taste: 4.25 | feel: 4.25 | overall: 4.25
Served on-tap at the brewery.
A - Pours hazy golden orange with a nice two finger tall white head, dissipating down to a light film, leaving spotty trails of lace down the glass. A very nice looking beer.
S - Smells of fresh picked piney hops, mild citric fruit, lightly toasted grain and some light honey sweetness. As it warms it gets a little sweeter and some light spiciness creeps in.
T - Starts off with a nice piney hop bite that never really fades away. Combined with the mild fruitiness, honey sweetness and some chewy wheat it is fairly well balanced. Finish is a little chewy with plenty of lingering hop bitterness.
M - Medium body with moderate carbonation. Slick, slightly chewy feel with plenty of hop bitterness. A bit of the 8% creeps in as it warms up to room temperature, warming the palate after each sip.
O - Another excellent fresh hop beer from the scratch series. It has everything I was looking for and it isn't over the top, quite balanced in fact. Goes a little sweet once it warms up but most IPA's do so it's whatever. I will make sure to get my fill while I can.
1,098 characters
4.04
/5
rDev
-4%
look: 4.25 | smell: 4 | taste: 4 | feel: 4.25 | overall: 4
Thanks to BA SammyJaxxx for sending this one my way. I love me some fresh hop ales, and I believe this will be the first "double" IPA that I've had of that variety. Reviewed from notes, as I actually drank this beer way back on November 16th, 2013. I had honestly forgotten that I took notes on this until I went in to clean up my phone and found them.
Enjoyed out of a 12 oz brown bottle, and I didn't see a bottling date, but on the Tröegs website, there is a handy-dandy list that tells me Scratch Beer 116 was released on October 4th, 2013, so I'm drinking it at just over a month old. Poured into the Speigelau IPA-specific glass.
Appearance - Pours a apricot-colored yellow-orange with a substantial bit of haze. In fact, due to the massive three-finger creamy head that billows up as I pour, I'm forced to empty the last bit of the bottle after the head has receded a bit, which makes for a pretty neat looking diffusion of sediment down through the body, like liquid smoke. The head begins to see some pocking as intermittent bubbles begin to grow and burst. Retention is quite good, and it leaves Lorraine swiss cheese sheets of lacing down the side of the glass which eventually fades to more mottled spots, reminiscent of a cheetah's coat.
Smell - Big presence of pine and evergreen, along with some more complimentary notes of tropical fruit, specifically mango and pineapple, and a little bit of lemon zest. The malt is pretty subdued, but it's noticeable, lending a bit of fresh sourdough characteristic to balance out the great herbal characteristics of the nose.
Taste - Again, the pine resin is front and center, now with a little earthy spice and bitterness. Other herbal notes seem to come through as well, with elements of basil and thyme to play with the more subtle elements of citrus zest and pineapple. Finish is slightly bitter and lingering on the tastebuds.
Mouthfeel - A bit creamy, and medium-bodied (but on the light side of medium). Carbonation is on the high side of moderate, pushing on heavy carbonation, but it is not overly prickly, instead producing a full, juicy feel.
Overall, a great fresh hop beer. Although admittedly, I have yet to have a fresh hop beer that I flat out *didn't* like, so there's that. At any rate, this is the most pine-forward fresh hop beer I've had, which I suppose comes from the Chinook hops. Beers like this one are really great for training one's palate to understand different hop varieties.
2,466 characters

4.3
/5
rDev
+2.1%
look: 4 | smell: 4.5 | taste: 4.25 | feel: 4.25 | overall: 4.25
On tap at the tasting room at Troegs. First served into a 5oz taster glass, then served into a full 12oz snifter :)
A - Golden and hazy - really exactly what you'd expect from a fresh hop IPA/pale ale/whatever they're calling it.
S - Hops. Lots of them. Very fresh, crisp, and green smelling. Definitely something that invites you to dive right in.
T - This beer is delicious now, but I don't think has a long shelf life (again, as most IPAs and especially fresh hop IPAs do). The Chinook hop is on display here, but no part of the flavor is overpowering. Very balanced, and very drinkable.
M - Typical for an IPA? I'm always bad at describing this, so I'll just use the word appropriate.
O - A great fresh hop beer for the start of the colder weather. I bought a case and will be drinking this frequently over the next few weeks; and for slightly under $40 a case, you can't beat the value.
896 characters
4.48
/5
rDev
+6.4%
look: 4.5 | smell: 4.5 | taste: 4.5 | feel: 4.25 | overall: 4.5
Tasted on-tap at the brewery, and also experienced in growlers three days after filling.
Pours a misty orange yellow with a thick white head that retains well. It folds into fairly thick film with lacing that sustains throughout consumption of the glass.
Smells of fresh picked piney hops with a grassy blanket reminiscent of white Sauvignon-based wine. The nose is honeyed sweet and lightly toasted... and sprinkled with a blend of orange and grapefruit juices. There's more spice in the bouquet as the draught pour warms, and it's also evident right from the start in the delayed growler session. There was no funk in the nose at the tasting room, but it emerged right away in the second tasting, and carried flavor to match. A bit of lemon and polished metal show up at times, too.
The taste opens right up into a fresh burst of clean herbs and evergreen. There's a mild but persistent bitterness from the beginning. It's very well balanced as corn and chewy grains carry along fruit flavors and a hint of hazlenut. That nut flavor is more prominent in glasses from the growler later on. More funk (which one might expect from the wet hops from the first, but was absent on day one) steps forward in the later tasting, as well. The bright, crisp freshness in balance with lively hop flavors was magical on the first day this brew was tapped. Both the taste and the nose were truly remarkable right out of the tap, and through they retain merit on standing, the best of this beer is missed if you wait.
In the mouth, medium body and ample carbonation hide the high ethanol content with all those fresh flavors. Only with warmth is the booze really evident. It's somewhat chewy, nicely slick, and just a bit short after buzzing over the lips.
Overall, this is a beer that is worth driving to as soon as you can get there. Every minute detracts from its amazing first day of serving. It's still quite good. But, it's a special privilege to have this fresh--and that's the quality reflected in my high ratings here.
2,019 characters

4.28
/5
rDev
+1.7%
look: 4.5 | smell: 4 | taste: 4.25 | feel: 4.5 | overall: 4.5
Serving: On-tap
I love this beer. It's got about a finger of white head and the beer has a cloudy amber, golden color. There is a sweet taste mixed in the hoppiness which stands out. It is a great compliment to the fresh taste of the hops. The beer has good carbonation and comes across a little heavy, which I like.
Overall, this is a great beer. I enjoyed it from the first sip to the final chug.
402 characters
Scratch Beer 116 - 2013 (Fresh Hop Ale) from Tröegs Brewing Company
4.21
out of
5
based on
47
ratings.