Field Study

Tröegs Brewing Company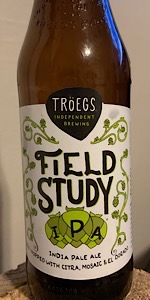 Write a Review
Beer Geek Stats:
| Print Shelf Talker
Style:

ABV:

6.2%

Score:

Avg:

3.9

| pDev: 8.21%

Reviews:

37

Ratings:

From:

Avail:

One-off

Wants

Gots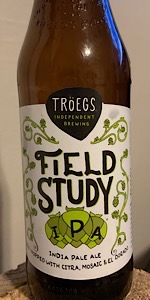 Notes: A slightly hazy IPA dry-hopped with Citra, Mosaic and El Dorado featuring notes of ripe grapefruit, mango, pear, and melon.

The path to Field Study began with our small-batch, experimental Scratch Series, the same starting point for our recent Double IPA LolliHop.

"Field Study began life as Scratch #327, when we first started tinkering with some new hopping techniques," explains Tröegs brewmaster John Trogner. "We built on those experiments over the next few Scratch releases and landed on a grain bill featuring a backbone of local Rustic Pale Malt." Rustic Pale is grown in Mount Joy, PA, about 15 miles from the brewery and malted by Double Eagle near Philadelphia.

With the malt bill in place, Trogner and his team focused on hop selection, fine-tuning the beer's recipe. "After a few trials, we finally arrived at what we think is a winning combination for Field Study – Citra, Mosaic and El Dorado."
Reviews: 37 | Ratings: 114
4.2
/5
rDev
+7.7%
look: 4 | smell: 4 | taste: 4.25 | feel: 4.5 | overall: 4.25
Pale, sunny yellow in color with a light haze that clarifies a bit as this warms. Poured with a tall, soapy, bright white foam with medium retention. Ripe pineapple and mellow sweet melon with notes of crackers and malt. Medium bodied with soft, medium light carbonation and a delicate creamy, silky smooth feel. Tropical fruit and pineapple flavors followed by medium hop bitterness. Fruity and melon flavors follow. Finished with tapering bitterness and fruity notes that fade into the sunset. Nice look and a fabulous feel. Hop flavors and aromas are delicate and mellow and are nicely balanced by medium light maltiness and fruity hop characters. A great new addition to the Troegs lineup.
693 characters
3.82
/5
rDev
-2.1%
look: 4.5 | smell: 3.75 | taste: 3.75 | feel: 4 | overall: 3.75
Tons of ripe melon intermixed with with some spicy black pepper and husky malt. Tries to be a mix of old school / new school IPA, doesn't quite get there but decent
166 characters
4.3
/5
rDev
+10.3%
look: 3 | smell: 4.25 | taste: 4.5 | feel: 4.5 | overall: 4.25
I'm so tired of jaded raters. Seriously. This is a damn good IPA. Troegs owned this one and I really liked it. Will go into rotation. I'm looking forward to it again. It's got it going on in every way. Just try it and see for yourself. Great job Troegs. A mid sized regional brewery doing what they do and succeeding well.
330 characters

3.88
/5
rDev
-0.5%
look: 3.75 | smell: 3.75 | taste: 4 | feel: 4 | overall: 3.75
Light straw slightly milky yellow colored.
Aroma is faint for being dry hopped.
Taste is fresh, zippy and light. Almost kolsch or pilsner refreshing/crisp.
Feel is thin and drinkable.
Overall not an impressive ipa but a very nice drinkable porch beer. I would put it in line with a pale ale or pilsner drinkability with a fresh grassy hop finish.
350 characters

4.19
/5
rDev
+7.4%
look: 4 | smell: 4.25 | taste: 4.25 | feel: 4.25 | overall: 4
Pours a pale Amber with a tight bubbly white head that leaves a trail of lace.
Tropical fruit, stone fruit, mango, orange, up front backed by malty bread.
Taste is tropical fruit up front pineapple, mango, orange followed by sweet malt bread notes. Finishes dry and slightly piney.
285 characters
3.15
/5
rDev
-19.2%
look: 3.5 | smell: 3.5 | taste: 3 | feel: 3 | overall: 3
From the bottom of the can: "FRESHEST BY 08/21/2019 23:20:21 130413-302"
Appearance: The body is only slightly hazy with a light straw gold color and a thick frothy white head. Decent retention and good lacing.
Aroma: It has a big catty aroma with notes of onion and garlic.
Taste: The taste is a mix of rye flour, garlic, and a bit of cabbage.
Mouthfeel: It has a clean presence on the palate with low bitterness and good carbonation.
Overall: It is a very herb-forward beer in regards to aromatics and flavors. While it does have some good hop flavor it just doesn't deliver the promise of "ripe grapefruit, mango, pear and melon" (as indicated by the can). It is one of those beers that straddles the fence of being decent enough but not good enough to recommend or want to drink again.
794 characters
3.54
/5
rDev
-9.2%
look: 3.75 | smell: 3.5 | taste: 3.5 | feel: 3.75 | overall: 3.5
One look at the hops (citra, mosaic, and el dorado) and I thought this was a can't miss IPA. Somehow, they managed to use these hops and make a dud. Nose is lights, with a little floral and grassy, with just a bit of citrus. Taste is also light, with a grainy character and a bit of cracker and grapefruit. Mouthfeel is a tad on the watery side...a little like a session IPA (but this is 6.2%). Not much here to be honest.
427 characters
4.08
/5
rDev
+4.6%
look: 4 | smell: 4 | taste: 4.25 | feel: 3.75 | overall: 4
Had this on 2019-05-13 in Columbia, PA from a fresh 12oz bottle
A - Clear straw gold with a 1-finger white head that drops quickly leaving little lace
S - Lots of ripe pineapple, pear, mild-moderately dank, whiff of Pils-like malt, honeysuckle floral
T - Echoes the aroma minus the dankness and with the addition of some pink grapefruit, melon, white grape and some herbal spice. Mild bitterness for the style.
M - Medium body and carbonation.
O - An easy-going, easy-to-quaff IPA. Has some Helles qualities. Enjoyed this.
532 characters
4.1
/5
rDev
+5.1%
look: 3.75 | smell: 4.25 | taste: 4 | feel: 4 | overall: 4.25
Look: Clear, pale yellow with good carbonation and a thick, creamy, off-white head.
Smell: Strong pineapple and mango aromas. Pine, lemon. Great aromas from this beer.
Taste: Lemon citrus with some malt, mango, and melon sweetness. Slight hop bitterness at the end. On the whole, this is fairly crisp and dry, very much like a Brut IPA.
Feel: Thin, crisp, dry, and extremely refreshing.
Overall: Another great IPA from Troegs.
426 characters
4.06
/5
rDev
+4.1%
look: 3.25 | smell: 4 | taste: 4.25 | feel: 4 | overall: 4
12oz can into a pint glass. freshest by 8/22/19. very recent release.
Pale watery yellow body. small light streams of carbonation. A small white head dissipates to a ring and faint covering. not looking good.
However, there is a very vice aroma of mango and melon .Also faintly floral with a little hay.
The hop and non citrus fruit notes, mostly melon, mix and balance very nicely. There is a solid slightly sweet malt background. Enjoying this one .
Mouth around medium with a little sharpness on the tongue. A hoppy mango/melon finish.
Overall, I was quite alarmed by the look of this beer, but Troegs comes through again with a quality well balanced fruity summertime ipa.
684 characters

3.63
/5
rDev
-6.9%
look: 4 | smell: 3.5 | taste: 3.5 | feel: 4 | overall: 3.75
Freshest by 8/24/19. 12oz can poured into a tulip. Pours golden with great clarity and has bubbles racing upwards; small white head that fades leaving nice retention and decent lacing. The aromas have a subtle blend of tropical, citrus and floral notes. Lots of bread and crackers. Malts are there. The flavors are clean and crisp. Lots of fresh grass. Some grapefruit, pineapple, lemon and orange in the mix. More crackers and bread. Moderate bitterness. Malts seem to almost take a backseat. Finishes dry. Alcohol goes unnoticed. Mouthfeel is on the lighter side of medium-bodied with active carbonation. It's sharp, smooth and easy to drink.
This is a solid IPA. It's clean, crisp, sharp and refreshing. The craftsmanship is on point, which can always be expected from Tröegs. Solid hop aromas and flavors. This one is probably even better than my "numerical score" might indicate. Not bad at all.
903 characters
3.33
/5
rDev
-14.6%
look: 3.5 | smell: 3 | taste: 3.5 | feel: 3 | overall: 3.5
Picked up a six pack at the local bodega for 11 bucks, pours a very light, slightly hazy yellow with one finger of rocky head. Smell is slightly fruity and sour. This is a very dry IPA, and the pale malt character is almost completely subdued by the aggressively grassy hops. I get mango notes very reminiscent of first cut IPA, with melon coming through at the end. Not my favorite from troegs as I tend to prefer sweeter beers, but very crisp and a good fit for summer
470 characters
Field Study from Tröegs Brewing Company
Beer rating:
87
out of
100
with
114
ratings