Dismiss Notice
Extreme Beer Fest:Los Angeles
Join us December 9th in Los Angeles for the ultimate throwdown of craft beer creativity!
Learn more...
Dismiss Notice
Scratch Beer 30 - 2010 (Jerman Bock)
| Tröegs Brewing Company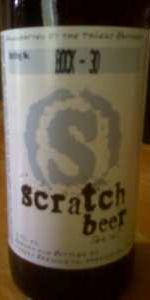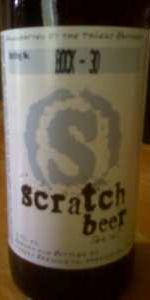 BEER INFO
Brewed by:
Tröegs Brewing Company
Pennsylvania
,
United States
troegs.com
Style:
Maibock / Helles Bock
Alcohol by volume (ABV):
7.00%
Availability:
Limited (brewed once)
Notes / Commercial Description:
No notes at this time.
Added by Deuane on 05-18-2010
This beer is retired; no longer brewed.
HISTOGRAM
Ratings: 61 | Reviews: 54

3.76
/5
rDev
-6%
look: 4.5 | smell: 3.5 | taste: 4 | feel: 3.5 | overall: 3.5
Poured from a 12oz bottle into my De Dolle large snifter/tulip glass. Pours a very light copper color, clear at first...but hazes out towards the final part of the pour. What a great head and lacing! Very large frothy white haed that has excelent retention! The lacing is also fabulous! Leaves complete patchy and sticky froth all over the glass that just doesn't seem like it wants to go anywhere...and lasts the entire drink!
Aroma is good but mild, yeasts and malty for sure. Mild sweetness, but somewhat stale. Overall though, a pretty average bock aroma.
Flavor is very decent! A little sharp bite, but compiled with the sweetness from the bock-like features. Sweet notes throughout...caramel and mild booze warmth. Malty, medium body, high carbonation. A decent drinker.
778 characters

4.1
/5
rDev
+2.5%
look: 4 | smell: 4 | taste: 4 | feel: 4 | overall: 4.5
A 12 ounce bottle poured into my shaker glass. The bock appears a hazed pale light copper color with a good inch of fluffy off white foam. Nose and flavors consist of floral hops, caramel, lemon, toasted bread, sweet biscuits. Ample carbonation and a medium body with the alcohol making an appearance as the beers warms up. Quite tasty, thanks Deuane!
351 characters

3.9
/5
rDev
-2.5%
look: 4 | smell: 4 | taste: 4 | feel: 3 | overall: 4
Picked up a 6-pack of the latest scratch beer from the brewery while in PA for a wedding. Pours a sl. cloudy, golden yellow color with 2 fingers of head with nice retention. Big malty aroma with some grassy and bready hints punctuated by some sharpness from the carbonation. Taste follows suite to the aroma, with big malt flavor, on the sweet side with hints of caramel and toffee. The finish is lingering and goes out with some nice bitterness that cuts the sweetness. Body is on the heavy side of medium and drinkability is good. A tasty beer - it's a shame I'll only ever have this 6 pack to enjoy.
602 characters
3.76
/5
rDev
-6%
look: 4.5 | smell: 3.5 | taste: 4 | feel: 3.5 | overall: 3.5
a: This was a clear, golden color. It poured with a massive, uneven, frothy cap that faded to clumps of lace.
s: Surprisingly hop-forward. I got lots of flowery, lightly citric hops backed sweet grains, apricot, and a little caramel.
t: Hoppy for a maibock, but it works pretty well. Earthy, dry and a somewhat bitter up front. The finish revealed some balancing sweetness that was a bit fruity. Very clean at the end.
m: On the lighter side with spritzy carbonation.
d: PA is the lager capital of the U.S. I enjoyed this one, but there are a few better examples of the style to be found locally.
600 characters

3.84
/5
rDev
-4%
look: 4.5 | smell: 3 | taste: 4 | feel: 4.5 | overall: 4
Given to me as an extra by Jwiss22 - What a great guy!
Appearance -- Pours a golden brown, a bit hazy, with a massive tuft of tight white head. Beautiful.
Smell -- Bready and yeasty, with plenty of malt sweetness, a bit of melon, and some grassy hops.
Taste -- Biscuity malts, yeast, and honeydew melon with an abundance of earthy/spicy/herbal hops. The finish is earthy with a little bit of melon.
Mouthfeel -- Light on the tongue, bursting with prickly carbonation, slightly dry finish.
Drinkability -- I've been opposed to lagers for a long time, but I'm finally mending my ways. I was really blown away by this one. The spicy/herbal hops combined with the biscuity/fruity malt sweetness came together to make a really satisfying beer.
743 characters
4.32
/5
rDev
+8%
look: 4 | smell: 4.5 | taste: 4.5 | feel: 4 | overall: 4
A 12 oz bottle purchased at the brewery poured into a weizen glass (to hell with convention).
A: The bock is golden brown, like slightly burnt cheese atop a fresh pizza with its yellow/copper/brown hues. The bock is visibly clear and sports a small white head.
S: Hoppiness is impressive straight away, a floral citrus blast that rivals some pale ales in its intensity. With a little more strength, the hops could easily get out of hand. Underneath, caramel and biscuit malts drive a bready sweetness that nicely sets the stage for the hops.
T: The aromatic hops continue their firm grasp on the bock from the first sip. The citrusy hops, herbal and grassy, add a substantial bitterness, far more than a maibock should have. Biscuity malts, full with a bready sweetness, are a counterpoint to the hops. They do not, however, overwhelm the hops; they can't, it's not in their nature. A hoppy maibock seems apocryphal but I really like the results. Easily one of the hoppiest lagers that I've ever had.
M: Crisp, assertive hops, really that is all one needs to know. A fragrant, bitter maibock that shatters the mold.
D: In retrospect, I'm glad that I bought a case of this beer. The fresh boldness of the hops makes this a trendsetter that is very good.
1,257 characters
4.06
/5
rDev
+1.5%
look: 4.5 | smell: 3.5 | taste: 4 | feel: 4.5 | overall: 4.5
I had this on tap at the tasting room a few days ago - served chilled in a standard pint.
A - A hazed amber w/ golden hues w/ rocky eggshell cap. The clarity is light chill haziness w/ lace that clings and a tight bead
S - I was too pleased at first with the smell, too bready and yeasty IMO, but as it warms it has more biscuit and spice from the hops w/ subtle earthy and more toasted melanoidan notes w/ a subtle sweet malt and still retains some of the doughy yeast notes
M- The feel has nice dry malty toast textures w/ moderately full feel the palate enjoys a medium high carbonation level w/ slight chalkiness which seems more like mineral tinged w/ a semi dry finish
T - A flavor that hints at spice and toasted malt with sweet tinges of granola, cracker-like at times w/ mild bitter herbal accent from the nb/tettnang combo. the mild bitterness of the hops come off as a pine earthy taste which comingles w/ a mild bread crumb melanoidan and light pilsner malt tinge w/ a herbal note that is semi-dry with an alcohol element backing it up. The spice is noticeable in the finish, but not overdone
D - I was very happy to see Troegs do a Maibock as a fan of the style -this fits the style well and it is very, very drinkable. It is so deceptive with lots of malt flavor and only able to detect the alcohol when it has warmed slightly. I recommend this to bock fans or anyone who likes a 'beefed up' pils it has enough hops to feel balanced to me
1,458 characters

4
/5
rDev 0%
look: 4 | smell: 4 | taste: 4 | feel: 4 | overall: 4
A - A hazy, golden-orange body with a fluffy white head that showed some nice retention...decent lacing
S - Earthy hops are evident, which surprised me...a bready malt characteristic is present along with a caramel malt sweetness
T - This beer is sweet but not cloying...the malts stand out and present themselves as sweet, yet doughy...there's a bit of spiciness that stands out...the hops are earthy and spicy leaving with a nice finish
M - Light bodied...crisp, refreshing, and smooth
D - Maibocks are not typically my favorite but if you add some extra hops then I should like it...a decent Scratch from Troegs and very appropriate for the time of year
660 characters
4.23
/5
rDev
+5.8%
look: 4.5 | smell: 4 | taste: 4.5 | feel: 4 | overall: 4
On tap at Troegs on 5/18/10.
A - Very hazy two-tone amber/orange liquid with a perfect finger's width of creamy off-white foam on top that reduced to a patchy veil but yielded exquisite lacing all around the glass.
S - Spicy bread and doughy malt character with traces of cinnamon and earthy spices and herbs. Hop character is somewhat muted, although some citrus rind pokes its way through.
T - Bready and cookie dough malt character with sweet caramel and toffee notes as well as a hint of spiciness. Ginger perhaps? Really hoppy in the backend with an earthy, slightly herbal character, although more of the cookie malt sweetness swoops in to balance out the bitterness. Slight traces of alcohol also crept into the mix as the liquid reached room temperature.
M - Solid medium bodied with a slight oily texture and light carbonation. Finishes with a moderate earthy hop bite on the palate.
D - This Scratch beer exceeded my expectations, to say the least. Maibocks tend to be hit or miss with me, but this one offered a hoppy twist that I welcomed with open arms. A hoppy Maibock... now that is a Spring brew that I can embrace!
1,137 characters

4.03
/5
rDev
+0.8%
look: 4 | smell: 3.5 | taste: 4 | feel: 4.5 | overall: 4.5
On tap @ the brewery on 5/21/10. Served in a pint glass.
Pours a hazed deep copper, with a creamy finger of creamy white head, that's got a touch of a dirty off-color to it. This retains with a rich frothiness to it that leaves a good bit of spotty froth behind. Fresh Noble hops drive the aroma with spice, soft fruit, and damp earth up front, which is then encapsulated in the nose by the smooth sweetness of the malts. This is pleasantly hop forward but it's maybe covering up the malts just a wee bit too much here.
The malts are much more pronounced in the taste, with notes of buttered bread and caramel (and just a smidge of citric fruit) being silky smooth across the palate. Hops are a gritty balancing force across the back of the profile and are thankfully less forceful than they are in the aroma. Good bit of earth and dry lingering spiciness hangs past the finish. The mouthfeel is medium bodied, with a beautiful feeling balance of crispness to the carbonation but then overall smoothness on the palate. You get a little alcohol heft out of the body but that's it, as this just has a great drinkibility on it.
While Maibocks really aren't among my favorite seasonal selections, Tröegs certainly made a believer out of me with this great take on a classic spring style. While I found the nose to be just a little to heavy on the hops, the balance in the taste got it just right, and the body and drinkibility of this were both killer. Just a real solid Scratch entry here.
1,493 characters
4.03
/5
rDev
+0.8%
look: 4.5 | smell: 4 | taste: 4 | feel: 4 | overall: 4
12oz brown bottle poured into a SA perfect pint glass. Pours a clear, almost seemingly polished orangle color that allows me to watch the rising bubbles of carbonation coming off of the etching on the bottom of the glass. Head appears 2 fingers strong with a creamy white cap that receeds slowly leaving lace all about the glass. Very fresh herbal and citrusy hop aroma that has a slight twinge leaning towards being almost sulfuric. If I was a betting man, id say the same hops used in the last scratch were included in this one as well. The hop character shares a striking similarity to the previous scratch. Also included in the aroma is a fresh biscuit-like grain character but it takes a back seat to the hops. Taste is inline with the aroma, fresh citrus and herbal hops are in the foreground providing a nice bitterness but the flavor gives way to a sweet malty profile that has a touch of buttery notes but is very much biscuity and grainy. The residual sugar in this brew lingers in the mouth long after each sip but is contrasted nicely by the hops and the increasing presence of the 7% alcohol. This is a medium to light bodied beer with a lively amount of carbonation and a really well put together example of the style. I only fault this beverage for having a bit too much hop characteristic for the style. This is possibly due to the freshness but at the same time it continues to show the style of Troegs. It is not something to go out of your way for but it is one of the better maibocks I have had in recent memory.
1,532 characters
Scratch Beer 30 - 2010 (Jerman Bock) from Tröegs Brewing Company
Beer rating:
4
out of
5
with
61
ratings