Scratch Beer 37 - 2010 (IPA #1 Of 4)
| Tröegs Brewing Company
BA SCORE
80
good
60
Reviews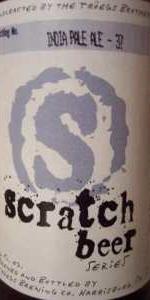 BEER INFO
Brewed by:
Tröegs Brewing Company
Pennsylvania
,
United States
troegs.com
Style:
American IPA
Alcohol by volume (ABV):
7.70%
Availability:
Limited (brewed once)
Notes / Commercial Description:
Scratch #37 features Warrior and Cluster hops with a touch of Columbus. It pours a bright gold with a white cap and soft carbonation. Ripe fruits are present on the nose, and continue in the taste giving a lush, tropical papaya-like flavor. This ample bitterness is offset by sweet Munich malt that lingers through each taste. Enjoy our latest IPA foray, and stay tuned for future experiments in the style. Research has rarely been so rewarding.
85 IBU
Added by stakem on 11-11-2010
This beer is retired; no longer brewed.
Reviews: 60 | Ratings: 66

3.7
/5
rDev
+6.3%
look: 3.5 | smell: 3.5 | taste: 4 | feel: 3.5 | overall: 3.5
A-Copper kissed golden yellow with a thin white head that left little lace.
S-Spicy pine and citrus with a touch of biscuit malt sweetness. Nothing crazy or overpowering going on here but pleasant.
T-Spicy pine up front with a background citrus kick. I had two pints (on different days) previous to this one and for some reason this particular one finally presented itself nicely. Before I was on the fence and found this brew tone rather muddled and bland.
M-Medium body but feels heavier. Flavours do not pop on this one and just get washed away without presenting themselves.
D-A good beer but not one that hits a home run on my palate. Not sure why but....well, that is how I am perceiving this one.
★
708 characters
4.25
/5
rDev
+22.1%
look: 4 | smell: 4 | taste: 4.5 | feel: 4.5 | overall: 4
I picked up a six pack, just got around to having a taste. Poured chilled from the 12oz into a willybecker.
A pure golden look with crystal clarity and rocky foamy bone white cap. The lace sticks tenaciously and the bead is fine. The smell is very herbal and earthy with a mild sweet malt undertone, the hops may have a mild citrus but it is more muted with the light pine, twiggy herbal notes more prominent to my sniffer. The feel is greet, balanced sweet with bitter and mild acidity with a slightly dry finish and the carbonation is slightly above medium.
The flavor is great with hop profile you don't normally get in an American IPA, but I like it a lot. I am glad they decided to go in a different direction with this than your cookie cutter west coast IPA. I enjoy the slight bitter, mild sweet herbal hop taste which seems to blend well with the yeast and semi-dry malt backbone. I found this to be very good overall I will have to try it on tap to see how it compares.
★
983 characters

3.58
/5
rDev
+2.9%
look: 4 | smell: 3.5 | taste: 3.5 | feel: 4 | overall: 3.5
A - A brightly colored, golden body with a white head...the head stood about two fingers and ended up as a ring around the glass...some decent lacing
S - The hops were subdued in the aroma...I was expecting big citrus, but all I got was a medium floral and herbal hop presence...buttery bread and caramel malt provide the sweetness
T - Again I was ready to be attacked by the hops...I mean this is Troegs we're talking about...but yet again the hops were held to a minimum...more floral and herbal qualities...the beer had an earthy taste to it as well...the malts were nicely toasted and had a good caramel sweetness to them...I feel the house yeast strain stood out a little as well...I could pick that up in the middle of the beer...the finish is actually a tad bitter which was a nice surprise
M - Medium bodied...crisp, some alcohol, slightly bitter finish
D - As I said before I was ready to have my socks knocked off with this IPA...but I was left disappointed...well they have three more tries in their IPA series
★
1,025 characters

4.03
/5
rDev
+15.8%
look: 4 | smell: 3.5 | taste: 4.5 | feel: 3.5 | overall: 4
Acquired from Deuane. Thanks again man, cheers!
Poured into my Hennepin glass. Bottle says 37 India Pale Ale.
A: Poured a nice orangish amber color, nice 1 finger off white head that settled into a small ring, some stubborn lacing won't give up. Nice.
S: Weird aroma, some citrus, lemon, doughy malt (think preztels) and then apple juice. Kinda made me double take. Not a bad aroma, but unexpected.
T: WOW. Citrus and slighty bitter hops up front but the malt cuts in to the hop just enough. Orange and pine are the main hop notes, with flowery an spicy notes just behind. The malt never backs down, but also doesn't become cloyingly sweet either. Very, very good.
M: Nicely carbonated, slightly slick yet creamy. Not bad.
D: Oh yeah, very. This is 7.7%? Get outta here! Finishes clean with the bitterness and malt keeping each other happy, and the alcohol is very well hidden. I could drink this all night.
This is a fantastic IPA. To be honest, this just jumped into my top 3 IPA's with Columbus and Two Hearted. Superb job Troegs! If this becomes a regular offering, I will buy by the caseload.
★
1,104 characters

3.38
/5
rDev
-2.9%
look: 4 | smell: 3.5 | taste: 3 | feel: 4 | overall: 3.5
Troegs Scratch 37 is an IPA hopped with Warrior, Cluster and a touch of Columbus. The aroma is very fruity that it almost reminds of Amarillo, however, the Columbus give itself away with the oniony, body odor aroma that is hiding in the fruit. The beer is pretty ordinary with medium bitterness and a fair bit of crackery malt, but there isn't anything special to set it a part. I am glad to have tried this, but would not go out of my way for this.
★
449 characters

3.5
/5
rDev
+0.6%
look: 3.5 | smell: 3.5 | taste: 3.5 | feel: 3.5 | overall: 3.5
Served on-tap into a standard pint in the Troegs tasting room.
A - Pours hazy sun kissed copper with a strong two finger white head leaving sticky lacing down the entire glass.
S - Plenty of floral citrus hops with underlying sweetness from the malt. Ripe citrus fruits abound but are tempered a bit with a faint spicy quality. Not the best nose, but not the worst either.
T - Lots of hop bitterness upfront that lingers on the pallet throughout the experience. Hops are citric with a bit of herbal qualities that add a slight spicy character. A bit of toast on the sweet malt goes well with all those hops. Finish is a bit on the dry side. Very nice effort but I have had better.
M - Medium body and flavor with moderate carbonation. Sticky, bitter, feel coats the pallet.
D - Fairly good. I enjoyed this one for what it was but thanks to the higher ABV I can't see myself sitting down and drinking a few of these in one sitting.
★
935 characters
3.83
/5
rDev
+10.1%
look: 4 | smell: 3.5 | taste: 3.5 | feel: 4.5 | overall: 4.5
Scratch Series IPA #1 of 4
A: Pours a golden straw color, with an ivory head...pretty standard.
S: Tropical fruits up front (tangerine, papaya, tart grapefruit), followed by a bit of grass, then a minimal amount of sweet malt.
T: The taste has sweeter tropical fruit than the nose. Not too much malt in here either.
M: Medium bodied, carbonation is good, and the bitterness is moderate.
D: Overall, a pretty good IPA from an excellent brewery..win.
★
453 characters

3.5
/5
rDev
+0.6%
look: 3.5 | smell: 3.5 | taste: 3.5 | feel: 3.5 | overall: 3.5
Just picked up fresh from the brewery, the latest installment of the Troegs scratch series. Hell yes another IPA from Troegs and it introduces there further experiment into the hoppy unknown for them. Here we go love me some scratch beers.
A- This beer looks absolutely wonderful, it has a pale golden color to it with a slight copper/amber hue that seem enticing and begs to be consumed, but I have to be patient and go through all the steps to enjoying these Troegs' experiments. Beer has a thin white head that dissipates very rapidly and continues due to the constant stream of bubbles.
S- Smell is very faint of a combination of citrus and pine, not sure if I am a fan of this type of hop profile as there is not much of a smell to it, especially when compared to 31 and 35. It really is lacking in the floral hops department I am not getting what I expected. Let's let it warm a little bit to see what happens...I am picking up some faint pine resin, a very subtle citrus note and some fruity esters similar to an unripened pear or honey dew or other melon skins. The malt sweetness is not very present, but as it warms some you can pick up a little sweetness that melds well with the fruit skin nose.
T- Now the best part let's see if it picks up in the taste area of another anticipated scratch beer. Right away I am greeted with a little citrus/pine tickle that is enjoyable, but not what I expected from Troegs. Has a light-medium body to it and finishes like an unripened pear and is a little bland and seems very warming. I hate to say it, but I feel like Troegs missed the mark a little or the chosen bittering hops are not what they expected either. I am picking up a little bitterness, but no where near where I would like it to be for a Troegs hop experiment. The malty sweetness is very subtle and mixes well with the slight hop bitterness.
M- Definitely coats the mouths and allows all of the tastebuds to be involved in the process along with the rest of the mouth. Almost a little syrupy, definitely has a rich, medium body that stays on the tongue for awhile and allows you to pick up all the nuances of the beer. Carbonation is ample like most of Troegs beers and allows for a little hop tickle on the tongue.
D- Not sure of the abv, but that is never a problem. I could definitely drink a few of these, but I am a little displeased with this offering from Troegs, its hard to say its too fresh because its an IPA I just feel they rushed this one or didn't plan out the hops like they did with 31 and 35. I hope they decide to continue work with cascade, simcoe and citra hops in the future.
Still its an IPA from Troegs!!! Please don't use these hops in the Perpetual IPA.
★
2,706 characters

3.85
/5
rDev
+10.6%
look: 4 | smell: 4 | taste: 4 | feel: 3.5 | overall: 3.5
12 oz bottle into a pint glass. Thanks go to wishuwerebeer and stakem for hooking me up with an early bottle of this.
Pours a crystal clear gold in the glass, with 2 fingers of rich bright-white head. This retains with a foamy ¼ finger of smooth froth that throws a creamy cascade up that hangs on the sides of the glass in sticky swathes. The aroma is floral and citric smelling, with an almost perfume-like character to it in spots. Digging deeper reveals some ripe fruit, dankness, and a gentle spiciness. Malts work well with the fruity aspects of this to form a sweet twang in the back of the nostrils. Those sugary fruit notes really start to control this as things warms up.
The taste is initially very bitter up front but this smoothes out very nicely once this gets to room temp, spreading hop flavors of green fruit, herbal qualities, and citrus peel out onto the palate. This is backed by a sticky blend of fleshy tasting fruit character and the toasted graininess of the malts. This finishes with a combo of pithy citrus peel and dry spice. The mouthfeel is medium bodied, with a solidly firm crispness to it but is mostly carried by a smooth slickness underneath that keeps this moving. This is maybe showing a little too much warmth as well. Not necessarily in the profile but the kind that creeps around in your throat and chest after you finish a sip.
This definitely isn't your average IPA and although I don't have a huge amount of experience with this hop variety, I'm going to go out on a limb and say that this is primarily Nelson Sauvin? Lots of hop flavor here but without any overt bitterness to it, I was really digging on this for the most part. The only thing holding it back for me was the warmth in the back-end. I'm definitely up for checking out more of this once it's officially released.
★
1,827 characters
3.58
/5
rDev
+2.9%
look: 4 | smell: 3.5 | taste: 3.5 | feel: 4 | overall: 3.5
The label reads in the typical scratch fashion: "India Pale Ale - 37." No indication of abv or other statistics about this brew but I am sure those details are forth coming.
12oz bottle into a pint glass. This brew appears a very light yellowish copper that has a little bit of orange coloring about it. Overall it is quite polished and clear. The cap of white foam forms about a finger strong and recedes to a thin layering atop the brew. Swirls release suspended carbonation reviving the head and leave a bit of spotty lacing on the glassware.
The aroma of this is a little different from the typical "C" - hopped ipas. In fact, I am going out on a limb here and state that this is the least citrus-like fresh IPA I have ever smelled. This is a very fruity smelling offering (possibly showcasing more of the yeast character here instead of hops? does that even make sense?) It is reminiscent of pear skins and other fruity character almost like cantaloupe. As it warms some earthy and minor herbal indications come forward along with a light prickly indication of the alcohol in the nose.
Tasting this brew is yet again an ipa experience unlike what I am use to. The first flavor that crosses my tongue is that of fruits akin to a semisweet pear skin or cantaloupe taste. There is a light touch of green yeastiness and some leafy, grassy herbal character before the bitterness of this brew comes into play. Behold a moderate amount of bitterness...yikes where did that come from? It is bittering with a resinous cling that is herbal and lasts long into the finish. At times the bitterness is sharp but blends with the alcohol that is slightly solvent and is much more pronounced in the flavor than in the aroma.
This is a medium bodied brew with a moderate level of carbonation. It was certainly different from what I was expecting which isn't necessarily a bad thing but the flavors and the bitterness/alcohol seemed to clash a bit. I had to drink a second bottle just to make sure something fishy wasn't up with my first experience.
★
2,048 characters
Scratch Beer 37 - 2010 (IPA #1 Of 4) from Tröegs Brewing Company
3.48
out of
5
based on
66
ratings.