Scratch Beer 38 - 2010 (IPA #2 Of 4)
| Tröegs Brewing Company
BA SCORE
84
good
60
Reviews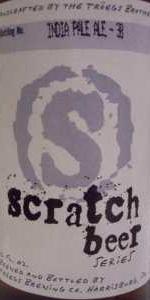 BEER INFO
Brewed by:
Tröegs Brewing Company
Pennsylvania
,
United States
troegs.com
Style:
American IPA
Alcohol by volume (ABV):
7.70%
Availability:
Limited (brewed once)
Notes / Commercial Description:
No notes at this time.
Added by akorsak on 11-26-2010
This beer is retired; no longer brewed.
Reviews: 60 | Ratings: 67

3.88
/5
rDev
+4.3%
look: 4 | smell: 3.5 | taste: 4 | feel: 4 | overall: 4
A-Golden kissed copper with a medium off-white head that slowly reduced to a thin cap and left ringing lace.
S-Light, spicy citrus and some pine notes over lying light biscuit malt sweetness. Touch of earthiness in the background.
T-More citrus on the palate from the Centennial and Chinook hop bill. Spicy bite with a light underlying biscuit malt sweetness.
M-Medium-light body, crisp with a nice lingering bitter citrus rind flavour.
D-I like this one, but I don't love it. The citrus pop isn't enough for this guy but...I always want MORE! Certainly a well structured beer but misses the mark for me slightly.
617 characters
3.7
/5
rDev
-0.5%
look: 4 | smell: 4 | taste: 3.5 | feel: 4 | overall: 3.5
My grand slam on Scratch 38. Part of the MNF Ravens game.
A: The IPA is a golden orange color, light enough to remain opaque. A very bright ale. A finger of white head has laced all around the mouth of the glass.
S: Citrus and pine, resiny, leap out of the glass. The aroma, the more it lingers, seems a little soapy, a little floral, basically running all over the place.
T: The ale isn't as carbonated as the excess lace would indicate. That allows the floral flavors to linger a few seconds before the bitterness kicks in. That floral aspect is sweet, a strong start that quickly goes bitter. The finishing hops are hot with citrus and a resiny pine and lead to a grassy finish. A hop showcase, from the floral to the grassy. The biscuity base is an afterthought. The hops, a little too strong at first, nicely settle into a groove mid-way through.
M: The mouthfeel needs some time to get its sea legs. When it all comes together, the hops are vibrant with floral, grassy and citrus flavors. There is plenty of boozy bitterness though, a little overpowering.
D: This one has the ability to get to me quickly. It is thick and bitter, especially in the finish (and that is what lingers in my memory).
1,206 characters
4.18
/5
rDev
+12.4%
look: 4 | smell: 3.5 | taste: 4.5 | feel: 4 | overall: 4.5
On tap at Troegs
A: Pours a clear golden brown with a frothy ivory head that sticks around for awhile.
S: Orange zest, grassy and earthy hops, and minimal biscuit flavored malt.
T: Orange zest up front followed by the grassy and earthy hops. There is a minimal malt presence in the middle followed by some more orange zest and lemon notes. Delicious.
M: Frothy carbonation, but it's not too much, medium bitterness, and nice resin left in the mouth from the hops.
D: This beer is very drinkable and I wish I didn't get one of the last pints...
548 characters

3.97
/5
rDev
+6.7%
look: 3.5 | smell: 4 | taste: 4 | feel: 4 | overall: 4
Served on-tap at the brewery into a standard pint.
A - Pours pale orange, quite clear, with a strong one finger white head leaving spotty lacing down the glass.
S - Lots of floral citrus hops blast you in the face. A touch of sweet caramel malt and a touch of bready yeast help to balance it all out. Not the best nose I have ever experienced but a nice one none the less.
T - Plenty of leafy citrus hops up front slowly giving way to a mix of bready yeast and some sweet malts. Finish is strong hop bitterness that lingers on the pallet long after consumption. A very nice balance of flavors. Possibly a bit too much malt in the middle. I liked this one a lot.
M - Medium body and flavor with moderate carbonation. Finish is a bit chewy with plenty of lingering hop bitterness.
D - Fairly high. I liked this one more than the fist one. The hops seemed to be a bit brighter in this one. Not as good as the cask version tho.
928 characters

4
/5
rDev
+7.5%
look: 4 | smell: 4 | taste: 4 | feel: 4 | overall: 4
A - This beer had good clarity for being an unfiltered ale...the body was a golden yellow color and it had a small white head on top...the head became a thin ring and left some lacing
S - The hops jumped out at first as they were sweet and citrusy...some grapefruit and orange...there was also a nice caramel malt backbone
T - The flavors were very similar to the nose...a very nice balance...sweet citrus hops again jump out first and are paired with the sweet caramel malt...there is a slight earthiness in the middle of the beer where the hops and malts overlap each other...the finish comes back with slightly bitter hops...they at least let you know they are there
M - Medium bodied...smooth and refreshing...the bitterness was pleasant
D - I enjoyed this IPA over the first...the hop flavors were more pronounced on the nose and in the flavor...bring on number three!
877 characters
4
/5
rDev
+7.5%
look: 4 | smell: 4 | taste: 4 | feel: 4 | overall: 4
Poured into a SA sensory glass, this brew appears a color of light golden orange with decent clarity. However, some very faint particles are stuck in suspension if you look close. A finger of white foam appears and quickly recedes to a thin layering. A constant stream of bubbles rises to the surface in support of the thin film across the top. Swirls revive the head and spotty lace clings to the glass.
The aroma of this brew initially is quite fruity with a scent of pear and apple skins that turns to more of a citrus grassy character. As it opens up, the hops impart a mixture of sweet smelling orange/lemon citrus rind and light pine before the boldness of the alcohol comes forward with a solvent quality in the nose.
The taste is also fruity with a mellow taste of pear or apple skins that turns modestly bitter with an herbal quality that hangs inside the mouth. The hops impart a bit of rind-like bitterness that lasts. Mid palate are some spicy flavors before the alcohol makes itself known with some warmth to the finish.
This is a medium bodied brew with a modest level of carbonation. It is decently drinkable for a ~7% abv brew and a slight upgrade from the first offering in the "series of four."
1,215 characters
4.12
/5
rDev
+10.8%
look: 4 | smell: 4.5 | taste: 4 | feel: 4 | overall: 4
From a firkin at TJ's served in a nonic.
A - a golden hazed liquied with pillowy, rocky cap of thick white crown. the c hop aroma is there, lots of grapefruit and lemon rind in the aroma. The feel follows the scent with slightly sweet lightly yeast influenced texture with a strong astringent quality and moderately bitter. The finish is semi-dry.
A good citrus flavor from the hops with mild malt and semi-bitter flavors for the style it is pretty hop packed and the grapefruit element is en force. The yeast effect adds a dry spice note and smoooths out the flavor of bitter hops with a moderate juicy flavor toward the end. The cask ipa is very nice with a pretty solid drinkability factor overall.
705 characters
4.13
/5
rDev
+11%
look: 4.5 | smell: 4 | taste: 4 | feel: 4 | overall: 4.5
Served in a nonic pint glass. Glass of cold water on the side to sip from periodically.
Appearance: As served the beer is a bright clear orange and amber color with a ¾" slightly off-white head that is quite thick and recedes slowly leaving some nice thick lacing. For much of the beer sipping leaves some interesting patterns of lacing.
Smell: The aroma is dominated by lots of hop character that seems to have a mixture of grapefruit and citrus zest along with some touches of pine and grassy, earthy hops.
Taste: The flavors are much as expected from the nose and are nicely complex. There is a caramel malt backbone that remains quietly in the background leaving the show to the hops. The hop flavors that dominate the beer are earthy, grassy and citric (both grapefruit and orange), but a touch of pine shows up here as well.
Mouthfeel: The mouth feel is medium to light bodied and quite soft and smooth with the gentle carbonation. The finish is medium to long and nicely dry and bitter
Drinkability: This was a very drinkable beer. Each sip followed the other easily and I'd love to have this one again.
1,118 characters
4.08
/5
rDev
+9.7%
look: 4.5 | smell: 4 | taste: 4 | feel: 4.5 | overall: 4
On cask at TJ's yesterday. While I was sad to see Sculpin go, this was a pleasant replacement. The ABV was noted as being 7%
Clear amber with a dense, white head and nice lacing. There's something about hoppy beers on cask that make them just a pleasure on the eyes. And rather unsurprisingly, this is great on the nose too. Skunky, dank weed-like hops with a mild caramel and biscuity malt character. Moderate floral hop character is present, this shows great balance. Moderate bitter with a mild sweetness, the hops are wonderfully expressed here. Blending dank and floral hops on the flavor front, this is excellent. Bitterness is moderate and to some extent, smooth. Drying on the finish with great hop character on the finish, this feels great on the palate. I was drinking this along with Elder, and it held its own, which is a rare feat for an IPA. I'd say that Troegs brews the best hoppy beers on the East Coast.
921 characters
4.42
/5
rDev
+18.8%
look: 4 | smell: 4.5 | taste: 4.5 | feel: 4 | overall: 4.5
From a firkin at TJ's yesterday. This replaced the firkin of Sculpin during TJ's anniversary event. While I was sad to see the Sculpin go, getting this as a replacement made for an impressive substitute.
The beer pours the proto-typical orange amber IPA color with good head retention and lacing. On the nose.... wow!!! I get a huge aroma of skunky marijuana, pepper, pine, earth and dry citrus. This beer smells great. Happily, the flavor profile replicates the nose pretty closely, with the beer showcasing a long, dry, bitter finish. This may be the most "West Coast" tasting IPA I've ever encountered here on the East Coast. The sweet malt in this beer is barely more than an afterthought, and is just barely sufficient to balance all the hoppy goodness in this beer. Mouthfeel is somewhat lean, but it works well in this delicious IPA. Otherwise, the beer is fairly soft on the palate, with a long, dry, bitter finish. Drinkabilty is excellent. Would be curious to know the abv. in this beer, though I would guess it's in the 7% range. In any case, this beer was an absolute joy to drink, and under normal circumstances I would have happily spent the afternoon drinking nothing but Scratch 38 (obviously, given the tap list for the anniversary event, this was anything but "normal circumstances").
Very, very impressive, and for my money, maybe the best scratch beer yet from Troegs. Dare I hope this beer someday becomes part of the regular line-up???
Note from 1/8/11. Sampled this beer on tap the other night at the Warwick event, and while still good, it was not nearly as impressive as the fresh cask version I had at TJ's. Still a good beer (probably would score it a B+), but nothing like the beer I had at the anniversary party.
1,745 characters
Scratch Beer 38 - 2010 (IPA #2 Of 4) from Tröegs Brewing Company
3.72
out of
5
based on
67
ratings.