Scratch Beer 55 - 2011 (Double IPA)
| Tröegs Brewing Company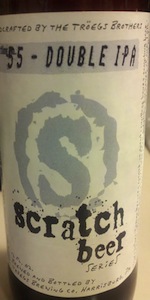 BEER INFO
Brewed by:
Tröegs Brewing Company
Pennsylvania
,
United States
troegs.com
Style:
American Double / Imperial IPA
Alcohol by volume (ABV):
8.60%
Availability:
Limited (brewed once)
Notes / Commercial Description:
With 2011 coming to a close, we are in the mood for hops! Our brewers have been filling up the hop dosers and hopback with ridiculous amounts (and blends) of hops while learning to tame our new twin brewhouses. Scratch 55-2011, a Double IPA, has the subtlety of a hop sledgehammer. Yep, there's a nice amount of color and sweetness from a massive blend of Munich and Crystal malts, but the playmaker here is a bevy of mouth-puckering hops that create a taste bud-numbing blend of pine and grapefruit that begin in your nose and linger long after your glass is empty. Tread gently beer lovers as this high-ABV level is masked by the big hop flavor.
82 IBU
Added by Tucquan on 12-28-2011
This beer is retired; no longer brewed.
Reviews: 35 | Ratings: 75
4
/5
rDev
+1.3%
look: 4 | smell: 4 | taste: 4 | feel: 4 | overall: 4
Scratch Beer 55 - 2011 (Double IPA)
Tröegs Brewing Company
Pours a dark orange color with a lightly tan off white head. Appears with a chill haze, probably unfiltered. Aromas of herbal hops and a good dose of caramel. In the taste, herb, mint, citrus and mild pine flavors upfront, with some caramel and mild toasty malt on the back end. Manages to stay pretty citrusy, with Clementine orange notes. Juicy, yet full bodied ale. Carbonation is at a solid medium. Overall, a nice IPA, but not too intense for a double. Tastes like a pretty solid IPA, good balance between malt and hops. Would definitely drink again.
616 characters
3.98
/5
rDev
+0.8%
look: 4.5 | smell: 4 | taste: 4 | feel: 3.5 | overall: 4
Had this picked up from the brewery a couple of days after release, so I'm sure it was fresh when I first tried it.
Pours a beautiful copper orange color, fantastic clarity, leaving a quarter to half-inch head throughout the session. A nice bit of lacing remained on the glass as I enjoyed this beer.
Aroma is spicy, piney hops with a little breadiness and a touch of earthiness. Also a hint of alcohol is apparent, but not to the point of burning.
Taste follows the nose.. Spicy, piney hops. Not really any floral notes to speak of. Some malt sweetness here in the mid-palate, but the back end leaves a lot of piney hop resin that lingers until the next sip. Really nice, not too sweet like many other DIPAs out there. A little alcohol is noticeable, but for the strength I am impressed by how drinkable this is.
A little slick in the mouth, medium-bodied I would say. I've had lighter and drier DIPAs, but I think the body is a nice balance to the spicy hop tongue-slap that this beer delivers.
I really enjoyed this beer and found it extremely drinkable and well-balanced IMHO. If I had to tweak it a bit I would say back off of the piny hops a bit and go for some more tropical notes.. but that may just be personal preference. Cheers to Chris and John for another great beer. I really hope to see a new seasonal release featuring a DIPA like this one.
1,361 characters
3.95
/5
rDev 0%
look: 4 | smell: 4 | taste: 4 | feel: 3.5 | overall: 4
I picked this up from the brewery -enjoyed chilled in a pub glass, shared with carlos.
The color is deep copper, almost bronze with thick cream cap and good clarity with tight bead and good lace. the smell is very peppery slightly citrus tinged with a mild pine accent, there is a light malt accent, however there is mostly hop in the nose with slight alcohol esters. The feel is very bitter and semi-dry with slight sweet quality supporting the astringent and spicy aspect of the hops with moderately high carbonation and overall full feel.
The taste is a mix of pine with its resinous taste from the intense hops with grapefruit tinges and mild spice coming out first with a subtle vegetal tinge. The thing that you taste in this Imperial Ipa that stands out is there is some caramel which adds to the fruitiness of the hops with slight toasted graininess and light sweet bready tinges. Overall I liked this as it has plenty of hops and is good for the style, but it has a little more alcohol in the flavor and the hops are mainly spicy which is good when paired with the malts they chose.
1,096 characters
4.22
/5
rDev
+6.8%
look: 4 | smell: 4.5 | taste: 4 | feel: 4 | overall: 4.5
A- Amber with slight transparency. Thick light tan head with good retention.
S- Hops up front, pine with some citrus. Possibly some fresh grass.
T- Hops are definitely there, with some malt to balance it out. Pine comes through from the hops.
M- Very smooth with light carbonation and some stickiness from the hops.
O- Very good DIPA. Smooth, crisp, hop-forward and flavorful. Actually reminds me of a more hop-forward 90 minute.
433 characters

4
/5
rDev
+1.3%
look: 4 | smell: 4 | taste: 4 | feel: 4 | overall: 4
Served on-tap at the Brewery and again from a bottle a few days later.
A - Pours deep tarnished copper orange with a small one finger tall white head leaving small streaks of lace down the glass. My pour from the bottle resulted in a huge 2-3 finger tall head...
S - Smells of juicy hops, pine resin, citric fruit rind, caramel sweetness, and some faint spice begins to creep in toward the end of the glass. As it warms, more and more booze creeps in.
T - Starts off with quite a bit of bitter citric hops that mix well with the sweet caramel malt, tropical fruits, and some warming booze. Finish is a little dry with a mix of sweetness and bitterness lingering on the pallet. All things considered it is fairly well balanced and easy to drink.
M - Medium body and flavor with moderate carbonation. Sticky sweet, slightly bitter feel that clings to the pallet long after consumption.
O - I enjoyed this one. It never gets to the point of being great but it is fairly well balanced and pretty easy to drink. I think with a few minor tweaks it could really be great.
1,071 characters

3.95
/5
rDev 0%
look: 4 | smell: 4 | taste: 4 | feel: 3.5 | overall: 4
A - Served with a semi-clear, dark copper body...an off white, two finger head stood on top and slowly feel to a full ring and a broken cap...lacing was left behind
S - Juicy hops are present with both citrus and pine notes coming out...there is also a strong caramel backbone that's adding the sweetness level on the nose
T - The hops start off with a big blast of citrus...grapefruit and orange are leading the way...there is a certain sweetness coming from the citrus hops...then the strong caramel backbone adds to that level, but it never cuts back the bitterness the hops supply...bitter, piney hops finish the beer
M - Medium bodied...a little chewy, resiny, ample bitterness, with a touch of sweet
O - It was nice seeing the Scratch series bring out a Double IPA...this beer has some nice qualities and really focuses on the hops
841 characters
3.66
/5
rDev
-7.3%
look: 4.5 | smell: 3.5 | taste: 3.5 | feel: 4.5 | overall: 3.5
Had this today on draft at the troegs tasting room, decided to take some bottles home for a more thorough review. Poured into a snifter, this brew appears a clear amber color with 2 fingers worth of yellowish stained froth atop. The brew displays some pretty decent clarity when held to the light and more of an orange coloration as it is held tot he light. The cap retains with solid retention supported by constantly rising bubbles of carbonation.
The smell of this brew is hoppy with a mixture of herbal character, pine, catty quality, dank indications, fruit, rinds, minerals and solvent alcohol. Across the back is a sweetness that seems to come from a combination of fruity hops, alcohol and some accenting sweetness of the malt inclusion. Not a bad smelling brew, the mineral character I could do without though. Considering how fresh this is, I would expect a brighter hop-forward scent from this without the dirty mineral edges.
The taste is herbal with a hoppy bitterness that is rindy with a combination of herbal elements coming across like grapefruit pulp/zest and grass. There is a toasty malt inclusion that hardly provides any supporting sweetness but the flavor that is present helps to push forward a bit of a fruity appeal to this brew. There is a bit of mineral flavor included as well as sulfur. The alcohol is fairly evident in this even while it is cold. The finish includes a taste of dirty melon mixed with cheese that lasts inside the mouth well into the aftertaste.
This is a medium bodied brew with a modest level of carbonation. Overall it looks and feels good but the flavor and aroma leave room for improvement. I guess these folks are still working out the kinks from the move and new equipment. This brew leaves me wanting/expecting more considering these are the same folks who make the joyous brew that is nugget nectar. These guys know how to use hops, I cant wait until they get it right again. There is a familiar backend flavor to this that is reminding me of their scratch ipa project leading up to the release of perpetual. However this offering has a little bit more focus on toasty grain. Not bad but not something worth going out of your way for either.
2,200 characters
4
/5
rDev
+1.3%
look: 4 | smell: 4 | taste: 4 | feel: 4 | overall: 4
From a six pack purchased at the brewery yesterday. In a tulip.
A: The DIPA is a dirty penny copper color, barely transparent. The off-white head is sizeable, nearly a finger, and leaves prodigious lacing behind.
S: Citrus is resiny strong, florally sweet, with a pine undertow. It's amazing what a difference temperature can make. Nearer to room temperature, pineapple and grapefruit, orange zest too, really stand out with a powerful citrus bite. A little peppery and a little boozy as well.
T: Great bite from the get go, the hop bitterness establishing itself as the de facto owner of the beer. Citrus is dominant, with both the fleshy bite and subtle rind. Orange and grapefruit, lemons and a bit of pineapple. Caramel breads underneath but the hops never let go. Even the pepper in the finish is subservient to the bitterness. Lemon zest is a lingering flavor, an out-of-the-blue aspect that puts a nice bow on the package. Again, allowing the ale to warm up is key; it's served too damned cold at the brewery.
M: Alright, I'm back on board with this DIPA. The resiny hops are powerful good and powerful strong. An excellent tide-me-through until Nugget Nectar arrives.
1,179 characters
3.88
/5
rDev
-1.8%
look: 4 | smell: 3.5 | taste: 4 | feel: 4 | overall: 4
Had this on 2011-12-30 in Columbia, PA
A - Hazy caramel with a 4-finger light tan head and moderate lacing into a nonic glass. Dissolves to 1.5-fingers quickly.
S- Vegetal hops, mild malt, alcohol and earthy spice.
T - Caramel, medium roasted grain, earthy spice, touch of dried cherry, lemon flesh and zest. Finishes moderately dry with lots of lingering bitterness, puckering roasted malt and lemon zest.
M - Medium body and carbonation. Mildly prickly, resinous and sticky.
O - I liked it a little better out of the bottle since I was able to get more aroma than when I had it in the brewery. It's a nice DIPA but not earth-shattering.
644 characters
4.42
/5
rDev
+11.9%
look: 4 | smell: 4.5 | taste: 4.5 | feel: 4 | overall: 4.5
Fresh bottle bought just hours after they came off the line and chilled overnight in the fridge.
A - Pours an absolutely beautiful dark amber or maybe ruby orange color with just about a finger an 1/2 worth of an darker eggshell white head. The lacing from the head is moderate. You can pick up a little of the alcohol on the side of the glass. The beer is brilliantly clear with a good amount of carbonation.
A - Really nice floral aroma oozing out of this beer. Pine, grapefruit, and citrus all peek through. Has a nice malty backbone with a biscuit quality. Dank smelling beer. Starting to remind me of the NN just a lil.
T - Wow! Awesome Stuff! Great hop bitterness smacks you in the mouth. A Hop Bomb for sure. A slight malty sweetness comes in to help your tastebuds balance out all the hops. I can't taste any alcohol but you can feel the beer warm you as you drink it.
Note to the brothers' Troegs, Brew This Again!!!
M - Light to Medium body. Very refreshing and mouth puckering.
O - An Awesome beer for a hop lover. I personally think it rivals the Nugget Nectar and is the best scratch IPA produced so far from Troegs. Sure do hope this recipe makes its way into the
rotation.
1,195 characters
Scratch Beer 55 - 2011 (Double IPA) from Tröegs Brewing Company
3.95
out of
5
based on
75
ratings.