Scratch Beer (Naked Elf)
| Tröegs Brewing Company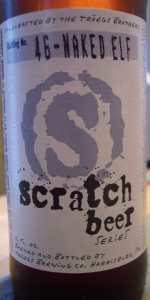 BEER INFO
Brewed by:
Tröegs Brewing Company
Pennsylvania
,
United States
troegs.com
Style:
Belgian Strong Pale Ale
Alcohol by volume (ABV):
8.50%
Availability:
Limited (brewed once)
Notes / Commercial Description:
Naked Elf takes a hard look at the less-is-more theory. Ever since we developed The Mad Elf, we've speculated what it would taste like without the cherries and honey. So what lies beneath the fruit? Naked Elf is unfiltered, so the spicy yeast taste is more prominent in this strong, hazy orange ale. The combination of the Pilsner, and Vienna malts give a lot of body and minimal sweetness, but Naked Elf has a dry finish. Finally, the heat of the alcohol makes its presence known in the finish. The Naked Elf's finest quality is the delicate balancing act between a lively yeast kick and a slight alcohol note that lingers in the back of the mouth—constantly reminding us not to overindulge in this complex, warming elixir.
Added by apintofknowledge on 08-12-2012
This beer is retired; no longer brewed.
Reviews: 15 | Ratings: 80

2.82
/5
rDev
-24.8%
look: 3.5 | smell: 2.75 | taste: 2.75 | feel: 3 | overall: 2.75
Poured in a frosted dimpled mug.
A: Formed a solid head when purposefully splashed into the glass, though it gave off little smell. It has a nice hazy red-orange color. Though the overall retention of the head was short, lacy foam still lines the glass for the 30 mins of sipping.
S: The smell, to me, is honestly not all that strong. Regardless, it smells sweet; incredibly malty. There are hints of banana, but also non-specific spice that fights with the sweetness, rather than complementing it. - Like putting pepper on a banana. Darker fruit is needed to balance out this smell and taste.
T: The spice hits your tongue first, but the starchy sweetness creeps in fast, and lingers long after the spice leaves. The time that they overlap is not as unpleasant as the smell of the combo, but it is extremely brief. The swallow goes down smooth-nice- for about 3 seconds. Then the sweetness floods in; what lingers is quite powerful. (overpowering if this is not your thing...).
M: Certainly medium bodied; it feels lighter than expected given its dark color. However, more carbonation would be nice to compete with the starchiness of the sweetness. The swallow has a light smoothness, but this dissipates as the beer warms.
O: Never having had Mad Elf, I do not know how this compares to its parent. Though, for me, this scratch is annoyingly unbalanced compared to other Troegs beers. It is reminiscent of Flying Mouflan, though not nearly as balanced. The starchy sweetness overpowers any spice, leaving a post-banana flavor lingering on the sides of the tongue with unpleasant dryness in the middle. A fun experience, though not something I would go back for.
1,669 characters
3.2
/5
rDev
-14.7%
look: 3 | smell: 3 | taste: 3 | feel: 3 | overall: 4
This beer on tap tastes like a dunkelweizen. All of my ratings are in regards to the style it claims to be. Beeradvocate labels it a strong Belgian pale ale and the place that I'm at labels it an 'abbey tripel'. It tastes and smells much more like a dunkelweizen. It has some similar notes to a tripel, but I do not taste a Belgian pale ale. As for the taste, I do think it's great. Very enjoyable, but that's because I love dunkelweizens. Nice clove and banana taste and aroma. If this was a dunkelweizen I would have rated it much higher. If you come across it, try it. It's an awesome tasting beer, but don't expect your typical Belgian pale ale.
649 characters
3.28
/5
rDev
-12.5%
look: 4 | smell: 3.5 | taste: 3 | feel: 3 | overall: 3.5
I had this on at Troegs tasting room, enjoyed sample served chilled in a goblet.
The color is deep copper almost bronze with very good glarity and nice thick creamy band of beige with tight bead. only mild haze and accents of crimson appear at the base. The smell is decent with slight phenolic aroma with mild earthy yeast and light dried fruit scents with some spice notes from hops. the feel is decent with mostly dry and moderately high carbonation with subtle spice and moderately high alcohol influence on the palate.
The flavor is standard, I like the yeast taste but as it warms it shows more alcohol and the flavor of dried fruit stands out with a kind of prune-like flavor I am not fond of especially. There is a ripe banana undertone which is ok but the alcohol is a little high in the flavor for my liking as it is only 8.5%. I find this beer to be ok for what it is and not offensive but overall basically just above average -I am not a fan of the regular Mad Elf for some of the same reasons I don't find this appealing. I think I should have consumed this while it was cold since it did not improve as it warmed much.
1,137 characters

3.5
/5
rDev
-6.7%
look: 3.5 | smell: 2.75 | taste: 3.75 | feel: 4.25 | overall: 3.5
Decent take on a strong ale. Not much on the nose but the drink ability on this is big. It's a little thin for a strong, a little light for a strong, but the taste is there. Honestly, this was a good offering in the series. This went down easy, although I prefer my strong ales to be a meal, this was brunch, but satisfying none the less.
338 characters

3.53
/5
rDev
-5.9%
look: 4 | smell: 3.5 | taste: 3.5 | feel: 3.5 | overall: 3.5
A - Served a little darker than I expected...a caramel colored body that shows some carbonation bubbles...a thick, fluffy, white head stands tall and slowly falls to a spotty cap...decent lacing
S - Belgian spices stand out with coriander, a hint of pepper, and a touch of cinnamon...there is actually a sweetness lingering that I was not expecting...light caramel and fruit (apples, pears, bananas) are providing that sweetness
T - Again, the spices cut through and stand above everything else...the saving factor of becoming too spicy is the yeast...it provides a balance while actually giving a different spice flavor throughout...the sweetness isn't there from the nose, but there are some dried fruit flavors peeking through
M - Medium bodied...some creaminess, nicely carbonated...lingering spice
O - There was some confusion about the release of this one...it was labeled with a Scratch label, but was identified as just Naked Elf...I like that they do this version and would like to see it in regular production...but I still prefer Mad Elf
1,052 characters

3.65
/5
rDev
-2.7%
look: 2 | smell: 4.5 | taste: 3.5 | feel: 3.5 | overall: 3.5
12oz bottle labeled 73 – Naked Elf. Thanks for the extra Stormking47.
A: Pours a deep ruddy brown with almost no head or lace.
S: Sweet smelling with tons and tons of spices. It's like a holiday in a glass. Brown sugar, apple cider, nutmeg, coriander, cardamom, cinnamon, prickly pear, banana and clove. Tons of fruits and spices with a little bit of caramel malts.
T: Follows the nose, sweet palate, with all the spices and fruits mentioned. Doughy yeast, caramel, and the holidays come through. Very complex and intense.
M: Full bodied, thick and slick mouthfeel, slightly syrupy, soft foamy carbonation. Drinks well, a little sweet though.
O: Same as I remember 46 being. Very delicious, fairly sweet, but highly drinkable and complex. Thanks again Josh.
766 characters
3.68
/5
rDev
-1.9%
look: 4 | smell: 4 | taste: 3.5 | feel: 3.75 | overall: 3.5
Poured from the bottle into a snifter glass from the tasting. Much thanks for the bottle K! I think this is the right one?
A nice golden apricot body color, just crystal clear with tan like collar.
Real interesting nose. Hints of booze and cherry, like a classic winter warmer, but there's some real nice minty leafy quality as well.
Interesting palate and flavors though. Mild malt backbone with still a cherry fruit quality. REal interesting mouthfeel with some borderline wetness but good coating in the palate. Good finish, and some strange interesting light charring that is a bit ashen like.
Overall not too bad. I am not the biggest fan of Mad Elf but I am always up for the scratch series.
701 characters
3.75
/5
rDev 0%
look: 4 | smell: 4 | taste: 3.5 | feel: 3.5 | overall: 4
12oz standard scratch series bottle/label into a matching Troegs pint glass. The brew appears a burnt copper color with polished clarity. A finger of off-white froth sits atop and rapidly dissolves to a thin film across the top. Rising bubbles of carbonation maintain a thin halo around the perimeter of the glass.
The aroma is spiced with belgian phenols; clove, a bit of banana, mild fruit like banana and a hearty malt character thick with toffee/caramel is present. There is an earthy undertone of noble hops but it is faint in comparison to the rest of the aromatics.
The taste is filled with the belgian yeast character. Spice like clove hits initially with an herbal flavor of hops coming in right behind. A bit of dirty melon flavor is present through the middle coupled with a combination of toasty malt flavors that impart a taste of caramel/toffee inside the mouth. A bit of butter is noted in the aftertaste that lasts inside the mouth.
This is a medium bodied brew with a moderate to lighter level of carbonation. It is a decent take on a belgian ale and worth a try. The alcohol is fairly well hidden for 8.5%. However, in comparison to the last 2 releases of "naked elf" I dont think this one lives up to how much I enjoyed this the last time.
1,261 characters

3.91
/5
rDev
+4.3%
look: 3.75 | smell: 4 | taste: 4 | feel: 3.75 | overall: 3.75
A - A finger's worth of audibly fizzy "dirty" colored head that fizzes away in rapid fashion - Don't blink or you may miss it... No real lacing to speak of, rather just a slight collar in areas and a couple of minimalistic stray patches of lace... The color is a mix of light-to-medium brown and ruby red... There is a slight haziness and murkiness that permeates... There is a limited bit of sluggish to moderate paced carbonation...
S - I know there are no cherries or honey in this offering, but I'll be damned if I don't detect a bit on the nose... There is also a malty rich goodness at the forefront... Ripe banana and dark fruits... A mix of caramel and toffee... A faint Belgian yeast component... Trace notes of light brown sugar...
T - A one-two punch of Belgian yeast and overly ripened dark fruits... There is a vague wheaty presence as well... Slightly medicinal (but not in a bad way)... There is a bit of toffee on the finish... There is a distinct booziness that lingers...
M - On the fuller side of medium bodied... The limited carbonation packs a pretty strong bite... A bit sticky... Sleek... Warming...
D - At a time when most brewers add extra ingredients to repackage a beer, it's refreshing to see a brewer "deconstruct" an offering down to its more simplistic back... While it's a refreshing approach, this doesn't quite live up to its name sake... However, this is a solid beer none the less on its own... It's hard to keep the two separate, but I'll have no trouble making two six packs worth dissappear... Any Belgian beer enthusiast shouldn't hesitate to give this one a try...
1,612 characters

3.97
/5
rDev
+5.9%
look: 3.5 | smell: 4 | taste: 4 | feel: 4 | overall: 4
Ba Review #209
Served On: 08/15/2012
Glassware: Duvel Glass
Labeled ABV: -
Date/ Code: -
Found this at the Tröegs during a visit to the brewery in Hershey.
Look: Poured into the Duvel glass with a deep reddish copper color. Clarity level was surprisingly high. Continuous carbonation bubbles lifted off the laser etching on the bottom of the glass. Head was basically a ring of foam around the outside. Not much in the way of lacing.
Smell: Pungent Belgian funk with lots of hoarse blanket and heavy sweet malts with banana and clove. Not the biggest fan of Belgian style beers, but the nose on this was very enjoyable.
Taste: First off was a nice chewy pepper note. Then a spicy biscuit took over with some semisweet banana. The finish was a lingering pepper that gave way to more biscuit.
This was a nice iteration of the Mad Elf. I think losing the fruit allowed for more of the true Belgian qualities to come through on the palate. A very nice treat that I was lucky enough to run into while at the brewery.
1,018 characters
4
/5
rDev
+6.7%
look: 4 | smell: 4 | taste: 4 | feel: 4 | overall: 4
Big thanks goes out to kkipple for sharing this one during the One Year Anniversary of My Wreck Tasting! Served from bottle into a Crooked Stave 'Crooked Line' tulip. Poured yellow-orange with a minimal white head. Maintained nice lacing throughout the glass. The aroma was comprised of sweet malt, banana, clove, sugar, and fruit. The flavor was of sweet malt, banana, spice, earth, and fruit. It had a light feel on the palate with medium-high carbonation. Overall this was a good brew. Unfortunately this one was not very complex at all. But what it lacked in complexity, it totally made up for it with balance. Everything in this brew really helped to take each of the other aspects to the next level. Glad I got the chance to try this one and suggest you do the same.
776 characters

4
/5
rDev
+6.7%
look: 4 | smell: 4 | taste: 4 | feel: 4 | overall: 4
9/5...back on draft at the brewery. Pours reddish brown, virtually no foam. Cinnamon cloves nose. Licorice. Fruity cherry base with a cinnamon clove flavor. Stripped down mad elf. Less sweet, but the base is solid. Still loaded with flavor though.
247 characters

4
/5
rDev
+6.7%
look: 4 | smell: 4 | taste: 4 | feel: 4 | overall: 4
Served on-tap at the brewery.
A - Pours slightly hazy copper orange with a one finger tall white head leaving spotty lacing down parts of the glass.
S - Smells of spicy belgian yeast, biscuity malt, apples, pears, and some light peppery spice. It smells just like Mad Elf, without the sweets and cherries added to it.
T - Starts off with a mix of chewy malt and spicy belgian yeast slowly giving way to a mix of apples, pears, candied sugar, and a touch of peppery spice. While it is quite chewy the light sweetness and fruity flavors help to ease its blow on the pallet. The finish is a mix of light spice and chewy malt.
M - Medium body with moderate carbonation. Spicy, chewy, feel with plenty of it lingering through the finish.
O - I have always liked this beer and this release is no different. I don't think this one is markably different than last years, however I think I preferred last years to this particular one.
930 characters

4.12
/5
rDev
+9.9%
look: 4.75 | smell: 4 | taste: 4 | feel: 4.25 | overall: 4.25
Poured into a 16 oz Troegs tulip snifter, not sure when it was bottled. Pours a dark amber with a massive 3 finger off white heads that settles slowly leaving behind gorgeous lace.
Smell is loads of clove, spicy biscuit, dates, overy ripen banana, bubblegum, caramel, and a little alcohol definitely present.
Taste follows almost exactly, with clove and dark fruit up front with some bisuit, caramel, and booze in the long cream finish.
Mouthfeel is a touch bigger than medium, moderate to lite carbonation, and I am trying to slow down, but it is tasty and going down very easy.
Overall this is a fantastic brew, thanks @jzeilinger for this special brew. Glad they took this out of retirement.
699 characters
4.41
/5
rDev
+17.6%
look: 5 | smell: 4 | taste: 4.5 | feel: 4.5 | overall: 4.5
Since I look forward to the release of Mad Elf each winter, I was intrigued to find this "stripped-down" Naked Elf without the cherries, chocolate malt and honey on my latest visit to the brewery. I understand it has been released a couple of times before, but a little different each time, and now for the first time at the new Hershey brewery.
I'm saving a couple of bottles to compare against Mad Elf this winter, but on its own it was a better beer than I expected, showing that it takes a solid backbone of a beer before adding the extras (cherries, etc.) to make a great brew.
It has a bit of a funky Belgian yeasty aroma, but appears a crystal clear amber-brandy hue in my glass with a thin white head. Flavors of sweet cereal grains, Fuji apples, and toffee come forward at first but as I sip more and the beer warms, more depth and complexity of contrasting flavors, like tart pear, sherry, and a subtle touch of what I can only call sour funk (but in a good way if that makes sense) come through with a mild warming alcohol burn and a slight drying quality that balances the initial sweetness and slightly syrupy mouthfeel.
My description just doesn't do justice to the delicious flavor and true enjoyability of this brew. Seek it out while it lasts since it is a very limited release.
1,304 characters
Scratch Beer (Naked Elf) from Tröegs Brewing Company
3.75
out of
5
based on
80
ratings.