Dismiss Notice
Extreme Beer Fest:Los Angeles
Join us December 9th in Los Angeles for the ultimate throwdown of craft beer creativity!
Learn more...
Dismiss Notice
Scratch Beer 78 - 2012 (Fresh Hop Ale)
| Tröegs Brewing Company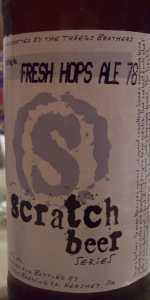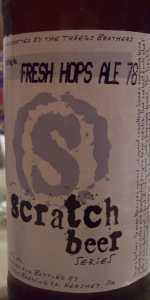 BEER INFO
Brewed by:
Tröegs Brewing Company
Pennsylvania
,
United States
troegs.com
Style:
American IPA
Alcohol by volume (ABV):
7.70%
Availability:
Limited (brewed once)
Notes / Commercial Description:
So, just how fresh is our Fresh Hop Ale? Well, first we begin with 400 pounds of fresh, whole flower hops from B.T. Loftus Ranches in Yakima, WA. These hops are hand-picked right from the vine, placed into boxes, and immediately shipped to our brewery. Once they arrive, we pack a double dose of these glorious green, sticky cones into our hopback vessel until it is bursting at the seams. This equates to two pounds of hops per barrel! Due to the volatile nature of recently harvested hops, we must use them immediately in order to capture the bold aromas and flavors released by the hop oils. The payoff is a fresh, flavorful ale dripping with the essence of oily hop goodness.
56 IBU
Added by stakem on 10-10-2012
This beer is retired; no longer brewed.
HISTOGRAM
Ratings: 65 | Reviews: 23

3.83
/5
rDev
-1.5%
look: 4 | smell: 3.5 | taste: 4 | feel: 3.5 | overall: 4
12oz, Fall 2012 release
Hill Farmstead wine glass
A: Pours a pale yellow orange color. Half finger bright white head. Leaves some minimal lacing. No alcohol feet.
S: Get some cat pee smells for sure. Some citrus fruits. Some resinous pine hop smells. Can't get away from that cat pee here.
T: That pine and cat pee bitterness in the tip of the tongue. Lots of citrus and pine flavors. It tastes better than it smells. I do taste a little booze from this one, after having two other wet hop beers that seemed lighter. There is a minimal malt bill to match this hop bomb. Dry lingering bitter finish.
M: A big light leading to medium bodied.
644 characters

3.3
/5
rDev
-15.2%
look: 3.5 | smell: 3.5 | taste: 3 | feel: 3.5 | overall: 3.5
Bottle into a classic style mug
A: Golden honey color, but is totally translucent with a thin white head and lots of bubbles evenly floating up even almost a minute after the pour, but maybe i missed on this one. This looks a lot more like a lager then an IPA
S: The is very floral lots of hops to start, but I do detect citrus and maybe even a hint of pine.
T: This is actually really hard to describe the best I can do is it follows the nose, but it is very light so the hops seem way more floral then hoppy. It is a little bitter but it doesn't last for too long. I guess this seems to me like a light IPA.
M: Very light pretty smooth not bad, but nothing special.
O: I got this as an extra so I can't really disappointed, but I don't think I would try to get it again. Its just way too light for me i don't even think I can consider it an IPA, but maybe I'm just a hophead.
882 characters



4.05
/5
rDev
+4.1%
look: 4 | smell: 4 | taste: 4 | feel: 4.5 | overall: 4
L- Hazy pale orange with a medium off white head, head quickly settles to a ring a leaves some spotty lace on the glass.
S- Citrus hops and caramel malt are most forward, a bit of spice shows up as it warms, but the aroma is somewhat subdued.
T- Big note of citrus hops right away, mostly grapefruit and orange zest. Caramel malt mellows thing out and leads into the finish which has a lingering note of grassy hops, not overly bitter more floral.
F- Medium in body and carbonation, very clean finish not much in the way of oily build up at the finish. Impressive considering the amount of fresh hops in this.
O- Nice beer, not overly bitter, sweet, nor oily. It has a nice balance to it, a bit on the high side at 7.7% ABV, too bad it is only going to be brewed once.
772 characters
3.88
/5
rDev
-0.3%
look: 4 | smell: 3.5 | taste: 4 | feel: 4 | overall: 4
Presentation: Pour into pint glass from 12oz. bottle
Appearance: Pale yellow, cloudy, medium lacing retained until finished, slight carbonation
Smell: Strong spicy hop smell. Unsure of what hops were used.
Taste: Fresh, spicy, peppery with a lingering bitterness. The malt backbone comes through as the beer warms
Mouthfeel: Medium-body with a crisp finish. Warming alcohol all the way down
Overall: I enjoyed this one. Nice to try a different beer with a hop that is not used everyday. You will feel the alcohol content after two of these.
546 characters

3.11
/5
rDev
-20.1%
look: 4 | smell: 3 | taste: 3 | feel: 3.5 | overall: 3
12 oz bottle into a tulip glass. Thanks go to Stakem for hooking me up with a bottle of this latest Scratch.
Pours a clear copper, with 1 ½ fingers of rich and sudsy bright-white head. This retains with a frothy ½ finger, which coats the sides of the glass with a rich sticky smattering of lace. The aroma smells of fresh herbs and raw earth, with a touch of lemon and some light ripe fruity notes. A semi-sweet graininess adds some tanginess to this across the back. That earthiness is rather sharp here in the nose.
The taste is bitter rind, gritty earth, grassy herbal textures, light fruit and some sweetness on the edges. This finishes dry, bitter and earthy. The mouthfeel is medium bodied, with a smooth and creamy texture in the mouth that has just a touch of crispness running down the center. Just a bit of warmth is present in the overall feel here.
I just couldn't get on board with this one. I didn't get a lot of pine, grapefruit or even tropical fruit and the whole thing just came off as grassy and raw with an unpleasant lingering bitterness. Maybe this didn't translate well to the bottle or something. Anyway, this was a disappointment for me.
1,176 characters



4.25
/5
rDev
+9.3%
look: 4 | smell: 4 | taste: 4.5 | feel: 4.5 | overall: 4
Had this on 2012-10-13 in Hershey, PA at the brewery
A - Mildly hazy yellow-orange with a 1.5 finger white head and moderate lacing.
S - Rich, dank, citrus, tropical, crushed hop bud. Plenty of aroma.
T - Big blast of hop bud flavor, then citrus, light malt, tropical , touch of honey and moderate trailing bitterness. The aftertaste is herbal and spicy with some cutting citrus and a bit of pine. Grapefruit zest finishes it off.
M - Medium body and carbonation. Creamy, oily and somewhat prickly.
O - A really fine brew. Somewhat-like their collaboration with Fat Head's called Fat Scratch Fever. Very glad to have this fresh, and on the day when Troegs won best mid-size brewery at the 2012 GABF. This beer is an example of why they are winners. Good stuff.
766 characters

4.33
/5
rDev
+11.3%
look: 4.5 | smell: 4 | taste: 4.5 | feel: 4 | overall: 4.5
Served on-tap at the Brewery.
A - Pours hazy amber yellow with a nice one finger tall white head leaving spotty rings of lace down parts of the glass. A very pretty beer.
S - Smells of pungent citric hops, pine resin, fresh cut grass and some lightly toasted grain. The hops are intense initially, the malt comes forward later, leaving this one fairly balanced toward the end of the glass.
T - Starts off with a big, oily citric hop bite slowly giving way to hints of sticky pine resin, lightly toasted sweet caramel malt, fresh grass and some dulled spicyness. Finish is very dry thanks to those oily hops, lingering on the palate long after the finish.
M - Medium body with moderate carbonation. Very hoppy, dry feel from start to finish. Very smooth for an IPA. The alcohol is very well hidden, if the board wasn't right in front of me I would have no clue this is 7.7%
O - I really like this one. I have had all of the fresh hop scratch beers and this may be the best of the bunch. It tastes like Perpetual IPA with an extra kick of fresh citra hops. I will get as much as I can, I suggest you do the same!
1,115 characters
3.85
/5
rDev
-1%
look: 4 | smell: 4 | taste: 4 | feel: 3.5 | overall: 3.5
12oz bottle into a matching Troegs pint glass. The brew appears a hazed color of light yellow. A finger of white froth appears atop and fades leaving patches of webby lace clinging to the glass. Rising bubbles maintain a thin film atop and a light swirl revives about a finger back to the surface.
The aroma is pleasantly hoppy with a bit of a vegetative aspect that the more I smell it, it starts to come across like cantaloupe. There is a minor spicy quality present that fades to a bit of herbal aspect. More smells make this brew come off somewhat grassy. The grain presents itself reminiscent of pilsner with that classic dirty feet quality that is also mildly cheesy.
The taste runs the gauntlet of hop flavoring before the bitterness sets in. Fresh hop flavors are vegetative first that blend into a bit of that previously described cantaloupe and melon flavoring. That wet hop flavor is present with a grassiness and it really doesn't boast that typical tropical aspect that is so distinctive in what I expect for a citra-based hoppy brew. The more I sip on this brew, the more the malt comes forward with a residual sweetness that is bready and a bit cheesy like the previously described pilsner feet aspect.
This is a medium bodied brew with a moderate to lower level of carbonation. For a wet hop ale, it fits the bill and displays some nice flavoring. I was anxious to get bottles of this after having it on tap, but as I sit here and swig away, I am not as impressed as my initial impression. I don't know if the wet hop harvest was just not that good this year or what. Nearly every wet hop offering I have had doesn't really come off any more fresh or impressive than its normal hop counterparts.
1,714 characters
Scratch Beer 78 - 2012 (Fresh Hop Ale) from Tröegs Brewing Company
Beer rating:
3.89
out of
5
with
65
ratings