Beverages & more!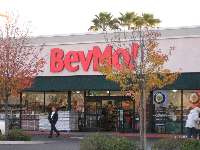 PLACE INFO
Type:
Store
7639 N. Blackstone Ave
Fresno
,
California
, 93720
United States
(559) 431-2626 |
map
www.bevmo.com
Notes:
No notes at this time.
Added by xlperro
Reviews: 9 | Ratings: 14
Reviews by jim102864:
2.9
/5
rDev
-15%
$15 for a six pack of Stone Ruination IPA?! And yet I was dumb enough to pay for it. Problem was I was in Fresno on business and given the total lack of beer bar options and quality brewpubs, I had to buy beer and bring it back to my hotel room. Very bright and modern facility located in a contemporary strip mall zone. Selection is ok for it's size and for Fresno, but everything is compared to stores in the Northeast and this place is below average as a reult. Consequently, Bevmo is deserving of nothing more than a C- for selection. Plenty of now standard California brews and imports. Worth the trip if you're marooned in Fresno like I was.
★
647 characters
More User Reviews:
3.63
/5
rDev
+6.5%
vibe: 2.75 | quality: 3.75 | service: 3.25 | selection: 4.25
Bevmo has the best selection of beer in fresno. Local beer and imported.
72 characters

2.83
/5
rDev
-17%
vibe: 3.75 | quality: 3.25 | service: 1.75 | selection: 3
4.13
/5
rDev
+21.1%
vibe: 4.5 | quality: 4 | service: 4 | selection: 4.25

4
/5
rDev
+17.3%
vibe: 4 | quality: 4 | service: 4 | selection: 4


3.28
/5
rDev
-3.8%
vibe: 3 | quality: 3 | service: 3.5 | selection: 3.5
ive been to several of theses locations in cali, these places are a hit or miss. id go in periodically when im in that area visiting. the only thing that really caught my eye were west coast brews that i cant get in the midwest, but again nothing too special. the service was like anyother, the selection was ok but beats the hell of of a liqour store. i was kind of disappointed that they didnt have locals there, i mean some stores that are corprate in the midwest have locals in their stores.( im refering to sequoia brewing in fresno as a local)
any how, i will return to this store unless my dad has found a better fine wine or part store that has great brews.
★
665 characters
3.85
/5
rDev
+12.9%
This is pretty much the only store in Fresno with a good beer selection so good or bad it must suffice. They have about three 30 foot rows of beer. One domestic only row, one import only row and one row that is half and half. They only get about 8 or 9 of the beers on BA's to 100 list but when they get a sought after beer, like the Abyss, it will usually sit on the shelf for a long time. They have a decent selection of Belgians and a pretty good selection of German beers as well. I am pretty disapointed in their domestic selection though. Famous beer like Dogfish Head 90 and 60 minute, Pliny the Elder and many more are simply never there. In their place are a bunch of mediocre beers that nobody had ever heard of. If you live in Fresno this is all that you have so it will have to do.
★
793 characters

3.35
/5
rDev
-1.8%
Sorry to say Jim, but $15 for a 6pk of Ruination is the same thing I pay here at the SLO BevMo. It is what it is.
According to the cashier at Old Doc's, Fresno is "a no-man's land in terms of craft beer distribution." It sucks, however BevMo is somewhat of an oasis. Pretty good selection of English and California craft brews. Better than the BevMo I visited in Gilroy, but not quite as good as the BevMo in San Luis Obispo.
I must say that the Fresno location has a pretty good selection of Rogue ales. I've seen Chocolate Stout, Shakespeare Stout, Old Crustacean, IIPA, Oatmeal Stout, Kell's Irish Style Lager, and others. The Fresno BevMo is improving their selection as well. Just went in yesterday (12/17/08) and noticed a rather large offering from Avery, Lagunitas (just got in Imperial Red), Coastal Fog, and Deschutes (they had Hop Trip, which I've never seen before). While the selection is still smaller than the SLO BevMo, the quality of the selection is definitely improving.
In terms of quality, I definitely saw several dusty six packs and bombers sitting out. One of which was 2007 Alaskan Smoked Porter (check the date on this review). It's the only place I've seen the stuff, but the lighting and lack of refrigeration make me wonder. I bought a six pack of Nimbus Pale Ale from here and the head erupted when I poured it (read our review if you wish). Hopefully this was just a result of the car ride back to SLO, but the six pack was incredibly dusty when i bought it. EDIT: I've learned that Nimbus has had problems with infected yeast. It seems to fit my description of 'exploding head'.
BevMo is a must stop if you're in Fresno. Sorry, but it doesn't get any better. I look for new stops around Fresno every time I go back. (Tried out Full Circle Brewing Company this past trip, which was definitely interesting...)
★
1,845 characters
3.1
/5
rDev
-9.1%
this place isn't great, but it's all we have here save for a couple of pubs and microbreweries scattered through town and the rest of our county/valley.
i guess in terms of quality everything is just fine. i've never bought any bogus products here.
service is okay in terms of them being nice while you're checking out but the staff knows absolutely nothing about beer for the most part, a couple of them will look at your selections and tell you they liked something you've tried but that's about it.
selection is average even by bevmo standards from what i understand. there's not very much of a rotation of products, the staples are always there but it seems they just reorder the stuff no one really buys after it finally sells after months of sitting there.
as with all good beer, you're going to pay for it. i rate this a 3 on the price because i can go across the street to world market and get some of the same products for a significaly cheaper price (chimay grand reserve is 12 at bevmo, 9 at world market)
★
1,021 characters
3.55
/5
rDev
+4.1%
As with every BevMo I have been to, the quality is good. The beer is not usually past its prime. They dont cary too many beers that sit on the shelf for too long, so quality is not usually an issue.
Also as with every BevMo I have ever been to, the service is decent. The employees are courtious, and have some knowledge in beer. I have never been to a BevMo and been overly inpressed with the staffs beer knowledge. I mention certain beers from San Diego, from pretty popular Southern California breweries, and the staff looks at me like I am speaking a different language.
The selection at this BevMo might be the worst one I have ever seen. There was one short row with imports on both sides. The usual German and Belgian selection. Nothing outstanding. The local craft section is only one side plus a short row of coolers. Everything I saw that I was interested in was out, but that may not be the norm, I dont know since it was my first time to this store.
Overall: Moving to Lemoore from San Diego sucks. The beer selection at bars, and stores is awfull. I hoped that this BevMo would be a place to buy the stuff I like. I can say that it has one of the best selections I have found so far, but I am upset with how little beer is available here.
★
1,254 characters
3.55
/5
rDev
+4.1%
For the most part this is one of only a couple places in town with a good beer selection. They have a pretty good selection of english and european beers and a good selection of american micro brews. Their prices are pretty good and their website is mostly up to date, so if you are looking for something you can see if they have it before you go over there. The people there know nothing about beer and are not very friendly. The other thing is that it seems like the other BevMo's have a better selection. Other than that it's not bad and I do male regular trips to keep stocked up.
★
584 characters
3.2
/5
rDev
-6.2%
Lately, the Fresno BevMo has kind of stepped up. In the not so distant past, the selection here was pretty decent. But it was the SAME selection. Nothing new was stocked, no seasonals were added. recent times have seen the addition of Snake River brews, Teton brews, and several Lagunitas offerings. The usual suspects-Anchor, Rogue, Anderson Valley, Stone, and Bear Republic can be found in abundance. Decent import section. I recently cleaned out the last of the Unibroue Edition 2005, but more is supposedly on the way. For this area, BevMo is one of the best choices in town. for people travelling thru, this is the only beer store choice between Santa Clarita and Modesto. Everybody that works here seems to want to help, but they really don't know much beyond whether something is instock or not.
★
802 characters
4
/5
rDev
+17.3%
Well, it's a bevmo at least. I thank the Gods that it made it's way into our town, but they have had a hard toime geting things settled, and dont have quite the selection that other bevmo's have. They claim it to be a problem with logistics, but I've also seen them forget to restock. Once the confusion settles down there, it will be good. Even as it is, however, best selection in Fresno
★
389 characters
Beverages & more! in Fresno, CA
3.41
out of
5
based on
14
ratings.