Putnam Plaza Super Liquors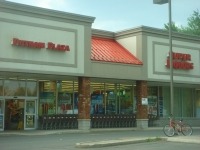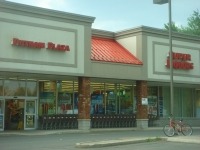 PLACE INFO
Type:
Store
4 Main St
East Hartford
,
Connecticut
, 06118-3208
United States
(860) 568-3659 |
map
valleyfinewines.com
Notes:
No notes at this time.
Added by UnionMade
PLACE STATS
Reviews:

6

Ratings:

pDev:

19.06%
HISTOGRAM
View: Place Reviews
Ratings: 8 | Reviews: 6
Reviews by Homebrew35:
3.14
/5
rDev
-7.9%
vibe: 3 | quality: 3 | service: 3.5 | selection: 3
I stoped by because I was in the area. At first glance the store front looks like any other plaza store, big lit up sign, big advertisements in the windows. Upon entering it looks like a medium sized wine and liquor store. One half aile for craft the other was mostly BMC in the cooler. Some regular crafts as well were chilled. Selection was a fair mixture of imports and American beers. Some notables for this store were Sneider, warsteiner, some basic Cantillion, a mixture of some good bombers (yetti, hop stoopid). Not a great store but not bad, prices seemed like average to high for CT.
593 characters
More User Reviews:

4
/5
rDev
+17.3%
vibe: 4 | quality: 4 | service: 4 | selection: 4
3.44
/5
rDev
+0.9%
vibe: 3.5 | quality: 3.75 | service: 2.5 | selection: 4
4.73
/5
rDev
+38.7%
vibe: 5 | quality: 4.5 | service: 4.5 | selection: 5 | food: 5
I absolutely love this place. I was honestly shocked by the other reviews given by other customers.
Lets start with the atmosphere. People need to stop being so "uptight" when going into places like this. Clearly the employees there are just trying to be joyful and entertaining. Whats wrong with that? You have a hard day at work and you go into Putnam Plaza Super Liquors and get a laugh or two, thats all those guys are trying to do. Is it a typical retail atmosphere? I would say no, not at all. But I would rather shop at a place where I feel comfortable and welcome rather than a place that could give a shit about you.
In terms of quality, the place is pretty nice. Everything and everyone working there seems to be clean, they aren't pulling guys off the street to work there. Would I call it perfect? No it has its problems. For example the shelves are somewhat dusty and every now and then you'll see someone's coffee or soda laying on one of the shelves. However, thats not anything that will stop me from shopping there.
Selection wise, by far top two in Connecticut. Mostly because the place is so big. Im one person who asks a ton of questions on whether they have a product or not. 10 times out of 10 they do. Any wine you want, they probably have it, and if they don't, they have something extremely similar. They have pretty much every vodka, rum, whiskey and cognac you could ever want and if they don't, they are always willing to look into whether they can get it on their shelves. In terms of beer, by far the best selection in CT, they have all of your most popular of course like Bud, Busch, Heineken, Corona and Coors but they also have an impeccable selection of imports and "hard to find beers." By far, this place has one of the best overall selections in CT.
Service wise, this place is pretty solid. Mostly guys there for the exception of one girl. All seem to have great personalities and excellent personable skills. Typically, if you have a wine question you will either hear from a taller guy who always has a hat on or two young, clean cut guys. They always seem willing to answer any questions you may have and seem pretty knowledgeable about their wines. Those guys tend to be the ones who answer almost any question about anything in the store. If you're looking for beer, don't ask the old guy who works in the cooler. He's the one who always looks like he's climbing mount everest. He may be the grumpiest looking man I've ever seen. Im sure he's a great guy but I have asked him a question once and for one I couldn't understand him and two, he doesn't seem enthused at all to answer your question. There are two guys that work in the cooler in the afternoon that are nothing like the older, grumpy guy. One is a taller guy that always has a black hoodie on. The other is a shorter, visibly strong young guy. Both always willing to help but often times busy. Both tend to know their beers pretty well but good luck asking them a wine question. When being checked out I usually end up being helped by a young and personable girl or an older man. Both are very nice people but you can tell they just want to keep the line moving, understandably. Also I've run into while checking out and middle aged man more fit to be a bouncer than a cashier. Really nice guy though and very helpful. Overall, service is great, one way or another, you will get an answer to almost any question you ask.
Finally, this place has THE BEST PRICES!!! you will never catch a bad deal shopping at Putnam Plaza Super Liquors.
This place is great, awesome selection, great group of people working there and the best prices, you can't go wrong shopping there.
3,674 characters
2.44
/5
rDev
-28.4%
vibe: 2 | quality: 2.5 | service: 1 | selection: 4
Putnam Plaza has one of the better selections in the Glastonbury area, and the prices are very reasonable. That combination is the only reason I continue to (occasionally) shop here. But beyond that, the service has been consistently horrible (hnk's comments are spot-on). Customer service generally isn't a make-or-break thing for me, as I'm generally not a very needy customer, but I'm amazed at how consistently bad it is. It's as if they are staffed by temporary workers looking to make some extra cash, except these employees range in age from 20-65, and many have worked there the entire 5 years I've been shopping there.
There does seem to be a few employees who have a good knowledge of wine, but I've stood in the beer aisle for 15 minutes browsing and have had multiple employees walk by without ever a "can I help you?" or "If you like Belgian's, I'd really recommend xyz...", "we just got in a fresh batch of..", etc.
The selection and prices are the only reason you'd go here. But buyer beware: always check the dates on the singles, as many of them collect a noticeable layer of dust and have been under fluorescent lights for far too long. The one side-benefit is that they do tend to carry brands that may have pulled out of the state and you can no longer find elsewhere (e.g. Avery Maharaja).
There are better shops in Glastonbury (Sonoma, even M&R), and nearby Manchester (Manchester W&L), but its convenient location and prices make this at least worth a walkthrough, assuming you have no interest in customer service.
1,542 characters
2.89
/5
rDev
-15.2%
vibe: 3 | quality: 3.5 | service: 1 | selection: 4
The atmosphere is alright, average large liquor store. That is, if the staff weren't there. They do a marvelous job of making you feel like you're shopping for alcohol in a frat house.
They have a large selection of wine and liquors, but a relatively small selection of beer; just one row of coolers and around 3/4 an aisle.
The staff doesn't know anything about... anything, which might be why they don't ever offer to help you. You ask them about beer and all they can tell you is where it's located.
I was surprised when I read about the staff's attitudes in other reviews as well. When you go to the checkout, they just scan your stuff and ask for payment; all while ignoring you and trying to look past you and at another employee they're having a conversation with. And this didn't happen just once, it happened almost every time I went to this place. The employees, almost without exception, ignore you from the moment you walk in to the moment you walk out because they're too busy hanging out. I don't know how the owners let it get this bad.
I'm not usually one who cares about service. I go in to a store, look around a bit, get what I came for, and get out. I don't care if nobody ever asks me if I need help and don't mind that someone doesn't know the answer to my questions, which I rarely ask. But the staff here is just plain rude and disinterested. I'm not going to spend my money here when there are plenty of other, better, places that are willing to take it.
I use past-tense because I've since stopped shopping there a month or so ago, after I found out about Manchester Wine and Liquors, which is just about 5 more minutes away from my house and better in every way.
It's a shame the service is appalling, because they have a fairly good selection of alcohol, but I won't be spending my money there again.
1,836 characters
3.45
/5
rDev
+1.2%
I use to shop at this store every week for years until recently. The beer and wine selection is very good but the service is so poor I refuse to spend my money here. I have never encountered a more disinterested staff of people anywhere like these people. Now, I don't need to be pampered or anything. I know what I'm coming in for and only occassionaly have a question but nobody in this place gives a shit. And while I'm at it, when I'm spending sixty or seventy dollars a week on average in the place can one of the cashiers actually look at me when I'm getting change back rather than bullshitting with someone else? Just plain rude, especially the women. My wife oftens comes in and not once has anyone ever offerd her a hand carrying something out. It's a shame because the stores selection is very good.
810 characters
3.2
/5
rDev
-6.2%
Located across the street from the Staples/Home Depot plaza, this place is pretty easy to find. It's on the main drag, right near exit 7 on Route 2. It shares a small plaza with Dunkin Donuts and a CVS.
Walking inside, the place is pretty huge. Various aisles of liquor and wine dominate the store, with all the beer against the right hand wall. It's the last aisle, with a wall of coolers on the right, and shelved bottles and six packs on the left. One of the better selections in the Hartford area, mostly imports, with various belgians, english ales, german brews, and a larger selection of micros. Beers from Olde Burnside, including the seasonals, Cottrell, Troutbrook, and Streich's. The rest of the US, at least what's distributed in CT, in well represented. They also carry appropriate glassware for some of the belgian selections, and a few nice english imperial pints.
Service is ok. Most of the employees have some idea of what they have and can get, but there's no "beer guy" here. This one older fellow that works the customer service/cashier area (ironically) is a total jerk. He's ignored me a couple times while talking to people he knows. Really rude and sour, and has a bad habit of 'accidentally' overcharging. I've paid $2 for a single 12oz of Thomas Hooker, which was not cool. Don't ever return bottles here, the guy likes to miscount the slips and short you a few bucks. Maybe my appearance annoys him. Who knows. I don't stop here very often, mainly to avoid dealing with the guy.
Aside from the singles section, the quality of the beer is always good. They rotate their stock, and I've never gotten a bad beer from here. Some of the more expensive beers, like Sam Smiths and stuff in clear bottles, I avoid. Pulling from the cooler is always a safe bet, and the six packs seem to move fairly quickly. The singles don't appear to move to quickly, so I avoid those, as well. They have a couple pieces of glassware at impressive prices. $2 Chimay goblets are ok with me.
A good selection for the area, worth a stop if you're near Hartford or Glastonbury.
2,081 characters
Putnam Plaza Super Liquors in East Hartford, CT
Place rating:
3.41
out of
5
with
8
ratings