Hitachino Nest Extra High (XH)
| Kiuchi Brewery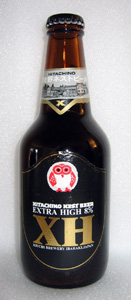 BEER INFO
Brewed by:
Kiuchi Brewery
Japan
|
website
Style:
Belgian Strong Dark Ale
Alcohol by volume (ABV):
8.00%
Availability:
Year-round
Notes / Commercial Description:
From Japan's most prestigious brewery, Hitachino Nest XH (Extra High) is a strong Belgian Brown Ale, matured in shochu (distilled sake) barrels. Chinook & Styrian Goldings hops are use
Added by UncleJimbo on 12-29-2002
Reviews: 354 | Ratings: 708
4.17
/5
rDev
+10.6%
look: 4 | smell: 4.5 | taste: 4 | feel: 4.5 | overall: 4
Appearance: Deep, burnt cranberry ruby with a cherry juice-stained beige-tan head of fair size and poor retention.
Smell: A lovely cocktail of old world and new world hops, with lots of spicy resin notes, the sharp zest of grapefruit, all tied together with a nutty caramel malt base a bit of spicy yeast. Autumnal overall, with a warming vibe and an earthy, sweet-and-spicy tone. Alcohol hits the back of the nose with a deep whiff, but it is very clean and not overpowering at all.
Taste: Sweet and slick, not exactly imbalanced but the malts are definitely center stage. This might actually be better qualified as an English Barleywine than an American Strong Ale, because the malts carry a lot of caramel, honey, brown sugar, rum, and dark fruit notes with a finish of bitter cocoa, while the hops are comparatively subdued. Reminiscent of Crystal Pepsi with its mix of caramel, citrus, yeasty spice, and vanilla. But while this is sweet coming in, going out it is bitter and lush with hops, floral and herbal and lightly spicy with a lingering dry tang.
Mouthfeel: A tad thin but creamy and smooth. Carbonation develops along with the flavor, making the beer seem fuller and frothier as you chew.
Drinkability: Easy to drink and pleasant to savor despite its sweetness and ABV. Another winsome ale from Kiuchi.
★
1,328 characters
3.71
/5
rDev
-1.6%
look: 4.5 | smell: 3.5 | taste: 3.5 | feel: 4 | overall: 4
This one poured out with a strong aroma, noticeable throughout the pour, with a cola-like bottom containing a touch of red when held up to the light. The head was puffy, thick and tan, and slow to fall.
Sweet, extremely malty smell, with traces of alcohol. Floral/citrus profile present, decent balance.
Nice hop profile in the taste, very bitter, with a strong, powdery bittersweet chocolate character. Warm and dark, with a pleasantly creamy mouthfeel, and the citrus resurfacing as mild grapefruit.
ABV can creep up on you in this one, easy to drink with its medium body and well masked alcohol. Overall drinkability good, though the strong bitterness might throw some off. Definitely recommended for a try.
★
721 characters

4.2
/5
rDev
+11.4%
look: 4 | smell: 4 | taste: 4.5 | feel: 4 | overall: 4
330 mL brown glass bottle, capped. Date stamped on label was 03.06.14. This bottle was purchased in Hitachino's home prefecture (Ibaraki) on June 18, 2003. A Japanese friend translated the label for me: bottled on June 14, 2003, and for best freshness drink within 2 months, but it will still be good to drink for 9 months.
This ale poured a hazy golden amber color with white foam that settled and left a coat. The smell was a strong, "chewy", citrusy floral hops aroma - very nice. The taste was dominated by floral hops but with a good bit of malt sweetness to balance, and with some grapefruit (hops), caramel, and molasses in the mix. There was a pleasant hop bitterness in the finish. The mouthfeel was dominated by the hops, with a little sharpness and dryness on the tongue. The body was medium full and the carbonation moderate. This was quite a suprisingly good ale bursting with hops.
★
898 characters
2.76
/5
rDev
-26.8%
look: 5 | smell: 4 | taste: 2 | feel: 4 | overall: 1.5
Ingredients: Malts, Hops.
Aged from 6 months to 1 year (according to brewer's web site)
Initial tasting: 29 Dec 02
Amazing sweet aroma which I just cant put my finger on, not maple, like currant or cranberry. Deep ruddy brown color. Strong burnt fruit palate. Tame but always present bitterness. Good acidity.
Second tasting: 07 Feb 03
Same as above, but the alcohol is just overpowering. Can bearly drink it.
★
420 characters
Hitachino Nest Extra High (XH) from Kiuchi Brewery
85
out of
100
based on
354
ratings.