Tannenbaum
| La Conner Brewing Company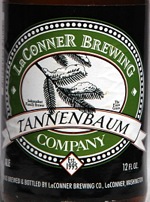 BEER INFO
Brewed by:
La Conner Brewing Company
Washington
,
United States
laconnerbrewery.com
Style:
English Strong Ale
Alcohol by volume (ABV):
7.50%
Availability:
Winter
Notes / Commercial Description:
No notes at this time.
Added by 49degrees on 04-17-2003
Reviews: 15 | Ratings: 17

3.46
/5
rDev
-9.7%
look: 1.5 | smell: 3 | taste: 4.5 | feel: 1.5 | overall: 3.5
First of all, I learned from the last six pack I got that this beer needs to be very close to room temperature to enjoy at all. Otherwise, all the problems overwhelm you.
Pours from the bottle a clear but dark cola color with virtually no head even when poured very aggressively. The aroma is of spices with a little molasses and alcohol but they seem to be kind of muddled. Tastes of cloves, all spice and molasses and ends with a sweet rum finish. A little coffee is present when it lingers on the palatte that translates into a light bitter linger. It is a very sticky mouthfeel with just a trace of ale leftover.
Tannenbaum has all sorts of problems. It literally looks like a coke gone flat and feels like what coke syrup must feel like when it hasn't been diluted very much. Despite that, I love the flavors that come through and can't help but grab another. I think I'll let the others sit until next winter... It can't get any less carbonated, right?
960 characters
2.82
/5
rDev
-26.4%
look: 2.5 | smell: 3 | taste: 3 | feel: 2.5 | overall: 2.5
The next in my re-visitation of LaConners's brews. Poured into 10oz glass. Poured a reddish mahogany color, with just a hint of head that had no retention or lacing.
The aroma was mostly sweet malts. On the tongue those malts were there, along with some spice. The body was a bit thin and drinkability suffered from sweetness and thinness.
When I first encountered this beer almost ten years ago it, along with the rest of the breweries lineup, was very good bordering on excellent. They went down hill and and this brew became sticky, spiced, undrinkable mess. This one now is an improvement, but not what it used to be. At least things are moving in the right direction.
675 characters
4.35
/5
rDev
+13.6%
look: 4 | smell: 4 | taste: 4.5 | feel: 4.5 | overall: 4.5
2001 Vintage. Yes!
Poured a light brown with good carbonation. Nose is butterscotch, booze, caramel, cocoa, toffee. Taste is really, really good with butterscotch, cocoa, toffee all blending well. This beer really held up well and surprised me. A very good, drink Strong Ale, even 9 years later!
295 characters
4.14
/5
rDev
+8.1%
look: 3.5 | smell: 4.5 | taste: 4 | feel: 4.5 | overall: 4
Excellent seasonal brew from the local brewery here. Would recommend to anyone that likes a good dark beer. ABV is close to 8% if I remember right.
Appearence: Nice chocolatly body, tan head.
Taste: Nice hop bitterness with a coffee taste, thick and full bodied. Nutty flavors permeate through the hoppiness. Coats the tongue but finishes clean.
348 characters

2.69
/5
rDev
-29.8%
look: 4 | smell: 2.5 | taste: 2.5 | feel: 3.5 | overall: 2.5
12 ounce bottle a friend brought from Washington. Label is a little torn up, but doesn't seem to indicate date, ABV, or anything else useful. Reasonably pretty graphics, though.
Pours a deep reddish/brown color, with a thick creamy beige head, dense, and sticks around for a reasonably long time, but leaves no lacing.
Aroma: cloves, cinnamon, chestnuts, latex.
Taste: creamy roasty, cloves, chestnuts, cinnamon, latex. Distinct latex. Some slight buttery-ness. Crisp hop finish, at least for the style. Moderate warm with alcohol. As it warms towards room temp, some brown sugar/burnt sugar, and caramel come out.
Mouth: slightly thin bodied for the color and other characteristics. Moderate to high carbonation.
Tasty enough, sort of like an imperial brown.
Tolerable, and if someone else was buying I might drink it again, but I certainly wouldn't go out of my way to find it. The latex, while not overpowering, is pretty troubling.
959 characters
4.13
/5
rDev
+7.8%
look: 4.5 | smell: 4 | taste: 4.5 | feel: 4 | overall: 3.5
Wow, this one took me offguard. Picked this up in a mixed six pack based solely on the fact that it is from a very local brewery. Poured with little expectations a dark, drab, amber with a small but attractive 1 finger head comprised of extra large bubbles. Nose threw me off, roast malt notes mostly but difinitely a btit of fruitiness peeking through the melancholy appearance and scent. Taste is super thick and full, mouthfeel is very buttery and rich...unusual yet well done. Taste is of caramel and evergreens with a long lingering toasty aftertaste that keeps you thinking about this one. A beer to be sipped and enjoyed, definitely demands attention...good job LaConner!
678 characters
3.81
/5
rDev
-0.5%
look: 4.5 | smell: 3.5 | taste: 4 | feel: 4 | overall: 3.5
Pours a nice brown with a tan head that looks teriffic. The smell is of smoked almonds and cashews, with noodles dipped in chocolate. The taste is a nutty cashew with hints of roasted coffee, a nice warmer wich will tingle the tastebuds but one of these is always enough, not the best session beer.
298 characters
4.45
/5
rDev
+16.2%
look: 4.5 | smell: 4.5 | taste: 4.5 | feel: 4 | overall: 4.5
12 oz. bottle from 2003. Beautiful opaque dark brown hue with a thick viscous head. Very nice lacing. Strong smell of roasted malts, bittersweet chocolate, with a whiff of fresh hop flowers. Medium bodied.
Taste is first of dark roasted malts, smoked almonds, with a caramel sweetness. Finishes bittersweet with a blackened malt - alcohol dryness.
This brew tastes better closer to room temp than fridg temp. A most excellent old ale. Scores reflect the 2003 bottle.
12 oz. bottle from x-mas 2000 ; Has a roasted malt and caramel smell. A burnt, sweet caramel, toasted dark malt flavor followed by a bittersweet chocolate alcohol tang . Thick, chewy mouthfeel. Finishes dust bowl dry. This aged Tannenbaum reminds me of a kick-ass stout. This brew was worth the four year wait.
783 characters
3.75
/5
rDev
-2.1%
look: 3.5 | smell: 3.5 | taste: 3.5 | feel: 4 | overall: 4.5
12oz bottle obtained via trade with Skyhand. Thanks for the opportunity...
Poured into an imperial pint glass, formed little more than a layer of bubbles for a head, even with a relatively hard pour. Doesn't so much lace as leave little bubbles everywhere over the murky orange/brown brew. Aroma is upfront alcohol, with some spices sprinkled around the edges, and a bit of sweet malt for a base. Taste is a malty alcohol, with the same spices stubbornly jumping around to catch your attention. Mouthfeel is interesting in that for medium-to-high strength ABV brew, the beer almost feels like some vaporizes as it hits the tongue, not unlike some of the spirit beers. Pleasant effect, and certainly warming of the body. Drinkability is very good, with a high wintertime appreciation, I would think. In front of the fire, ah, that would be great. Course, it's 80F right now, so who needs a fireplace?
903 characters
4.32
/5
rDev
+12.8%
look: 4 | smell: 4.5 | taste: 4.5 | feel: 4 | overall: 4
12 oz bottle given to me for free by a bartender at The Viking.
Poured a dark brown with a medium tan head. Lots of lace.
Smell wasn't that impressive at first. This changed as it warmed up. Piney notes mingled with a caramel sweetness. This is a very balanced beer, with the sharp pineyness peacefully coexisting with a mild sweetness.
The first aspect of the taste of this is the sharp, pine flavor. Then a sweet - but never cloying - caramel flavor arrives to balance out the pine flavor. There's a nice dryness on the finish.
This is somewhere between medium and full bodied. Not as thick as a stout, perhaps, but it's still a substantial beer, best for warming the belly on a winter night.
This is fairly drinkable if one is into winter beers such as OSA or Celebration. For those unacustomed to such beers, the sharp pine flavor might be a little bit much at first. If this is available in my area come next fall, I'd not hesitate to buy a few.
966 characters
3.24
/5
rDev
-15.4%
look: 3 | smell: 4 | taste: 3 | feel: 3 | overall: 3
My first observation is the lack of sound Tannenbaum makes when the bottle is cracked. Though my six-pack was acquired at the brewery and presumed fresh, the beer is unusually devoid of fizz. Its color is brown with sensuous claret overtones and has a restrained, cinnamon-malt nose, and routine texture. Tannenbaum tastes of spiced chocolate but is otherwise muted. Its flatness and curtailed flavor were disappointing.
420 characters
3.88
/5
rDev
+1.3%
look: 4 | smell: 3.5 | taste: 4 | feel: 4 | overall: 4
Medium brown color. Medium head. Aroma is malty. A medium bodied Christmas Ale. Malts are nutty, fruity and sweet. Hops are spicy and grapefruity. A nice, spiced X-mas beer, brewed in the English Strong Ale tradition. Nicely balanced. Fairly smooth. No alcohol bite. Mouthfeel is full and round. Finish is clean and smooth. Aftertaste is slightly bitter
353 characters
3.89
/5
rDev
+1.6%
look: 3 | smell: 4 | taste: 4 | feel: 3.5 | overall: 4
Appearance – Very dark, almost black in color with little head.
Smell – There's a nice malt profile to this one but what got my attention was the rather large play of piney hops. This one has a sharp piney hop aroma that seems very much so out of place. There's also some nice molasses and brown sugars here.
Taste – I can't say that I've ever had an ale in this style that is so hoppy and so lacking in malt character. Maybe it is mislabeled?
Anyway, it's not so bad. It's more like a funky Barley Wine, though. I will say that the combination of sharp pine hops and caramel malts is a new one for me. There's also some huge NW apples in the flavor. If I had to guess I'd say Jonathan, but I'm not the apple expert.
Mouthfeel – A dry, strong/old ale? Yes, indeed. There is little malt to keep this one from drying the mouth. This ale is medium-bodied on the heavy side.
Drinkability – I enjoyed this ale, even though it doesn't really fit into anything that I've drank before. I guess this is why I love trying new stuff – you never know what's in store.
1,089 characters

4.17
/5
rDev
+8.9%
look: 3.5 | smell: 4 | taste: 4.5 | feel: 4 | overall: 4
Sampled in a 12oz Bottle in June of 2003
Beer pours deep murky brown with rubyish highlights. Faint traces of a tan head that barely holds the glass.
Nose is heavy caramel and brown sugar with a faint sourness and a leathery touch before a touch of hops end the aroma.
Deep caramel with roasted apples with a touch of granny smith sourness and a piney hop bite in the end palate.
388 characters
4.28
/5
rDev
+11.7%
look: 4.5 | smell: 4 | taste: 4.5 | feel: 4.5 | overall: 4
One of the newest, limited edition releases from LaConner Brewing, a relatively new brewery on the Pacific Northwest scene whose ability to produce stunning and bold brews of immaculate complexities yet subtle enough to be thoroughly enjoyable.
Released as their 2002 Christmas festive brew, it lives up to the hype that surrounds this new brewery. For all those outside of the PNW who have yet to enjoy LaConner's brews, you're in for a nice treat. Like Stone in San Diego, LaConner tends to break most of the rules when they release a new brew. But when rules are broken here, your palette isn't about to be assaulted. Instead, they've refined their complex brews, which tend to be on the hoppier side of things, in such a fashion that they remain incredibly drinkable yet stunning in every turn.
This newbie pours a deep golden brown with extensive cloudiness, similar in complexion to Mac & Jacks African Amber but superior in the taste department. Despite the unfiltered nature of this brew, the sediment deposit is virtually non-existent, making for a very enjoyable brew.
There is virtually no head on the pour, even when being excessively terse in the delivery. No collar and no lacing on the glass.
Caramel and fruit aromas abound, plus plenty of sweetness, which reminisce a interesting winter blend of dark rum and vanilla.
Taste-wise, there's plenty of crow about in this sturdy offering, including a strong hop factor, nice robust but well-rounded malt factor, toffee hints, and plenty of fruitiness to help round out this brew with a hint of cloyiness. Very reminiscent of a Barley Wine (be sure to check out LaConner's Olde Curmudgeon Barley Wine) complete with nice hearty sense smashing blend of hops and malts. Although similar in style to a Barley Wine, its not sold as one, so comparing it to any other style out there is difficult at best. Rest assured, it's a nice tasting beer and should be sought out by those looking for unique brew offerings.
Exceptionally good tasting brew that will undoubtedly make for a great winter warmer. Hopefully this one comes back next year. Having downed a few bottles of this one already prior to reviewing it, I've already headed back to my source to pick up another 6 bottles to carry me through the first part of the year.
[ STATS:>> 12 oz bottle / ABV: 7.5% abv / PRICE: $ 1.89 USD ]
2,377 characters
Tannenbaum from La Conner Brewing Company
3.83
out of
5
based on
17
ratings.