Proper Job
| St. Austell Brewery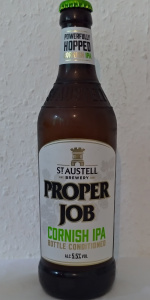 BEER INFO
Brewed by:
St. Austell Brewery
England
,
United Kingdom
staustellbrewery.co.uk
Style:
English India Pale Ale (IPA)
Alcohol by volume (ABV):
5.50%
Availability:
Year-round
Notes / Commercial Description:
No notes at this time.
Added by BeerAdvocate on 10-15-2007
Reviews: 60 | Ratings: 165

4.04
/5
rDev
+6%
look: 3.5 | smell: 4.5 | taste: 4 | feel: 3.5 | overall: 4
Handpump halfpint at the Coal Hole.
A: Clear gold body with a finger of fine white foam. Mediocre retention, but very nice lace. Ok.
S: Pleasant, restrained hoppiness. Citrus dominates, with some floral notes and biscuity malt backing it up. Some fruity esters as well, which go very nicely with the citrus hops. Excellent EIPA aroma.
T: Sweet malt, citrus hops, and peachy esters. Pleasant, but a bit overly sweet for what the nose promised - I wanted more hop bitterness.
M: Soft, smooth, and very lightly carbonated. A little weak, but ok.
O: Excellent real ale. While it didn't quite follow through with the hoppiness promised by the superb aroma, this was still one of the best EIPAs I encountered on my trip to England. If you get the chance to try this on cask, you won't be disappointed.
Cheers!
809 characters
3.63
/5
rDev
-4.7%
look: 4 | smell: 3.5 | taste: 3.5 | feel: 3.5 | overall: 4
A - Clear gold with solid inch of white foam.
S - Softly fruity and bready with a little lemon.
T - Light caramel and a crisp lemony hop. Bread and husky grain follows. Dry, minerally bitterness in the back.
M - Hard carbonation and light body, but not watery.
D - Not bad. Clean, with good, straightforward flavours.
321 characters
4.3
/5
rDev
+12.9%
look: 4 | smell: 4 | taste: 4.5 | feel: 4 | overall: 4.5
500ml bottle bought from The Vineyard, Belfast
Poured a light golden honey colour. White head poured thick and foamy with a pock marked topping then faded to light covering with thick edging... some light carbonation bubbles drift slowly to the surface... light lacing...
Aroma - Some juicy tart fruits with maybe some tropical hints (peaches, lemons and limes, pears,), quite grassy, floral honey, light sweet grainy malts, talcum powder traces, herbal, peppery hops...
Taste pretty much mirrors the aromas... good grassy and peppery hop bitterness, quite floral, some hay, metallic hints, light biscuit malts, mouth watering fruits (lemons, apples, limes), some saltiness, faint floral honey sweetness, light chalky hints...
M&D - Fairly sharp and dry... light bodied... very quaffable and sessionble brew at 5.5%...
Overall - An excellent example of an English IPA... recommended...
890 characters
3.03
/5
rDev
-20.5%
look: 3.5 | smell: 3 | taste: 3 | feel: 3 | overall: 3
500 mL brown bottle poured into a pint glass. I've enjoyed 2 other St. Austell's beers (Tribute being the flagship) that I've enjoyed so let's try another.
A: clear, dark amber/light brown, thinnish off-white foamy head.
S: very beer-like (I know that sounds silly) with a good balance of grains, malt, hops in the nose.
T: a touch on the bitter side, but not as much as I was expecting by the label where it's suggested that the hoppiness will take over.
M: this was the most surprising bit for me, as it was way more fizzy than I expected from a proper ale. It wasn't necessarily a bad thing, but it definitely threw me off a bit.
D: would try this again just to see if my first impressions were right, but I'm not necessarily rushing to have it again.
759 characters

4
/5
rDev
+5%
look: 4 | smell: 4 | taste: 4 | feel: 4 | overall: 4
Picked this up at the biggest beer store in the UK, Beers of Europe Ltd. Clear amber-yellow pour with quickly fading two finger head and decent lacing. Citrusy, grassy, hoppy nose with hints of lemon, caramel and metal. Piney, citrusy, bitter hops dominate the taste with a hint of lemon. Although the bitterness is the star, a nice caramel malty sweetness emerges as it warms to help with the balance. The finish is bitter, crisp and dry and the drinkability is awesome. The hop intensity was really surprising for a British IPA.
530 characters

4
/5
rDev
+5%
look: 4 | smell: 4 | taste: 4 | feel: 4 | overall: 4
Started with a nose that reminded me of a pint of fresh real ale mixed with a tripel. Golden yellow. Thin constant head with some initial bubbles which eventually disappear to reveal some quality beading. Dampness as well. A reasonably good hopped profile though I didn't get much of that grapefruit quality claimed on the label.
Wonderful mouthfeel ending with a dense firm long bitterness long after swallowing. In fact, it takes on a greater density in the mouth the more you drink.
A proper job is hard to come by these days and you could sure make a career out of this. I wonder about promotion though.
608 characters

3.85
/5
rDev
+1%
look: 3.5 | smell: 3.5 | taste: 4 | feel: 4 | overall: 4
500ml bottle poured into an imperial pint glass. Best before date of October 2010.
A: Golden in color with a fine white head. Not a great deal of head retention, but settles to a thin layer with some foam clinging to the sides of the imperial pint glass.
S: Grapefruit with some other citrus mixed in. Doesn't reach out and grab you, but inviting.
T: Lip smacking with a grapefruit taste up front, as suggested by the smell. Great hops presence in this English IPA. After the great hops-citrus attack, mellows out towards the end with a smoother malt flavor. Great transition in the mouth that makes this smooth and easy drinking.
M: As noted above, this IPA has a smooth finish. Nice carbonation and the grapefruit flavor from the hops really awakens the taste buds.
D: Excellent drinkability. Refreshing citrus taste, not overpowering, hard to go wrong with this selection. Does a proper job!
899 characters
3.82
/5
rDev
+0.3%
look: 3 | smell: 3.5 | taste: 4 | feel: 4 | overall: 4
A: Poured a nice amber color with a white head that didn't last very long, leaving a little lacing.
S: Some citrus notes in there, slightly sweet and very pleasant.
T: Lovely! Very citrusy with a pleasant bitterness at the end.
M: Nice mouthfeel, smooth with decent body.
D: Could drink this all day - a very nice session beer but enough complexity to keep you interested!
Notes: 500 ml bottle poured into a Samuel Smith Pint Glass. BBE 03/10/09.
451 characters
4.15
/5
rDev
+8.9%
look: 3.5 | smell: 3.5 | taste: 4.5 | feel: 4 | overall: 4.5
Bottle courtesy of a friend who was in Tavistock, England visiting his family.
Poured a very light amber. Ever slightly cloudy, Nice lacing.
Biscuity and grassy aroma.
Slightly sweet maltiness, immediately followed by crisp dry, medium hopiness. The hop flavor lingers very pleasantly, to create a lovely after-hop burn. Hint of citrus/lemony notes.
Pleasant substantial mouthfeel.
A very enjoyable English IPA, and slightly hoppier than expected (but that's quite alright). I really enjoyed the St. Austell beers when I visited pubs in Devon and Cornwall a few years ago. I only wish I could get them in the States.
621 characters
4.3
/5
rDev
+12.9%
look: 4 | smell: 4 | taste: 4.5 | feel: 4 | overall: 4.5
A- Pours a burnished golden colour, hints of caramel with a modetate off white head which stays around for a bit. looks good.
S- smells deep citrus with hints of tropical fruit some bannana in there to, a very complex and inviting smell umong the best i have had from this style.
T- taste is full biscuity and citrus dominated hops up front that contiue and linger to the finish, a malt sweets is detectable towards the end finally becoming dry and quite bitter indeed.
D- An extremly drinkable and quenching beer and one of the best English IPAs i have had. This would make for fine parring with spicy foods or refreshment during the summer months, i must endevour to find on draught!
688 characters
Proper Job from St. Austell Brewery
3.81
out of
5
based on
165
ratings.