Smugglers Vintage Ale

St. Austell Brewery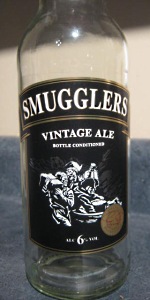 Rate It
Beer Geek Stats
| Print Shelf Talker
Style:

ABV:

6%

Score:

Avg:

3.89

| pDev:

11.05%

Reviews:

7

Ratings:

From:

Avail:

Year-round

Wants

Gots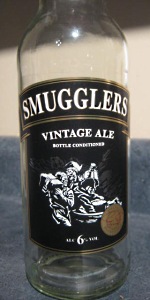 Notes:
leaddog from Canada (AB)
3.43
/5
rDev
-11.8%
look: 4 | smell: 3.5 | taste: 3.25 | feel: 3.5 | overall: 3.5
Appearance - Pours a deep copper brown with a finger width of foamy cream-coloured head.
Smell - Toffee, oak, dark fruit, raisin, grassy hops, subtle malts.
Taste - Biscuity malts with toffee and dark fruit. Small amount of bitterness from the hops. Not picking up much from the oak detected in the aroma.
Mouthfeel - Medium bodied with moderate carbonation.
Overall - A good attempt at blending two styles together, though elements seemed to have gotten lost in the taste. Would be nice to see more hops and oak to bring out some more barleywine qualities.
Feb 18, 2014

Jetulio from Spain
4.24
/5
rDev
+9%
look: 4 | smell: 4.25 | taste: 4.25 | feel: 4.25 | overall: 4.25
500 ml bottle poured into a Pint glass
Appearance... mahogany beer with head colour beige of 1 finger and not lasting
Aroma... toffee and caramel, strong smell clearly malty in nose
Taste... complex, there is a malt and yeast with wood character and then bitterness appears with sour notes lasting untill the end,
Mouthfeel... medium/ full body and medium/soft carbonation
Overall... a very nice ale, touch of maturing in whisky cask is intersting because is not overwhelming other notes´, bitterness is present and combining well with his malty character,
Aug 14, 2013
BlackHaddock from England
4.35
/5
rDev
+11.8%
look: 4.5 | smell: 4.5 | taste: 4.5 | feel: 4 | overall: 4
500ml Clear bottle (bottle conditioned), best before 5th April 2014: poured @ home on 15th Oct 2012 into an 'Old Speckled Hen' badged vase shaped pint glass. No sediment appeared to leave the base of the bottle.
The beer is a deep, deep teak/red wood tree colour with a tan coloured head of foam. The foam produced some good lacing and almost stayed the whole distance as a full covering: the beer looked good in my glass.
Wasn't sure what to expect: even the hop list has 'coriander' named: that's a new one on me! Anyway the smell was fairly subdued at first as I think I'd over cooled it: later I got malty caramel, nuts and toffee esters with the malts becoming more prominent and richer with each degree it warmed.
The taste was a good blend of flavours: I liked the roast malts and a semi-sour Belgian (Flemish) Red hint the beer had. Couldn't find the various things the brewery claim though and certainly no coriander or whisky, oaked or not.
Not as smooth, rich or full bodied as I'd half assumed, but it isn't thin or weak in body depth, I just wanted more.
Would I have another: yes, without a doubt.
Would I change the reciept: yes, I'd like the tax man to get a bit more and the brewery to go the whole hog and brew this at 9% ABV or even higher, less' dark ale' in the blend, more of the 'Oak aged Barley Wine' please.
Oct 15, 2012
biboergosum from Canada (AB)
3.4
/5
rDev
-12.6%
look: 3.5 | smell: 3.5 | taste: 3.5 | feel: 3.5 | overall: 3
500ml bottle. A blend of oak-aged barleywine and dark ale, according to the label. Barkeep! Give me a black and a, well, not so black?
This beer pours a clear, dark reddish amber hue, with one finger of thin, bubbly, and foamy beige head, which leaves but a few specks of sparse lace around the glass as it quickly evaporates.
It smells of dark caramel malt, brown sugar, watery black fruit flesh, and musty, dusty, and leafy hops. The taste is more sweet caramel/toffee malt, a bit of raisin and prune, some earthy, musky, and almost sour character, and weak herbal and leafy hops.
The carbonation is quite low-lying in its goings on, the body a sturdy medium weight, fairly chewy, yet agreeably smooth. It finishes still rather sweet from the Cadbury-esque malt, but well-tempered by the herbal, musty fruit and languid hops.
There's an unevenness here that I can't shake - I get the barleywine flavours, so I'm suspicious of the pedigree of the dark ale - the sourness is a tad off-putting, and the hops' herbal notes are overdone - and no musty wine notes to speak of. Bah - an old ale, to be sure, but not really an Old Ale.
Jul 05, 2012

IronDjinn from Canada (AB)
3.48
/5
rDev
-10.5%
look: 4 | smell: 3.5 | taste: 3.5 | feel: 3 | overall: 3.5
Thanks to Jim at Sherbrooke for the sample. From a 500 ml clear bottle. Pours out a translucent brown hue with bright cola-like colour when held to direct light. Creamy beige head that settles quickly to a thin cap.
Toasty toffee and molasses on the nose, black currants and cherry skins, some butterscotch.
Very sweet toffee malt up front in the flavour, fresh dates and figs, even more sweet caramel, finishing with moderate leafy herbal and grassy hoppy notes.
Light-bodied mouthfeel, silky smooth texture, with low carbonation.
Seems a bit young considering all the blending and barrel aging involved. Tasty, but still lacks some cohesion, which may work itself out with aging. Still worth giving a try.
Jun 25, 2012

jazzyjeff13 from England
3.28
/5
rDev
-15.7%
look: 4 | smell: 3.5 | taste: 3 | feel: 3 | overall: 3.5
A 500ml clear glass bottle with a BB of May 2012, so it's a little out of date. Picked up cheap from my local beer specialist just the other day. The label describes this as a blend of an oak-aged barley wine and a dark ale. Bottle-conditioned.
Poured into a tulip pint glass. A rich coppery-red hue with good carbonation and fine sediment. Yields a decent head of creamy off-white foam that lasts for a few minutes before settling as a surface layer. A complex aroma of rich, fruity malt with notes of banana, yeast esters, dried fruit, brown sugar, faint marzipan and stewed hops. Hints of woodiness, spirits, mild oxidation and a significant whiff of booze.
Tastes of rich roasted malt with a fruity character and a dry, bitter finish. Notes of stewed hops, roasted malt, yeast esters, oakiness, dried fruit, oxidation and faint brown sugar. Hints of cardboard and a stale background note. A dry, stewed bitterness upon swallowing. Mouthfeel is smooth and dry with tingly carbonation, but rather thin for the style. Considerable astringency - dries the palate thoroughly. Aftertaste of stewed hops and fruity malt.
A reasonable effort but not brilliant. It captures some of the intended character and depth of an aged ale, but the finished article is imperfect. It has a distinct note to the aroma/flavour that is reminiscent of Belgian yeast, and this doesn't sit too well with the other flavours. There is also a background staleness, though this might be due to the age of the bottle. The bitterness and woodiness in the taste dominate and overpower the other flavours, leaving it unbalanced. Finally, the body is too thin and lacking in 'fullness'. An interesting ale, but not the best example of it's kind. Caveat emptor.
Jun 21, 2012
Eramen from Ireland
4.2
/5
rDev
+8%
look: 4 | smell: 4 | taste: 4.5 | feel: 4 | overall: 4
A - A rustic brown which turns dark red-brown in the light. Head is just a white line that stays put throughout.
S - My nose receives toffee, sugary dried figs, prunes, slight brown sugar, fruit cake, hint of raspberries.
T - Not dissimilar from the aromas; candy, dark sugar, sweet malts, a barley-wine taste lingering in the background, and a subtle bitterness at the last. Not overpowering, but it works diligently to round-out the complex flavors.
MF - Medium, very little carbonation which suits it down to the ground.
O - I thoroughly enjoyed this beer. It's rich, sweet deliciousness is to be savored like is the company of an old friend, or the mature tones of a mild autumns day.
Jun 14, 2012
Smugglers Vintage Ale from St. Austell Brewery
Beer rating:
87
out of
100
with
29
ratings