Firewaters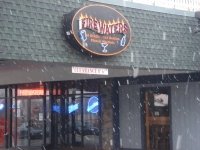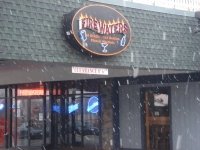 Bar, Eatery
1110 Baltimore Pike
Glen Mills
,
Pennsylvania
, 19342-1060
United States
(610) 459-9959 |
map
firewaters.me
Notes:
Reviews by pbenoit4:
4.22
/5
rDev
+8.8%
vibe: 4.5 | quality: 4.5 | service: 4.5 | selection: 3.5
My friend and I called this our hangout for about a nine month period, and it's not just for the bartenders. On a Friday or Saturday night, the place is usually packed, but I like to stick around the beer bar in the front, where it's not as crowded. On the weekdays, it's a completely different story. It's usually almost empty, the lights are up and, the music is usually a mix of classic rock and Sinatra-era music.
The quality is usually pretty good although it tastes like they serve whatever they have as soon as they get it so, it's rarely aged. They have a lot of different types of glassware so as long as you get a bartender with a week of training you'll usually get the type of glass that best fits the beer you ordered.
The service is good, but on busy nights it can be a little frustrating getting the bartenders attention. There are two guys there, Dave and Josh, if you can get them, they are extremely knowledgable and if you demonstrate that you aren't there for hooking up or macro beers, they'll take care of you and even give you some good suggestions of brewery tours or when new beers are coming in.
The selection is advertised as 50 taps-101 bottles. It's a lot of beer, but there is a large number of macro brews. Still, there's a pretty good selection of whatever style you want. When you go there every weekend you get a little frustrated with the rotation. It's seems like they rotate out a lot of the good beers and leave the lesser microbrews on tap. Oh well.
Another drawback is the price. Import beers are jacked WAY up over the American microbrews. I think a St. Bernardus Abt. 12 runs around $12. A general rule of thumb to go by at firewaters is: you're going to pay about $1 for every percentage of ABV in your selection. So stay away from those beers with higher ABV unless you're willing to shell out some extra cash.
Overall, firewater's is a good place to go for beer, if you're looking to try some new brews and especially if you're single. But the sometimes frustrating rotation and price of some of their beers will take away from the overall experience.
2,113 characters
More User Reviews:

4.36
/5
rDev
+12.4%
vibe: 4.5 | quality: 3.75 | service: 4.75 | selection: 5 | food: 3.5
I LOVE THE PLACE . THEY HAVE THIS NEW DJ ON FRIDAY AND SATURDAY NIGHTS NOW , AND HE ROCKS . HE PLAYED EVERY SONG I ASKED FOR ON THE SPOT !! THE BARTENDERS
WHERE ALL ATTRACTIVE WITH THE EXCEPTION OF THE GUY , I'M JUST NOT INTO THAT
LOL. DEF WILL BE THERE WEAKLY !!!
265 characters

4
/5
rDev
+3.1%
vibe: 4 | quality: 4 | service: 4 | selection: 4
This place has gotten a bad rap in the past for having buxum bartenders who don't know their beer. Yes..and NO. There's a guy working tonight also, and ya know what, the guy and the girl both know their beers! Hey, any place that has Russian River on tap, is "A" O.K. with me because even if the bartenders don't know what they're pouring, I sure do. And in this case, the bartenders DEFINITELY know what they're pouring! I didn't have any food so I can't judge that aspect, just came in for a few beers at the end of a long work day, and after dinner. The one downside (at least at the time), is they allow smoking. Being a non-smoker, this was a turn-off, but I leave that up to the bar owner to make that call and we have to live within those parameters for good beer availability in this part of town.
The tap selection on this particular night is:
Miller
Coors Light
Yuengling
Rolling Rock
Bud Light
Landshark
Michelob Ultra
Killians
Sam Adams Lager
a selection from Manayunk Brewing Co.
Sam Adams Summer Ale
Blue Moon
Amstel Light
Zzzz...(good gawd...)
---
NOW!
Victory Yakima Twilight (so named at the time before they changed the the name)
Victory Hop Devil
Harpoon Celtic Ale
Stella Artois (MEH)
Terrapin Big Hoppy Monster
Guiness (MEH)
Hogaarten
DogfishHead 90
Bear Republic Hop Rod Rye
Troegs Sunshine Pils
Paulaner Hefe
Flying Fish
Hopfish IPA
Victory Helios
Rogue Dead Guy
Russian River Damnation
Delerium Tremens
Boulder Brewing Hazed and Confused
The bottle list is very good with 24 different bottles and the big bomber list had another 16 nice craft brews like:
Ommegang
Greenflash
Hoppin' Frog
Victory
DFH
Like I said, I didn't have any food here, but I was really surprised by the selection. I live regionally and drive to this part of the state often and never knew this place was here. I happened to be staying at the hotel next door since I just flew home tonight from a long business trip and have to be here again early in the A.M.
Overall, I hate the fact they allow smoking, but there's a very nice selection of beer. The bartender also said they're planning to regularly stock at least ONE Russian River on tap at all times. Considering that? "Nuff" said!
2,190 characters

4.55
/5
rDev
+17.3%
vibe: 4 | quality: 4 | service: 5 | selection: 5
Well after McKenzie's Brewpub we went around the corner to Firewater's. This was attached to the Holiday Inn and Hooter's restaraunt. As you walk in you are given a side view of the bar that stretches about halfway through the room. As you walk a little further into the room you are greeted by the bartender and the lovely 50 tap handles that hang on the mirrored wall. If you can't find something then you have a problem. A stunning sight indeed. Some pool tables in the back with it looks like a dance floor and a liquor bar off the the back right which was closed. One bartender on a Saturday? but it wasn't that busy. Paige was our barkeep and she was very chummy which is much better than some flirty coyote ugly bartender's who just want to shake their tales and expect big tips this girl knew what she was doing and knew here drinks.
I ended up having the Allagash White and my wife had the Purple haze after that. My wife was deciding, Paige came up to us and said have you ever had a dirty ho'. To which my wife replied no I am not a Hoegaarden fan. She poured us a free sample (which is pretty cool free is always good in my book) and my wife was amazed by the taste and she said well I like it now.
Seems a little odd coming off of two big chains like a Holiday inn and Hooters but it seems to be working for them. I must say I like this place much better than the one in the Tropicana in A.C. it all says it in the music this group plays. I mean come on Madonna in A.C.? That is just wrong. Damn shame this place is a little far otherwise this would be my regular spot.
1,585 characters
4.2
/5
rDev
+8.2%
vibe: 4.5 | quality: 4 | service: 4 | selection: 5 | food: 3
read some reviews....thought about the beer selection,and had to give it a try
i knew i was gonna be pricey but they got great beer i can't get in maryland. Hopped on the motorcycle (that way i'd only have 2-3)
founders breakfast stout---draft
avery-out of bounds stout
paulaner--hefe-weizen
some wings from hooters next door, thats their menu. the pretty hot bar tender knew about the beers too
i'll go back, not a normal hang out, but every now a then, great beers on tap. some good eye candy too.
503 characters

3.8
/5
rDev
-2.1%
vibe: 3.5 | quality: 4 | service: 3 | selection: 4.5
Finally made it in this place. Very long granite bar as soon as you enter the place is the best spot to be. The back has a couple of tables and a dance floor...more like a club atmosphere back there. As expected there are 50 taps and a ton of bottles. Mostly micros and imports but they do have 2 or 3 macros on-tap and their bottled relatives, as well. I was hoping to catch the Pliny on-tap, but I just missed it. It was replaced by Hercules DIPA. They did just tap a keg of Founders Breakfast Stout, though. Yum. The bartender was a 19 year old hottie who had apparently ignored the states drinking laws and tried just about every beer they had. Funny, she only liked the "fruity" ones, though. She had no knowledge of the beers she was serving, but that's what I expected. Really a shame, too. They did have a little menu of bar type appetizers available from the Hooters next door. $25 for three beers is a bit pricey, one was a bottle, however, and I knew it would be an expensive bomber. I'll be back sometime, if just for the selection.
1,044 characters
3.8
/5
rDev
-2.1%
vibe: 3.5 | quality: 4 | service: 3.5 | selection: 4
Cognitive dissonance: a Hooters girl serving me a Legacy Euphoria. Actually, it's not a Hooters girl, but it's so easy to get confused, because this place is adjacent to a Hooters and the two
share bathrooms, plus my bartender is so slamastically good looking. A real Hooters girl actually came in at one point, dressed in full (well, partial) uniform, to talk to the Firewaters bartender. There's no food except for free (heavily) buttered popcorn. When I asked, the waitress pointed me toward Hooters. These places even have joint-promotional posters.
While there, nine-year-old kids celebrating after a little leagure game wandered in from Hooters to say high to an adult they know hanging out at Firewaters' martini bar. I'm not bleepin' with you. What were they doing in Firewaters, or in Hooters, in the first place?
The service was prompt and friendly, but like at the Firewaters in Atlantic City, when I asked for a beer, the female bartender had to turn to a male co-worker and ask whether they had it. I'm convinvced Firewaters deliberately prevents its female hotties from learning anything about the beers the place carries, for what reason I have no idea. I hate the damn bicycle seat bar stools, so I sat on the side, where there were a few normal wooden stools.
The selection is very good. It's true that depending on what section of the categorized menu you look in, you might think this is macroville--looking at the "Lager" category is like that Twilight Zone episode when a beer geek dies and wakes up in a bar that has 200 taps. He's happy at first, then when he looks at the tap list, it's Bud, Bud Light, Bud Select, Bud 1, New Bud, Bud Code Red...so the guy realizes he's actually in hell. But if you look closer, you'll find plenty of good local brews and imports to try. I had the very good Sly Fox Weisse and Legacy Euphoria. They also carried Deus and a few other high-end offerings, although the craft selection did tilt somewhat toward the usual craft suspects. Still, there's a broad and extensive beer list that will give you plenty of good options. Other dudes at the bar ordered Heinekens and something lights. It's amazing that Firewaters continues serving good beer at all.
2,219 characters

2.55
/5
rDev
-34.3%
vibe: 2 | quality: 2 | service: 3 | selection: 3
This place is the exact opposite of Tria...whereas Tria has a short beer list that's nothing but world-class beers, this has a long beer list of crap. Really just a horrendous selection. The beer menu was dated to boot. Out of the 150 or so choices there were maybe 12 good beers, and none of them were anything you couldn't find anywhere else. My gorgeous female companions and I had a hard time even finding a beer we wanted. The only local beer of any quality was ye olde HopDevil. The rest of the list was full of macroswill and crap imports. The Firewaters in AC at least had some good imports on the list, and some more local beer to boot. The atmosphere was pretty crappy as my esteemed beer colleague Slander has already beautifully described, so I'll not go more into it, other than to say that at least the place shares bathrooms with Hooters so you can see the waitresses from time to time. But I'm a perv. Our bartender was very nice but knew nothing at all about beer. This seems to be a theme at all Firewaters, hire hot bartenders who know nothing about beer and don't attempt to teach them anything about it. This would be a great spot to hit before or after McKenzie's as it's literally 2 minutes away (in fact you could do the nearby John Harvard's and make a cool little 202 Brandywine Valley crawl), but they really make it difficult to want to go there again.
1,380 characters
3.48
/5
rDev
-10.3%
vibe: 3.5 | quality: 3 | service: 3.5 | selection: 4
Kennett Square?? Yeah, we did that. Hmmmn, Jeff's porch?? Yep, done that too. A little something on the way home maybe? Well, there's an Iron Hill in Wilmington, DE, but that's a little that way and South, or we could hit that Firewaters we passed on the way in to Kennett. I've hit the one in Atlantic City and it was decent enough ('cept for them beer slushies).
Attached to a Hooters at a hotel on the main drag, there's a lot of traffic here. The sign says, "50 drafts, 101 bottles, obnoxious martinis & decadent disco". Ooookay. You get past the ID man, and you're in the front bar area. It's a long curved marble topped bar with seating for a dozen and a half (brightly colored no-backed plastic stools in red, green, yellow, blue), with an adjacent counter along the wall with half a dozen stools. Brick lowers and stained thin wood slat wall uppers with beer signs, mirrors and some great, very old, framed brewerania prints, roughly 14" X 28". There's an old Miller High Life, "This way to High Life" ad from 1914, an old Schlitz Light ad, and another Miller High Life, "The champagne of bottled beer" ad from 1918. There are also old Arrow, Gunther and Schlitz beer trays and an out of place Belgian beer poster. Neat alternating colored checkboard tile floor, exposed duct work overhead, and a large Cigar display just inside the front doors next to Phil's golf game. A mirrored back bar with shelving displays the 101 bottles and the taps run below from one side to the other in a jagged line. Offensive neon signs overhead read "<---Beer bar" and "Martini bar --->". To the rear of the room is an open area with 4 bar tables, foosball, and a hockey game in the vicinity of the dance floor. Eeeesh!!! TV's in all corners and over there around the bend is the Martini bar. Yep, Martini bar. Octogon shaped, with seating for 2 dozen, bar tables and leather couches here and there. Vodkas and Martini fixings. The whole back of the place is dark and lowly lit, very "clubby".
50 drafts and 101 bottles... Drafts, the best of the lot of 'em are the American micros (Victory Hop Devil, Allagash White, Stone Arrogant Bastard & Smoked Porter, DogFishHead Shelter Pale Ale, Rogue Chocolate Stout & Dead Guy Ale, Pyramid Apricot Ale, Spanish Peaks Raspberry, Weyerbacher Blithering Idiot, North Coast Red Seal, Sierra Nevada Pale Ale), and then the usual imports, macros, maltos, and waaah. I ordered the Allagash White and it came in an ice cold frosted glass. Beer slushy. Shoulda seen it coming. Bottles, well, there isn't anything amazing here. 101 bottles and it's mostly a handful of decent micros (Sierra Nevada, Sam Adams, Petes, Pocono, RedHook,Harpoon, DogFishHead, Magic Hat, Rogue, Victory) and the standard Belgian, English & German imports, and then it's all downhill from there.
We hung towards the front of the bar and watched ID man proof an entire wedding party and harrass a couple without their ID's who were clearly in their 70's. Most unnecessary. ID man also told Phil that he couldn't wear his (dirty) Red Sox hat in the bar, we were okay with that. There's just so much potential for a place like this, but the clubbiness and the bland, so-so at best, beer selection keeps it from being anything better. 50 drafts and 101 bottles, but quantity here and not quality.
3,305 characters
Firewaters in Glen Mills, PA
Place rating:
3.88
out of
5
with
9
ratings