Alexander Keith's Traditional Lager
| Alexander Keith's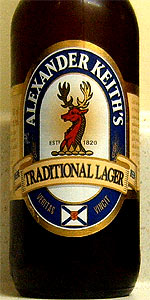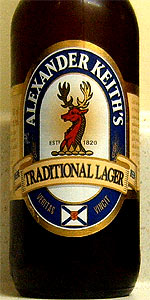 BEER INFO
Brewed by:
Alexander Keith's
Nova Scotia
,
Canada
keiths.ca
Style:
American Pale Lager
Alcohol by volume (ABV):
5.00%
Availability:
Year-round
Notes / Commercial Description:
Replaced by Premium White.
Added by MMansfield on 03-14-2008
This beer is retired; no longer brewed.
HISTOGRAM
Ratings: 14 | Reviews: 10
Reviews by Shibbykaiyai:

3
/5
rDev
+1%
look: 3 | smell: 3 | taste: 3 | feel: 3 | overall: 3
I was so happy to find a Keith's in the US, I quickly jumped on this brew as soon as I saw it. Too bad I didn't pay enough attention too see that I bought the lager...
The lager is a good brew. It goes down well, a bit strong for a lager, but nicely enough. If I was to judge it based on being a straight lager, I would have scored it much worse.
But all in all, it was a good enough brew for a sixer every once and a while. Not something that I will seek out again, but I would not turn it down either.
506 characters
More User Reviews:
3
/5
rDev
+1%
look: 3 | smell: 3 | taste: 3 | feel: 3 | overall: 3
Alexander Keith's- Lager
On tap at Alexander Keith's/ Nova Scotia brewery.
A- Bright clear yellow with a big soapy head. Decent lacing on the glass.
S- Strong pungent corn/ hay/ straw with a bit of lemon and grain.
T- Not bad, light grainy flavor with hints of wet straw/ hay hops.
M- Very light and watery with a sweet body and a mildly dry crisp finish.
Overall- Average at best, but easily drinkable and I enjoyed the brewery pub so it probably scores an extra half point. If not interested in this beer at least check out the pub, giftshop, brewery tour. I enjoyed it.
575 characters
3.83
/5
rDev
+29%
look: 4 | smell: 3.5 | taste: 4 | feel: 3.5 | overall: 4
Sampled April 17, 2009 on tap at the Strange Brew Pub and Tavern in Manchester, N.H. As far as I know this is the only place in the state where it is available.
It was listed on the beer menu as Alexander Keith's Lager so I can only take their word for it that this is what it was. When I read the previous reviews I got the feeling I was drinking something other than what they were reviewing because I thought it was better than the previous reviews suggest.
The lighting in the restaurant was dim so the appearance of the beer might have been misleading for me. I saw an amber color with about a half-finger of beige head and well rounded lacing. The clarity was excellent and appealing. The main sensation in the aroma was of sweet malts and a slight hint of hops. The mouthfeel was medium to bold. The taste was a decent balance of malts, caramel, and a background of fresh hops. Altogether it was a smooth and enjoyable beer.
935 characters
2.71
/5
rDev
-8.8%
look: 3.5 | smell: 2.5 | taste: 2.5 | feel: 3 | overall: 3
On-tap @ Market Cross Pub:
Pours golden amber with a thin off-white head that leaves some trailing lace.
The smell is buttery with a flat off-fruitiness, some graininess, a bit steely/metallic.
The taste is apple-ish, grainy, slightly metallic with a bit of (Enlish?) yeastiness and flat/blandish maltiness.
This is a bland lager with something of an "off"/"flatish character (not flat with carbonation, which is fine, but rather in taste.
Not "off" enough to be undrinkable, but BLAND.
491 characters
2.38
/5
rDev
-19.9%
look: 3 | smell: 2.5 | taste: 2 | feel: 2 | overall: 3
Pours a clear golden amber with some red tones. One finger of white head quickly settles to a thin ring. Strong metallic odour, some spicy notes. Tastes of sour green apple, slight spiciness, alcohol, with a dry, slightly bitter finish. Has a thin body that highlights the carbonation, which seems to overpower the flavours. It is drinkable, though partly due to its fairly weak flavours.
Not sure how traditional this lager is, but I'm sure fans of Keith's IPA will like it as a diversion.
490 characters

3.98
/5
rDev
+34%
look: 4 | smell: 3.5 | taste: 4 | feel: 4 | overall: 4.5
Served as a medium amber colored beer with moderate white puffy head.
Smell shows a touch of fruitiness, but very understated.
Taste is very refreshing. There is a significant malt presence and the Saaz hops compliment it nicely.
Finishes crisp and refreshing.
An easy to drink summer beer.
294 characters
3.13
/5
rDev
+5.4%
look: 3.5 | smell: 3 | taste: 3 | feel: 3 | overall: 3.5
Appears to be brewed again, but is now known as "Nova Scotia Style Lager" (like their brown and pale ales as well).
Pours a dark golden color with a hint of amber in the color. Thick head compliments the color.
Sweet adjunct malt greets the nose. Can obviously tell that it's contract brewed by A-B/InBev. Nothing interesting here.
More of the same sweet malt with just a hint of chewiness. Would probably compliment a light meal of sorts or work well on a sunny day.
Lingering sweet malt accentuates the mouthfeel. Not much else is left.
Very middle-of-the-road here. I bet it would taste better on-tap, straight from the actual brewery. You can't fault them for wanting to grab a bigger share of the market. This just isn't the best way to do it.
755 characters
2.21
/5
rDev
-25.6%
look: 3 | smell: 2 | taste: 2 | feel: 2.5 | overall: 2.5
Picked up case from Keith's cold beer store at the fake brewery on Water St.
Appearance: Pours a medium-light amber colour, clear, with a bone white cap that appears creamy and lasts for a few mins before settling to a ring.
Aroma: Sweet, green apple, DMS, grainy, very little from the hops and no real malt character.
Taste: Saaz hops come through a bit in the finish. Very sweet in the front with some sourness in the end. Not much here for flavour. Not much of a surprise.
Mouthfeel: Lighter carbonation than regular Keiths. Same light body with low drinkability.
Final Statement: A half assed attempt from a large brewery to fit into the craft market.
671 characters

3.08
/5
rDev
+3.7%
look: 3 | smell: 2.5 | taste: 3.5 | feel: 2 | overall: 3.5
Got this one from Ludachris, highly appreciate it man.
Appearance: Poured with half a finger of head that doesn't seem to lace and sustains well enough. The beer itself is a nice golden color as should be expected from a Lager. The carbonation however, looks a little bit excessive.
Smell: The smell on this offering is nice, but very subdued. Even after the beer has had a chance to warm the only scent I can get out of it is some corn and with a healthyherbal/fruit hop smell . It's not unpleasant, but it's so subdued and took a lot of warming to come out.
Taste: I'm was somewhat surprised, as this is a bit more complex then a typical macro lager. Starts with an interesting mix of corn and malt and then shifts very smoothly to a corn base with a nice kick of fruity and herbal hops with a touch of apple.
Mouthfeel: The beer does leave a little bit of a plastic taste in the mouth. It's fairly apparent and leaves the mouth a bit filmy. The carbonation is also a little bit excessive on this beer, which is odd because the head is fairly lacking. It does transition very smoothly though while drinking it.
Drinkability: Well this beer is fairly light on the gut and is also quite refreshing. However, the beer is a little gassy and the plastic aftertaste is apparent enough to make you want to stop drinking it. All in all, the pros slightly outweigh the cons.
Final Thoughts: I've yet to see this Keith's brew become available in Ontario and to be honest, I can sorta see why. This beer is better then your average macro lager but it doesn't really excel so well that it would be worth shipping it across the country. All in all, if you see it on tap, give it a shot but don't go out of your way for it.
1,719 characters
3.8
/5
rDev
+27.9%
look: 3.5 | smell: 3.5 | taste: 4 | feel: 3.5 | overall: 4
Out of a bottle this one was a clear, bright gold color with a khaki-colored head. The retention was mediocre but the lacing in torn curtains. The aroma was light, standard macro lager smell with some citrus hops hints. The flavors were pretty good though, floral hops on a lager malt backbone with hints of smoke and a crisp finish. The body was medium, the mouthfeel smooth but this was partly due to the carbonation being too soft. Good and very sessionable without being pretentious.
487 characters
Alexander Keith's Traditional Lager from Alexander Keith's
Beer rating:
2.97
out of
5
with
14
ratings