Alexander Keith's Ambrosia Blonde
| Alexander Keith's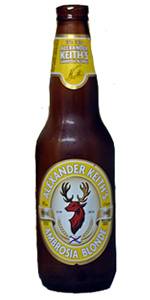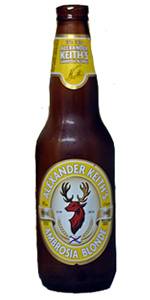 BEER INFO
Brewed by:
Alexander Keith's
Nova Scotia
,
Canada
keiths.ca
Style:
American Blonde Ale
Alcohol by volume (ABV):
5.20%
Availability:
Limited (brewed once)
Notes / Commercial Description:
No notes at this time.
Added by marty21 on 06-15-2011
This beer is retired; no longer brewed.
HISTOGRAM
Ratings: 14 | Reviews: 8
Reviews by ChrisCage:
3.63
/5
rDev
+3.7%
look: 3.5 | smell: 3 | taste: 4 | feel: 3 | overall: 4
I'm really digging this new Brewmaster's lineup that A. Keiths is doing...the Tartan Ale was great...lets hope we have another winner!
A- The coloring is clear and lemony looking, with just a slight tinge of green, just like lime juice has been added...typical macro looking carbonation is present. The head is white, doesn't provide much of anything but doesn't totally disappear either, so that's a good sign I think. The lacing is actually decent...it looked like the foam would automatically flow right back into the beer but it actually sticks decently to the glass, albeit it's patchy. Decent looking overall!
S- This is really weird, but I detect a fresh buttered popcorn aroma right off the bat, and it's most likely diacetyl I'm smelling, as it's quite noticable. Aside from this, there are aromas of fresh bread/yeast, cotton candy and/or mild tropical fruit. No hop bitterness to speak of on the finish.
T- The fruitiness and candied sweetness really makes an impression on the palate. There is some malt sweetness mixed in and there is some hopped bitterness on the finish which wasn't detectable before...it's quite good flavor wise!
M- Light bodied, which I was expecting, and the carbonation is palate scrubbing for the most part, which I also expected. I'm reminded of fresh baked bread and that's not a bad thing! It's got a nice flavor after the swallow that lingers for a while as well....
O- I think it's another good effort from Keith's in this series and I'll definitely purchase another sixer of this again, if available....now if this and the Tartan Ale became regular fixtures in the lineup, I'd be more than pleased! I say to everyone, give this a go!
1,682 characters
More User Reviews:

4.6
/5
rDev
+31.4%
look: 4.5 | smell: 4.5 | taste: 4.75 | feel: 4.5 | overall: 4.5
Had this on draught when I was up in Canada staying at the Embassy suites Montreal. It was one of three beers on tap that were free. I will say it was excellent and delicious even though I never had it before. They served it in a clear plastic cup. It was golden blone in color not that much lacing. Smelled and tasted sweet almost syrup, not hoppy at all and I'd expect that it has a low ibu number. Not spicy like leffe but more mild like that of a Grimberger blonde Belgian.
477 characters
3.38
/5
rDev
-3.4%
look: 3.5 | smell: 3 | taste: 3.5 | feel: 3.5 | overall: 3.5
A pint at an English tavern, while on a mini pub-crawl down Whyte Ave during the proscribed sunny part of the evening here in Summer 2011...
This beer appears a slightly hazy, light amber colour, with one finger of thin soapy white head, which leaves a shoreline ring of lace around the glass in its wake. It smells of soft bready malt, generic canned orchard fruit, and earthy hops. The taste is sweet, fruity malt, and weedy, earthy hops. The carbonation is on the low side, the body a lean medium weight, and generally pretty smooth. It finishes in kind, more fleshy fruit malt, and a twinge of warming.
The expected caveats: not bad for Keith's, etc, ad nauseam. Sure, their big sellers suck, but between this and their Dark Ale, they seem to be moving in the right direction, in a way of which their big business competitors seem patently incapable.
856 characters

3.6
/5
rDev
+2.9%
look: 3.5 | smell: 3.5 | taste: 3.5 | feel: 3.5 | overall: 4
Appearance: It has a nice clear blonde/golden colour to it. It has a nice white head that dies down moderately and has very minimal lacing.
Smell: The aromas definitly give out hints of light bready malts with a bit of honey and caramel.
Taste: Like the aromas, it has a bready malt feel with a nice fruity aspect and light floral/earthy hopsé
Mouthfeel: It has a medium carbonation with a nice light balance and feel.
Drinkability: It's a very smooth drinkable beer accompanied with ok flavors and aromas. Definitely a great refreshing beer for those warm summer days.
577 characters

3.42
/5
rDev
-2.3%
look: 3 | smell: 3.5 | taste: 3.5 | feel: 4 | overall: 3
Tallboy can picked up at the LCBO.
Pours a clear golden-blonde colour, topped with one-finger of foamy, white, reasonably-resilient-for-a-macro head. It dies down within a matter of minutes, leaving behind a soapy cap/collar and a coating of lacing on the sides. Nice aroma... bready malts, with canned pears in light honey syrup. Pleasantly sweet, without being cloying or corny.
Inoffensive taste, but nothing especially interesting. Bready malts with more light fruit (apple/pear-type) sweetness provide most of the flavour, without much variance save for a twinge of vaguely drying bitterness at the end of the sip. Medium-light bodied, with fairly lean carbonation for a very smooth feel.
I am not much of a fan of any of the 4 big sellers in the Keith's portfolio (Amber, White, Dark and of course the IPA), but I have found these limited releases to be of a somewhat higher quality. That being said, at best this is a slightly better-than-average blonde ale - worth a try, but not something to go out of your way for. If you are looking for comparables, imagine a sweeter Labatt 50 with a bit more body.
1,115 characters

3.68
/5
rDev
+5.1%
look: 4 | smell: 3.5 | taste: 3.5 | feel: 4 | overall: 4
A: Pours a deep clear golden with 2.5 fingers worth of creamy off white head. Settles to a creamy cap and left a bit of lacing.
S: Nothing strong but you get a bit of light malt and maybe some light fruitiness.
T: Light malt with a light fruits. It's not a very strong taste but it's refreshing. It doesn't have that usual Alexander Keith's after taste as well which is a plus.
M: Medium carbonation with a light to medium body.
O: This beer isn't anything special but I quite enjoyed it. These Alexander Keith's Brewmaster's Limited Releases have been getting better and better and should replace some of their beers available all year.
650 characters

3.68
/5
rDev
+5.1%
look: 3.5 | smell: 3 | taste: 4 | feel: 3.5 | overall: 4
341ml bottle poured into a 16oz weizen glass.
A - Just under three fingers of fizzy, light beige head on the pour. Transparent amber-orange in color.
S - Light bready malt and sweet grains, with a touch of light fruits. Nothing really stands out, but it's nice. Maybe some light banana aroma going on.
T - Upfront this has a lot of toasty grains and wheat in the taste. Light fruits begin to make their way into the flavor profile however. I can definitely pick out banana and apricot here. I also detect some citrusy orange and coriander in the finish and aftertaste. Some light malt helps round out the flavor. The kick of sweetness here also kind of reminds me of the sweetness present in the tartan ale. An interesting flavor profile for sure.
M - Low carbonation and medium bodied mouthfeel. Really easy to drink. It's nice and light without feeling like a light lager or something.
D - Really drinkable ale, with a nice light flavor and refreshing feel to it. If I didn't have so much else to try, I'd probably give this another go before I can't find it anymore.
1,075 characters
2.03
/5
rDev
-42%
look: 2.5 | smell: 2 | taste: 2 | feel: 2 | overall: 2
473ml can
5.2% ABV
Queen's Quay LCBO Outlet (Toronto, Ontario, Canada)
September 22, 2011
The beer poured a translucent light gold colour with a generous off-white head which quickly disappeared. The aroma was corn, grainy malt, and metal. The mouthfeel was medium bodied with medium carbonation. The flavour was God awful with lots of metallic and acidic tones.
368 characters
Alexander Keith's Ambrosia Blonde from Alexander Keith's
Beer rating:
3.5
out of
5
with
14
ratings