Alexander Keith's Cascade Hop Ale
| Alexander Keith's
BA SCORE
76
okay
37
Reviews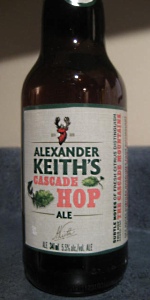 BEER INFO
Brewed by:
Alexander Keith's
Nova Scotia
,
Canada
keiths.ca
Style:
American Pale Ale (APA)
Alcohol by volume (ABV):
5.50%
Availability:
Year-round
Notes / Commercial Description:
No notes at this time.
Added by biegaman on 03-30-2013
This beer is retired; no longer brewed.
Reviews: 37 | Ratings: 144

3.67
/5
rDev
+13.6%
look: 3.75 | smell: 3.5 | taste: 3.75 | feel: 3.5 | overall: 3.75
Served from a 341ml bottle
A: Poured a transparent copper color. 1.5 fingers of soapy sudsy looking head. Retention was decent and so was lacing.
S: You can definitely smell those cascade hops. Fruitiness/Citrus is evident along with a little bit of a floral aroma.
T: One again the hops come through pretty well. The fruitiness and citrus types flavor associated with cascades are dominant. Maltiness character is low but the beer is still not very bitter. I would expect more bitterness and a bolder malt character for an AIPA but its still pretty good tasting.
M: pretty smooth and refreshing. Not to thick on the mouth but its alright.
O: I liked it honestly. Not something I would make a goal of drinking but it paired nicely with burgers of the grill after a hot day. I would consider buying it again but I definitely have other IPA's in mind when I think of my favorites.
884 characters

3.27
/5
rDev
+1.2%
look: 3.5 | smell: 3.25 | taste: 3.25 | feel: 3.25 | overall: 3.25
A reasonable effort by Keiths, but like all of their specialty beers, something dumbed down for the masses and lacking any genuine character.
Pours a moderate head on a clear amber brew. Reasonably long-lived with some lace.
Aroma is hoppy, but really lacking in the punch you normally expect from a Cascade brew. Some grapefruit, some malt, some bread. It just plain doesn't grab you, but it's better than you're typical macro. Slightly thin body, some bitterness to finish. Despite this, would probably rate as something radical to someone with an uneducated beer palate.
S'ok, but won't blow you away.
607 characters
3.47
/5
rDev
+7.4%
look: 3 | smell: 3.5 | taste: 3.5 | feel: 3.5 | overall: 3.5
A - Pours a clear golden colour with a copper hue, finger of head with little retention and no real lacing.
S - Scent is sweet citrus hops, bready malts, hints of butterscotch and caramel.
T - The citrus hop profile dominates, but is slightly subdued by a bready caramel malt finish. Bitter citrus rind lingers alongside the butterscotch and a toasted crackers.
M - Medium bodied, smooth and wet.
O - I never thought I would see the day that Alexander Keith's would have an actual hop presence. This one comes through nicely and would pass nicely as a micro pale ale, but doesn't quite live up to the standard of an American IPA. That being said, I could easily see myself buying this as a session brew. Definitely worth a try and would be a nice addition to any macro tap line at local pubs and restaurants that (at least locally) typically only have macro options available.
880 characters
3.19
/5
rDev
-1.2%
look: 3.25 | smell: 3 | taste: 3.25 | feel: 3.25 | overall: 3.25
A - Pours darkish golden and bright. Good carbonation. Two finger thin white head fades rather quick. Half finger retention, no lace.
S - Clearly a toned down Cascade aroma. Typical grapefruity/citrussy aromas. A little crackery malt too.
T - Grassy, citrussy. Seems mellowed out and restrained. Crackery malt and oranges.
M - Good carbonation, light but not thin body, bit of bitterness.
O/D - A good effort by Keith's. You know they wouldn't be making something groundbreaking and revolutionary, but accessible and introductory. I admire the effort.
558 characters
3.49
/5
rDev
+8%
look: 3.25 | smell: 3.5 | taste: 3.5 | feel: 3.5 | overall: 3.5
Poured a bottle into a tulip glass.
Was surprised by the initial aroma of the cascade hops- all the usual suspects (grapefruit, citrus, spicy,etc). Aroma came forward initially but then some caramel, bready malts sat in the background.
Poured an amber, dark orange colour. Two fingers worth of sudsy foam head very quickly dissipated. Small amount of foam laid on the surface. Wouldn't call it head. Relatively thin beer with no lacing.
Certainly taste the cascade hop front and centre. Nice grapefruit, citrus taste. Not tasting very much malt sweetness. Would say this beer is quite 1 dimensional- appreciate a bit of sweetness to help balance things out.
Relatively dry beer that leaves the tangy cascade hop taste in the back of our throat for a bit of time.
Overall not bad. Good attempt at this. Certainly enjoy this beer more than the hallerteau version.
869 characters
3.33
/5
rDev
+3.1%
look: 3.25 | smell: 3.25 | taste: 3.5 | feel: 3 | overall: 3.25
Pours a dark amber with a rapidly dissipating head...
Definite grapefruit smell in the bouquet....very nice....not a big hint of sweetness to balance but there was some..
Okay this is what Keiths should taste like...LOL...this or the other one....LOL. Def cascade hops...more malt than the smell would indicate.
Mouthfeel is typical of the alcohol content.
Overall this is so much better than regular keiths and I'm happy that they decided to cash in on the craft beer "fad"
478 characters
3.39
/5
rDev
+5%
look: 3.25 | smell: 3.5 | taste: 3.5 | feel: 3 | overall: 3.25
Had this on tap at the Office in Toronto.
Darker than the standard Keith's so called IPA, nice large white head but dissipated quicker than I had hoped.
Floral smell, with a bit of citrus and bread.
There are hops present on the tongue, and this is actually a pretty good IPA.
Light-medium body, pretty easily drinkable.
This is a big step up for the "Keith's" brand and is on par with a lot of craft IPA's, it's not at the top of my list, but it's a decent beer and maybe having the familiar Keith's name on it will get more people to try it.
548 characters

2.24
/5
rDev
-30.7%
look: 2.75 | smell: 3 | taste: 2 | feel: 2.5 | overall: 1.5
Pale copper colour, large off-white head. Mediocre retention, no lace. Mild grapefruit and floral aromatics. Light toasty malt character, very faint citrus flavour in the finish. Low bitterness that still comes across harsh on the palate. Light-bodied with restrained carbonation. Feels thin and a little watery, especially when taken in concert with it's anemic flavour. Where the Hallertau Hop Ale at least manages to deliver an easily perceived hop character, this Cascade Hop version almost completely fails.
512 characters

3.41
/5
rDev
+5.6%
look: 3.75 | smell: 3.25 | taste: 3.25 | feel: 3.5 | overall: 3.75
473 mL can from the LCBO; served ice cold. Probably one of the only macro 'faux-craft' beers I've ever known about ahead of its release; I love me some hops and I am really hoping that Labatt has actually made a hoppy session ale that will be affordable, decent, and widely-available.
Pours a clear orange-amber colour; highly effervescent, and topped with about one finger of frothy, creamy white head that manages to hold itself together for a few minutes. Eventually it wilts completely, leaving a smattering of lacing behind on the glass. A fairly attractive beer, with an enjoyable aroma to accompany it - with the Cascade hops providing a clean, citrusy feel that provides the majority of the aroma. There's a weak hint of caramel malts, but for the most part it's all lemon and grapefruit citrus, all the time. Not bad, but not imaginative.
The same could certainly be said of the taste, which, although not very interesting by the standards of the style, is still probably the closest thing to an "IPA" that the Keith's brand has ever produced. Starts off with some light pale malt and caramel sweetness, leading into some crisp lemon zest, leafy hop notes and a clean finish lightly brushed with hop resins. The grapefruit that I picked up on the nose is nowhere to be seen on the palate. Light-bodied, with moderate carbonation levels that give it a crisp, clean mouthfeel that works nicely with the zesty features of the hop bill. Extremely drinkable, and tasty enough to make consuming this an enjoyable prospect, rather than simply a vector for the facilitation of drunken shenanigans.
Final Grade: 3.41, a B-. Easily one of the best Keith's 'specialty brews' I've yet tried, Alexander Keith's Cascade Hop Ale is a good beer, but it still isn't the kind of stuff that is going to blow away most BAs. Most of us have had enough IPAs to be familiar with the intense flavours and aromas that this style is capable of generating. Keith's Cascade Hop Ale is a restrained, almost benign sort of IPA - but rather than starting a rant as to whether this is actually an IPA, an APA, or something else, I'll simply focus on what the brewer did properly here. This is a well put-together beer by macro standards, one that showcases a few nuances of Cascade hop flavours without smacking you in the face with a burlap sack full of the stuff. I'd buy this again, but at this price point it's probably not too difficult to find something slightly better from an independent brewer. I prefer the Hallertauer variant over this one, but either one would do in a pinch.
2,567 characters
3.31
/5
rDev
+2.5%
look: 3.75 | smell: 3.25 | taste: 3.25 | feel: 3.5 | overall: 3.25
341ml bottle. Nice to see that they've added a pry-off cap to their current single-hop bandwagoneering. My somewhat raw hand was expecting otherwise.
This beer pours a crystal clear, medium golden amber colour, with two fingers of puffy, caked foamy off-white head, which leaves a few streaks of sea-foam lace around the glass as it steadily recedes.
It smells of slightly sour, mildly toasted grainy malt, musty florals, jumpy citrus peel, an absence of any corn or rice nastiness, but an unfortunate ascendance of a phenolic fruitiness, which lends easy thoughts of bottom shelf, Minhas territory chemical gunk - oooh, so close. The taste is grainy, bready malt, an ethereal touch of dime-store caramel, very soft citrus pith, a faint pine needle astringency, and just a hint (thankfully for this hopeful enterprise) of that industry-standard, indistinct musty unpleasantness.
The carbonation is quite light and just a bit frothy, the body medium-light in weight, a wee bit tacky, but mostly workaday smooth. It finishes off-dry, the grainy malt kind of assuming a de facto role, while the now obviously neutered Cascade hops whimper at the gate.
I was given to believe a bit too much after trying the Hallertauer instance in this admittedly admirable venture by AB-InBev, which exhibited the very aspects of that hallowed noble hop. Here, not so much. The Cascade hops are way too downplayed, so much so that a few other undesirables burble up to take their place. I guess that the lesson here is baby steps, i.e. don't expect to become a sassy west-coast IPA (relatively) overnight. Because this surely isn't, even if the effort is definitely pointed in the right direction, finally.
1,691 characters
2.8
/5
rDev
-13.3%
look: 3.5 | smell: 2.75 | taste: 2.75 | feel: 2.75 | overall: 2.75
A: orange colour, thin head that then settles to a thin film in the middle. High carbonation visible.
S: Low citrus aromas, adjunct, hint of a soapy aroma,
T: Hop flavours are very low, I get a bit of an asparagus flavour. Malt flavours are also low.
M: Bitterness low, thin body, carbonation is good..
O: IPA ? Once again Keith's you've dropped the ball. So happy that your attempt to compete with craft brews has failed.
But back to the beer, this is not an IPA by any standard. Flavours, aromas and mouthfeel are way off.
532 characters

3.66
/5
rDev
+13.3%
look: 4 | smell: 3.5 | taste: 3.75 | feel: 3.75 | overall: 3.5
Alexander Keith's Cascade Hop Ale is a caramel amber colour. This is a far more typical complexion for an IPA than standard Keith's usual watery yellow. Finally someone at the brewery got the memo! To boot, it's got clarity, shine, bubbles and good head retention - as far as being taken seriously as an IPA, this passes the first test...
And the second. The bouquet features toasty caramel malt, florals, and a breezy spritz of citrus. It is very Sierra Nevada Pale Ale-esque. Swirling brings about a sweeter, heavier toast as well as more bitter, pithy hop notes though it is, on the whole, only mildly aromatic. Still, what's there is good (and what's even better is what's not there: stinky corn adjuncts!)
The taste is also mild, though pleasant, and ends with a satisfying combination of nutty-sweet malt, light citrus zest and faint tree resins. The hoppiness is a bit too mellow for concrete flavours of grapefruit or orange to really develop, though it maintains a citrusy air throughout. I'm surprised by how ample the malt is; it is relatively substantial for a commercial ale.
The bitterness is neither too little to disgruntle the average hop-head nor too much to offend the average mainstream drinker; a good balance is found between malt and hop, resulting in a very approachable beer. While I (like I imagine most craft drinkers) find it a bit dull for my tastes, at least the delightful floral and citrus qualities of the Cascade hops can be fully appreciated.
Alexander Keith's IPA is an IPA in name only. It is also my lowest rated beer and, baring a recipe change as well as public apology and reparations from the brewery, this is likely never to change. But this offering, indeed the whole Hop Series, shows that large commercial breweries don't have to be the enemy of integrity. Both craft beer and neoclassical economics advocates can rejoice - consumer tastes demanded this, the market supplied it. This is progress.
1,947 characters
Alexander Keith's Cascade Hop Ale from Alexander Keith's
3.23
out of
5
based on
144
ratings.