Prometheus IPA
| Elysian Brewing Company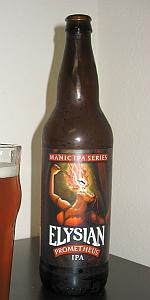 BEER INFO
Brewed by:
Elysian Brewing Company
Washington
,
United States
elysianbrewing.com
Style:
American IPA
Alcohol by volume (ABV):
6.70%
Availability:
Rotating
Notes / Commercial Description:
No notes at this time.
Added by John_M on 12-02-2008
Reviews: 37 | Ratings: 123

4.42
/5
rDev
+16.9%
look: 4 | smell: 4.5 | taste: 4.5 | feel: 4 | overall: 4.5
A: 5/8" head over cloudy straw coloured liquid.
S: Citrus and hops.
T: Malt, hops, pineapple and a hint of grapefruit.
M: Medium thickness as well as a medium level of carbonation.
O: A nice tasty IPA, this would make for a good session beer.
246 characters

4
/5
rDev
+5.8%
look: 4 | smell: 4 | taste: 4 | feel: 4 | overall: 4
On tap at the Blind Tiger, 4/15/11.
A-Pour is a murky orange amber with a little bit of white head and some nice sticky lacing.
S-Honey sweetness, along with pink grapefruit and pineapple.
T-Sweet malt in the front, followed by bitter citrus hops and a strong bitter finish.
M-Medium bodied, oily, crisp carbonation.
O-Nice beer, good bitterness, a tasty IPA.
HV
368 characters
4.38
/5
rDev
+15.9%
look: 4.5 | smell: 4 | taste: 4.5 | feel: 4.5 | overall: 4.5
A: Poured a big burnt orange coloe with great carbonation leaving a big fluffy cap
S: Loads of orange peel, coriander, pineapple and grapefruit
T: Starts out with an immediate, big dry bitterness with citrus notes coming about mid taste. Everyone keeps talking aboutt he citrus and Cascade hops but I love Comlumbus, SOmcoe and aMgnum hops. This has the hop bill of one of those three, leaning to Columbus.
M: Very nice. Medium body, biscuity malt and perhaps caramel
O: Very good. Nice Ipa indeed.
502 characters
3.88
/5
rDev
+2.6%
look: 4 | smell: 3.5 | taste: 4 | feel: 4 | overall: 4
From the bottle, new Maniac IPA Series.
Appearance: (4.0)
-Nice vibrant orange and copper IPA with a finger and a half of fluffy white head that has settled to some lacing, a medium sized ring, and a thin island of foam covering most of the brew from the center. Looks like a Northwest IPA to me. Does have a nice slightly cloudy appearance.
Smell: (3.5)
- Zesty pine and resinous hops hit first, and then fade. What is left is a fruity punch, sweet bready malts, and more fruit. Little pineapple, mango, and grassy hop aromas. Sweet subtle grains. Overall not bad, comes out of the bottle strong, but settles a bit in aroma.
Taste: (4.0)
- This is certainly a beer with a focus on aroma and flavor hops. There is a fantastic bright stinging bitterness which is quite good to balance out the lightly sweet and bready malts, and all with a finish of fruity zesty hops. Certainly a great barrier between the bitter and finishing hops, quite interesting.
Mouth Feel: (4.0)
- Medium body, well carbonated, and hardly chewy or cloying at all, very drinkable. This stuff flows fast. The nice bitterness does dry it up a bit at the end. Good stuff.
Overall: (4.0)
- Like I said, the range between the bittering, and finishing hops is very great. It balances quite well. The malt end seems a bit light which is just fine. It's not overly sweet, and is a little bready. I think any good west coast or Northwest IPA should almost glow orange, be a little cloudy, and certainly be bready and grainy without the overly sweet caramel attributes. This one gets pretty close to all of the above. Certainly would drink this again.
---
On-Tap at The BeerMongers here in PDX,,,,
- Nice clear straw yellow and mild copper color... fluffy white head, and lacing everywhere imaginable...
- Huge citrus, grapefruit, zesty hops... some pine, and floral notes.... nice grainy and biscuity malt backbone...
- Huge citrus again... grain, oats, biscuit.. slightly sweet honey-like malt... and more hops... obviously dry-hopped, and hopped right up front.
- Light to medium bodied... not really sticky or oily at all....
- Way too easy to drink, and hits the brain a little fuzzy.... a superb IPA, and it stands out among many others out there. Very well done, and a must have.
2,269 characters

3.53
/5
rDev
-6.6%
look: 4 | smell: 3.5 | taste: 3.5 | feel: 3.5 | overall: 3.5
On cask in a pint glass at the brewpub on 5/27/10
A - Hazy pale amber with highlights. Thin head with impressive retention.
S - Really citrusy aroma - zesty & peely. Tangerine & orange; hints of lemon. Toasty malts notes.
T - Tastes distinctly like orange peel. Tangerine & lemon, too. Mild biscuit tones.
M - Medium body with appropriately low carbonation. Very smooth. Dry finish.
D - Pretty solid; a quite enjoyable brew.
429 characters
4.22
/5
rDev
+11.6%
look: 4 | smell: 4.5 | taste: 4 | feel: 4 | overall: 4.5
Had on-tap at the Capitol Hill brewery. Poured a cloudy amber with a fine white head that left a nice lacing down the glass.
The nose was all NW IPA - citrus and grapefruit with little malt backbone. Just the hint of dried grass.
The taste followed the nose though a bit stronger on the earthy grass hop character, which I would expect from the use of tons of full flower Cascade hops in the finish. Not boozy at all despite the nearly 7% ABV. Dry on the finish.
Plenty of carbonation to hold up the resiny hops. Given how fresh this pint was off the kettle, I was expecting a more syrupy mouthfeel, but it was clean and crisp. Perfect lunch companion.
If bottled, I would buy these as a nice switch from the dry-hopped Immortal I usually have in the fridge. Good for a cloudy spring day in Seattle.
803 characters
3.36
/5
rDev
-11.1%
look: 2.5 | smell: 4 | taste: 3 | feel: 3.5 | overall: 3.5
Muddy amber with a bubbly head. The aroma is what one might expect from a northwest IPA. It has plenty of citrus hop character and only a rumor of malt. The flavor is very bitter and seems unbalanced. Don't get me wrong, I love in your face hoppy beers, but this seems to have a bit too much hop bitterness. Hop flavor is also less than stellar with white grapefruit and pine, but it just does not have that mouthwatering fruity character that I dig so much in most super hoppy IPAs. Medium body with a very dry finish. Seems fairly drinkable, but I can think of other beers of this style that I would prefer to session.
620 characters

3.92
/5
rDev
+3.7%
look: 3.5 | smell: 4 | taste: 4 | feel: 3.5 | overall: 4
had this at the Elysian on Cap Hill and again less than a week later at the EastSide. fresh.
the hazy tangelo reminds me of a recent morning north of seattle. where maybe it was best someone else cook breakfast. by cook, maybe just slice up some grapefruits alongside a growler of this sweetheart because that's all you're gonna get.
lots of grapefruit and a little bit of malt. a great pitcher to split 5 ways, a good pitcher to split 4. eventually the sweet bread comes out, but it lurks like that 8th inning reliever that inevitably blows the save for your club before your closer can even get in the game. you know he's got nasty stuff, but you'd prefer just going straight to the closer.
694 characters
2.88
/5
rDev
-23.8%
look: 3 | smell: 2.5 | taste: 3 | feel: 3 | overall: 3
Poured a cloudy orangeish-amber with a thin cap of white head that dissipated quickly but left lots of sticky lacing.
A typical hop blast hits the nose, mostly citrus with a touch of pine, without much malt backbone. The flavors are also typical of a PNW IPA, citrus hops with a dry, sticky finish.
Body and drinkability are, again, typical of this style. Overall, a brew certainly worth trying when you see it. Elysian makes a whole flock of IPAs and this one is fairly representative of their lineup, personally I like the Dry-hopped Immortal IPA better and find this one leagues better than the Jasmine IPA.
612 characters

3.77
/5
rDev
-0.3%
look: 3.5 | smell: 4 | taste: 3.5 | feel: 4 | overall: 4
Sample at the Pike Street location. This brew is a cloudy orange color with a medium and fluffy off-white head that lasts awhile. Patches of lacing. Citrus, hops and bready malt in the nose. Medium-bodied and moderately bitter with flavors of hops, citrus and green grapes, along with some malt as a base. The finish is hoppy with lingering grapefruit taste. Pretty solid all around.
383 characters
3.92
/5
rDev
+3.7%
look: 3.5 | smell: 4 | taste: 4 | feel: 3.5 | overall: 4
It may seem counterintuitive to compete with oneself. But of Elysian's two IPAs, this one is much preferred.
Prometheus has a dense apricot color with modest preserved suds after 24 hours of growler time. It is balanced slightly to the sweet, but with a strong bitter finish that holds up the rear like a bookend. The sweet, resinous aroma has notes of pineapple. A fine all-around IPA with plenty of zest.
409 characters
4.03
/5
rDev
+6.6%
look: 4.5 | smell: 4 | taste: 4 | feel: 4 | overall: 4
On tap at Collins the other day.
The beer pours a light peachy orange color with cotton candy like head retention and good lacing. This beer is all IPA on the nose, with some nice citrus, including some interesting lemon and lime. The flavors on the palate replicate the nose, though I should add that this IPA has some impressive hoppy bitterness. The hoppiness builds as I drink this beer, which is something I don't mind one bit. The finish is pretty dry on this IPA, as one would expect with a low malt, NW IPA. Still, it's pretty well balanced, though with a pronounced dry, bitterness. The beer is pretty drinkable, though I'd guess the abv. is in the 7% range.
A very nice, solid beer from Elysian. Wouldn't hesitate to order this one again. Good beer.
762 characters
Prometheus IPA from Elysian Brewing Company
3.78
out of
5
based on
123
ratings.