Peste Chocolate Chili Ale
| Elysian Brewing Company
BA SCORE
81
good
35
Reviews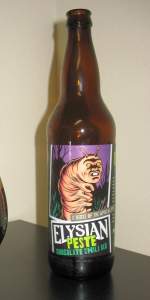 BEER INFO
Brewed by:
Elysian Brewing Company
Washington
,
United States
elysianbrewing.com
Style:
Chile Beer
Alcohol by volume (ABV):
7.50%
Availability:
Limited (brewed once)
Notes / Commercial Description:
No notes at this time.
Added by harrymel on 04-16-2012
This beer is retired; no longer brewed.
Reviews: 35 | Ratings: 97

3.52
/5
rDev
+0.3%
look: 3 | smell: 3.5 | taste: 3.5 | feel: 3 | overall: 4
22oz : tulip snifter
Pours black with a fizzy, light brown head that dissipates to leave almost no trace on the surface.
Definite cocoa and chili dominate the nose.
Light earthy cocoa notes followed by a good bit of chili heat.
Medium light body with low prickly carbonation.
A good chili beer. Some faint cocoa, with lots of chili heat.
342 characters
3.48
/5
rDev
-0.9%
look: 4 | smell: 3.5 | taste: 3.5 | feel: 4 | overall: 3
The description "chocolate chili ale" led me to believe this was a chocolate porter with a bit of a bite...boy was I wrong.
Stout-like body with almost no head to speak of. Cinnamon and chili bite to it. Very spicy scent. Definitely no trace of the cocoa.
Dominant chili taste. Cinnamon background, and a very, very faint trace of cocoa. Very strong chili heat to this, it really overpowers everything else.
This is a decent beer, but the chili taste needs to be toned down a bit. It runs away a bit, and takes over the other flavours.
538 characters

3.92
/5
rDev
+11.7%
look: 3.5 | smell: 4 | taste: 4 | feel: 3.5 | overall: 4
Poured into a Gulden Draak tulip. Pours a very dark brown, appearing black in the glass. Thin medium brown head dissipated almost immediately into a thin ring around the glass, no lacing. Aroma is peppery hot with a light aroma of chocolate and dark malt. Tickles the nose. Flavor starts deceptively sweet chocolate and dark malt, then various hot flavors burst over different parts of the tongue. Hot pepper, cayenne, black pepper and cinnamon seem to be present. Long lasting hot chile pepper burn and Mexican chocolate in the aftertaste. I enjoyed the heat and complexity of the hot spicing in this ale. The dark malt is ultimately masked by the fiery elements, but are robust enough to support them. Medium bodied and surprising amount of carbonation in the mouth feel considering the slight head. This is a serious chile beer and only recommended for those who like it hot. Fortunately, I'm one of those people.
916 characters

3.65
/5
rDev
+4%
look: 3.5 | smell: 3.5 | taste: 4 | feel: 3 | overall: 3.5
Poured dark and opaque. Smelled smokey and peppery with a hint of cocoa.. Lots of pepper action going on here - a different burn for each portion of the mouth especially in the back. The sweet hint hint of cocoa throughout. Nice carbonated mouthfeel. Lots going here with this beverage.
286 characters

3.85
/5
rDev
+9.7%
look: 3.5 | smell: 3.5 | taste: 4 | feel: 4 | overall: 4
Poured a dark cola brown with a slick of off-white head. Mild aroma of roasty cocoa and chili.
Ample carbonation and a relatively light mouthfeel. Mild cocoa and chili up front with some sweet caramel and a big spicy kick on the finish.
I likes me some spicy chili, and was pleasantly surprised that this beer wasn't fooling around. At the same time, I appreciated that the generous carbonation and slightly sweeter malt character helped balance things somewhat. A bit jumbled, but enjoyable overall.
502 characters
3.35
/5
rDev
-4.6%
look: 3 | smell: 3 | taste: 3.5 | feel: 3.5 | overall: 3.5
Pours almost black with a tan head that dosn't stay around long.
Mostly smells of the cinnamon and some molasses
I love the taste, was a little worried the malt would be too thick and push down the chili peppers but its just thin enough for the peppers to shine through.
The overall mouthfeel is on the thinner side but i feel its perfect for this beer.
Like I said, I was a little worried the chocolate, and maltieness that goes along with it, would overpower the taste but it combines so well. I do love chili peppers, so for me it certainly was not hot but had a rather pleasnt chili pepper linger to it, i will get another couple bottles while they are still available.
678 characters

3.46
/5
rDev
-1.4%
look: 3 | smell: 4.5 | taste: 3 | feel: 3 | overall: 3.5
A: Purchased this at a local Portland bottle shop. Pours into snifter a black color with good sized tan head that quickly dissipates. No lacing down the glass
S: Lots going on with the scent of this one. Smells very spicy, lots of cinnamon and nutmeg scent. Also peppers in there and maybe a birch syrup scent as well.
T: Big pepper spiciness up front. Slight chocolate flavor but mostly its the pepper and spice flavor that I notice.
M: Medium boidied, light carbonation to this one.
O: I kind of like this beer...ok I liked the first maybe 4oz of it but I may have some serious heartburn after drinking a bomber of this we will see, its really hot...and I love hot stuff. Definately not a sessionable beer but if you like a little spice this is a good one.
758 characters
3.15
/5
rDev
-10.3%
look: 3.5 | smell: 3.5 | taste: 3 | feel: 3 | overall: 3
Appearance: (3.5)
- Pours a very dark murky brown with tan fluffy fingers of head that settled down quite a bit to just a scatter of light dusting over the rather still and stagnant brew. Looked very good at the start.. quickly fizzled away.
Smell: (3.5)
- I certainly get a lot of cinnamon up front. I also get a very herbal aroma with some sweet fruit, light cocoa, and light sweet grain. Some chili may be there, but is timid in the aroma.
Taste: (3.0)
- I like the sweet and light malt backing of cocoa, sugars, and cinnamon. The cayenne and chipotle peppers strike with a vengeance and heat the rear of the tongue to very high marks. There isn't too much in the flavor of the pepper, but more in just the heat. The heat certainly strikes towards the finish. Though I like hot stuff, this is a bit too hot.
Mouth Feel: (3.0)
- This brew is a little thin, but medium bodied. It is well carbonated enough and a bit chewy. The heat rides on a blanket of it's own, which is like a fire flavored liquor sailing about a chewy medium bodied brew... it separates itself.
Overall: (3.0)
- Too hot. It's a decent or okay tasting background brew, but it seems a mediocre beer was flipped inside and out with hot peppers... and let's just throw in some other stuff like cinnamon (which too is overpowering) just to mix it up. This is a mixed bag, and leaves me feeling like I am missing something. For the lover of hot peppers.. this beer is for you. I just find it a little hard to enjoy. Perhaps it would pair well with vanilla iced cream?
1,545 characters
1.74
/5
rDev
-50.4%
look: 4 | smell: 2.5 | taste: 1.5 | feel: 1 | overall: 1
I bought a bomber of Peste at the Swamp. $12. Poured in to a pint glass.
Unfortunately this Chocolate Chili Ale is as bad as it sounds. I have never had a drain pour (not even the SA Cranberry Lambic) and at $12 a bottle I'm not starting now, but this is a beer that would have such a narrow niche, it can;t be marketable.
Pours a opaque black color, with a less than resilient beige head.
Smell is all about the chili. I can hardly taste anything else, and it makes me wonder why they even bothered with the dark malts. This could easily be a chili flavored Mexican Lager, and it might even sell better.
The taste is a rich coffee flavor up front, quickly overpowered by the chilli flavor, with a spicey hot aftertaste.
Mouthfeel is medium bodied, like a porter, but the hot aftertaste is way too much. Alcohol heat is one thing, but chilli spiced porter is another.
Not a real drinkable beer. It might have a niche with Mexican food in small amounts, but quaffable it is not.
983 characters
3.49
/5
rDev
-0.6%
look: 2.5 | smell: 3.5 | taste: 4 | feel: 2 | overall: 3.5
#4 of 12 in the Apocalypse Series.
From the bottle: Beer #4: PESTE Chocolate Chili Ale brewed with cocoa, cinnamon and a blend of chipotle, cayenne, ancho, guajillo and pasilla peppers.
Dark brown with a fleeting sheet of mocha foam. After a couple minutes, beer appears abysmally still. Smells of cinnamon, cocoa, coffee (black), and plenty of chili. Decent aroma, wish there was a hint of vanilla addition actually. Upon first taste, I think they may have overplayed the cinnamon, but after a time it started to grow on me. The sweet cocoa comes through in the finish, primarily due to the pronounced chili characters that come through - there's a certain roasted tone to the chili lexicon here, methinks the blend is heavy in ancho and chipotle with a healthy cayenne dose. Medium over thin body with spritz carb and a warm and wet finish. I would prefer substantially more body in a beer this rich in flavor. Overall a tasty beer, and pending a couple adjustments, this would be a appropriately sought after beer IMO.
1,027 characters
Peste Chocolate Chili Ale from Elysian Brewing Company
3.51
out of
5
based on
97
ratings.