Maelstrom Blood Orange Ale
| Elysian Brewing Company
BA SCORE
83
good
19
Reviews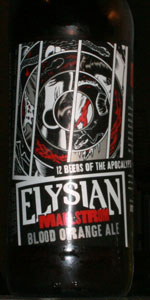 BEER INFO
Brewed by:
Elysian Brewing Company
Washington
,
United States
elysianbrewing.com
Style:
Fruit / Vegetable Beer
Alcohol by volume (ABV):
7.25%
Availability:
Limited (brewed once)
Notes / Commercial Description:
No notes at this time.
Added by JohnGalt1 on 08-23-2012
This beer is retired; no longer brewed.
Reviews: 19 | Ratings: 51

3.97
/5
rDev
+10%
look: 3.5 | smell: 4 | taste: 4 | feel: 4 | overall: 4
Poured a thick, cloudy orange with a finger of bright white head. Aroma of caramel, pine, and grapefruit mixed with a touch of orange.
Moderate carbonation and a full, smooth mouthfeel. Nice burst of orange up front followed by grapefruit, caramel, and some fairly assertive pine bitterness on the tail end.
Very nice, orange adds to the hop flavor without throwing off the balance.
★
384 characters
3.58
/5
rDev
-0.8%
look: 4 | smell: 3.5 | taste: 3.5 | feel: 4 | overall: 3.5
Pours out a clouded pumpkin orange color with a finger and a half of light beige frothy sticky head that sticks around for a few minutes and leaves behind some lovely curtains of lacing on the glass. Medium body and carbonation levels, slightly creamy in texture.
Smells like blood oranges as expected, both peel and juice with light herbal and floral hopping used as a framing aroma. Tastes at first of bitter orange peel, transitions into a herbal / dry biscuit malt combo, and finishes with a straightforward grapefruit pith flourish. Thankfully, the flavor is about 30% drier than the sweetness of the nose had led me to expect. Bitterness levels are straddling that blurry grey line in between PA and IPA territory IMHO.
Whatever enjoyment the drinker gets out of this one will primarily depend on how much they like the idea of blood oranges approached from a somewhat drier spectrum than is usually seen with the ingredient. They did a good job keeping the focus narrowed down on mostly citrus peel elements in this one, so I can't really fault it for being somewhat less complex than other IPAS. But on the other hand, even though the blood orange angle does bring something novel to the party, it's sort of a one-trick pony.
★
1,235 characters

3.12
/5
rDev
-13.6%
look: 2.5 | smell: 3 | taste: 3 | feel: 3.5 | overall: 3.5
1/4 inch lacy white head. Cloudy bright orange color. Light loose sediment. Mild hop mild floral ester orange peel front. Medium light textured slightly creamy orange flavored smooth body. Slightly tangy bitter hint mild hop spice end. Pretty easy to drink. Mild hops and a touch bland. Wierd like all the Apocalypse Series.
★
324 characters

3.88
/5
rDev
+7.5%
look: 4 | smell: 3.5 | taste: 4 | feel: 4 | overall: 4
Poured from 22oz bomber into a pint glass. This is #8 in Elysian's Beers of the Apocalypse series.
Appearance: medium orange hue with a massively hazy body. Head pours two thick fingers of frothy ivory foam wiht a decent retention and lace. A pretty good looking beer.
Smell: sweet malty base with a citrusy bouquet. The specific fruits are rather nondescript, but the effect is pretty nice.
Taste: quite a citrusy beer indeed. The sweet malt provides a very nice backdrop to the citrusy hops and the actual orange contribution. I admit I was apprehensive going in, but they have shown restraint and the overall effect is pretty successful: this beer is orangey without being over-the-top.
Mouthfeel: medium body with a good level of carbonation and concomitant creaminess. I like it.
Overall: this is a pretty good beer; certainly, it's an interesting and rather different one. I like they way they've blended the orange with citrusy hops to make an interesting, piquant brew.
★
982 characters

4.07
/5
rDev
+12.7%
look: 3.5 | smell: 4 | taste: 4 | feel: 4 | overall: 4.5
On-tap @ Brewforia in Eagle ID. Served in a chalice.
A: Cloudy orange with decent lacing and very little head.
S: Heavy sweet fruit and sweeter hop notes on the nose, orange is prominent with a decent amount of grapefruit and citrus rind bitterness in the nose...floral as well, with a hint of spice.
T: Smoother, and more fruit-forward than I expected, but with a decent amount of bitterness retained...grapefruit and orange and tangerine and citrus pith, dry finish, minimal malt presence. Faint tropical fruit and a ghostly hint of pine as well.
MF: Crisp lighter body, quick lighter finish, with good hop-forward dryness. Never tasted the alcohol, 7.2% seems high for a beer like this.
O: A really easy drinker and a good beer to pair spicy food with during the summer. I think this is more of a pale ale/IPA with fruit added, than a fruit beer with additional hopping, but either way, its tasty.
★
905 characters

3.95
/5
rDev
+9.4%
look: 4 | smell: 4 | taste: 4 | feel: 3.5 | overall: 4
Poured into a Gulden Draak tulip. Pours a very hazy medium orange amber. Half finger fine white head with good retention and nice lacing. Aroma with nice piney and citrus hops with very light orange. Interesting flavor of well melded hops and orange rind and grapefruit bitterness and orange juice in a neutral malt body. This is as bitter as an American IPA, but it is clear the bitterness is from citrus origin as well as bittering hops. Finishes clean with residual citrus bitterness and light hops. I am pleased with the combination of flavors and found this ale to be refreshing and fun to drink. Light to medium bodied. Another really strikingly unusual flavor experiment in this series that worked out well. I'm sad there are only four more apocalypse ales until the end of the world (or at least this great series).
★
823 characters
2.33
/5
rDev
-35.5%
look: 3 | smell: 2.5 | taste: 2 | feel: 2.5 | overall: 2.5
No bottle date. I think this should be listed as an APA rather than a Fruit beer, as it's identified by the brewer as a Pale.
Turbid orange with loosely associated soapy whites around the rim and an etched surface. Nose is way hoppier than I had anticipated: dank, grapefruit, resin, some orange if I beg for it, but not particularly evident. If they didn't say there was fruit, I wouldn't guess it. Flavor is bitter, with some fruity character (mostly bitter grapefruit), not much more than resin and some biscuity undertones of malt. More like an IPA for me. Medium bodied with reserved carbonation and a semi dry finish. This is drinkable, but more like a sub par PNW IPA rather than a specially concocted fruit infused pale ale.
★
733 characters
3.24
/5
rDev
-10.2%
look: 2 | smell: 3 | taste: 3.5 | feel: 4 | overall: 3
22oz bomber served in pint glass. Beer pours an extremely cloudy / hazy pale beige color. Looks like a seriously sedimented hefeweiss that I violently shook before pouring. Nearly no head. Doesn't really resemble beer in that it is highly reflective and not transmissive (i.e. opaque but light colored). Aroma gives the slightest hint of citrus and dry hopping but is quite mild.
Flavor is aggressively bitter, which I find rather surprising given the appearance, labeling, and aroma. Orange juice has not left the beer sweet at all. The bitterness perfectly melds the bitterness of the orange peel with hops, which is impressive, although to my taste not the most enjoyable.
★
676 characters
4.17
/5
rDev
+15.5%
look: 3.5 | smell: 4 | taste: 4.5 | feel: 4 | overall: 4
Picked this up tonight at the COOP for $8 (give or take a quarter)... poured into my slim tulip.... The thin white head doesn't really last that long.. the brew is almost expected hazed/muddy orange.
Nose is not surprisingly citrusy... hoppy with plenty of upfront (non hop) citrus elements... nicely balanced by just enough pale maltiness..
Flavor is nice and fresh... seems like a middle of the road hoppy pale/lesser IPA picked up by a citrus note that only translates from the zest from the fruit... not getting any "juice".. I think "juice" would be a disaster in brewing.. but this is well done.
With warmth.... the citrus zest is magnified, but the hops also come out and include a bit of tropical fruitiness... honestly, pretty yummy.
Palate is about right given the ABV... carbonation may be a touch light... sorta oily throughout on the tongue.
Nicely done.... Too damn expensive for what amounts to a citrus zested IPA.. but still cool, glad I was able to check it out fresh.
3.5/4/4.5/4/4
★
1,019 characters
Maelstrom Blood Orange Ale from Elysian Brewing Company
3.61
out of
5
based on
51
ratings.