Men's Room Black Imperial Ale
| Elysian Brewing Company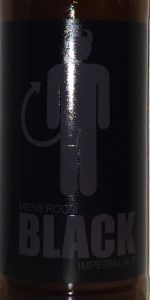 BEER INFO
Brewed by:
Elysian Brewing Company
Washington
,
United States
elysianbrewing.com
Style:
American Amber / Red Ale
Alcohol by volume (ABV):
8.00%
Availability:
Rotating
Notes / Commercial Description:
Re-released in 2014 labeled as "Vintage 2014"
Added by LiquidAmber on 11-27-2012
Reviews: 15 | Ratings: 64

3.34
/5
rDev
-14.6%
look: 3.75 | smell: 3.5 | taste: 3.25 | feel: 3.25 | overall: 3.25
Dark red-brown color with plenty of foam in the Wander tulip. Elysian says this is an "Imperial Red Ale." They are thinking of Johnnie Walker when they call this amped-up version "Black," not charred malt. In any case it's a blast of hops so call it an IPA if you want. It's Cascadian overdose all the way.
Very bitter to start. The warm malt emerges after some sipping and taste bud numbing. Some deep dark winey taste with a caramel flavor. It's finally not too awful, but it does have that basic ick of resiny Red Ales. From the 22 oz bottle purchased at Haggen Market in Burlington.
587 characters

3.46
/5
rDev
-11.5%
look: 4 | smell: 3.5 | taste: 3.5 | feel: 3.25 | overall: 3.25
Poured from 22oz bomber into a pint glass. The bottle calls this an "Imperial Red Ale".
Appearance: deep, ruddy brown hue with a moderate haze and light effervescence. Head is two thick fingers of frothy tan foam. A good look for an imperial red ale.
Smell: very sweet and caramelly with a little bit of raspy hop aroma. Not terribly biscuity, which is nice.
Taste: quite sweet indeed. Caramelly, bready and a little bit biscuity. Hops are light in intensity and a bit raspy in character; bitterness is relatively high for the style. It's a bit sweet for my taste.
Mouthfeel: medium-thick body with a low level of carbonation. It doesn't really come together well.
Overall: not my favorite beer. Not awful, just not at all suited to my palate.
748 characters
3.67
/5
rDev
-6.1%
look: 3.5 | smell: 4 | taste: 3.5 | feel: 4 | overall: 3.5
22oz bottle served in pint glass, beer pours dark brown, not really black. Looks like a nut brown ale, not a porter or schwarzbier. Smells similarly roasty. Some coffee in the nose, even. Flavor, however, is straight up CDA. Big C-hops up front, dry finish.
This is a prototypical Cascadian Dark Ale. If that's what you're looking for, this delivers a solid product, if not so remarkable otherwise.
399 characters
3.71
/5
rDev
-5.1%
look: 4 | smell: 3.5 | taste: 3.75 | feel: 3.75 | overall: 3.75
Served chilled in a tulip.
Pours deep mahogany brown with an inch of light tan head that slowly recedes leaving heavy surface layer and lacing.
Aromas are of caramelized sugars and tropical fruit but somewhat subdued.
Flavors of sweet tropical fruits mango, guava, papaya with bitter citrus zest.
Medium to heavy bodied with moderate carbonation and sweet finish. Lingering bitterness in the aftertaste.
Not a bad beer but not overly complex either. Was expecting more roasted flavors.
490 characters
3.8
/5
rDev
-2.8%
look: 4 | smell: 4 | taste: 3.5 | feel: 4 | overall: 4
Bottle opened on 11.26.12
A - Pours a dark caramel brown with a two inch tan head with good retention.
S - Citrusy hops and some sweet carmel malts. Also a touch of grass.
T - Hoppy grass and leaves mostly. Slight malty finish and some bitterness in the end.
D - Good carbonation and a medium body.
O - Hoppy and dark. Lots of grass and leaves.
349 characters

3.83
/5
rDev
-2%
look: 2 | smell: 4 | taste: 4 | feel: 3.5 | overall: 4
22 oz. Bottle purchased @ Fremont, Seattle PCC for $10.00 + tax. Quarter inch thin light tan mild lace head. Cloudy dark brown color. Floral toasted mild fruit aromatic delicate hop front. Medium bodied slightly creamy delicately cloying sweet toasted mild fruit lightly caramelized body. Clean balanced mildly hot hop end. Touch of fruity sediment at bottom of bottle. Overall rich, tasty, easy to drink, balanced Imperial Red Ale.
432 characters
3.84
/5
rDev
-1.8%
look: 4 | smell: 3.75 | taste: 3.75 | feel: 4 | overall: 4
22 oz. bottle - 2016 vintage - 9% abv:
Pours dark crimson to brown. A lasting tan head leaves thin lacing.
The smell is of caramel and a hint of chocolate with subtle herbal/piney spicing.. Mild.
The taste is of caramel sweetness with a hint of chocolate. Some pine/resin mixes in. Sweet with a subtle balance. Alcohol very well covered.
It is very smooth. With alcohol so well covered it is very approachable. A pleasant malt-forward strong brew. Despite the name it is an imperial red (on the darker side of the spectrum, but not "black".)
547 characters

4
/5
rDev
+2.3%
look: 4 | smell: 4 | taste: 4 | feel: 4 | overall: 4
Poured into a Seattle Beer Week pint glass. Pours a very dark mahogany brown with a half finger light brown head with good retention and lots of lacing. Aroma of piney and citrus hops with slight dark malt. Taste is spicy pine and citrus hops supported by a pleasant moderate toasted malt body. Ends with great long lasting piney hop finish with a hint of charred coffee. The hops are very nicely on display here. Medium bodied with light creaminess. A very well made Cascadian Dark Ale and one I hope Elysian puts into regular rotation.
537 characters

4.04
/5
rDev
+3.3%
look: 2 | smell: 4.25 | taste: 4 | feel: 4.5 | overall: 4.25
22 0z bomber into my DFH IPA glass that is supposed to make beers smell better. Ok the beer is called Black. It's not black. It's dark a ruby sorta brown. If your gonna call a beer Black then it better be back. Knocked the appearance to 2. It's kind of a bitch move but hey, I didn't name it. It looks nice aside from being a different color than its namesake.
The smell is Good! Having a hard time nailing it down. Sort of a peachy-dank-pine thing going on with a little alcohol coming through. I like it! Not what I expected but huge aroma. Well done! Should also add that no roast is coming through in the aroma.
Surprisingly clean taste for all that is going on here. I think that's a good / great thing! Some mild alcohol, piney hops, and a little roast coming through in the flavor on top of a sweet-ish malt backbone. No sweetness lingers. The alcohol while not really all that high, rinses off any lingering flavors and makes you want to drink more of it.
Mouthfeel is spot on. Not watery, not slick or thick.
Some pretty low previous score here. I call bullshit. It's not a hoppy stout. It's not a black IPA. It's just a damn good black (see note above) ale with a very interesting hop bill and for an 8% beer it's really easy drinking.
1,252 characters
4.17
/5
rDev
+6.6%
look: 3.5 | smell: 4 | taste: 4.5 | feel: 4 | overall: 4
Appearance. Pours a deep brown with half a finger of pale tan head.
Smell. Nice citrusy hops with some caramel malts. Smells like a hop bomb, wasn't expecting that!
Taste. Big citrusy hops with some nice chocolate and a little pine. There are some darker toasty malts there, but the chocolate is really standing out besides the hops. Bitterness creeps up in the finish. Great stuff.
Mouthfeel. Medium+ body with medium-low carbonation.
Overall. Wasn't sure what to expect with this one, didn't even read the label. Very pleasantly surprised with a high quality Cascadian (don't sue me, Steamworks) dark ale.
612 characters

4.18
/5
rDev
+6.9%
look: 4 | smell: 4 | taste: 4.25 | feel: 4.25 | overall: 4.25
Poured into a snifter from a 22 oz bottle.
Color is deep brown with a thick tan head. Good retention and lacing. Smell is more like a black IPA than a red. Citrus fruit and roasted malt along with some tropical fruit. Flavor is really good - I'm surprised by how much I like this. It has a very rich balance of citrus fruits, chicory and a touch of caramel. Body is medium with moderate carbonation.
Overall, this really works. I liked this beer a lot.
461 characters

4.2
/5
rDev
+7.4%
look: 3.75 | smell: 4.25 | taste: 4.25 | feel: 4 | overall: 4.25
Hmm the label says it's an imperial red ale...no mention of a black ale.Pours a somewhat murky looking chesnut brown with a tinge of red,a thinner lacey off white head atop,not black that's for sure.Aromas of spicy Chinook hops along with some pine from the cascades,a bit of caramel and brown sugar lends sweetness up againt the nice hop profile.Those Chinook hops hit ya up front with a good spicy/herbal smack along with resinous and citrusy Cascades wich makes quite a nice blast of complex hoppy goodness,there is a somewhat sweet caramel base along with a bit of brown bread.Everything just comes together really well in this beer wich is an imperial red...I think?The flavor profile is much more hopped up red than ABA in my opinion.
740 characters
4.2
/5
rDev
+7.4%
look: 4 | smell: 4 | taste: 4 | feel: 5 | overall: 4.5
Was lucky enough to find this limited edition ale at Dan's Belltown market
Poured slowly into a snifter leaving a nice fingertip length of head, dirty-white in color. Color of the ale of dark coffee brown.
Nice hoppy bouquet, that didn't overpower.
Taste was a stronger pale grain malt and with a little of the red ale taste prevailing in the finish. Never a dry aftertaste, the backbone of alcoholic esters was present though. Hoppy but more floral than citrus-y.
Great mouthfeel. More than enough carbonation to match with the higher ABV.
Great ale, and agree with the below reviewer, "hope they put this in regular produciton". I think I like it more than their regular Men's Room Red..? But we'll see about that.
722 characters
4.24
/5
rDev
+8.4%
look: 4 | smell: 4.25 | taste: 4.25 | feel: 4.25 | overall: 4.25
I am going to edit this review after I have the 22 I recently bought. I had this a few weeks ago and was blown away by how full, yet unoffensive the flavor was. It is also extremely hard to find. I'll be sure to give a more detailed review in the near future.
259 characters

4.26
/5
rDev
+9%
look: 4.25 | smell: 3.75 | taste: 4.5 | feel: 4.5 | overall: 4.25
This one seriously hit the spot for me. From a 22 ounce bottle into an English pint, it pours a cola color with a generous tan head that leaves a lot of nice lacing. The aroma was not remarkable to me, but the taste was near perfect. It's a nice balance of hop bitterness, caramel sweetness, and a hint of alcohol. I like this one a bunch.
339 characters
Men's Room Black Imperial Ale from Elysian Brewing Company
3.91
out of
5
based on
64
ratings.