Fire Chief's Red Ale
| Pump House Brewery
BA SCORE
81
good
34
Reviews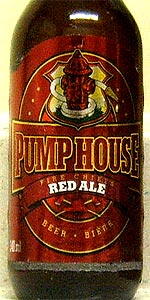 BEER INFO
Brewed by:
Pump House Brewery
New Brunswick
,
Canada
pumphousebrewery.ca
Style:
American Amber / Red Ale
Alcohol by volume (ABV):
5.50%
Availability:
Year-round
Notes / Commercial Description:
A deep tawny reddish hued Irish-inspired ale with a lingering nut-like maltiness. Very lightly hopped with a pleasant estery fruitiness expiring to wonderfully smooth finish. Slainte!
Added by PiratePete on 11-17-2003
Reviews: 34 | Ratings: 61
3.75
/5
rDev
+7.4%
look: 4 | smell: 4 | taste: 3.5 | feel: 3.5 | overall: 4
Giving this beer another shot at a review, after many more pints and six-packs have given me a better overall impression than my previous review. 341mL bottle with no freshness date (Pumphouse seems to be putting them on the boxes, not the bottles these days, and this one was purchased as a single) poured into a snifter.
Pours a deep copper-amber, with lots of red hues. Head is off-white, foamy at first, settling to a thin haze. No lacing.
Some tropical and dark fruit in the nose. I can't quite put my finger on it, sometimes it seems to be cantaloupe or peach, other times more like prunes or dates. Some caramel sweetness too.
Taste is also malt-centric, though I find it to tend more toward the caramel and toasty biscuit end of the spectrum, while the fruit fades into the background slightly. Hops only seem to come out near the end, lending the slightest bit of leafy bitterness to the mix.
Medium to light body, low, smooth carbonation and sweet through and through with a clean, fairly refreshing finish.
I do like this beer, and find it tasty and refreshing, enough so that I will gladly drink a few in an evening at home or the pub. Not particularly complex, but it is competent. Try it if it's around.
1,222 characters
3.44
/5
rDev
-1.4%
look: 3 | smell: 4 | taste: 3.5 | feel: 3 | overall: 3
Found this 6'er at a liquor store in Saint John, New Brunswick, Canada. It states 5.5% abv on the label. It is a light copper color with minimal head and retention although the carbonation is lively.
This one leans towards the amber side of the category. I've always loved this category because reds can be so hoppy and ambers can dominate the heavy side. Hops are subdued and more of an afterthought. Slightly toasted. There is a general malt sweetness to this and then in the aftertaste is a sharp woody bitterness. Like green bark.
Notes: I have nothing but time....nothing but time to investigate the beer scene here. This is an average to below average amber. Nothing stands out and it is a bit rough around the edges.
725 characters

3.78
/5
rDev
+8.3%
look: 4.5 | smell: 4 | taste: 3.5 | feel: 3.5 | overall: 4
This red ale pours out a striking burnt copper hue with impressive clarity. The head is a massive spongy cream colour with great retention, and settles down to a thick cap.
The malt on the nose is nutty, toasted, with a good dose of sweet caramel. Dry grassy hops make an appearance as well.
A medium-bodied creamy mouthfeel carries a malt dominated flavour profile similar to the aroma. The malt starts off a sweet caramel, then picks up a more toasted character in the middle, while the finish is nutty, accompanied with the faintest presence of hops, which only seem to gain ground well into the aftertaste, which is dry and grassy, not quite herbal.
Quite a pleasant red ale, most certainly leaning towards the malty side, but there's enough going on that this can't be accused of being one-dimensional in that regard either. The hops really seem to come out once it's warmed up a fair bit, and do tend to linger long into the aftertaste once the glass has been emptied. This would do well as a session ale.
1,014 characters

3.41
/5
rDev
-2.3%
look: 4 | smell: 3 | taste: 3.5 | feel: 3.5 | overall: 3.5
Great head and lacing on this Monton, NB offering. A pale copper/red in color. Smells mostly of roasted caramel malts with some musty graininess and sweet floral hop. Taste is quite nicely balanced with the malt and sweet hop working well in tandem. Noted some metallic aftertaste, but doesn't ruin the experience. Maybe a touch on the sweet side with the aftertase. Found the mouthfeel to be medium to full bodied, actually somewhat creamy and smooth if you wait for the the head to settle properly. This is a decent red ale, nothing here to offend and is actually quite drinkable.
582 characters
3.65
/5
rDev
+4.6%
look: 3.5 | smell: 3.5 | taste: 3.5 | feel: 4 | overall: 4
Very clear red amber colour, with more than a finger of ivory foamy head. Head recedes slowly but steadily.
First to hit the nose is cherries. Almost a musty cherry. Not what is expected. Somewhat nutty.
Taste is also somewhat nutty, with a sweetness that reminds me of some form of candied nut. Finish is lightly citrus flavoured. Balanced overall.
I like the mouthfeel, it gives a very full impression in the mouth, with a solid amount of body and lively carbonation. Feels right.
Not exactly what I expected from a "Red Ale", but my first Pumphouse brew is pretty nice. Thanks to my folks for bringing it back from a recent trip to NB.
646 characters
3.57
/5
rDev
+2.3%
look: 3 | smell: 3.5 | taste: 3.5 | feel: 3.5 | overall: 4
Bought it at the NLC.
Poured a nice, clear copper-brown. It had a thick tan head that remained much more than lace throughout the entire glass.
Aroma was ground coffee, caramel, freshly cut crisp apple, hops, and biscuits.
Mouthfeel was smooth with good carbonation.
Taste was roasted malt with a tad of tart cider. A little bit grainy. The finish is hoppy enough with a balanced tart-bitter aftertaste.
Nice and balanced. A good ale.
449 characters
3.18
/5
rDev
-8.9%
look: 3.5 | smell: 3 | taste: 3.5 | feel: 2.5 | overall: 3
Bought a sixer at the NSLC.
Appearance: Pours a bright red colour with a monsterous bone white cap. I mean monsterous, pour very slowly.
Aroma: Fresh malt, bit of biscuits, soap, florals.
Taste: Plenty of malt but balanced. Caramel, medium bitterness in finish. Not overwhelming flavour, quaffable.
Mouthfeel: Quite a bit of body, creamy but overly carbonated as far as I'm concerned. Would like to this this a bit flater.
Final Statement: Probably the worst Pump House brew I've had to date. This doesn't mean you should avoid it. It was a bit enjoyable, I say try it once to see if you like it. It sounds like the bottled version is a bit different from on-tap.
679 characters

3.33
/5
rDev
-4.6%
look: 3.5 | smell: 3 | taste: 3.5 | feel: 3 | overall: 3.5
Poured a reddish-copper color, clear and bright with a decent frothy 2 finger cap wich laced the glass. Modest carbonation.
Aroma of Caramel, some sweetness, almonds, warrior hops (on long boil leave a light "soapy" smell)
Hearty body, good malt spine, silky texture, mellow character
Rich caramel malts in the front side, some nut and cocoa tones finishes wet and bittering with piney-citrus tastes.
Very well put together red ale, I like it and I'm not all that partial to ales.
492 characters
3.25
/5
rDev
-6.9%
look: 3 | smell: 3 | taste: 3.5 | feel: 3.5 | overall: 3
In keeping with the fire motif of the Pump House Brewery (an old building where the pumpers parked) this ale has a fun kind of name. The Pump House bar pumps are all topped with red fire hydrants (called fire plugs in some places). A good looking amber/red ale with a head the colour of beige. The head hung around awhile and left some lacing but not alot. A little malt; a little hops; a fair balance. There are better reds out there but, this is a good beer. I'd certainly order it again.
490 characters
Fire Chief's Red Ale from Pump House Brewery
3.49
out of
5
based on
61
ratings.