Strong Scotch Ale
| Pump House Brewery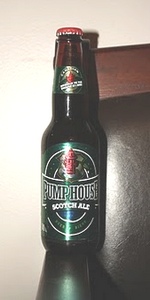 BEER INFO
Brewed by:
Pump House Brewery
New Brunswick
,
Canada
pumphousebrewery.ca
Style:
Scottish Ale
Alcohol by volume (ABV):
7.80%
Availability:
Year-round
Notes / Commercial Description:
No notes at this time.
Added by Sammy on 02-04-2007
This beer is retired; no longer brewed.
Ratings: 8 | Reviews: 8
Reviews by demcorhip:
4.05
/5
rDev
+11.9%
look: 4 | smell: 4 | taste: 4 | feel: 4.5 | overall: 4
This is a solid brew that did quite well for itself at the 2008 Canadian Brewing Awards. I now know why.
Its a nice looking scottish ale, a clear, deep almost mahogany hued ale with reddish highlights awaits me in my pint glass. A nice tight one finger pale tan head formed on the pour and displayed nice retention. Scant yet intricate lacings from and gradually slide back into the body of the beer as i enjoy this brew.
A rich malty aroma of carmelized sugar rises from the glass. A hint of smokiness is present, im not sure if smoked malt was used or if this is the result of the yeast, regardless of the source it compliments the rich maltiness quite nicely and makes a nice segue to the mild, leafy and earthy hops. Mild hints of fruity esters with the aroma of apple and pear also present.
Rich malty taste centers around the carmelized malt sugars, with smooth and rounded flavours of caramel and toffee and hints of powdery cocoa. A hint of red apple appears only to give way to the mild smoky quality. Leafy and earthy hops make an understated appearance, true to the style, at the finish.
Almost medium bodied, and quite smooth and creamy. This brew is quite well put together, the different flavours and nuances all have their place and work well with each other. The almost low level of carbonation also works well with the brew.
Here is a rich and tasty ale that is sessionable. The rich, malty heartiness make for a great fall/winter session brew. Highly recommended to fans of scottish ales as well as anyone looking to get into darker styles of beer. Kudos to NASH for another top notch quality brew and another well deserved medal. My scottish roots really enjoyed beings wetted with this tasty ale.
1,721 characters
More User Reviews:
3.57
/5
rDev
-1.4%
look: 3.5 | smell: 4 | taste: 3.5 | feel: 3 | overall: 3.5
Light brown, foaming head. that A serviceable quaffable scottish ale. Good toastiness with a bit of smoke and balance of bitter and malt, and its in the smell.Mid sip of chocolate malt, whiskey and chicory. A bit watery mouthfeel.Finishes on the sweet side.
257 characters
4.07
/5
rDev
+12.4%
look: 3.5 | smell: 4 | taste: 4 | feel: 4 | overall: 4.5
Deep red in the glass, with a finger of tan head. Head falls to a thick cap but seems to have some staying power.
Smell is a very pronounced rich smoke, along with a chocolatey malt base. Smells pretty unique.
Taste is fairly complex. There is a chocolatey sweetness to it, and it leads to a smokey finish. Somewhere in between a hint of whiskey appears. Faint bitterness within the finish as well. This one grows on me each time I taste it.
Some body to this beer, and the carbonation is lively enough to be notable, but subtle enough that the beer remains smooth. Really not a hard beer to drink, lots of flavour with lowish alcohol.
638 characters

1.32
/5
rDev
-63.5%
look: 3 | smell: 1 | taste: 1 | feel: 3 | overall: 1
Beautiful amber color. Small head that is gone in seconds (at the same time... There is foam coming up out of the bottle... Not a good sign!).
Smells like cow shit. Tastes like cow shit. Damn. A dumper.
OK, second bottle. Smells like cow shit, tastes like cow shit. Screw this - I'm not even gonna open another one.
317 characters
4.03
/5
rDev
+11.3%
look: 4 | smell: 3.5 | taste: 4 | feel: 4.5 | overall: 4.5
Thanks to MMansfield for this one.
Paired with a spicy hamburger.
Appearance: Pours a nice dark brown color with a thick 3 finger head.
Smell: Decent malt aroma.
Taste: Malt-like character, slightly bitter with a bit of caramel maybe?
Mouthfeel: A roasted like aspect permeates the mouthfeel, very inviting. As it warms, becomes a little more sweet.
Drinkability: Definitely could have a few of these in a row, alcohol is subdued.
Overall: Solid offering, finished easily & it's a good flavorful brew, perfect for a winter afternoon.
540 characters

4
/5
rDev
+10.5%
look: 4 | smell: 4 | taste: 4 | feel: 4 | overall: 4
Bottle, courtesy of a trade with NASH.
Green label as pictured above.
Pours a deep dark brown color, foamy thick head. Thin sheet of lace coats the glass.
Malty aroma (as expected). Solid roasted malt flavor, bready caramel. Slightly sweet finish. Full flavor with a medium body. Good drinkability, glad I have a second one waiting. A small step below MacEwan's.
362 characters
3.95
/5
rDev
+9.1%
look: 4 | smell: 4 | taste: 4 | feel: 3.5 | overall: 4
Pours a dark copper with a small white head that dissipates fairly quickly, leaving a small amount of lacing. Rich chocolate malty aroma, with some undertones of smoke. Taste is heavy on the sweet, roasted malty character, with a fair bit of smokiness, and only the barest of floral notes. Medium bodied with some light carbonation, taste ends with a mild sweetness. A highly quaffable beer, maybe a little light-bodied for the style. Not my favourite of the Pump House brews, but a solid scotch ale nonetheless.
512 characters

4
/5
rDev
+10.5%
look: 4 | smell: 4 | taste: 4 | feel: 4 | overall: 4
A-Deep clear dark brownish copper with a thick tan head that reduced somewhat and left nice lace.
S-Sweet caramel malt with a bit of smokey peat.aroma.
T-Sweet caramel, followed by a hint of dark chocolate. Slight bitterness in the finish from roasted malt and earthy hops.
M-Medium bodied and quite smooth. Smokiness character becomes more prevelant as the beer warms.
D-A nice, smalt, smooth and approachable brew. I like the added touch of the peated malt. certainly could put down a few of these.
504 characters
Strong Scotch Ale from Pump House Brewery
3.62
out of
5
based on
8
ratings.