Premium Lager
| Pump House Brewery
BA SCORE
84
good
10
Reviews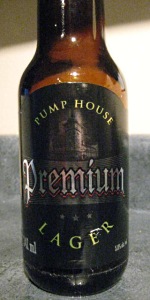 BEER INFO
Brewed by:
Pump House Brewery
New Brunswick
,
Canada
pumphousebrewery.ca
Style:
American Pale Lager
Alcohol by volume (ABV):
5.00%
Availability:
Year-round
Notes / Commercial Description:
A tribute to the Reinheitsgebot (beer purity law) of 1516, brewed using just barley, hops and water. The aroma pleases with a nice malty note paired with a subtle, unobtrusive yet noticeable hop aroma. The initial sip surprises with a very well balanced and full taste and a rich, almost creamy texture. The hop bitterness is present but not overwhelming, giving one the possibility to taste the sweetness of the malt. A comparatively high carbonation makes this beer taste refreshing and thirst quenching. The aftertaste leaves a pleasant bitter note on the tongue which quickly fades and gives way to the sweetness of the beer.
Added by eat on 07-19-2011
Reviews: 10 | Ratings: 25
3.88
/5
rDev
+6.9%
look: 4 | smell: 3.5 | taste: 4 | feel: 4 | overall: 4
341ml bottle, part of a strangely-placed competitive 12-pack here in Alberta.
This beer pours a clear, bright medium golden amber hue, with two fingers of foamy and bubbly off-white head, which leaves some random arches of lace around the glass as it duly settles. Huh - surprisingly nice to look at.
It smells of fruity and grainy malt, a little sour breadiness, a few weirdly innocuous alcohol esters, and tame leafy, earthy hops. The taste is more sweet biscuity and bready malt, some edgy wheat flavours, a bit of orchard fruit, and nice, subtle, hard to isolate old-world noble hops.
The bubbles are not as profuse as proclaimed, but they still do all right by me, the body a respectably deft middleweight, and equally smooth. It finishes with a push to the dry side, through grain and hop alike.
While unfortunately not packaged as such, this does a fair job of coming across as the decent all-malt lager that it is - and maybe worth sharing the rest of the theoretical dozen with a few friends, not to sound too much like a Budweiser advert.
1,052 characters
3.33
/5
rDev
-8.3%
look: 3.5 | smell: 3 | taste: 3.5 | feel: 3 | overall: 3.5
Had on tap at the brewery. Served into a pint glass.
Appearance: minimal head, gold in color, clear, minimal carbonation
Smell: toasted malt, and grain
Taste: toasted malt and grainy start, then I am picking up a touch of frankincense..weird but there.
Mouthfeel: high carbonation, light bodied, sweet with a bitter backbone
Overall: Nothing that blows me away, but an interesting enough lager to make me want another pint or two. In the middle of what I would get from Pumphouse. Worth a try.
498 characters
3.88
/5
rDev
+6.9%
look: 4 | smell: 3.5 | taste: 4 | feel: 4 | overall: 4
A - Pours a nice golden colour, finger of soapy head with solid retention and sporadic lacing.
S - Heavy malt presence with sweet caramel and buttered bread, leafy green hops on the finish.
T - Much like the nose with the bready caramel malts dominating, some wet paper and honey ce through with the buttery notes lingering alongside some faint bitterness.
M - Medium, smooth and a touch of dryness.
O - Surprisingly balanced and flavourful. This is an easy session ale that delivers a nice solid malt flavour, and would certainly complement many marite dishes.
565 characters
3.52
/5
rDev
-3%
look: 3.75 | smell: 3.5 | taste: 3.5 | feel: 3.5 | overall: 3.5
Appearance - Pours an orange amber with a finger width of bubbly white head.
Smell - Sweet malts, grains, light leafy hops, apple.
Taste - Lots of malt flavour, predominantly bready malts, and very light leafy hops.
Mouthfeel - Medium bodied with moderate carbonation.
Overall - Pump House delivers on the style by keeping this heavy on malt flavour, however maybe is slightly off by not including a tad bit more bitterness from hops.
439 characters
3.55
/5
rDev
-2.2%
look: 3 | smell: 3.5 | taste: 3.75 | feel: 3.25 | overall: 3.5
Pours a gold colour with orange-ish hints, translucent, with light carbonation visible. Not much in the way of head--a couple fingers that recede quickly to some islands, but do leave solid lacing.
Smell is cereal, biscuit, cracker. Pretty malty with a subtle green, vegetal hoppy twang. Faintly metallic, faintly yeasty.
Taste balanced, leaning a bit dry, with lots of biscuit and cracker and some suggestion of noble hops doing some light bittering. Bitter greens, grassy. Body is moderate, leaning a bit heavy, and the carbonation is--likewise--moderate.
As far as the American Pale Lager style goes, this is a pretty solid rendition--perhaps a bit heavy for mass consumption, but there's balance and flavour and refreshment for sure. Another one from the Pump House line-up that would serve as a good "beginner beer" for non-craft drinkers.
848 characters

3.9
/5
rDev
+7.4%
look: 3.25 | smell: 3.75 | taste: 4 | feel: 4 | overall: 4
Bright dark straw, almost gold color, with some powerful activity. White 2 finger head with good retention that last for 5 to 10 minutes, with a nice amount of legs.
Aromas of sweet grains and burnt sugar with a faint floral and lemony feel. Flavors of zesty citrus, roasted malt, faint caramel, floral and herbal spices. A little grassy and quite floral. Nice sweetness and great sharpness.
Slick medium body with super prickly carbonation. Light and short finish, ending with a sugary roasted malt feel, faint noble spices, and hint of lemon lingering on the tongue.
Overall a very good quality craft. Good flavors and very refreshing, while the carbonation is a little excessive. Good balance but feels a little light. At last, a good lager! No adjunct feel, the way a real lager should always taste.
806 characters

3.69
/5
rDev
+1.7%
look: 3.5 | smell: 3.75 | taste: 3.75 | feel: 3.75 | overall: 3.5
My last Pump House beer to try from the combo pack.
A: Clear copper, head dissipates fairly quickly, leaving just a millimetre or two of lacing.
S: Malty, reminds me of a winter warmer - perhaps more interesting than I was expecting!
T: Sweet, but only from the malted grains. There's no molasses or honey. I don't think I've had a beer this sweet that didn't involve more than three ingredients. I don't generally like lager (or maybe it's just that there's so much mediocre lager out there), but I'd drink this.
F: Crisp.
I'm pleasantly surprised! I wasn't impressed with most of the six beers in the combo pack, but this one, the one I'd expected to like the least, is actually one I can enjoy.
700 characters
3.65
/5
rDev
+0.6%
look: 3 | smell: 3 | taste: 4 | feel: 3.5 | overall: 4
On tap at the brewpub in Moncton. Listed variously as 1516 Lager on the beer menu at the brewpub and Pump House Premium Lager on their website; I preferred the former and entered it as such. Named after the year in which the Reinheitsgebot was instated and brewed accordingly.
Served with no head, instead poured straight to the rim of the glass in the manner of those who have yet to discover the benefits of a proper pour, thinking mistakenly that more beer is preferable to an appropriate head. This seems to be a busy brewpub with a young staff and, although the waitress had memorized a good few phrases of information on each of their beers, you can't expect all the employees to be knowledgeable beer lovers. Faint ring of white head around the edge of the glass overtop a crystal clear honey-coloured body. I suspect someone with a better understanding of beer pouring and/or more time available could have presented this one the way it should look but as is, the appearance is a bit lacking.
As always with beer missing its head, the nose is all but absent. Mild wheat and a bit of cardboard is about all. I won't be too harsh as I'm sure this is mostly do to the aforementioned pour.
The flavour is what finally lets you know this is a solidly made beer: lots of wheaty grain, toasty biscuit, decent hopping of an earthy German variety, a touch of honey sweetness and a good level of drying on finish. Clean, flavourful and well-balanced.
Good medium-light body with a medium carbonation. Possibly a bit over-carbonated for my liking.
Very simple but also very well made. I initially ordered the tasting flight, with small pours of all their 10 taps and quite surprisingly this lager, the latest addition to their lineup, turned out to be the highlight. The rest seemed to average out around mediocre with no real other standouts; I did also enjoy the red, scotch ale, bitter and IPA but none were anything special. Pale lager is probably one of my least-favorite styles but good examples seem to be a rarity. This is one of the better Canadian lagers I've come across; I'm sure that properly poured out of a bottle, this would definitely receive a higher score. Too bad about that pour.
2,207 characters
3.38
/5
rDev
-6.9%
look: 3 | smell: 3 | taste: 3.5 | feel: 3.75 | overall: 3.5
I bought a 12-pack from the local liquor store since it was on sale last year. I realized that being home for the holidays I had one bottle left in the fridge and decided to indulge since I remember it being pretty fair.
This is not my favorite beer nor is it one of the best beers, but it's a good beer nonetheless. It's a simple brewed beer that is smooth, balanced, and has no major flaws. The taste surprised me, as it tasted a little different than what I was used to with macro-brewed beers. It tastes just like you would think, like water, barley, and hops. It's simple, smooth, easy to drink, and has no bite or weird mechanical tastes. To me it seemed like it was a little bit thicker (like you would expect from a malty beer) , almost creamy. Definitely no strong flavors coming through and a very reliable and expected taste on every drink. .
The smell is nothing special, neither is the look and color, maybe a slightly opaque golden color.
This is a beer I wouldn't mind sitting back and drinking 2, 6, or even a whole case in one sitting. It's not my first choice but one I would recommend to someone that doesn't know what they want. It's a beer I could go-to when I feel like something simple and different.
1,228 characters
3.58
/5
rDev
-1.4%
look: 4 | smell: 3.5 | taste: 3.5 | feel: 4 | overall: 3.5
Had this Lager for the first time and not generally a lager fan. Am a Mug Club Member of Pump House and an avid fan of their beer.
A - Impressive for a lager IMO. Pours a straw colored head with a deep, almost whiskey colored body.
S - Slightly sweet, faint yeast and otherwise unassuming.
T - High carbonation. Briefly bitter, then follows through with a respectable body with some malt. Finishes early, but refreshingly.
O - As mentioned above, I generally shy away from lagers. This was a refreshing, easy drinking lager that will certainly be an option in the summer months.
583 characters
Premium Lager from Pump House Brewery
3.63
out of
5
based on
25
ratings.