Dismiss Notice
Wolf Pack Brewing Co.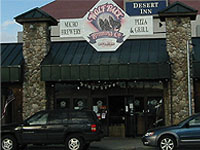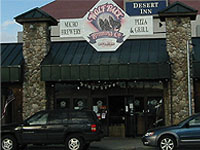 PLACE INFO
Type:
Brewery, Bar, Eatery
139 N Canyon St
West Yellowstone
,
Montana
, 59758-9500
United States
(406) 646-7727
// CLOSED //
Notes:
No longer a brewpub as of 2010.
Added by Fabric8r
HISTOGRAM
Ratings: 7 | Reviews: 7
Reviews by objectivemonkey:
3.5
/5
rDev
-4.4%
vibe: 4 | quality: 4 | service: 4 | selection: 2 | food: 4
So, I'm here on vacation, so i can understand the price gouging a bit. Hell, I just paid like $8 for a subway 6" sub. But $14 for a 12" italian sausage pizza? Eeesh. $4 for the pints isn't so bad. not good but not bad. And $8 for the eisbock. Friggin vacation town.
So, price rant aside, not too bad a place. The pizza was actually pretty good, the beers were decent, ok looking place and all. But in the middle of vacation season, every hotel booked full, to only have 4 beers (eisbock, helles, kolcsh, altbier), and then run out of the altbier... frick. I don't know why I'm giving this place such as good score. We'll, I do. They are really handicapped with the Montana law, having to close at 8pm. I was talking to the head barkeep, and they're trying to move to Idaho or something, so they can actually turn a good profit. Which sounds crazy, with the prices, but I believe it.
So, if you find yourself in W Yellowstone, check the place out for a night, then go to the BBQ 4 doors down. They have Wolfpack on tap, along with a good spread of other stuff too.
1,070 characters
More User Reviews:

3.63
/5
rDev
-0.8%
vibe: 3.5 | quality: 3.5 | service: 3.5 | selection: 4 | food: 3.5
I just want to say this upfront: this company is no longer a true brew pub, they do not make their own beer anymore. The beer they DO have is a decent-size selection, about 20, regional brews that cover most of the beer color spctrum. The menu separates them by style which is handy for food pairing. The food is typical brew pub grub like pizza, sandwiches, pasta dises. The service was fair, not bad for Memorial Day week just outside a national park. The decor is somewhat misleading because they have all sorts of memorabilia from when they made their own beers such as posters of their creations and bags of ingredients like hops. I enjoy patroning local businesses when I travel to see what the locals enjoy, and this place does that to a certain extent. If you want a good beer on your vacation in Yellowstone and want to deviate from the chain eateries, Wolf Pack should be on your to-do list.
901 characters
4.4
/5
rDev
+20.2%
vibe: 4 | quality: 4.5 | service: 5 | selection: 4 | food: 4
It has been almost four years since I have been to Wold Pack Brewing Co. After working in Yellowstone for a month I found this place. For the next month and a half, I would go to Wolf Pack every chance that I could, by ridong to West Yellowstone with people since I did not have a car. I meet and talked to the owner a few time, he is very freindly and help full. I think I ate at Wolf Pack twice and both times I remember the food being pretty good. I don't remeber details about the beers, but I do remeber the beers being good quality and flavor. One memory that I will always have of the owner is, one of the last days that I was in Yellowstone, I walked by the store and did not go in becasue I did not have my Growler with me. The owner came out from behind the bar and outside to tell me that he had finished two or three new beers the day before, and that I need to come in and try them. Well how can you resist that. When I went in, I told him that I did not have my growler. He let me put a deposit down on the growler and bring it back later. If I am back in the area, I will go by this place again.
1,110 characters

3.5
/5
rDev
-4.4%
vibe: 3.5 | quality: 3.5 | service: 3.5 | selection: 3.5 | food: 3.5
This was one of the weirdest pub hunting stop ever. My wife and I ordered the Wapiti Wheat Hefeweizen and Embalmer's Eisbock samples to start ($1.50 for six ounces samples for all beers except the Eisbock was double). Both were exceptional. My wife ordered a ($8) pint of the Eisbock, and it was well worth it--wish I had gotten more of it.
Emboldened by the good beer, we order a Margehrita pizza--a bold move in Montana, but the beer was good, so it seemed ok. We both agreed that it was the worst pizza of the style we've ever had. Soggy, tomatoes were old, cheese was a little too strong to be good. Ugh. Ordered french fries to cover, which were very good. Crispy, and incredibly well seasoned, somewhat like potatoe oles at Taco John's (which is a compliment for us). We'd go back for just the fries alone if in town.
Then I tried the other beers. The pilsner, and especially, the Patriot Pale Ale had very off flavors, and poorly done. The Storm Castle Irish Stout was good and fairly well done, but not superior. None matched the first two beers at all.
Overall, this was one of the best and worst stops on this vacation. If going to Yellowstone, show up during the day for this pub (open noon to 8 p.m only because of Montana law, according to the door), order food safe for the backcountry, and when you find a beer you like, stick to it.
1,360 characters
3.23
/5
rDev
-11.7%
vibe: 3.5 | quality: 3.5 | service: 3.5 | selection: 2.5
My fiance and I found ourselves after 6 PM and essentially locked out of Yellowstone National Park - we had only planned on driving through on our way to Ohio. So since we were stuck, we stopped here to have a drink - only a beer or two - before the 8 o'clock necessary closing due to what we were told is Montana law for brewpubs.
We stepped in and noticed that the first thing we saw as a small, but instantly viewable counter of t-shirts and pintglasses spotting the logo of the pub. The bar/restaurant isn't overly large, but decently appointed with a number of different posters and empty growlers and bottles. We chose a seat at the bar, and upon looking at the beer menu I instantly noticed that only 5 beers out of 12 from the brewery were available with no guest taps. There were actually more taps without taphandles than with them. I ordered an Eisbock, which was double the price of the other beers, and my fiance had a Kolsch. The Eisbock turned out to be slightly bland flavorwise, but it the 12% was incredibly well hidden. The other beers available were an alt bier, Kolsch, a Helles, and another that escapes my memory. The food menu seemed limited and slightly over price, and I found the beer to be a bit more than I expected pricewise. The bartender was nice, but he assumed I knew nothing of beer or styles. After prodding I discovered he did not seem to understand a few of the styles he was pulling pints of, although he was fairly friendly.
Notes: The local laws seem to hamstring this place, who actually sells their beer in the bbq restaurant a few doors down, who is open after the actual brewpub, but their selection of beers available is a real let down.
1,689 characters
3.08
/5
rDev
-15.8%
vibe: 3.5 | quality: 3.5 | service: 2.5 | selection: 3 | food: 3
This is a nice little establishment to visit if you find yourself in Yellowstone National Park. It has a log-cabin like interior with wolf art and one of those "waterfall walls". The beer was of average quality - I've had both better and worse at other brewpubs. My favorite was the Storm Castle Irish Stout. They have a rotation of 10 beers, of which only 5 or 6 are on tap at a time. My two complaints were the service and the prices. After seating ourselves as requested, it was 10 minutes before anyone even took our beer order. All of the service was extremely slow - it was crowded but they just didn't have enough floor staff. Also, it was pricy - The beer was $4.00 a pint and a 12" pizza was 12.95. However, if one is on vacation, these things seem less bothersome.
774 characters

4.28
/5
rDev
+16.9%
vibe: 4 | quality: 4.5 | service: 4.5 | selection: 4 | food: 4
Recently moved into this new location with better exposure, and very easy to find. This is a "must stop" while vacationing in the Yellowstone Park area. West Yellowstone is on the west edge of the park. Dan and Sherry Abraham are truly passionate about their beers, and love to give you their opinions on them, and other beers in the area. They know what they are doing, and I am very impressed with their care of sanitation during their brewing process. Adhering to traditional German/Belgium styles of brewing and ingredients, this place deserves accolades. Keep in mind though, if you ask for a "macro brew" you will find a charge of $25.00 on your tab. And don't ask "Frenchy" where he is from, or you will have to hand him a dollar.
737 characters
Wolf Pack Brewing Co. in West Yellowstone, MT
Brewery rating:
0
out of
5
with
0
ratings