Primátor Polotmavý Märzen
| Pivovar Náchod a.s.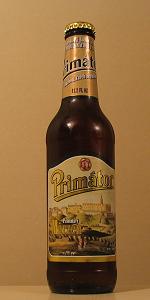 BEER INFO
Brewed by:
Pivovar Náchod a.s.
Czech Republic
primator.cz
Style:
American Amber / Red Lager
Alcohol by volume (ABV):
5.50%
Availability:
Fall
Notes / Commercial Description:
No notes at this time.
Added by tugdriver7 on 03-26-2007
Reviews: 11 | Ratings: 22

4.15
/5
rDev
+8.1%
look: 4 | smell: 4 | taste: 4 | feel: 4.5 | overall: 4.5
A: Reddish dark gold with a medium large off-white, kind of compact head that slowly sinks into decent lacings.
S: Lots of Saaz-noble hops, a bit creamy. Semi-sweet malt, I'm guessing there's some wheat in it, but just a little. Some fruits.
T: The noble hops are great. Then the malt is just sweet enough. Bitterness. Fruits. Some mellow spices.
M: Aftertaste is long and bitter with a little trace of sweetness. Body is medium and carbonation the same.
O: This is a malty beer with lots of noble hops. If you find it, buy it, enjoy it.
541 characters
3.76
/5
rDev
-2.1%
look: 3.75 | smell: 3.25 | taste: 4 | feel: 4 | overall: 3.75
Amber copper color with a thick two finger head with decent retention and leaving laces.
Aroma of biscuit and toasted malt, grassy and floral hops, and caramels.
Nice flavor with notes of spicy, floral and grassy hops, caramel, biscuit and toasted malts and marzipan. Dry and bitter aftertaste.
Light towards medium body with appropriate carbonation
This flavorful Czech Amber Lager was fun to drink given its spicy Saaz hop notes that balances its malt profile. Recommended.
475 characters

4
/5
rDev
+4.2%
look: 4 | smell: 4 | taste: 4 | feel: 4 | overall: 4
Out of the mixed 6-box
Dark gold with a light tan head this beer smells nutty and malty in real pleasant nose. Good malt profile with a solid slightly sweet finish. I really like Octoberfests and this is a very nice example of the style. Very drinkable but full bodied. What I like about Primator is that they produce a large range of lagers for a Czech brewer. I wish this beer was sold in singles as it would be my go to this Fall.
434 characters
4.47
/5
rDev
+16.4%
look: 4 | smell: 4.5 | taste: 4.5 | feel: 4.5 | overall: 4.5
Selection of the Beer-of-the-Month Club
Poured a deep amber color with massive slightly off-white heed. Nice retention.
Smell is a nice combination of sweet summer fruits (peaches, apricots), caramel and toffee.
Taste is also very nice, blending the sweet fruity malt with a nice hop bitterness at the finishs.
Leaves a very enoyable taste in the mouth.
Extremely drinkable. This beer really suprised me. The perfect combination of malt, hops and freshing drinkability. This would be an excellent beer to session.
518 characters
3.51
/5
rDev
-8.6%
look: 3.25 | smell: 3.5 | taste: 3.5 | feel: 3.25 | overall: 3.75
500ml Bottle from Hyberniska Mini-Market, Prague, Czech Repbulic (45Czk):
Clear, caramel amber with a thin & patchy white head that is slightly soapy.
Sweet malts & caramel with faint alcohol & some brown sugar. There is some bread & toasted malts coming through & the beer is about medium strength with a good balance.
Sweet malts feature heavily, along with some caramel and brown sugar. A few subtle hops & some spice feature too along with a slightly fruity base to it & some marzipan from the middle on.
Light-medium & smooth, sweet too with some alcohol being present although the taste is quite clean and wet throughout.
Sweet & malty, almost like a doppelbock in some respects. While the beer wasn't exactly anything special, it is still a drink that I wouldn't mind having again.
792 characters
4.03
/5
rDev
+4.9%
look: 4.5 | smell: 4 | taste: 4 | feel: 4 | overall: 4
A - Crystal clear amber in color. A tight knit cream colored head that holds up very well. Thick sheets of lacing with a thick ceiling of micro-bubbles. A mix of full sheets and spiderweb patterns of lacing.
S - Sweet malt with a touch of toasted cereal grain. Floral honey, brown sugar, grassy hops.
T - Saaz hops hits right away along with a sweet malt with honey and flowers in the background. Dusty lager yeast marries with the grassy hops and create a solid edge to balance out the sweet malt. Finishes sweet before quickly turning dry.
M - Heavy medium body, great flowy carbonation.
Great looking beer. Just what you'd expect from a Czech Marzen. Great malt profile with plenty of noble hops to balance it out. Very satisfying.
738 characters

3.26
/5
rDev
-15.1%
look: 4 | smell: 3 | taste: 3 | feel: 4 | overall: 3.5
I poured the 330 ml bottle into a pint-style glass. It made a small head on top of a surprisingly dark reddish-brown beer.
I do not often drink Märzen, but I liked this brew. It does not have a particularly distinct smell and the taste seems fairly balanced between malts and hops. The malts hit the palate first, but they are very quickly matched by other flavors. That almost sounds bland, but there are definitely some interesting (if mild) things going on in the mix. I found it very drinkable -- had a glass 2 nights in a row, in fact because I enjoyed the first one. I could have had another without any problem on either night.
637 characters
3.55
/5
rDev
-7.6%
look: 4.5 | smell: 4.5 | taste: 3 | feel: 3 | overall: 3.5
This was poured from the bottle into a pint glass. It has a wonderful head, very thick and mousse-like. The color is a clear orange. The aroma is primarily sweet malt with just a trace of noble hops. Sweet malt dominates the flavor almost entirely with some hops noted on the finish. It taste is not as exciting as the aroma. I'm also noting some alcohol as it warms a bit. It has a medium body with moderate carbonation.
Overall, this is a decent enough Marzen. It's not very distinct though. I suppose the appearance and aroma were so wonderful that the taste was a little bit of a let down.
596 characters

3.98
/5
rDev
+3.6%
look: 4.5 | smell: 4 | taste: 4 | feel: 3.5 | overall: 4
A March "Beer of the Month" selection. I've never seen it before and the only reviews I've seen have been from Europe. Beautifully dark amber color with nice tan head that stayed through the first few sips. Mostly malt (carmel, rich toasted malt) in the nose and again in the taste. A bit of fruity hops comes through on the tongue, providing a slight bitterness that adds to the drinkability. The aftertaste is all malt, with a carmel and butter notes. A Czech Märzen that (almost) rivals the Germans in taste. Very enjoyable.
528 characters

3.83
/5
rDev
-0.3%
look: 4 | smell: 3.5 | taste: 4 | feel: 3.5 | overall: 4
Well this is an interesting beer. It's rare to find a European marzen with as much spice and hop character as this one. It pours a dark clear amber color, minimal white head. Aroma is slightly spicy, musty, and sugary.
There is a nice malt flavor up front, which is then infused with a strong (but not overbearing) spice presence. And then right on the tail of that is a grassy, earthy hop profile that not only rounds out the beer but makes it one of the more interesting ones I've had in recent times. Mouthfeel is medium, creamy, and the finish is smooth, if a bit dry.
Overall this is quite a unique take on the marzen genre, and one that I'd recommend if you're looking for something a bit different. It may not be for everyone, but it certainly is different.
771 characters

4.05
/5
rDev
+5.5%
look: 4 | smell: 4 | taste: 4 | feel: 4 | overall: 4.25
Served cool from 500ml bottle into Veltins pilsner mug.
L) Deep copper colour, clear, lots of bubbles. Dense 1cm head, has a slightly weird yellow tinge.
S) Warm lager malt and saars hops coming through nicely.
T) Sweetish dense toffee malt flavour, with a touch of hop bitterness right at the end.
F) A little bit of density there for a lager. Clean finish though with no off aftertastes.
O) Very good Vienna-type lager, well balanced and satisfying. A nice departure from the typical Czech pilsner lager style. Recommended.
539 characters
Primátor Polotmavý Märzen from Pivovar Náchod a.s.
3.84
out of
5
based on
22
ratings.