Slavutich Svitle
| Slavutych Brewery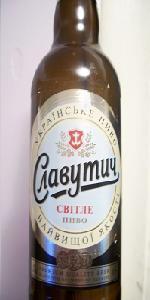 BEER INFO
Brewed by:
Slavutych Brewery
Ukraine
slavutich.com
Style:
Euro Pale Lager
Alcohol by volume (ABV):
4.30%
Availability:
Year-round
Notes / Commercial Description:
No notes at this time.
Added by NeroFiddled on 06-07-2005
Reviews: 6 | Ratings: 10
Reviews by hwwty4:
2.24
/5
rDev
-1.8%
look: 3.5 | smell: 2 | taste: 2 | feel: 3.5 | overall: 2
Poured a 500ml capped bottle into my New Belgium globe.
This beer pours a pale grainy straw with a 2 inch cap that quickly evaporates out. Lines of lacing down the sides of the glass at every sip I take. Fairly similar to almost every other Euro lager I've ever had. Woah, batman. This beer has some issues going on and they are pretty prevalent in the aroma. Notes of buttered popcorn and green apple are right up front. Almost reminds me of really buttery caramel apple. Under neath all the brewing issues is a subtle graininess but not much else. Maybe just a hint of adjunct. The flavor is dead on bad brewing. Green apple and butter. Wow, this has some major brewing flaws. Its really not horrible, its just dominated by off flavors. The mouthfeel is nice a dry. Surprisingly, the best feature. Overall, unless you want a beer that really displays brewing issues, I would pass. Either that or you're like me and just wanted the cap.
938 characters
More User Reviews:
3.78
/5
rDev
+65.8%
look: 4 | smell: 3.5 | taste: 4 | feel: 3 | overall: 4
16.9 oz bottle imported by Russbeer Int'l in Brookyn, NY.
This very well-done Ukranian lager pours a crystal-clear, pale straw-gold body beneath a creamy head of bright-white foam that holds quite well and leaves some nice lace at the outset of the glass. The nose is clean with a waft of lightly grainy malt and just a hint of leafy hops. In the mouth it's medium bodied, and crisp with standard carbonation of around 2.6 volumes CO2. The flavor delivers a clean, well-balanced combination of lightly grainy malt and a smear of grassy and herbal hops; backed by a firmly balancing bitterness. It finishes dry with some lingering grassy hop notes and a low-key, residual bitterness.
I was actually surprised at how good this beer was, and thought that it ranked quite admirably alongside most of the better known European pale lagers.
841 characters
1.88
/5
rDev
-17.5%
look: 1.75 | smell: 1.75 | taste: 2 | feel: 1.5 | overall: 2

1.38
/5
rDev
-39.5%
look: 1.5 | smell: 1 | taste: 1.5 | feel: 1.5 | overall: 1.5
500ml bottle. Lager glass. Review on apr´13. Pale straw color, crystal clear appearance. Brief white froth. Metallic odors & muddy hints. Grainy, metallic & adjunct flacors. Light but fat body. Moderate to high carbonation. Fizzy palate. Floral bitterness & watery finish. Avoid !!
282 characters
1.73
/5
rDev
-24.1%
look: 2 | smell: 1.5 | taste: 2 | feel: 1.5 | overall: 1.5
A: Pours a hazy copper color with a head that fades quickly with bits of lacing.
S: Fruity aroma with trace of citrus and sweet grain. Does not smell fresh.
T: Flavor of sweetness up front, grainy, no real bitterness and a sticky finish. Not pleasant.
F: Light body, quite smooth with an oily stickiness and a bit flat.
O: This is a very disappointing pale euro lager. Nothing to see here, move along.
405 characters

2.86
/5
rDev
+25.4%
look: 3 | smell: 2 | taste: 3 | feel: 3 | overall: 3.5
Poured from 16.9oz bottle into a pint glass. The bottle I have is all in English and doesn't specifically say "Svitle" on it (it simply says "Pale Beer"), but it matches the style and ABV of Svitle and not the regular Slavutich. A quick glance at the Carlsberg page indicates this is the right thing. And now for the review...
Appearance: quite pale indeed with a touch of haze and a finger of head which rapidly dissipated. Not awful; very average.
Smell: sweet malt with a little grain and a little diacetyl. There was a mad wallop of skunk when I first opened the bottle; not unexpected for a green-bottle lager from Europe, but still not appealing. That has mostly dissipated now, but it lingers on my brain. Overall, not real pleasing.
Taste: well, much better than the aroma, but that's not saying much. It's heavy on graininess and possibly adjuncts. Flavor is pretty weak overall, though not horrible. Middle of the road for this style.
Mouthfeel: quite light, but with a good level of carbonation. Acceptable.
Drinkability: if this beer sets out to be light and refreshing, it does succeed. The flavor is not great but it beats an American macro lager every day. If this were exported in a brown bottle or even a can, it might fare better overall.
1,261 characters

1.78
/5
rDev
-21.9%
look: 2 | smell: 1.5 | taste: 1.5 | feel: 3 | overall: 2
With aggressive pouring I had a decent sized off white head that quickly subsided and no lace. Color is a clear straw yellow. Aroma is malty sweet and beery. Flavor's like aroma, heavier on the sweet side with a hint of hop and lighter on the beery quality. Body and carbonation are ok. Finish is like flavor. When I lick my lips they're sweet. Boring beer and surely forgettable.
380 characters

Slavutich Svitle from Slavutych Brewery
2.28
out of
5
based on
10
ratings.