Fuller's Imperial IPA
| Fuller Smith & Turner PLC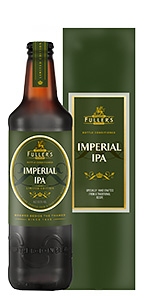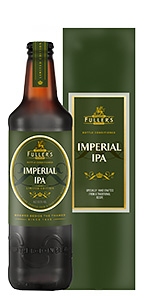 BEER INFO
Brewed by:
Fuller Smith & Turner PLC
England
,
United Kingdom
fullers.co.uk
Style:
American Imperial IPA
Alcohol by volume (ABV):
10.50%
Availability:
Limited (brewed once)
Notes / Commercial Description:
Made popular by the craft brewers of America, Imperial IPA is a revived style of beer that pushes the boundaries of well-hopped, high-strength ales. Imperial IPA's are traditionally brewed with a high proportion of crystal malt. Our unique take sees UK hop varieties Target, Goldings and Fuggles added to the copper at multiple points during the brew, delivering a piney, earthy aroma and a distinct edge of bitterness. For extra intrigue, we've also added a hint of black pepper - giving the beer a unique spicy twist.
Bottle conditioned to develop over time, this Imperial IPA will form a natural sediment in the bottle. Pour carefully to enjoy this special Fuller's beer at its best.
Added by bark on 09-22-2017
This beer is retired; no longer brewed.
HISTOGRAM
Ratings: 10 | Reviews: 7

3.5
/5
rDev
-12.5%
look: 3.5 | smell: 3.5 | taste: 3.5 | feel: 3.5 | overall: 3.5
4.13
/5
rDev
+3.3%
look: 4 | smell: 4 | taste: 4.25 | feel: 4.25 | overall: 4
Brown bottle with best before 2027 date
Pours a lovely amber brown with scant white head and scant effervescence. Smells is bready, roasted malts, some piney resin, floral notes.
Taste is sweet malts forward, dark fruits, fig, prune with transition to a sharp, piney hops, hints of floral notes with transition to tart/mid note and clean finish.
Medium bodied, scant carbonation, sweet without being too malty and clean finish.
Overall, very tasty imperial ipa (double IPA?)
Reminds me of dogfish 120 IPA - tasty beer, well hidden ABV, but definitely a sipper!
I'll stock up before they run out of this limited edition brew.
625 characters
3.75
/5
rDev
-6.3%
look: 3.75 | smell: 3.75 | taste: 3.75 | feel: 3.75 | overall: 3.75
4.82
/5
rDev
+20.5%
look: 4.75 | smell: 4.5 | taste: 5 | feel: 5 | overall: 4.75
A - Pours a deep dark brown mahogany colour thin head but stays the distance and laces.
S - Sweet malt and fruits and big
T - Love the fact that this is not a Hop Bomb but rather a balanced malty brew with a serious hop kick to boot. A classic English style IPA with the kick put into the malt rather than the hop.
M- Medium to full mouthfeel
O- A unique beer that really captures the history and imagination of days gone bye with a modern twist.
446 characters

5
/5
rDev
+25%
look: 5 | smell: 5 | taste: 5 | feel: 5 | overall: 5
My favorite brewery from the UK, the best craft beer mastery of Europe, Fullers! Here they are with something they never did before!
They made beers in quite a variety but they never really indulged in the realm of IPAs. Now here they are with a limited edition Imperial IPA, kind of a "once in a lifetime" thing. Putting all the label notes aside, I sum this beer up like this: it is the peak of their craftmanship!
So far, taking many into consideration, perhaps their Golden Pride has been their flagship non plus ultra beer - but now they managed to take it further to a next level. They created an Imperial IPA from English hops in a way as if they made another Golden Pride: they made it, this is the English Pride!
I can't describe the flavors, ot is so deep and dank, no matter how overwhelmed I might be, this is still an outstanding beer. The time I spent drinkingbthis beer was 100% enjoy,ent from the beginning to the end, nothing against it, just the superlatives: an intense, thich, perfectly balanced and impressively hop-honey like experience!
And you know what? In the end I started thinking that it resembles the Golden Pride! It showed me that Fullers is not only a great brewery but they have a trademark flavor - which makes you happy whenever you feel it. And this is the mark of a truly great brewery. Congratulations for this Limited Edition, really special brew!
1,387 characters
3.62
/5
rDev
-9.5%
look: 4 | smell: 3.75 | taste: 3.5 | feel: 3.75 | overall: 3.5
500ml bottle, in a nice green cardboard sleeve. Made with British hop varietals, and a 'hint of black pepper'. Best before 2028 - seriously?
This beer pours a clear, dark red-brick amber colour, with two fingers of puffy, loosely foamy, and bubbly tan head, which leaves a bit of random streaky lace around the glass as it slowly dissipates.
It smells of bready and doughy caramel malt, toffee pudding, brown sugar syrup, some muddled earthy spiciness, and subtle leafy, piney, and gently lit-up floral hop bitters. The taste is grainy and bready caramel malt, toffee squares, some mixed berry fruitiness, wet black pepper spice, demerara sugar, and more laid-back leafy, earthy, and piney green hoppiness.
The carbonation is average in its palate-satisfying frothiness, the body a solid medium weight, and generally smooth, with a wee airy creaminess evolving as things warm up a tad out of the ol' basement fridge. It finishes on the sweet side, very robustly malty and frooty.
Overall - yeah, if you'd handed me a glass of this and inquired as to my opinion of it, I would have immediately said decent English Barleywine. There isn't anything really all that IPA-like about this offering, but it's still quite good - akin to an imperialized London Pride.
1,266 characters
3.91
/5
rDev
-2.3%
look: 4.5 | smell: 3.5 | taste: 4 | feel: 4 | overall: 4
Fuller's is one of those breweries that produces some pretty forgettable beer, but you go back again and again because they have a few classics and are always hoping the next one is special. As far as the "boxed" beers go, the Vintage Ale and Imperial Stout are pretty darn good, so I was very curious about this new one in green.
First thing you notice is how it looks. It pours an absolutely beautiful deep dark mahogany red. With light coming through, it is really pretty. The nose, however, is super disappointing. There isn't any. At a whopping 10.5%, you'd expect either heavy sweet malt like a barleywine, or tons of hops. Nope. Just slight malt and slight hops peaking through. If you were blindfolded, you would never just what this beer is. The flavor is bigger for sure (how could it not be?). Much more of an English barleywine flavor, but you can tell there is a ton of bitterness holding back the 10.5% pile of sweet malts. Actually, very balanced and the ABV doesn't weight down the beer. Overall, a good beer that is unfortunately just missing a critical component.
1,096 characters
3.5
/5
rDev
-12.5%
look: 3.5 | smell: 3.5 | taste: 3.5 | feel: 3.5 | overall: 3.5
3.84
/5
rDev
-4%
look: 4 | smell: 3.75 | taste: 3.75 | feel: 4 | overall: 4
The colour is brown, the liquid clear. The two finger high head is beige and compact; it sinks down to a thick lid leaving some lacing on the glass.
The smell is semi-sweet with distinct notes of caramel malt, prunes and dried flowers. Apricot jam, orange peels and shortbread. Spicy notes of bay leaves, black peppers and sandalwood. Alcohol in the background. It reminds in a way of Fuller's London Pride, just much more of everything.
The taste is strong with hot spicy (somewhat unclean) alcohol, spices and pepper. Dried fruits and flowers, apricot jam and orange marmalade. Medium body. The aftertaste is dry and less hot and more balanced with caramel, mature cheeses, bay leaves and allspice, beef stock with a pinch of salt, some alcohol and clean bitterness. The long finish got notes of fruit cake, alcohol and banana peels.
The carbonation is medium strong, the long-lived bubbles are small and smooth. The liquid is a bit sticky.
An interesting DIPA with English hops and black peppers. And it works, the 10.5% is not as hot as I had expected.
1,064 characters

3.88
/5
rDev
-3%
look: 4 | smell: 3.5 | taste: 4 | feel: 4 | overall: 4
Clear, dark mahogny colored beer with a two finger high head.
I started this beer directly from the fridge - My bad! Don't do that. Luckily I had the beer for more the two hours so it got to the right temperature - roomtemp! The nose and the taste is so much better when the beer isn't cold.
Nose: Plum, red berries, raisin, brown sugar, dark syrup, nuts, toffee, pine and vanilla.
Taste: Syrup, raisin, pine, resin, honey, caramel malt, orange marmalade, black pepper and sweet brown sugar.
Mouth: Full body. Medium to light carbonation.
Is this an Imperial IPA? I would have guessed an Barely Wine...
But anyway, I love caramel, sweetness and dried fruit in beers... so I LOVE this!
694 characters
Fuller's Imperial IPA from Fuller Smith & Turner PLC
Beer rating:
4
out of
5
with
10
ratings