Brewer's Reserve No. 1

Fuller's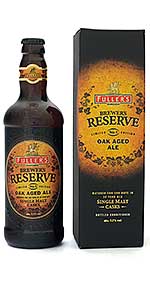 Rate It
Beer Geek Stats
| Print Shelf Talker
Style:

ABV:

7.7%

Score:

85

Avg:

4.16

| pDev:

7.45%

Reviews:

7

Ratings:

From:

Avail:

Retired (no longer brewed)

Wants

Gots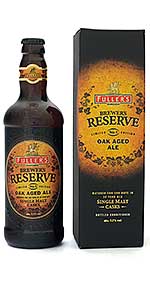 Notes:

AgentZero from Illinois
4
/5
rDev
-3.8%
look: 4 | smell: 4 | taste: 4 | feel: 4 | overall: 4
Thanks to Alex for the share.
A - An orgish/brown beer with a bit of an off-white head that left some lace on the glass.
S - Very smooth smelling beer, oak and whiskey are there but don't really have any sharp edges to them. Bit of citrus fruit and some sugar malts.
T - Oak, vanilla, and some toasted malts. There's some light whiskey in there. Tastes like an English beer, it's not bad.
M - Medium bodied and medium level carbonation.
O - Pretty decent stuff, different from beers I usually drink, which makes me what to explore it some more. Wouldn't mind giving another bottle a go.
Nov 23, 2011

MasterSki from Canada (ON)
4.05
/5
rDev
-2.6%
look: 4 | smell: 4 | taste: 4 | feel: 4.5 | overall: 4
Bottle courtesy of Papsø. Bottle #11,562. Served in a Cigar City snifter.
A - A finger of off-white foam slowly settles to a thick collar and partial cap. Hazy orange-brown body, with some splotches of lace present.
S - Surprisingly mellow, with plenty of fruity English ale yeast, bread, and crystallized sugar. The oak and whisky influence is fairly mild, and much less than I was expecting in something barrel-aged for 500 days. As it warms up a bit more smoky and salty whisky flavor comes out, as well as increased sugary sweetness. Perhaps a light touch of oxidation. Let this reach room temperature for maximum enjoyment.
T - Taste has a bit more of the advertised oak, imparting a light vanilla flavor that pairs nicely with the lightly toasted malts. There's your standard English toffee and treacle, brown sugar, and a light whisky note in the finish that suggests smoked, honey-glazed ham.
M - Medium-full body, medium-low carbonation, smooth, creamy texture, and an oaky and tannic finish. There's some mild alcohol warmth present, but nothing excessive.
D - If you like English beers this is a real treat. It's best consumed warm, and has layers of subtle flavors that require contemplation and patience. The whisky influence is mild and drinking this after the Dark Island Reserve was probably a mistake. That being said, 500ml is probably too much for one person, so I'd suggest sharing this 2-3 ways. I'm interested to see what the Cognac barrels contributed to No. 2 in the series.
Nov 10, 2011
wl0307 from England
4.35
/5
rDev
+4.6%
look: 4 | smell: 4 | taste: 4.5 | feel: 4.5 | overall: 4.5
To mark the 2000th beer review on this site plus 5000 beer karma points, nothing can be more suitable than this special gift from my mate good old Keith. He once found it at a London pub in Jan.09 and told me immediately on the phone, but when I got a chance to enquire about this limited edition ale at several Fuller's pubs, this beer was either never available or sold out in less than a week... Keeping it secret, Keith gave away a bottle to me as a BD surprise and helluva great present this is! I once read that this ale's recipe is actually based on Fuller's Golden Pride, then the beer base is aged for 500 days in 30-year-old single-malt whisky casks before bottling.
Bottle-Conditioned, Bottle No. 07307, with no freshness info. printed on the label/bottle; served cool in Hapkin's tulip-shaped bowl sniffer.
A: pours a reddish-orangey amber hue with fine, fine carbonation; the off-white frothy foam builds up with patience, then settles down equally slowly to a thin cap to last throughout the drink. The level of clarity means yeast sediments mostly stay in the bottle. Overall, very handsome indeed.
S: ...gosh this is so different from all other Fuller's ales I've tried - it's rich and dense in the fruity-malty departments upfront, denoting sweet herb-flavoured olives, syrup-coated small green plums and apples, licorice-flavoured prunes, rich caramelised sugar, and dried-berry-ish or even raisiny malts; in the background the impossible-to-miss "musty" yeasty notes hover, as witness to the long cask-ageing I presume? A good swirl does belated justice to Fuller's true spirit hidden behind the jammy fruits and mustiness, with the delicious hop feature of Styrian Goldings and Fuggles on top of pale & crystal malts almost like ESB + Golden Pride (to some extent). But this whiff of familiar pleasure fades out as soon as the syrupy notes swing back. All's exotic, but I can't sense where in the aroma the "500 days in 30-year-old whisky casks" have left its mark? It hides very deep.
T: ... softly carbonated and quiet upfront, where moderate fruity-maltiness runs freely; gradually biscuity malts and sherry-like old-woody fruits with a touches of black prunes, dried hawthorn-fruits and spicy old citrus-peels develops in the middle of the palate, before all's rolled in one and leaves a charming aftertaste mixed of spicy dried olives and semi-chewy peppery hops, prolonging the overall enjoyment even further with the dry-ish hops. At 7.7%abv., this ale smells heavy but treads absolutely light on the palate, while, unlike any beer aged in new/white oak barrels or Boubon casks, the oakiness doesn't impart a predominant vanilla edge (such as Innis&Gunn) - the woodiness here is more subtle and musty, working rather in line with a well-aged sherry with just a tinge of smooth, old Lowland Scots at the tail.
M&D: the supreme texture has only the finest carbonation left in this bottle; despite the syrupy aroma and full flavour profile, the oak-ageing really has rendered a marvellously dry-ish sweet undertone not so distinctive from a well-aged, medium-dry Oloroso. This is not to be compared with other Fuller's ales, as the long cask-ageing has really, IMO, transformed the feature of any typical Fuller's flavour. As a "whisky ale", this can't even be compared with any other Whisky-cask matured ales I've had, either; for, the vanilla hint comes only "faintly" and overall the whisky elements do not consume (engulf?) the beer base heavy-handedly - much less than that. What is achieved in the end is a rather unique product, syrupy on the nose, balanced on the flavour, lovely semi-bitter in the aftertaste, resting on a great body and ever-so-smooth texture, and consistently with a complex twist in the very end of every sip. Not the most complex Fuller's, for sure, but really likeable and worth slow sipping. BIG thanks to Keith my m8, again!
Apr 30, 2009
Rors from England
4.1
/5
rDev
-1.4%
look: 4.5 | smell: 4.5 | taste: 4 | feel: 3.5 | overall: 4
Bought on the 12th December 2008 at Bitter Virtue in Southampton - May have been one of the first bottles sold outside the Griffin Brewery Shop.
The beer poors a deep amber colour with a redish hue with a thin off white head that dissipates quickly.
The nose presents figgy fruits with a hint of sweet whisky followed by a complex musty sourness. The 500 days oak ageing is very apparent, notes of wood and vannila are also pronounced in the smell.
On to the taste! The beer has a deep sweetness balanced by supberb hoppy bitterness. Predominant flavours are orange peel, bitter marmalade (presumably from the ESB) , whiskey, oak and vanilla with some dark fig and plum fruits notes. As it warms we get a more prounounced whisky flavour, this is truely a brew to to sipped and savoured espeicaly at the steep price tag (£5.50!)
At 7.7% the beer is actually quite drinkable, this being due to it being a fantastically balanced blend. It is very complex, with lots of complex subtleties in the mouth and nose, if you can find some definitely invest in one, this is truly something else, a fantastic beer!
Feb 25, 2009
bark from Sweden
3.82
/5
rDev
-8.2%
look: 4 | smell: 4.5 | taste: 3.5 | feel: 3 | overall: 4
The colour is deep rich amber-brown, the liquid is clear. The high head sinks slowly to a thin beige layer, leaving no lacing.
The smell is dry, fresh and surprisingly hoppy. There is a mild sweet note of smoke and toffee. Very elegant.
The taste is... It is a very fine strong/old ale, but the flavours are disturbed by a dry smoky-salty flavour in the start. Otherwise, there are lots of sweet malt and fruity-bitter hops plus a refreshing tart hint. The aftertaste is dry with notes of cherries, some alcohol and a touch of sweet fruit drops. The finish is a bit tart.
The carbonation is medium; the bubbles are very small. The liquid is not at all as smooth as I had expected; in fact it borders on being watery.
One of the most interesting cask-aged beers I have had. Not at all the sweet-peaty thick beers like those of Innis & Gunn.
Feb 18, 2009
krunchie from Sweden
4.57
/5
rDev
+9.9%
look: 4 | smell: 4.5 | taste: 5 | feel: 4.5 | overall: 4
Served in a pint glass at 43.7°F (6.5°C). Bottle no. 435
A: Clear amber/bronze/red-orange liquid. Nice carbonation. Orangey, fluffy head with nice retention.
S: Wow, that's malty! Citrus, grapefruit, some alcohol
T: Absolutely perfect. One of the best beers I've had, hands down. Flavor's same as smell, but stronger and more aggressive. Slightly woody taste (there's your oak!). Some whishy tendencies, though subtle. This a 5/5!, no doubt!
M: Crispy feel, great CO2. Nice creamy head, a bit to airy though
D: Good, very good. Hard to drink fast though (it's not meant to be either), it's quite big.
Conclusion: Fantastic! Brilliant concept and brilliantly executed! The best beer Fuller's made - and the bottle and the box really tells you that this is a beer with class. I'm gonna save my box, it just looks so good
Feb 14, 2009

Traquairlover from Virginia
4.36
/5
rDev
+4.8%
look: 5 | smell: 4 | taste: 4.5 | feel: 4 | overall: 4.5
500ml bottle poured into a snifter. Thanks to baggio for this bottle.
A = Very good looking clear, dark cognac looking liquid with large fluffy off white head, slightly yellow tint to the head, good retention, light lacing.
S = Slight oak, peat and smoke which are almost certainly from the Scotch casks in which this was aged, some spices, white pepper, honey, nutmeg, very complex smells, some yeasty smells perhaps similar to a typical Belgian pale ale.
T = It is surprising how subdued the Scotch flavors are in this beer, there are hints of oak and peat, but also strong flavors of honey, pepper, vanilla, citrus fruits, it even has slight walnut maple syrup flavors which a heavy dose of bitterness that almost borders on a sour flavor that lingers long into the finish. Very complex and enjoyable.
M = Medium bodied, a little lighter than I was expecting actually but it suits the flavors and smells perfectly, good mouthcoating, pleasant tickling of the carbonation is good.
D = Drinkability is good on this one. I wanted to keep taking another sip and hope I will someday have another chance to drink one of these.
Feb 13, 2009
Brewer's Reserve No. 1 from Fuller's
Beer rating:
85
out of
100
with
10
ratings