Brewer's Reserve No. 3

Fuller's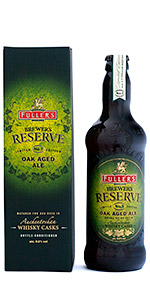 Beer Geek Stats
| Print Shelf Talker
From:

Style:

ABV:

9%

Score:

87

Avg:

3.83

| pDev:

20.1%

Reviews:

9

Ratings:

Status:

Retired

Rated:

Jul 23, 2023

Added:

Mar 08, 2012

Wants:

Gots:
Notes:
Matured for 800 days in Auchentoschan Whisky casks. Bottle conditioned.
Recent ratings and reviews.
| Log in to view more ratings + sorting options.
Reviewed by vinicole from England
3.97
/5
rDev
+3.7%
look: 3.75 | smell: 4.25 | taste: 4 | feel: 3.75 | overall: 3.75
Bottle conditioned. Cellared for 10 years. Secondary fermentation causes it to bubble up and over. Pours a cloudy mid to dark amber with a thin, light tan head.
Smells of sweet, slightly decayed autumn fruits similar to scrumpy cider. Light spice and toffee present.
Tastes similar. The oak is there but very distant. The spice is discerned as ginger. Some sweetness present followed by a light bitter finish.
Still has a sprightly carbonation. Full bodied.
Has stood up pretty well to the aging. Best before Feb 2014 on the label.
Jul 23, 2023
Reviewed by wl0307 from England
3.73
/5
rDev
-2.6%
look: 4 | smell: 3.5 | taste: 3.75 | feel: 4 | overall: 3.75
Given as a gift by the Taiwanese importer of Fuller's beers when I was there last autumn, as I couldn't even find this beer in the UK while it was popular enough to make the ten-thousand-mile trip to Formosa! According to the label, this edition is oak-aged for "over 800 days in Auchentoshan Whisky Casks"… 800 days, gosh… Bottle No. 17345, BBE 2014, served cool in a Fuller ESB's short-stemmed goblet.

A: pours a clear, elegant copper hue, coming with a thin beige frothy head with o.k. retention and fairly decent/healthy feed of microscopic fizz.
S: on top of the honey-ish and syrupy beer base very similar to the barley wines of Fuller's, the aroma from the old wood casks is just overpowering, hinting at lots of sour/acidic elements one would not easily associate with any whisky, maybe due to the weaker body of the ale aged in some very old casks, I take it? The sourness has lots of elements as of marinated prunes, star fruits, aged cider and even cedar wood(!) to it. Given a good swirl, the "exciting" edge of woodiness comes to prevail over everything else, as well as a noticeable tinge of alcohol.
T: fairly well-carbonated, the entry has faint pale malts, salty sweet yellow prunes, hints of cider brandy, and limited peatiness from the whisky casks, followed by an abundant feed of dry-ish palate expected from potent distilled single malt; the whole palate is brought quickly to a relatively short finish where cinnamon, oakiness, hints at sultanas (without the sweet edge!), and remnant flavours from the beer base linger randomly.
M&O: not particularly heavy on the body, the alc. is felt and yet not too harsh, while the carbonation is apparently at its prime, for the beer almost storms out of the bottle upon opening and also the bubbling feel roams freely on the palate throughout the drink. I think this edition is worth trying if this Brewer's Reserve series is something one chooses to follow and observe, like me; other than that I can't say this is a remarkable beer as it is experimental.
Apr 20, 2014
Reviewed by bark from Sweden
3.41
/5
rDev
-11%
look: 3 | smell: 3.75 | taste: 3.5 | feel: 2.75 | overall: 3.25
The beer gushered a lot when I opened the bottle, that was nothing I had expect. The firm head is three finger high and airy; it leaves no lacing. The liquid is clear and amber (30 EBC).

The smell is woody and mature. Sweet notes of white Madeira, dry cider and some clean sharp hops and alcohol. It is quite smooth, though.

The taste is booth sharp and smooth, in an odd way. Strong white wine, lowland whisky, some clean yet notable alcohol, lots of wooden cask character. Hints of milk and lactose. Medium to full body. The aftertaste is smoother and more balanced: Clean bitter hops, some matured sweet flavours and hints of mild whisky. Green fruits and palnts in the finish.

The carbonation is very strong, reminding more of a soda mixer than an ale. The small very sharp bubbles are long-lived. The liquid is semi-smooth.

An enjoyable beer, although I didn't really enjoyed the gushing.
Feb 01, 2014

Reviewed by beerdrifter from Germany
4.29
/5
rDev
+12%
look: 3.5 | smell: 4.5 | taste: 4.5 | feel: 4 | overall: 4
Picked this up at the Strasbourg Mondial de la Biere Fest. Beautiful clear mahogany pour with a thin two finger head that faded quickly with minimal lacing. The nose is totally dominated by the awesome aroma of the whiskey. Lots of oak as well and hints of caramel and vanilla. The taste nicely follows suit with the oak and whiskey really coming through. You'd swear it was served up right from the barrel. Subtley sweet and malty with hints of vanilla and caramel and a touch of dark fruit. The mouthfeel is smooth as silk and slightly tart with a dry vinous finish. This is an amazing beer and totally drinkable considering the 9% ABV. Fuller's can do no wrong in my opinion. World class!
Sep 03, 2012
Reviewed by eric5bellies from Australia
4.34
/5
rDev
+13.3%
look: 3.5 | smell: 4.5 | taste: 4.5 | feel: 4.5 | overall: 4
Drank from my Duvel Tulip

A - Pours a clear copper colour with an off White head that dies quick.

S - Plenty of apple and oak funk with some green grape.

T - Plenty of wooden funk up front with apples and green grape flavours. The finish is a tad boozy.

M - Medium body with a sprtzy carbonation

O - I loved this beer and its reminiscent of the Petrus Oak Aged Speciale. Would age well. Its different and well worth a try.
Jul 11, 2012

Reviewed by GONZALOYANNA from Spain
4.16
/5
rDev
+8.6%
look: 2.5 | smell: 4 | taste: 4.5 | feel: 4.5 | overall: 4
500ml bottle.Westmalle Chalice glass.Enjoyed on mar´12.Dark amber color.Light beige,small size bubbled,froth.Quickly dissipated thin crown. Toasted malts,figs,whisky,alcohol & malty caramel to the nose.Ripe orange zest upfront. Sparkling.Bitter fruitness -raisin & plum-. Subtle spicy in the middle.Intense malty, slightly warm honey,finish.Grape zest astringency.Medium body,moderate carbonation. Whisky on the aftertaste,woody notes & warming alcohol.Exceptional flavorful beer.
Apr 13, 2012

Reviewed by danieelol from Australia
3.77
/5
rDev
-1.6%
look: 4 | smell: 4.5 | taste: 3.5 | feel: 3.5 | overall: 3.5
With thanks to the staff @ IBS.

Gushes and has huge amounts of sediment.

Orange and honey colour. The head is very fizzy and dies down quickly, like a sour.

Smell: Like Cantillon. Oak and lemon. Lots of whisky. A pleasant fruitiness behind this. Definitely funky. Big dose of whisky here.

Taste is not all that potent. Fruity, bit of whisky/alcohol. Some spiritous fruit cake notes. Sour/sweet.

Mouthfeel is like lambic-light with a bit of sweetness slightly edging out the sourness.

Overall an interesting beer which reminds me of a Wild Ale the most. Particularly well hidden ABV.
Mar 31, 2012
Reviewed by ADZA from Australia
3.77
/5
rDev
-1.6%
look: 3.5 | smell: 4 | taste: 4 | feel: 3 | overall: 3.5
Number 05876 and pours a cherry copper hue which leaves a two finger head and a rim of lacing,the smell is xmas pudding,must,whiskey,sherry and boozy alcohol,the mouthfeel is just under medium bodied and over carbonated with tastes of brandy soaked cherries,fruitcake,boiled candy,light liquorice and herbal hops right at the finish and overall its nice as the ageing does not dominate like i thought it would and would like to buy another one to see how it ages cheers.
Mar 27, 2012

Reviewed by Evil_Pidde from Sweden
4.3
/5
rDev
+12.3%
look: 4.5 | smell: 4.5 | taste: 4 | feel: 4.5 | overall: 4.5
A: Pours deep warm clear amber with a large off-white creamy compact head. Slow dissipation leaves rich lacings.

S: Tart and oak. Or in more words; dark dried fruits gives it is a rich molasses-vibe. The cask provides vanilla from oak but also definite whisky notes. A faint sourness. Smells very smooth and complex.

T: Again, dark dried fruits, rich sweetness. Vinous. Vanilla and oak. Lowland whisky. A bit oily.

M: Aftertaste is short and sweet. Body is full while carbonation is almost left out. Smooth and syrupy without being too sweet. The high ABV is noticeable but not obvious or offensive.

O: A very nice beer that probably would improve even more after a couple of years in my cellar. I damn myself for buying only this bottle. If you're able to pick a bottle (or a few) don't hesitate!
Mar 08, 2012
Brewer's Reserve No. 3 from Fuller's
Beer rating:
87
out of
100
with
12
ratings