Leinenkugel's Honey Weiss
| Jacob Leinenkugel Brewing Company
BA SCORE
69
poor
461
Reviews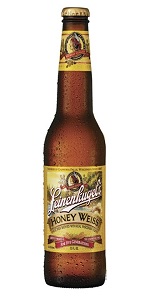 BEER INFO
Brewed by:
Jacob Leinenkugel Brewing Company
Wisconsin
,
United States
leinie.com
Style:
Kristalweizen
Alcohol by volume (ABV):
4.90%
Availability:
Year-round
Notes / Commercial Description:
No notes at this time.
Added by TastyTaste on 03-07-2002
Reviews: 461 | Ratings: 1,546
1.66
/5
rDev
-43.7%
look: 3 | smell: 2 | taste: 1.5 | feel: 2 | overall: 1
Very clear and light golden color. Two fingers of starch white foamy head settled quickly into a thin soapy film. No lacing.
The nose has small hints of banana and a grainy malt profile.
The flavor is a dose of the same, but with a sweet aftertaste... In fact, the beer is too sweet. The overall flavor reminds me of sweetened cereal grains.
The body is thin, very thin. Very bubbly. This is practically Miller Lite in nearly all aspects.
Overall... Well, after not having one of these for 7 or 8 years, I can pmfortably say that I will go at least double that before reaching for another (except in those dire situations, perhaps at a BBQ?!)
★
648 characters
1.66
/5
rDev
-43.7%
look: 3.5 | smell: 2.5 | taste: 1 | feel: 1.5 | overall: 1.5
Poured with a rather creamy 2 finger head that appeared to have substance but then quickly collapsed back into the beer. Very light gold color, very clear and only subtle visible carbonation. A nice looking beer actually.
Aroma is of two things sweetness and the grainy smell of wheat. Not sure I would identify the sweetness if it wasn't in the name, so I'll try not to be led and say it smells like honey.
The taste is quite empty actually. I'm not kidding. I'm getting a slight sweetness and a bit of a wheat finish. But before that, I really do not get much flavor at all. My gosh, this tastes like I describe Coors light. (Water like) Not very good at all. You have to literally hold the beer in your mouth to get a sensation of any hops.
I guess it's a drinkable as water and the mouth feel is the same. Neither of these are good in my book.
Truly not worth the calories. What a huge disappointment after I was strangely intrigued by the Sunset Wheat. I actually liked that. This on the other hand is a total waste of time.
★
1,033 characters
1.65
/5
rDev
-44.1%
look: 2 | smell: 2 | taste: 1.5 | feel: 1.5 | overall: 1.5
Extremely pale straw yellow. My experience is still on the limited side, but I don't think I've seen a beer this pale before. The head is bright white, almost the color of cotton, is short-lived and leaves negligible lace.
The nose is honeyish and somewhat sweet. I also smell an underlying unpleasantness that I'll call 'musty' for want of a better term. Looks like the flavor could be in trouble.
Wow, it's even worse than anticipated. LHW actually tastes like a macro. It's sort of stale and sour with an unpleasant bitterness that tweaks my tongue and makes it beg for good beer. Sweetness is noted, but it sure doesn't taste like honey. The mouthfeel is abysmally thin and watery.
It can't be that hard to brew decent beer, can it? Give Honey Weiss a wide berth.
★
773 characters

1.6
/5
rDev
-45.8%
look: 1.5 | smell: 1.5 | taste: 2 | feel: 1.5 | overall: 1
I'm usually able to appreciate Leine's ability to make somewhat different pseudo-micro stuff, but this was a disappointment from the get-go. First, It poured CLEAR yellow, with little white, foamy head. Not at all what a wheat beer is "supposed" to be. Very sour, sickly sweet smell, not at all endearing. Tastes vaguely like honey, but overall, more like a honey lager, and not a honey wheat. Mouthfeel is almost greasy, coating the tongue and throat, not enjoyable and definitely making this a one time beer.
★
510 characters

1.58
/5
rDev
-46.4%
look: 2 | smell: 1.5 | taste: 1.5 | feel: 2 | overall: 1.5
Available everywhere in the North Midwest. Leine's Honey Weiss pours a straw colored yellow with practically no head or lacing. Also the beer was filtered and was clear. The smell was non-existent. Some sweeter malt scenes but really not much there. No honey tones nor flowery essence.
The taste was rather plain. Similar to a macro with no hops. The malt was really the only flavor, and it tasted more like pale or base malts. No real wheat flavor and no real weizen flavor. The body was very light and really more of a watery taste to it. I was not impressed with this beer at all.
★
588 characters

1.58
/5
rDev
-46.4%
look: 2 | smell: 1.5 | taste: 1.5 | feel: 1 | overall: 2
By and large an unimpressive beer. I know a lot of people who drink this as their beer because it's affordable, but you get what you pay for. It's drinkable, but only as a last resort. The flavor is very bland, with little distinction, but it isn't distinguished or otherwise worthy of note.
★
291 characters
1.57
/5
rDev
-46.8%
look: 1 | smell: 1.5 | taste: 2 | feel: 1.5 | overall: 1
It's a shame to actually call this a beer. So far, the worst Leinie I've had yet.
It pours with no head. There is almost nothing in the smell to indicate it's a beer. Color is something similar to what I flush every morning.
Mouthfeel is like watered-down tea. Little taste, and nothing in the finish.
★
304 characters
1.33
/5
rDev
-54.9%
look: 2 | smell: 1.5 | taste: 1 | feel: 1.5 | overall: 1.5
I poured myself a Leinenkugel Honey Weiss in a .3L weiss glass. The beer seemed to seperate itself for the glass itself. Mind you I carefully clean my glasses according to accepted beer standards. The pizza glass phenomenon is not for me. So I'm not sure why there was no beer clinging to the glass.
A- Not too bad; golden in color that looks okay under artificial lighting.
S- Not so good; I couldn't differentiate anything relating to Honey or wheat for that matter.
T- Yikes. What happened to the taste? There is nothing that resembles what we call 'flavor' in this beer.
M- Watery- that's being kind too.
O- Huge dissapointment. I expected something respectable. I know I have high standards but even an average beer drinker deserves better then this.
★
760 characters
1.28
/5
rDev
-56.6%
look: 1.5 | smell: 1 | taste: 1.5 | feel: 1.5 | overall: 1
Pours a clear pale golden color with no head. Isn't thsi supposed to be a wheat beer, and thus have a cloudy appearance with a big head? The stench is of aour piss. The taste is not unlike the stench. The mouthfeel is thin and fizzy. Overall, this is a horrilbe beer. My speculation is that the people at Leinenkugal call corn wheat and wheat corn. There is certainly no detectable wheat in the beer.
★
400 characters
1.15
/5
rDev
-61%
look: 1.5 | smell: 1.5 | taste: 1 | feel: 1 | overall: 1
A - Crystal clear pale yellow brew that appears honey colored if you know the name of the beer, but in a blind test I would call this pale-macro-lager-yellow. A foamy two finger head quickly reduces to a thin wisp of dishwater haze. Some lace is left after swirling, but it all quickly slides back into the brew.
S - Cheapo macro-pils scent with only the faintest hint of of the wheat twang that I was expecting. Mineral and metallic notes are present also.
T - Tastes more wheaty than it smells. Initial wheat twang is replaced by a corny adjunct flavor that is more akin to BMC lagers than it is a wheat beer. I taste minerals, metals, and a very unpleasant sour flavor. A little bit of lemonade flavor. Cooked corn and sugar.
M - Thin and extremely carbonated. More like soda or an alco-pop than beer.
D - This stuff sucks.
★
840 characters

1.1
/5
rDev
-62.7%
look: 1 | smell: 1 | taste: 1.25 | feel: 1 | overall: 1
A - Pours extremely light gold with a one finger head. Very bland looking.
S - Stale malt, rice adjunct. No honey.
T - Aluminum, stale malt, slight corn, very very slight honey.
M - Light watery body with almost no carbonation. Ohhh the water.
O - Overall, this beer couldn't have been any more boring. Seriously just tasted like a light adjunct. I wouldn't have it again.
★
377 characters
Leinenkugel's Honey Weiss from Jacob Leinenkugel Brewing Company
2.95
out of
5
based on
1,546
ratings.