Leinenkugel's Honey Weiss
| Jacob Leinenkugel Brewing Company
BA SCORE
69
poor
466
Reviews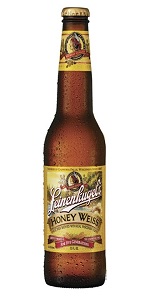 BEER INFO
Brewed by:
Jacob Leinenkugel Brewing Company
Wisconsin
,
United States
leinie.com
Style:
Kristalweizen
Alcohol by volume (ABV):
4.90%
Availability:
Year-round
Notes / Commercial Description:
No notes at this time.
Added by TastyTaste on 03-07-2002
Reviews: 466 | Ratings: 1,560
4.03
/5
rDev
+36.6%
look: 4.5 | smell: 4 | taste: 4 | feel: 4 | overall: 4
The Honey Weiss is of course a honey wheat beer, it's got a little bit more of a bitter flavor than can compare to Michelob's Honey Lager - but of course we're talking ales vs. lagers here. It's a good flavor, and readily available around where I live.
252 characters
4.04
/5
rDev
+36.9%
look: 3 | smell: 4 | taste: 4 | feel: 4 | overall: 4.5
Somebody left this behind in my fridge from a recent party. Looks like I win.
A - Very pale straw color. Very little head.
S - Pretty good smelling beer. Can smell the honey and a bit of lemon.
T - Sweet taste of honey.
M - Great light feel, plenty of carbonation.
D - This is a very easy drinking beer. I could have several of these with no problems at all.
Pretty good beer. Admittedly my tastes are a bit on the week side but I really like this beer.
460 characters
4.1
/5
rDev
+39%
look: 4 | smell: 4 | taste: 4 | feel: 4 | overall: 4.5
One of my faves once you get past the German, Austrian, and Mexican lagers. As with many beers, this one is a bit better on draft - just a bit fresher tasting.
A: Always a nice golden yellow, fairly clear. It pours with a foamy head, which quickly dissipates, leaving behind some lacing.
S: Not overpowering. Just solidly beery, with a hint of sweetness, and something giving it a freshness.
T: Good. The honey comes through without being overpowering. Just a tinge of bitterness, but because of the presence of the honey, it is very well balanced. Serves well with a squeezed lemon. Taste remains palatable even after a couple pours.
M: This beer fizzes as you drink it, nice carbonation. It feels very clean, and doesn't seem to leave behind any unwanted residual flavors.
D: Pretty good, again. There is a certain fullness to this beer, but it isn't heavy by any means. I think it is just the carbonation. It is definitely a refreshing beer, and one of the better beers in this aspect, in my opinion.
1,009 characters
4.14
/5
rDev
+40.3%
look: 3.75 | smell: 4 | taste: 4.25 | feel: 4 | overall: 4.25
Sampling right now on 5/8/15 but had this several times in the past and even on tap but never did a review on it. Bottle chilled down to 36 degrees F in my beer cooler and poured in to a "LEINENKUGEL'S" pint glass.
Brew pours a golden-yellow in color with about a half-finger foamy white head. Spotty lacing is seen when sipped. The aroma is of wheat, grains with a touch of honey. Very nice. Pretty much is said for the taste and isn't over done at all with the honey. Very smooth with a bit 'o honey taste for the finish. Always enjoyed this one. Lighter to medium-bodied with perfect carbonation. Tasty brew!
612 characters

4.16
/5
rDev
+41%
look: 5 | smell: 4 | taste: 4 | feel: 3 | overall: 5
I am reviewing this beer today (New Beer Sunday Week ###) in honor of UncleJedI who was in town yesterday for the Cask Ale Fest in Lititz and was talking about having been to the Leinie Lodge on his recent cross-country adventure. The CAN came to me in a rolling (no other way to describe it) trade with resi and it seems like a good way to greet the day.
From the CAN: "Wheat Beer brewed with real Wisconsin honey"; "A unique Northwoods refresher brewed with select malted wheat, Cluster hops & a hint of honey". I have known several real Wisconsin honeys and there is a real reason that I visit that state at least once a year!
Following the Crack & Glug, I was going for maximum head, so I utilized my soon-to-be-famous inverted pour, resulting in a finger-and-a-half of fluffy, bone-white head with great retention. Color was like liquid sunshine in a glass. Beautiful! Deep golden yellow with NE-quality clarity. King Midas would have been envious of the gold. Nose was very malty sweet. As a previous reviewer put it very succinctly - it smelled like being on a tour of the brewery! Dig that! I like brewery tours, BTW. Mouthfeel was thin-to-medium with a wheat beer taste initially, followed by a lingering honey taste on the finish. Man, this was very tasty and a definite CANdidate for the imaginary cooler that I am continually filling for a beach outing. MUCH better than their Summer Shandy, which just begs to be blended with Furthermore's Knot Stock to become a Lemon Pepper Beer. Suddenly, I want to try the Berry Weiss that much more.
1,552 characters
4.2
/5
rDev
+42.4%
look: 4 | smell: 4 | taste: 4.5 | feel: 4 | overall: 4
this is a mellow smooth beer that goes down easy. If you are looking for a yeasty, hoppy, bitter tongue strangling after taste this beer is not for you. My wife use it in her pizza crust ingredients and boy it is good. It is our go to beer when we want a break from the IPA's or strong yeasty bitter brews.
309 characters
4.38
/5
rDev
+48.5%
look: 4.5 | smell: 4 | taste: 4.5 | feel: 4.5 | overall: 4.5
A: True to its character as a filtered wheat beer, it has a golden yellow color with descent head and good lacing.
S: Sweet grass fields in summer sunshine also sporting light yeast notes.
T: Sweet honey taste true to its style with floral hop notes in the back and slightly bittering at the end. The aftertaste is of very clean wheat and long lasting honey.
M/D: Not to light and not to heavy of a feel. The head is creamy and the brew doesn't leave your mouth super dry. A superb thirst quencher and good drinkability.
523 characters

4.38
/5
rDev
+48.5%
look: 4 | smell: 4 | taste: 4.75 | feel: 4.25 | overall: 4.25
I had a very fresh bottle I picked up in Wisconsin while visiting family. Really good, I thought this would be another beer that was too sweet, but it's almost perfect for what it is. Amazing on a hot summer's day, it's definitely not a "poor" beer.
249 characters
4.59
/5
rDev
+55.6%
look: 4.5 | smell: 4.75 | taste: 4.5 | feel: 4.75 | overall: 4.5
This was actually a very good beer in my opinion. The aromas of honey when you open the bottle were very noticeable. The taste of this was also very good and will continue to drink this beer when I am able to do so. This is very popular in my area as well.
256 characters
4.73
/5
rDev
+60.3%
look: 5 | smell: 4.5 | taste: 5 | feel: 4.5 | overall: 4.5
Leinenkugel's Honey Weiss is a wheat beer made by Leinenkugel's Brewing Company in Chippewa Falls, Wisconsin. It's availabe mainly throughout the midwest US. It is one of my favorite three or four beers.
It's a fairly typical wheat beer, with a touch of a honey taste, however the honey taste isn't at all overpowering. The closest beer I can compare it with is Dundee's Honey Brown. It's typically served with a lemon slice, which I actually prefer not to have. It's remarkably refreshing during the summer, and smoothly satisfying even in the coldest of winter.
This is what I call a "gateway beer". So many people in the US are die hard Bud Light or Miller Light or <insert crappy mass produced American lager name here> fans, this is the beer I typically give these people to get them exposed to a different style of beer. This is the beer that woke me up to a whole new beer culture, and I am grateful for it.
Leinenkugel's also has a wide variety of other beers in their lineup, and most of them are good as well. In my opinion, Leinenkugel's has the best batch of variety beers (Sam Adams being a close second). To the people in Leinie country, I say thank you, and keep on brewing. To the people who have never tried a Leinie's, I say what are you waiting for? Drink up!
1,287 characters

5
/5
rDev
+69.5%
look: 5 | smell: 5 | taste: 5 | feel: 5 | overall: 5
I love this beer during the summer time. I am not big on hints of taste. I haven't fully developed into that like I use to be on cigars so this is a poor mans review. It tastes like honey and wheat when you drink it. Like it on hot summers days with burgers, steak, or whatever else you decide to cook up. It is light and you will not be disappointed if your looking for a honey flavored beer.
398 characters
Leinenkugel's Honey Weiss from Jacob Leinenkugel Brewing Company
2.95
out of
5
based on
1,560
ratings.