Leinenkugel's Summer Shandy
| Jacob Leinenkugel Brewing Company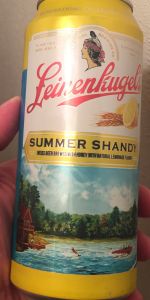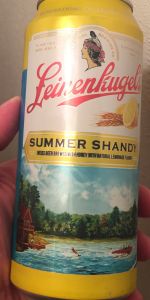 BEER INFO
Brewed by:
Jacob Leinenkugel Brewing Company
Wisconsin
,
United States
leinie.com
Style:
Fruit and Field Beer
Alcohol by volume (ABV):
4.20%
Availability:
Summer
Notes / Commercial Description:
No notes at this time.
Added by jj21 on 03-23-2007
HISTOGRAM
Ratings: 3,733 | Reviews: 668

2.78
/5
rDev
-12.6%
look: 3 | smell: 2.5 | taste: 3 | feel: 3 | overall: 2.5
This one is certainly unique. I'm somewhat familiar with the shandy recipe, but never had one bottled.
Cloudy but very pale. Not a lot of head, leaves a soapy rim. The aroma is a little weak, clearly some sugary lemonade but few other hints as to the contents. Lemon rind for sure. The flavor is lemon-astringent at first, the wheat keeps things even and drinkable. Ever so slightly reminiscent of Lemon Pledge.
Overall, I can see a market for this one, albeit a small one. It's a little easier on the way down than a Mike's Hard, not exactly a malternative but somewhere shy of a beer. Definitely drink cold, wouldn't hurt to have a beach handy.
654 characters
3.49
/5
rDev
+9.7%
look: 2.5 | smell: 3.5 | taste: 3.5 | feel: 3 | overall: 4
Very dull and hazy yellow. An unimpressive Weizen color, is the only way I can describe it. Nice head, but the haze just seems off.
Smells of a macro and lemonade. Doesn't smell at all synthetic, like the Steigl shandy. It smells weedy, grainy, and lemony. Nice.
Tastes exactly like it smells. Big, sweetnsour lemonade start, followed up by decent macro beeriness, ending on a sweet and weedy node. Nicely balanced.
A decent novelty beer. It's a novelty, keep that in mind. This is a self-declared shandy that has no pretentions of being a world class brew. With that in mind, it's not hard to enjoy...
611 characters
2.85
/5
rDev
-10.4%
look: 2.5 | smell: 2.5 | taste: 3 | feel: 3 | overall: 3
Summer Shandy pours a hazy yellow color with a finger of white head that fades to a thin cap soon after the pour.
The aroma is a lemony, but not overpoweringly so with a hint of pine.
The taste is lemony and refreshing. Not sweet like an alcopop, this is definitely beer, which is a good thing.
The mouthfeel is light to medium with a lemony aftertaste.
I think drinkablility on this one will improve as the temperature rises. This is a beer that will slide down fast on those hot summer days. Probably good it is 4.2% abv for that reason. While this beer didn't wow me, it is quaffable. Take a chance and try this one.
631 characters

2.62
/5
rDev
-17.6%
look: 2 | smell: 2.5 | taste: 3 | feel: 3 | overall: 2
Poured a milky yellow with a thick and pillowy white head, a touch of lacing.
Smell had a strong lemony pledge like odor along with some hints of beer malts.
Flavor was pretty much as expected a light bit of lemongrass flavor mixing with the wheat and malt beer flavors, a very slight bit of hop bitterness in the finish.
Mouthfeel is light and bubbly with a bit of a dry finish.
Overall not to good, the beer flavors are very minor and yeild to the dominance of the lemons. I rather like lemonade, and beer, but apperently not so much together.
557 characters
1.97
/5
rDev
-38.1%
look: 1.5 | smell: 2 | taste: 2 | feel: 2 | overall: 2
Presentation 12 oz bottle poured into my pint glass.
Appearance: An awful looking pale straw colour that looks like a cloudy lemonade with semen in it.
Smell: It smells of sour lemonade that has gone wrong even worse than a mikes hard and really no hint of hops or malts just sour fake lemonade flavour that really kills the senses.
Taste and Mouthfeel: Asinine! really really just terrible nothing good about this beer justifies it except that you can drink it fast but why would you do that when the acid would give you gut rot, I really love Leinies beer but this a an awful product that leaves the worst aftertaste and should never be boughten again I'm going to call them and get my refund back.
709 characters
3
/5
rDev
-5.7%
look: 3 | smell: 3 | taste: 3 | feel: 3 | overall: 3
This beer poured with a white head that quickly subsided, but had decent lace. Very hazy pale yellow. Not aesthetically pleasing to gaze into, but I'd rather drink it anyway. The nose is natural lemon beer. Average body that does seem to get a tad thin as it warms towards the bottom of the glass. Definite beer character to balance the lemonade. Not bad. Less lemony than the Stiegl I recently had, but at the same time not quite as polished an effort. Double the strength of the Stiegl as well. Finish is unremarkable but not bad either.
539 characters
1.22
/5
rDev
-61.6%
look: 3 | smell: 1 | taste: 1 | feel: 2 | overall: 1
First things first...
I've already had this "beer" and abhorred it. I'm reviewing it to detail exactly why its so bad.
Additionally, how is one to review this thing? It's listed under the category of American Pale Wheat Ale but it doesn't seem to fit in there. It's so unlike anything I've ever drank (anything alcoholic at least) that it should be in some other category -- probably Fruit/Vegetable Beers or something. Anyhow, I looked through some of the other beers in this category and saw Capital's Island Wheat and Bell's Oberon (uh oh), so I guess I'll have to review it with those in mind...
This comes from a sample bottle from the distributor. No information on it whatsoever (except that I'm not to resell it). We begin...
A - This poured 1" of pale white head that disappeared in less than 5 seconds, leaving a thin white covering. Extremely cloudy (couldn't even see my fingers through this stuff when held to light!!) soft straw hue, not unlike the color of lemonade. Pretty dang carbonated.
S - Light yeasty scent of sourdough which is pleasant until the end, when a battalion of artificial lemon smells invade. Lemonhead candy, Country Time Lemonade instant-mix powder, lemon Jolly Ranchers, etc. Not unpleasant, but not what I want my beer to smell like.
T - Unreal. This tastes like carbonated water with a small splash of artificial lemon in it -- like if you poured generic lemonade out of a can over ice and let it sit until it was fully watered-down. Carbonation is fierce and if there's any malt flavor in here, the bubbles have effectively destroyed it. Considering how overbearing the artificial lemon scent is, I find it hard to believe how subdued the lemon flavor is. I've honestly never had a beer with this little beer flavor before -- I can't taste malt, wheat, hops or even alcohol...it's fascinating in that regard.
M - Light and mega-effervescent. Sparkling mineral water.
D - Difficult to judge. I'd be willing to bet that I could drink a case of this stuff without acquiring either a buzz or a discernible flavor, but you'd have to put a gun to my head first. For the average BA, the only reason you'd even take a fourth sip is out of sheer disbelief.
This "beer" is so bad that its amazing on a number of levels. It makes you wonder exactly how this became a product. Its staggering to think that someone tasted this and decided that it was good and that it should be marketed. I'm pretty sure that this beer was created exclusively for people that hate beer. Occasionally, I could find a benefit to that -- like that it might help folks who normally don't like beer make the switch -- but anyone who likes this stuff will never like good beer.
My continuing fascination with this stuff led me to perform an experiment. I took a warm can of Country Time lemonade and mixed it with straight carbonated water in a 1:10 ratio (one part "lemonade" to 10 parts water). It's resemblance to this "beer" was uncanny -- a few of my staff members couldn't even figure out which was which. Personally, I didn't find them to be identical -- I actually found the water/lemonade mixture to be better. Honestly, I could certainly see someone finding this refreshing on a hot summer day but a bottle of good sparkling water and a lemon wedge would be cheaper and tastier.
This beer is so terrible that its almost unbelievable. But (and I say this with complete seriousness) you absolutely have to try it for yourself!! It will blow your mind.
3,496 characters
1.75
/5
rDev
-45%
look: 1.5 | smell: 1.5 | taste: 1.5 | feel: 2 | overall: 2.5
Where to start. Pours VERY unnatural cloudy yellow with a decent, fluffy white head.
You can smell this beer from across the room- and not in a good way. The artificial aroma of "Mr.Clean-Lemon" smacks your nose- again, not in a good way. Taste- Oh boy. Astringent Lemon flavors with some wheat. It may not drink well, but I'll bet it shines your floors real nice! I can't detect any hops in this beer. Flavor is very artificial.
How about some good things!
Drink VERY cold. I could see how this could be refreshing in hot weather. I was anxious to try this and unfortunately, I was let down. I wish they had actually used lemons and not "Lemonade Flavor" for this. I think it could have been decent. However...
Swing and a miss.
4/11/08
Just revisited this again to give it another chance. Why do I do stuff like this to myself. I think it's actually worse.
863 characters
Leinenkugel's Summer Shandy from Jacob Leinenkugel Brewing Company
Beer rating:
3.18
out of
5
with
3,733
ratings