Old Brogue: An Irish Pub, The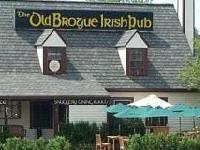 PLACE INFO
Type:
Bar, Eatery
760C Walker Road
Great Falls
,
Virginia
, 22066
United States
(703) 759-3309 |
map
oldbrogue.com
Notes:
No notes at this time.
Added by theozag
Ratings: 8 | Reviews: 6
Reviews by smanders:

3.88
/5
rDev
-5.6%
vibe: 4 | quality: 4 | service: 3.5 | selection: 4 | food: 4
The Old Brogue is a diamond-in-the-rough in Northern Virginia. Beer connoisseurs will appreciate the fine selection of drafts and bottles (Old Speckled Hen, Delirium Tremens, and Kasteel to name a few).
The servers will remember your order within 3 visits and the food is second to none - specials nightly. There are even coupons if you sign up online. What's not to like...Did I mention live music???
The downside is the location. I would love if this place were closer to the toll-road or (Heaven forbid) the Beltway.
521 characters
More User Reviews:

4.3
/5
rDev
+4.6%
vibe: 4.5 | quality: 4.25 | service: 4.5 | selection: 4 | food: 4.5
The Old Brogue is one of the best neighborhood bars around. If you're in the mood for hearty pub food, they offer some excellent choices including a delicious Guinness Beef pie. And they have a lovely selection of traditional pub beers to accompany your meal - Guinness, Harp, and Old Speckled Hen. They also offer a rotating selection of craft beers chosen by someone with excellent taste. On recent visits I've enjoyed Mad Elf, Flying Dog Barrel Aged Gonzo, and Boulevard Collaboration Number 6. The chef obviously enjoys challenges, making the daily specials worthy of consideration. How many pubs offer Seared Tuna or Beef Wellington and do both so well? Other reviewers have mentioned the excellent service which is both friendly and efficient. During the Fall and Winter Celtic concerts, they manage ninja-like service while never distracting from the music. The bar can get crowded but somehow the bartender notices when drinks run dry and refills them with deadly efficiency. I still can't get over how he remembers our drink preferences between visits which can sometimes be several months. As one would expect, the Brogue attracts a loyal and interesting crowd. We've struck up fascinating conversations while sitting at the bar waiting for a concert.
1,273 characters

4.03
/5
rDev
-1.9%
vibe: 4.25 | quality: 4 | service: 4 | selection: 4 | food: 4
4.15
/5
rDev
+1%
vibe: 4 | quality: 4.5 | service: 4 | selection: 4 | food: 4
Old Brogue is a great traditional Irish pub in Northern Virginia. The atmosphere seems quite fitting, although I wouldn't recommend it for an intimate dinner / date or if you have a headache. The service and food are good if you like pub food. But what's most important is their selection of beers on draft. They rotate this selection regularly, but they always have 5-10 great choices. Most of my beer samples have been bottles that I've bought at Total or some other store. But there's something about having a nice draft in a pub that makes beer more enjoyable. And this is one of the prime locations for that in the Northern Virginia area.
643 characters
4
/5
rDev
-2.7%
vibe: 4 | quality: 4 | service: 4 | selection: 4 | food: 4
Here is a nice little tucked away pub in the Patrician area of Fairfax County. Good mix of family, yong adults, rich, and stablehands. Lots of old wood in the bar - gnarly tables etc. Outdoor seating is nice. Friendly folks, with a musician on most nights it seems, but it's just typical middle-age white dude playing covers on his acoustic guitar. For once I'd like to see an "Olde Country" style American pub get somebody in to just play romantic old fiddle and accordian songs with no singers. But this is middle class white America and that's just beyond their imagination I guess. Draft selection is good, food is decent and fairly priced. Lots of regulars in here. Go here with somebody to talk to, or be ready to be friendly with your neighbor, because this is a nice and friendly place - no cold D.C. vibe here, so don't bring it with you!
847 characters
4.33
/5
rDev
+5.4%
vibe: 4.5 | quality: 4.5 | service: 4.5 | selection: 4 | food: 4
The Old Brogue is a wonderfully cozy neighborhood bar and restaurant with a well above average selection of beers. I've been dropping in once every month or two for years. On a recent visit, taps included Sierra Summerfest, Weinhefestephan Hefeweitzen, Magic Hat #9, Eggenberger Pils, Dogfish Head 60 Minute IPA, Old Speckeled Hen, Smithwick's, Delirium Tremens as well as Bass, Harp and Guiness. Gouden Carolus and/or Kasteel Triple are also frequently on tap. Bottles included several Belgians, some Brits, as well as two favorites, Aventinus and Skullsplitter, plus a handful of macros. What I like best about the place is its basic friendliness and upbeat attitude. It's low key, easygoing, and casual. It's easy to strike up a conversation, and by your second visit, you'll be treated like a regular. A lot of times the bartenders remember what you ordered on your last visit. As for the staff, the place has a list of people who've worked there 5, 10, 15 years. That's pretty rare for an eating and drinking establishment, and it tells you something about the atmosphere. The food ranges from good to excellent. They get their seafood from the Cannon's Seafood Market a few doors down, so the seafood, particularly the crabcakes, is excellent. The Irish dishes are good, too. The Brogue is a ways out of downtown Washington, so if you're visiting the area, stopping by might not be practical. There's also no realistic public transport option. That said, it's a truly beautiful drive down Georgetown Pike from the Beltway. It's in the town of Great Falls, which is regarded as ritzy locally, though the Brogue certainly isn't. Open for lunch and dinner 7 days, with a nice brunch on Sundays.
1,697 characters
4.45
/5
rDev
+8.3%
vibe: 5 | quality: 5 | service: 4 | selection: 4 | food: 4.5
The Old Brogue is split into 2 parts. The pub itself is the east half. In the center are the restrooms, the drink counter, and registers. The west half is the snuggery dining room, a non-smoking facility. Thinking the name snuggery was just a bit too odd to try on my first visit to an establishment, I broke left and entered the pub.
Once you move into the pub you are greeted by the sounds and smells of what must be the most authentic Irish pub in Northern Virginia. The walls are wood with a bit of stucco. The furniture is deep-stained wood and immediately in front of you is a wooden bar. 5 mid-backed stools face the bar and its dizzying array of liquors and taps. 5 high tables to your left are all ringed by the same kind of stools. Next to the bar is the doorway to the kitchen and the main registers. Across from the registers is the first actual table in the pub. Continuing back into the room in 2 columns are the rest of the tables. A few windows on the left-hand wall supply the only natural light in the room, which is about 18 by 100 feet. Ironically, the light from those windows is limited by decorations in each opening extolling one libation or another. Luckily, incandescent bulbs provide a soft cone of yellow-white light to each table and some wall hangings. In all about 30 lights and 20 tables are scattered throughout the room. On the patio out back there are another 6-8 tables, fans, and a few more lights. An empty stage and an extensive sound system across the room from me indicate that live performances occur here fairly often. Photos, paintings, posters, flags, and metal signs adorn what would otherwise be a dreary set of off-white walls. It seems the whole history of the Old Brogue is somehow drooping from the stucco. Every piece adds to the home-like feel of the place and steals a little more light from the bulbs overhead. The effect is one of dusty darkness and lively comfort.
I order 2 pints and a Black Angus Cheeseburger. The drinks appear almost as soon as I order them. The Angus arrives between the beers, and I begin to devour it with relish instantly. The beef is rich, juicy, hot, and delicious. In 10-15 minutes my glass and plate and all but empty and my stomach tells me that today's visit to the Old Brogue has been a complete success.
Taking to my feet I explore the pub just briefly then make my way to the door. Pushing through into the afternoon light I realize that I could not have asked for a better pub experience.
2,491 characters
Old Brogue: An Irish Pub, The in Great Falls, VA
4.11
out of
5
based on
8
ratings.