Locke Mountain Lager
| Marzoni's Brick Oven & Brewing Company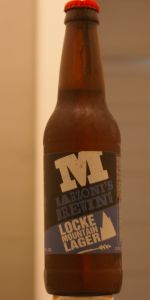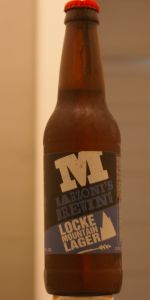 BEER INFO
Brewed by:
Marzoni's Brick Oven & Brewing Company
Pennsylvania
,
United States
marzonis.com
Style:
Light Lager
Alcohol by volume (ABV):
3.75%
Availability:
Year-round
Notes / Commercial Description:
Our lightest offering, we brew this beer with 100% Pilsner malt to create a refreshing, highly drinkable golden beer.
Added by Buggies on 06-26-2010
HISTOGRAM
Ratings: 9 | Reviews: 4
None found.
More User Reviews:

2.16
/5
rDev
-26.5%
look: 3 | smell: 2 | taste: 2 | feel: 3 | overall: 2
Served on tap in a sample glass.
Appearance: Yellow with a thin white head.
Smell: Light hops and grassy notes.
Mouthfeel/ Taste: Smooth light bodied. Taste was light with hints of corn like sweetness, light bitter aftertaste.
Overall: Average light lager. Nothing special.
277 characters

3.74
/5
rDev
+27.2%
look: 3.5 | smell: 3.75 | taste: 4 | feel: 3.25 | overall: 3.5
A press junket took me up to their Selinsgrove location where a mixed-six was conferred on each attendee as part of the outing. I know that The Bros. Alstrom like transparency in such matters & I have nothing to hide. I have known brewer Bill Kroft for years & Bill knows that I am equitable in my reviews.
Man, I wish that they would make the leap to CANs! Marzoni's fills what could be a gaping void in south-central PA & the fact that they have begun bottling is a step in the right direction, but there are so many outdoors activities out that way that CANs would be a natural fit.
If it must be a bottle, at least let it be a standard bevel with a crown cap that Pop!s when I open it. It was, but I still went with a gentle pour. A vigorous in-glass swirl raised two fingers of foamy, bone-white head with decent retention. Color was the Straw-Yellow (SRM = > 2, < 4) with NE-quality clarity & presence of fizzy carbonation that Greg Koch of Stone used to rail about. To me, it looked like what beer always looked like when I was a kid. I find nothing wrong with that. Nose smelled faintly sweet, slightly biscuity, but best of all, it did NOT smell like corn or silage, which is/was the downfall of so many Light Lagers. especially in CANs. Mouthfeel was thin, but very effervescent on the tongue. The taste was actually quite sweet, moreso than I usually experience in the style. It was clearly malt-driven, but it also left me curious as to what hops were employed in its production. I did not perceive much, if anything, in the way of bitterness, which might make it a great offering for the people who still cleave to mass-produced Light Lagers as their beer of choice. The finish was semi-sweet, so either the yeast had really done a good job or there were just enough hops added to keep it from being outright sweet. One would probably be enough for me, but this seemed really well-made.
1,902 characters

2.83
/5
rDev
-3.7%
look: 3 | smell: 2.5 | taste: 3 | feel: 2.5 | overall: 3
As the name implies... this one is a very light lager. It pretty much is just that, and is comparable to most mass produced light lagers out there. Not a lot in the way of flavor or aroma, but it serves a purpose for washing down pub food without being too filling.
265 characters
2.45
/5
rDev
-16.7%
look: 3.5 | smell: 2.25 | taste: 2.25 | feel: 3 | overall: 2.5
Fairly non-descript light lager, not too far off from a standard adjunct in color & aroma. Just some mild watered grain taste and not much else. Mouthfeel is fine for the style.
177 characters
2.99
/5
rDev
+1.7%
look: 2.75 | smell: 3 | taste: 3 | feel: 3 | overall: 3
2.87
/5
rDev
-2.4%
look: 2.5 | smell: 3 | taste: 2.75 | feel: 3 | overall: 3

3.19
/5
rDev
+8.5%
look: 3.5 | smell: 3.25 | taste: 3 | feel: 3.5 | overall: 3.25
Locke Mountain Lager from Marzoni's Brick Oven & Brewing Company
Beer rating:
2.94
out of
5
with
9
ratings