Fox & Hound Pub & Grille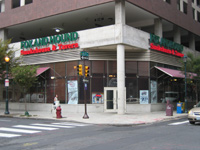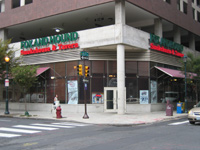 Bar, Eatery
1501 Spruce Street
Philadelphia
,
Pennsylvania
, 19103
United States
(215) 732-8610 |
map
foxandhound.com
Notes:
Reviews by nlmartin:

nlmartin from Ohio
3.75
/5
rDev
+6.8%
vibe: 3.5 | quality: 3.5 | service: 4 | selection: 4 | food: 3.5
The bar seems to be a run of the mill sports bar. There was about 10 different TV's showing the World Cup. The bar had the usual suspects in abundance. Many of the taps had BMC and Yuengling; however, several of the taps had good craft brews. Some of the craft selection included 2 Magic Hat Offerings, Yards, Victory, Stouts and others. They also had several good german offerings on tap. I was thinking this was not to shabby for craft and import offerings. The bottles are a bit better than the taps. The beer menu is not up to date. Watch your glasses here. I almost ended up with a chilled glass. The bartender pulled a few out of the washer and asked, "do you want these at room temperature?" I said yeah. A few minutes latter I had a pint in front of me. The wait staff didnt know alot about the beers. This was not a problem for me or my wife. We tried the ribs and brisket. Not to bad for bar food just not great.
I noted a signs on the wall. #1. The world class brews of Fox and Hound are meant to be savored and enjoyed, not pounded like some cheap beer. The owner is advocating beer for certain. This is not a first rate beer run by a beer geek standard. This is a solid place to pick up a few pints of nice beer.
Jun 16, 2006
More User Reviews:
BigMike from Pennsylvania
3.79
/5
rDev
+8%
vibe: 4 | quality: 4 | service: 3.75 | selection: 3.5 | food: 3.75
Sep 18, 2016

ShanePB from Pennsylvania
3.71
/5
rDev
+5.7%
vibe: 3 | quality: 3.5 | service: 4 | selection: 4
Jun 25, 2015

tkdchampxi from New Jersey
3.75
/5
rDev
+6.8%
Really great, friendly service.
Food was typical pub food
Beer selection was uninspiring.
Prices weren't bad
Oct 06, 2014
VegasBill from Nevada
2.3
/5
rDev
-34.5%
vibe: 3.5 | quality: 1.5 | service: 1.5 | selection: 3.5
This pub has not been reviewed since 2006!! I was walking around in the area and starting to get thirsty and tired so I popped in here. The atmosphere is what you would expect but comfortable overall. One of the people from Parking Wars was sitting at the bar having a ice water. They have a nice tap selection with 15 or 20 taps.I just wanted something cold and light so I ordered a BMC product,I know, at least I am honest, dont throw me out of BA for this.
Anyway the beer was bad, either the lines were really dirty or the beer had turned.I motioned to the bartender and told her and she just stood there staring at me, no offer of a replacement, no apology. I got up and walked out.
Now I know what you are thinking, thats why it has not been reviewed for 6 years, its a dump, well you might just be right.
Nov 04, 2012

laintringulis from Ohio
3.68
/5
rDev
+4.8%
vibe: 3 | quality: 4 | service: 4 | selection: 3.5 | food: 3
Essentially this is your TGIF meets sportsbar with some good beer selections and bbq food. 15 different drafts avaible with no sanitation problems. Large selection of bottled beer, more local and microbrews than anything. Offered a few lambic/Belgian selections. Staff polite and attentive, but doesn't seem to know much about the beer. Tried to serve in a chilled glass or just the bottle, but remedied quickly when asked. The food is mainly standard bar food and bbq selections. It was good, but not great by any means. It was a bit too noisy and too many tvs with sports on even at 4-5 pm. (Too noisy for not being that busy at that time.I generally don't dig sports bars.) You can definitely go there and have a session of some nice, solid, beers.
Jun 25, 2006
NolanGTI from Pennsylvania
2.88
/5
rDev
-17.9%
vibe: 3.5 | quality: 3 | service: 3 | selection: 2.5 | food: 2.5
Um, this place pretty much stinks unless you are there to watch multiple football games at once...which is the only reason I go. The lines seems a bit off to me here and despite numerous taps, it is mostly garbage on tap. You can always find a Victory or two on tap which is what I will typcially stick to.
It is a wide open floor plan with a side room and tv's everywhere. Bathrooms are always dirty and frequently out of paper towels. This place is often packed with the Miller Lite crowd.
The food is bad pub grub. Really no other way to explain it. While in Philly there aren't a whole lot of reasons to seek this place out. Spend your money on other more beer concious places rather than this corporate version of a sports bar.
Nov 21, 2005
jrancan from New Jersey
3.86
/5
rDev
+10%
vibe: 4 | quality: 4 | service: 3 | selection: 4.5
Okay, this is a giant sports bar with a very good selection of beer. So why not 5's across the board? Well, I'm not used to having both, so I'd rather stick with a nice, quite, pub with a great selection rather than a loud, obnoxious place with drunkin idiots cheering on the Eagles. (maybe that's just the Giant's fan in me).
The menu IMO looked very weak, so weak that I couldn't bring myself to try anything.
Beer on the other hand was a good thing. Thirty something on tap, a lot of which were the Foster's, Corona, Bud thing, but still plenty of good stuff, mostly of which were locals. Bottle selection I guess would be around 50 to 75, nothing that would knock your socks off, but again, good for a sports bar.
Not a place I would travel to, but if I want to watch a game and have a good beer, this would be the place.
Oct 12, 2003
nomad from Kansas
3.55
/5
rDev
+1.1%
vibe: 3 | quality: 3 | service: 4 | selection: 4 | food: 3.5
Indeed a big corporate chain, walking in I expected to see Jennifer Aniston getting yelled at for not having enough flair, if you catch my reference. If not, this is Bennigans on steroids, a gi-normous restaurant with endless seating, stationed behind the Kimmel Center. Lots of local stuff on tap (Yards, Yuengling, DFH) and an impressive bottle list considering how mega-chain and sleek this place appears. For the most part, this is your after-work happy hour place, very big on sports and macro-beer as they have as many jumbo tv's as seats. Extremely impressed by the service - the wait staff and especially the hostesses are unbelievably solicitous and fairly quick, all amazing considering how busy and huge this place is, and how low morale can get a Bennigan's like chain. Typical bar food is served decently well. Definitely the largest and best sports bar I've ever been to, but that doesn't mean it's a great bar. It is my pick for a Center City place to watch whatever important sports game - too bad I'm a Redskins fan.
Oct 06, 2003
NeroFiddled from Pennsylvania
3.88
/5
rDev
+10.5%
vibe: 3 | quality: 3.5 | service: 4 | selection: 4.5 | food: 4
The Fox & Hound seems to be a corporate operation that's geared towards bringing in a mainstream crowd for dinner and sports fans to the bar. And, in fact, they own locations in 19 states, but... they do have 36 beers on tap and dozens of bottles! It's a wide open space that has a very corporate feel to it with lots of wood, muted carpeting, and at least 18 wide-screen TV's; and the prints of painted hunt scenes under plastic seem almost stupid as they're so obviously un-original but they fit the bill. Still, it's fairly comfortable sitting at one of the large, cozy booths that surround the perimeter, and there's plenty of bar rooms and standing cocktail stations. They run food specials every day and the prices are reasonable to begin with. There's a "Late Night Appetizer Happy Hour" every night where you can get $2 off any app., and they put out a large free buffet during local football games. Otherwise, the food is basic fare with a few notable exceptions. Spicy Chicken Billiard Sticks (potato wraps filled w/ spicy chicken, black beans, corn, peppers, onion, and cheese) are a great appetizer at $7, and a Popcorn Chicken Salad is well worth it at $7.79. Sandwiches include assorted BBQ items in the $6.50 - $7 range, and a Patty Melt Burger is a workable $6.69. A 14 oz Ribeye steak, one of their highest priced entrees, will run you just $14.99.But back to the beer. Draft: 2 Victory beers - Hop Devil and a seasonal, 2 Sam Adams - Boston Lager and a seasonal, Tetley's, Redhook ESB, Warsteiner Dunkle and a host of macro/Canadian/common imports. But the bottles are a little better with a variety of Pete's, Peroni, Old Peculier, Murphy's, Rogue, Sam Smith, Dogfish Head 60 Minute, Lindemann's Framboise, Anchor Liberty, Dock Street, Duvel, Chimay Blue, and Fuller's London Pride. This is a good place to party with your buddies; and a quick stop for a beer at lunch; but other than that there are better bars to visit!
Oct 06, 2003
Fox & Hound Pub & Grille in Philadelphia, PA
Place rating:
3.51
out of
5
with
12
ratings