New Moon Cascadian Dark Ale
| Alley Kat Brewing Company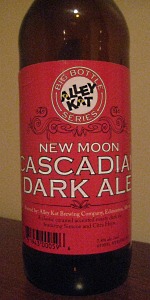 BEER INFO
Brewed by:
Alley Kat Brewing Company
Alberta
,
Canada
alleykatbeer.com
Style:
American Black Ale
Alcohol by volume (ABV):
7.80%
Availability:
Limited (brewed once)
Notes / Commercial Description:
No notes at this time.
Added by wordemupg on 01-04-2014
This beer is retired; no longer brewed.
Ratings: 9 | Reviews: 4
Reviews by wordemupg:

4.04
/5
rDev
-0.7%
look: 3.5 | smell: 4.5 | taste: 4 | feel: 3.5 | overall: 4
650ml bomber poured into tulip 3/1/14
A dark cola with thumbs width of mocha foam, decent retention but it only leaves a couple patches of lace, after the foam falls a quick swirl pops up a pinky finger of head, I'm guessing shes full of bubbles
S hard to believe this ones so dark with all the passion-fruit, mango, melon, and guava shinning through, very tropical with some catty citra notes, a hint of spruce and a little coco and caramel but the dark malt just doesn't stand up to the hops and that works with me, smells awesome
T a little more dark stuff but not by much, a little woody but not charred to bad, the tropical hops are toned down compared to the nose, no booze says something, tastes great but it couldn't quite follow the nose
M medium bodied and as I expected after some head popping up after a quick swirl shes a little foamy, perhaps more darkness on the finish then anywhere else
O smells amazing and tastes solid but the little things hold it back from true greatness, went down like a sinking ship and considering it's clocking in at nearly 8% I'm glad I only have one bottle or my night could get sloppy
I thought this was a remake of the 15th anniversary CDA but completely different hops and alc% so I'm entering it as a new beer and its well worth a try
1,294 characters
More User Reviews:

4.11
/5
rDev
+1%
look: 4 | smell: 4.25 | taste: 4 | feel: 4 | overall: 4.25
650ml bottle. Alley Kat must have done well enough with their 15th anniversary CDA to warrant this new Big Bottle Series version. Made with Simcoe and Citra hops.
This beer pours a clear, very dark reddish cola hue, with a handful of puffy, almost fizzy, and certainly foamy rising ecru head, which leaves some patchy dried soap scum lace around the glass as things slowly sink away.
It smells of somewhat clammy tropical fruit - kiwi and passionfruit, mainly - with a particular uric acid acridity, lightly roasted bready caramel malt, faint dry chocolate, wet fir needles, and further earthy, overripe melon hop notes. The taste is more south seas tropical fruit hoppiness up front - breadfruit, mango, and a well-toned down cat piss essence - a nicely toasted and rounded caramel malt, ethereal cocoa powder, and some forest floor greenery hops. No sign at all of the near eight points of alcohol.
The carbonation is quite lively, as noted right out of the gate, but it quickly settles to a keen frothiness, the body a decently innocuous medium weight, and actually fairly smooth, just a wee hard water flintiness mucking about. It finishes off-dry, the underlying sweetness of the malt not ready to fully let go, and the fruitiness of the hops still rather evident.
Once again, my biases towards a given style are duly curb-stomped. Alley Kat's latest CDA is full of sturdy dark malt and tantalizing worldly hops, sure, but we all knew that going in. The big deal here for me is the lack of char, the dearth of blackened acerbity, which leaves this as one easy-drinking example of a style that I can now envision anew. They've been a bit quiet about New Moon, so I would suggest you best seek it out.
1,708 characters

4
/5
rDev
-1.7%
Enjoyed during the SuperBowl in 2014. Great beer. I love the mix of hops and malts.
83 characters
3.89
/5
rDev
-4.4%
look: 4 | smell: 4.25 | taste: 3.75 | feel: 3.75 | overall: 3.75
Appearance - Pours a dark brown/black with two fingers of creamy beige head.
Smell - Cocoa, citrus hops, tropical fruit, roasted malts.
Taste - Roasted malts and cocoa stand out strongest. The citrus hops are present, but not as much in the foreground as the aroma suggests.
Mouthfeel - Medium bodied with moderate carbonation.
Overall - A Cascadian dark ale that leans towards the malts as opposed to the hop front. This brew has the elements of the style, but I think there needs to be more addition of hops to make this stand out with the best of the best in this style.
577 characters

4
/5
rDev
-1.7%
look: 3.75 | smell: 3.75 | taste: 4.25 | feel: 3.75 | overall: 4
I am admittedly pretty intrigued by this "black IPA/Cascadian dark ale" family of styles, wondering whether a given exemplar will lean towards the roasted malts or the robust American hops and how the whole balance between the two will ultimately play out on the palate. In this case there's a clear cut answer, at least for me. Poured from the bottle into an American pint glass, this "Big Bottle Series" offering is a dark blackish brown with some reddish-orange tint. The copious light tan head retains its form rather well. Certainly smells hop forward, grapefruit and orange citrus along with some tropical guava and kiwi notes coupled with faint mentholated cough syrup or cat pee. The malts are less pronounced on the nose although there is a sweet toffee vibe apparent. The palate shows a clear evolution from fruity to piney. Initially I get a whole citrus fruit bowl, with grapefruit, lemon, lime, and tangerine tickling the tongue. There is not as much tropical character as on the nose. Just as I am thinking about an idyllic citrus grove somewhere much warmer than here, I get shanked with a pine bough (and I mean that in a good way). The hopping suddenly gets very aggressive, with considerable pine resin/cat piss, peppery spice, and some green onion rocking the taste buds. There's a whole vortex of black pepper that builds and builds. I enjoy this sort of thing but admittedly was not expecting this type of pitchy onslaught in a dark ale. The malts are of course present and accounted for, lending toffee, raisin, and light roast coffee character to reign in what would otherwise be a pretty pungent and purely resinous experience. Quite fizzy to boot, with a semi-chewy body much like a porter and a fairly smooth mouthfeel in spite of the prickly hops. Could be one of the hoppier "Cascadian dark ales" I've sampled and yet the clash with the dark malts is not unpleasant. Somehow they made this combination work. Sure, I'll have another.
1,960 characters

New Moon Cascadian Dark Ale from Alley Kat Brewing Company
4.07
out of
5
based on
9
ratings.