Bearded Dragon Imperial Red IPA
| Alley Kat Brewing Company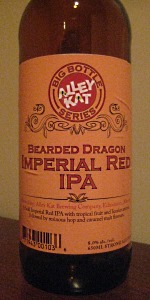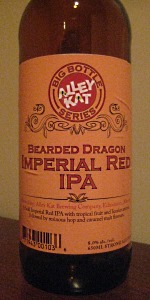 BEER INFO
Brewed by:
Alley Kat Brewing Company
Alberta
,
Canada
alleykatbeer.com
Style:
American Amber / Red Ale
Alcohol by volume (ABV):
8.00%
Availability:
Limited (brewed once)
Notes / Commercial Description:
No notes at this time.
Added by biboergosum on 04-04-2014
This beer is retired; no longer brewed.
HISTOGRAM
Ratings: 13 | Reviews: 5
Reviews by goalie35:

More User Reviews:

4.18
/5
rDev
+2.2%
look: 4.5 | smell: 4 | taste: 4.25 | feel: 4 | overall: 4.25
650ml bottle. This one is part of the Big Bottle Series, and not the Dragon Series, as one might expect, given the name - I guess the Kats wanted to keep tapping into the good will thus far generated by the latter line's single-hop DIPA goodness.
This beer pours a crystal clear, dark, yet still glistening red-brick amber hue, with three fingers of cushioned, and tightly foamy ecru head, which leaves a few instances of broad archipelago lace around the glass as it evenly recedes. Pretty purdy, if ya ask this guy.
It smells of bready, crackery, and well caramelized malt, dry hay, earthy spice, pine needles, wet spruce tips, overripe orange and grapefruit flesh, and just because of the suggestive power of the label - licorice, but more that salty Nordic kind than yer average Twizzler. The taste is more balanced overall - zesty orange, grapefruit, and lemon citrus rind, dewy pine forest floor, soggy crackers and biscuity salted caramel, ethereal spice, musty honey, and further floral, weedy hops.
The carbonation is average, and quite proficient at it, manifesting in a solid frothiness, the body a hefty medium weight, and actually engaging in its smoothness, a slight airy creaminess tacked on for fun. It finishes on the sweet side, but just, as the heady hops, spice, and heretofore unacknowledged, and still ghostly booze warming all doing a bang-up job of providing context and countermeasure.
A genuinely well-made, tasty, and - uber alles - enjoyable jacked-up American amber ale slash Imperial IPA. Everything seems big, and brash, yet nothing particularly stands out, the sign of a level-headed (even if I won't be soon), even and balanced brew. Oh - and, no guarantees, but I'll update this later, should I suddenly start having visions of the titular Aussie lizard.
1,792 characters
4.35
/5
rDev
+6.4%
look: 4 | smell: 4 | taste: 4.5 | feel: 4.5 | overall: 4.5
Props to joemcgrath27 for including this on our latest cross-Canada trade...
A - Pours a nice ruby colour, finger of head with decent retention and some nice sheeting lacing.
S - Mild on the nose, but citrus hop notes, burnt caramel, candied sugar, with hints of toasted malts and burnt bread.
T - Solid hop profile with citrus and resin notes, loads of bready malts linger alongside a solid dose of caramel and a lingering sour citrus rind bitterness.
M - Medium bodied, smooth and a touch of dryness on the finish.
O - Another gem in the Big Bottle series and an absolute pleasure to try. Loads of flavour, an amped up ABV that is well concealed and an overall brew that is insanely sessionable. To have access to this on the shelf on the regular would be dangerous indeed.
780 characters

3.54
/5
rDev
-13.4%
look: 3.75 | smell: 3.5 | taste: 3.5 | feel: 3.75 | overall: 3.5
Appearance - Pours a deep copper brown with a finger width of foamy beige head.
Smell - Citrus hops, tropical fruits, passion fruit, caramel malt sweetness, brown sugar.
Taste - Bready caramel malts followed up by light-to-moderate citrus hop bitterness. Hint of tropical fruits and brown sugar sweetness throughout.
Mouthfeel - Medium bodied with moderate carbonation.
Overall - An imperial red IPA with an excellent malt base, however it could use a little more power from the hops (it is balanced but it is heavily favoured toward the malt flavours than the hops).
572 characters

3.73
/5
rDev
-8.8%
look: 3.75 | smell: 3.75 | taste: 3.75 | feel: 3.5 | overall: 3.75
650ml bomber poured into tulip 11/4/12
A brownish maroon when held to the light with only a couple slow bubbles but two fingers of tan foam has decent retention leaving some random patches on the way down
S brown sugar and caramel, faintly nutty, some pine, guava and grapefruit with a hint of booze, no licorice like I see on the label, well not black licorice anyways
T more pine, more brown sugar, less fruit, about the same amount of booze, malty compared to the nose, one sips malt the next sips hops, this one can't seem to make up its mind
M heavy side of medium, almost creamy, sticky on the lips, some heat here and there, pine and caramel on the finish
O good but not great, booze pops up here and there and needs one or the other, more hops or more malt
not my favorite dragon but worth a try, not sure if this is single hop or not, perhaps I should do a little research
887 characters
3.81
/5
rDev
-6.8%
look: 3.75 | smell: 4 | taste: 3.75 | feel: 3.75 | overall: 3.75
Bomber poured into a tulip glass, one of several Alley Kat "Big Bottle" brews in the cellar that I should work my way through (an OK problem to have). A dark ruddy brown color with a few inches of beige head on a good pour, and an aroma that registers as bready and sugary malts and citrus/tropical/pine hops in equal measure, maybe the malts are just ever so slightly triumphant. I do get a little of the licorice as promised on the label but this comes off more as red licorice soaked in booze than anything black or herbal in nature. Taste is rich brown sugar, burnt toffee, even a little cafe mocha and Ovatine propping up grapefruit, orange, ripe nectarine, tropical blossom, and even a hint of something minty. Medium bodied, not crazy thick or anything, and on the low end of the fizz scale. Does get resinous in the finish, huge shift from bready, sweet, and malt-forward to piney and spicy. I enjoy this contrast although it still feels as if some of the complexity on the nose fails to properly transfer to the palate. Still, little to complain about here.
1,066 characters

Bearded Dragon Imperial Red IPA from Alley Kat Brewing Company
Beer rating:
4.09
out of
5
with
13
ratings