Dismiss Notice
Extreme Beer Fest:Los Angeles
Join us December 9th in Los Angeles for the ultimate throwdown of craft beer creativity!
Learn more...
Kiltlifter Scotch Ale
| Alley Kat Brewing Company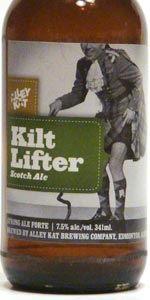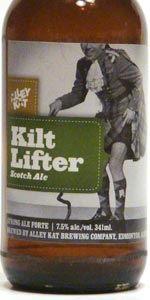 BEER INFO
Brewed by:
Alley Kat Brewing Company
Alberta
,
Canada
alleykatbeer.com
Style:
Scotch Ale / Wee Heavy
Alcohol by volume (ABV):
7.50%
Availability:
Rotating
Notes / Commercial Description:
No notes at this time.
Added by BeerAdvocate on 01-20-2006
This beer is retired; no longer brewed.
HISTOGRAM
Ratings: 13 | Reviews: 13
Reviews by wordemupg:

3.65
/5
rDev
-1.1%
look: 3.5 | smell: 3.5 | taste: 3.5 | feel: 4 | overall: 4
341ml bottle poured into 400ml DAB glass nov12 2009
A deep brownish ruby red with a very fast falling finger of head that left no lace. the color of this beer is very nice, I was also surprised that I could read these words clearly through the glass
S I smell cherries and molasses mostly with some faint booze
T as it smell but even sweeter and the booze it well concealed
M smooth and creamy not too bad at all
D pretty good for the 7.5% I will drink it again If the price is right
Thank you Anita (I think) for leaving this on for me at work, worth trying if the price is right
588 characters
More User Reviews:
4
/5
rDev
+8.4%
look: 4 | smell: 4 | taste: 4 | feel: 4 | overall: 4
After a night of filling the opponents' net full of synthetic leather with my Scottish teammates, this latest offering of Alley Kat's seasonal Scotch Ale seems more than appropriate.
A new label this time around, with a depiction of a real-to-life kitted-up Scotsman; unfortunately displaying tartan boxers defeats the whole point - we all know about a true Scotsman's underpants predilection...
This beer pours a crystal clear dark reddish amber hue, with a single finger of quick-disappearing thin soapy beige head. There is no noticeable lace left in its 'wake'. It smells of caramel malt, and some light holiday spices - cinnamon, ginger, and allspice. The taste is bready, caramel malt, with some candy sugar sweetness, and mildly floral hops. This is all about the Malt, and the decently elevated ABV, which is quite seamlessly integrated, as to be virtually unnoticeable. The carbonation is on the light side, the body a solidly medium weight, and smooth, not quite as silk, more like the fine heavy wool of a kilt. The finish, while sweet, is offset enough by the drying effect of the hops to nicely avoid any potential cloying factor.
A splendidly flavourful, malt-forward, warming ale, for all your St. Andrews Day, Burns' Night, First Footing, or other winter stramash requirements.
1,296 characters
3.65
/5
rDev
-1.1%
look: 3.5 | smell: 3.5 | taste: 3.5 | feel: 4 | overall: 4
At Hop In Brew, a quaffable scotch. Dark colour, bit of lace. Coca-cola and peat aroma. Some brown sugar and on the sweet side, not cloying. The owner objected to the (common) title and called in Braveheart. Alcohol is hidden. Understated even soft carbonation worked.
268 characters

3.78
/5
rDev
+2.4%
look: 4 | smell: 3.5 | taste: 4 | feel: 3 | overall: 4
Appearance – Pours a redish brown reminding me of coke. Lack of head takes away from this beers appearance but it still looks quite tasty.
Smell – I honestly don't detect a large aroma from this beer. Toffee smells arise with a hint of what seems to be cherry. Smells quite sweet.
Taste – Tastes very sweet. Toffee and caramel malts are what dominate this one. I detect cherries, more so than when I smelled the beer. I am reminded of pancake syrup somewhat as well. There is a hint of scotch flavor but it does not stick out much.
Mouthfeel – Not very carbonated. Very smooth but a little thin for my liking. This beer could use more body.
Drinkability – Quite good. The beer is very easy to take in and this one went down fast. Another nice product from Alley Kat.
786 characters
4
/5
rDev
+8.4%
look: 4 | smell: 4 | taste: 4 | feel: 4 | overall: 4
Pours a deep ruby red which practically sparkles when held up to the light and forms a rather small medium tan head which doesn't last all that well, fading back to a ring around the glass and some nice surfacing bubbles. Some lacing, but not much and it doesn't really stick that well. Smell is quite sweet, caramel and molasses. Some chocolate and dark fruits as well, and a bit of oak in the mix too. Taste is quite robust, with brandy and a hint of nuts accompanying the sticky molasses and raisins. Big cherry notes in here as well, fading to a peaty note in the protracted finish. Mouthfeel is thick and clinging, nicely warming and with noticeable carbonation, and drinkability is quite good. This is a very nice wee heavy, one of the better ones I've tried. Certainly one I'd be having often over the course of the winter if it was sold around here. Thanks to CBA for the trade.
886 characters
3.75
/5
rDev
+1.6%
look: 3.5 | smell: 3.5 | taste: 4 | feel: 4 | overall: 3.5
Despite a hard pour, the small, bubbly tan head on this beer reduced to a slender, soapy ring almost immediately. The smell was subtle, mainly brown sugar mixed with rum.
Happily, the flavour offered a little more for the senses. Roasted (but not to the point of bitterness) malts, raisins and carmelized sugar all made for a nice, smooth taste experience. I also it had a slight vinous edge that made it seem a bit — just a bit — like a doppelbock.
Good carbonation complemented a medium-bodied feel and it finished clean without too much of a dry or roasty film on the palate.
586 characters
3.8
/5
rDev
+3%
look: 3.5 | smell: 3.5 | taste: 4 | feel: 3.5 | overall: 4
Bottle of the 2007 version, just want to see if it is any different from last years.
Looks dark brown and somewhat reddish, cola coloured really. A thin tan head formed, but faded to a ring rather quickly.
Smells fairly malty, has a bit of a sugary syrup smell to it. Peat and toffee.
Quite sweet up front, candy bar like caramel flavour is the first to hit the tongue. Peat smoke and a somewhat woody taste fill out the back half of the tongue. Finish almost seems nutty to me, but it may be the remainder of the wood and smoke flavour. Alcohol masked better than last years version. Quite tasty.
This one has some body, and the carbonation feels light. Still could reach for just a touch more weight to the body.
The less prevelant alcohol allows this beer to go down that much smoother than the last version. A good seasonal for Alley Kat that I hope they keep bringing back.
894 characters
2.92
/5
rDev
-20.9%
look: 2.5 | smell: 3 | taste: 3 | feel: 2.5 | overall: 3
Bottle courtesy of CBA: Poured a medium amber color ale with a small foamy head that quickly disappeared. Aroma of malt is weaker then expected and no peat malt could be detected which is what I usually look for into scotch ale. Taste is also weaker then expected with some malt with some very subtle dry fruits characteristics but not as much as I would have expected. Definitely weaker then I would have expected and not something I would go looking for again.
462 characters

3.8
/5
rDev
+3%
look: 4 | smell: 4 | taste: 3.5 | feel: 4 | overall: 4
From a special edition 6 pack I managed to nab while up in Edmonton, my regular locals here in Cowtown have been slow on the draw pulling this stuff in. New style label on the bottle, with a tartan design in the street sign area where the name of the beer is placed, very fitting. Pours out a deep clear mahogany, cherry oak highlights when held to the light. No real head on the pour, but forms a thin beige cap when agitated, and this lasts almost the whole time. Sweet molasses, rum-soaked raisins and dates, dark chocolate, some wood smoke, and a sour cherry tartness to be found on the nose. The flavour, while not complex, is solid throughout, thick toffee malt mixed with molasses and sour cherries, with a dark chocolate wafer finish, while the predominant flavours continue and eventually fade out throughout a long-lingering aftertaste. The mouthfeel is a bit sticky for the most part, but does possess a wafer crispness in the end as the stickiness begins to fade. A nice touch. Sticky, but not too sticky, and full enough texture while remaining deceptively smooth. This is some mighty fine stuff, I'm very impressed, and the alcohol is hidden behind a refined mildness to the flavour, and doesn't really become apparent after 2 or 3 enjoyable glasses of this stuff. In fact refined is the perfect term for this Scotch Ale, it is not cloyingly sweet, nor too boozy for its britches, simply well executed. The flavour, while a bit subdued for this style, is still enjoyable.
1,485 characters
3.6
/5
rDev
-2.4%
look: 3.5 | smell: 3.5 | taste: 3.5 | feel: 3.5 | overall: 4
A- Pours a dark brownish red. An aggressive pour only manages a very slight head that vanishes rather quickly.
S- Smells sweet, brown sugar & caramel.
T- Roasted malts, sugars, and I think I get a little nuttiness & chocolate in the finish.
M- Light carbonation, medium-full body.
D- I was hoping that this would of been a little more robust, but it was enjoyable and I'd have again.
387 characters

3.8
/5
rDev
+3%
look: 4 | smell: 4 | taste: 3.5 | feel: 4 | overall: 4
Finally my trusted local liquor store brought this in. Kiltlifter comes in the same "Special Edition" box as their mix-six-pack that has been available for a while now. They simply put a small "Kiltlifter Scotch Ale" sticker over the box's old label. The label on the bottle is quite simple, featuring the new Alley Kat logo, a tartan in the background, and the name of the beer. As I have said, I love the almost homebrewing-style labelling of Alley Kat for their seasonals--keeping to their roots as a small craft brewer, and not being able to afford all the fancy new labelling and boxes for every new beer. And heck, keep the seasonals coming Chuck Kat! The Kiltlifter is a lovely cherry wood, ruby colour. Deep reddish mollasses brown. The head is a coffee brown. Superfine bubbles and a good consistency, leaving thick islands of lacing. A great Scotch Ale look. The aroma first struck me as raspberry candy. True to the style, Alley Kat conjures some wonderfully sweet malty aromas here, full of bubblegum and maple syrup, and, quite promimently: cherries. The aroma almost reminds me of Wild Rose's Cherry Porter. In fact, the aroma is, I find, more porter-like than Scotch Ale in style. There is a lot of dusty bitter chocolate here, and plenty of roasty malting. The malts give black licorice, butter, maple syrup, some black tea, faint soy sauce, and some very phenolic chemical aromas. At times I get some very roasted Irish-red ale smells. Nutty smells too, similar to their Smoked Porter, but with the addition of some dark fruits. The taste is quite sweet at first, like dried plums or raisins. In the middle is some lactose, and the finish leaves a strong chocolate maltiness. Indeed, the taste reminds me a lot of their Smoked Porter too. This is definitely sweeter though. Red licorice and sweet perfume. Strawberry sorbet. Yes, a lot of strawberry wafer taste here. The taste is good, just not exactly as thick or as full as I should like. There is something about the malting, maybe its similarity to their smoked porter that just falls short of the mark, barely. The body is medium-full, medium carbonation and very easy to put down the gullet. There is absolutely no hint of the 7.5% alcohol here, making this deceptively drinkable. Paired nice with brie double-creme and aged cheddar. Another good seasonal from the Kat.
2,343 characters

3.92
/5
rDev
+6.2%
look: 3.5 | smell: 4 | taste: 4 | feel: 4.5 | overall: 3.5
nice dark reddish brown, clear although that's an educated guess given the darkness. Nice tan head given it's out of the fridge.
Toffee, molassess, hint o' cherry...quite nice!
Quite sweet @ first...nice touch of burnt toffee, mollasses sugar, and even a hint of cherry whiskey. Alcohol masked nicely.
Nice, smooth, full mouthfeel...
Very nice Wee
351 characters

3.24
/5
rDev
-12.2%
look: 2 | smell: 3 | taste: 4 | feel: 2 | overall: 3
Pours a deep russet brown topped by a tawny, creamy head that gives up quickly. It doesn't take much more than a minute before the head goes awol. There's not a speck of lacing to be found.
There's slight roasty malt in the nose and sweet caramel with mild fresh, fruity esters.
The taste has a nice chocolate to it at first that eventually goes away. It shrouds the tastebuds in comforting malty sweetness, with just the right amount of light hop bittering to keep this from being even remotely cloying or sickly. There's a nice roastiness about it too as well as a suggestion of plums and raisins.
There's a decided lack of carbonation, which is too bad, because I always find that helps with my enjoyment of sweet/malty beer as it lifts the sugars off the palate and, at the same time, it's light bodied and could use some beefing up. The alcohol is present but not distracting.
Drinkability...yeah. Overall it's not bad but it visually disappointing and lacks enough body to really stand out.
1,000 characters
Kiltlifter Scotch Ale from Alley Kat Brewing Company
Beer rating:
3.69
out of
5
with
13
ratings