Summer Ale
| Alley Kat Brewing Company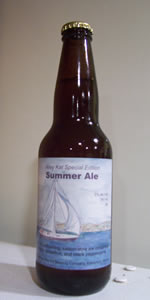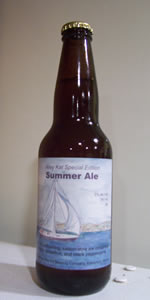 BEER INFO
Brewed by:
Alley Kat Brewing Company
Alberta
,
Canada
alleykatbeer.com
Style:
Saison / Farmhouse Ale
Alcohol by volume (ABV):
5.00%
Availability:
Summer
Notes / Commercial Description:
No notes at this time.
Added by elricorico on 05-25-2006
This beer is retired; no longer brewed.
HISTOGRAM
Ratings: 11 | Reviews: 11
Reviews by Cwrw:

3.35
/5
rDev
-5.6%
look: 3 | smell: 3 | taste: 3.5 | feel: 3.5 | overall: 3.5
Introduced at the Calgary International Beerfest this year, and now available in the Alley Kat "Special Edition" six-pack. Cheers to Alley Kat for bringing us a plethora of seasonals this past year and a half, consistently. The bottle has a small and simple blue and white label showing a sailboat. It lists oranges, grapefruit and black peppercorns as some of the ingredient. I'm interested.
A dark honey coloured beer with hints of amber and faint orange. The head needs a little coaxing, and remained a tad spotty. Bright white with average lacing. The aroma is very subtle, almost hard to detect at all. No big smells come through at all, save a distant light fruitiness and some faint candy malt. Some vanilla, a little creaminess, but this aroma is almost subdued to the point of non-existence. Where are all the spices?? If you sniff really hard, you might be able to persuade yourself you can sense a little black pepper, even orange, but the aroma is very disappointing. Next to no complexity. Thankfully the taste is better, with some hints of black-pepper, a subtle citrus flavour, and a little tartness from front to back. Moderate bitterness and some late biscuity hopping. The aftertaste reveals the orange and grapefruit nicely, and yes, a little pepper. None of the tastes are prominent in this beer--it needs a standout, because it all just comes across as quite bland. The malts are tasty, the hopping is adequate, and the finish is really quite savoury. Again, very little complexity; just not much to describe at all. Creamy mouthfeel and low carbonation, as I've come to expect from most all of the Alley Kat beers. Quaffable for a summer ale, but it would not be my first choice this summer. Disappointing, with the tag "Saison-style" I was expecting something more eye-opening.
1,804 characters
More User Reviews:
3.65
/5
rDev
+2.8%
look: 4 | smell: 4 | taste: 3.5 | feel: 3.5 | overall: 3.5
I loved this stuff when Alley Kat introduced it back in 2006. In fact, the combo then of a case of it and a case of Tree's Hophead turned me onto the fact that beer can have grapefruit characteristics and be freaking awesome, but, I digress...
This beer pours a clear golden amber hue, with a few fingers of thick, puffy white head. It smells of bready malt, very mild citrus, and a fine pepper essence. The taste is lightly peppery, with some noble hops, and a hefty malt backbone. I'm not getting much in the orange/grapefruit citrus department, though, compared to the last batch of this in 2006, which had a significant citrus profile. The carbonation in this year's version is quite moderate, the body quite solid, and it finishes clean, dry, and a little peppery.
Maybe my perception has changed in the interim (especially given my exposure to Amber's Mountain Pepper Berry and its huge pepper essence), but this is a much tamer version than the last one. Still very drinkable, and enjoyable, but the constituent flavouring agents seem very subdued this time around. I'm not sure of its resemblance to a Saison, as it's more of a good malty session ale, with a mild spice edge.
1,185 characters
3.51
/5
rDev
-1.1%
look: 4 | smell: 3 | taste: 3.5 | feel: 3.5 | overall: 4
Pours a beautiful translucent amber, small head but with plenty of sticky lacing. Not much to smell. Taste is very very mild, though reasonably complex and subtle. If the volume on all the flavours present - a little tart, a little bready, a little sweet, a little bitter, but only a very little of anything - were turned up considerably, this would be a stunning little beer. But you have to strain pretty hard to catch the faint notes that waft by. Not too carbonated, medium-thin mouthfeel, very very drinkable ... and the more you have, the more drinkable it gets. A nice, pleasant, but innocuous summer ale that won't offend - or excite - anyone; I wonder if they might consider a version of this for autumn where everything is ramped up a few notches. That I'd seek out. This, well, I wouldn't refuse it if I was offered one.
831 characters

3.6
/5
rDev
+1.4%
look: 3.5 | smell: 3.5 | taste: 3.5 | feel: 3.5 | overall: 4
Appearance – This beer is a deep orange and slightly hazy. The head is about one centimeter and white. Bits of lacing are left on my glass afterwards.
Smell – Right off the bat you can tell that this beer is fairly dominated by citrus. Oranges are present more than anything else. There is a slight amount of pepper and just a touch of hop towards the end. Not bad.
Taste – The taste is about what you would expect from the smell. There is citrus up front but with a light sourness to follow. I can pick out oranges again and this gives the beer a little sweetness. The pepper is more present than in the smell which I like. Towards the end a slight hop flavor as well as a tart feeling left in the mouth.
Mouthfeel – The mouthfeel is very light…but has a slight creaminess to it. A dry feeling is left on the mouth after sipped. Carbonation is subtle.
Drinkability – Pretty good. I can down this not problem at all.
I am aware that this beer was filtered a few times. It shows when drinking it as it seems to lack in areas. I look forward to trying more beers of this style.
1,099 characters
3.72
/5
rDev
+4.8%
look: 3 | smell: 3.5 | taste: 4 | feel: 3 | overall: 4
This beer is very orange, like an orange jelly candy. Not quite clear, but not really hazy. Little head formed, but what was there was very white.
The bottle says that it contains "oranges, grapefruit, and black peppercorns." The smell is loaded with citrus flavours, especially the orange and grapefruit. I would say that pepper is there as well, but I'm not sure if it would have been enough for me to pick out if it wasn't mentioned on the bottle. The smell doesn't seem to give away much of a hop presence.
First taste from this beer is very much like a fruit juice. Orange sweetness and grapefruit tartness are both notable, and there is a dry, almost wheat beer like finish. Lingering aftertaste gives you a subtle peppery flavour that seems to flow through the mouth from back to front. Overall, the beer is full of light flavours, nothing powerful but plenty that is interesting.
The beer is a bit thin in the mouth, almost watery. Enough carbonation is present to make it interesting though. For a summer beer it isn't bad.
Goes down easy, and I'm sure that is what the brewer was aiming for. No great risk taken by Alley Kat here, just an easy drinking seasonal for the summertime patio.
1,209 characters
2.7
/5
rDev
-23.9%
look: 2.5 | smell: 2.5 | taste: 3 | feel: 2.5 | overall: 2.5
Bottle: Poured a golden yellow color ale with a small bubbly white head with average retention. Aroma of sweet malt is pretty subdued with some subtle spices also being noticeable. Taste is a mix between some light pepper note and weak sweet malt. Body is definitely too thin and carbonation is not strong enough. Not bad overall but lacking a malt presence and probably more yeast character would have help this one.
417 characters
3.03
/5
rDev
-14.6%
look: 3 | smell: 2.5 | taste: 3 | feel: 2.5 | overall: 4
Thank you IronDjinn for this sample from CanBIF 2006!
Saison? Well its a very broad style. Serve in belgian style "don de dieu" glass a 16c.
Pours medium straw color, nice head, dissipates to a light quilt. Lacing is good. Smells like english ale, caramel notes, little hop aroma. Taste, more english malts, slight astringent bitterness, not repulsive, neither mind-boggling. Slight sour notes as well, quite nice. I like this ale, but I feel saisons required a spicy nose resulting of yeast being abused at insane temperatures. Cabonisation is way low compared to most commercial belgian saisons.
Call it a funky mild and it shines, not quite a saison.
662 characters

3.85
/5
rDev
+8.5%
look: 3.5 | smell: 3.5 | taste: 4 | feel: 4 | overall: 4
Got to sample this on tap at the 2006 Calgary Beerfest, was the first thing I sampled when I was able to escape from the fork-tongued booth vendor for that Turkish poison Efes right by the front door. And I must say that I enjoy this bottled version better...
Following hot on the heels of Alley Kats last three great seasonals of Ein Prosit, Kiltlifter and their fantastic smoked porter, this Summer Ale saison has a pretty high bar set before it.
The label was a simple blue-toned watercolour, a wide step aside from their regular motifs of street signs, and the former cats. Pours out a clear, vibrant apricot hue, just slightly chill hazed, but not much head or retention to speak of--the latter could be due to the type of glass I used, the rim didn't leave room for much else. Mild fruity aroma on the nose, easy to pick up the orange and grapefruit, along with the twinge of black pepper to cut through the sweetness. Very light malt presence.
The flavour starts off sweet, an almost generic fruity sweetness, but the peppercorns sure kick in around the mid and round off the finish. Wow. They're not obnoxious either, it's a bit of a surprise at first, but it really ties in with the rest of the ale, quite the contrast. As the glass warms a bit everything starts to gel a bit more with each other, not so much of a stark contrast, it blends. In the end it comes down to a grapefruit rind start, and the peppercorn finish, with a bit of malt in the middle.
A medium textured fullness to the mouthfeel while a bit watery around the edges. Gives it a backbone while allowing it to be easily quaffable. Great stuff, unique from what I'm used to on a regular basis, and I look forward to sitting out on the balcony with some more while I barbecue this summer. Hope to find some on tap around Calgary as well.
1,822 characters
4.14
/5
rDev
+16.6%
look: 3 | smell: 4 | taste: 4.5 | feel: 4 | overall: 4
Thanks Orrshow! Acquired in BIF Canada 2006.
Pours a clear golden, small white head forms, good retention and spots of lace on the glass. Smell is neat, really crisp, wheat, citrus, lots of funk. Taste is wheat, cereal, funky malts in the middle, caramel, citrus, really bready, some spice as well. Mouthfeel is light to medium bodied with low to medium carbonation. Although not totally to style, I thought it tasted great.
427 characters
4.06
/5
rDev
+14.4%
look: 4 | smell: 3 | taste: 4.5 | feel: 4 | overall: 4.5
I'm not much of a saison guy, but I like this. Though, if I had to guess, I would not have picked this out to be a saison. Reminds me of an IPA, actually. Smells of bready malts, with some 'sharp' somewhat earthy notes, - hard to describe. Not much in the way of yeasty esters or phenols that I can detect (or discern from the other flavours happening here.)
Tastes much the same, a toasty bready malt accented with an unusual fruity twang. I don't taste the peppercorns they mention. Finishes with just malt. I't's relatively light bodied, though not as much as I'd expected. Carbonation is moderately light, and finishes dry, but not as much as I'd expect from a saison.
Overall, I really, really like it. But I'm not sure it exemplifies what a 'saison' should be.
768 characters

3.45
/5
rDev
-2.8%
look: 3.5 | smell: 3.5 | taste: 3.5 | feel: 3 | overall: 3.5
Bottle:
A sharp pour puts a hazy gold-amber ale in the thistle, with a decent 2 finger sticky white cap that lasts and laces.
Aroma : bready malts, clover honey, succulent fruits, spice and some wet hay mustiness.
Moderate malting, light bodied, peppery dry mouth feel, light fruity-spicy character,
The front side has a dose of malts with a dollop of honey then the spicy hop and medicinal pungent spice take over providing good balance, mid palate the succulent fruits appear to this layering then a dry finish where spices give way to a light bittering.
A good summer ale, light, refreshing, quenching and flavorful. Full points for this seasonal, thanks Mike.
681 characters
Summer Ale from Alley Kat Brewing Company
Beer rating:
3.55
out of
5
with
11
ratings