Radiator Doppelbock
| Alley Kat Brewing Company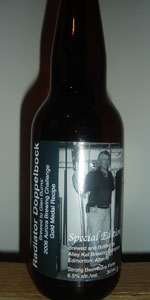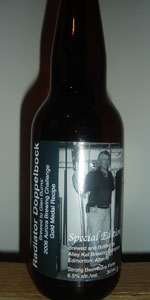 BEER INFO
Brewed by:
Alley Kat Brewing Company
Alberta
,
Canada
alleykatbeer.com
Style:
Doppelbock
Alcohol by volume (ABV):
6.50%
Availability:
Limited (brewed once)
Notes / Commercial Description:
No notes at this time.
Added by Orrshow on 10-04-2006
This beer is retired; no longer brewed.
HISTOGRAM
Ratings: 8 | Reviews: 8
Reviews by pootz:

4.2
/5
rDev
+12.3%
look: 4 | smell: 4 | taste: 4.5 | feel: 4 | overall: 4
Bottle:
rough pour puts a brilliant clear cola-red lager with a massive rocky tan cap into the bock glass. Great lacing on the glass ( lotsa protiens)
Marvelous aroma: bready , herbal, musty with dried fruit and some cocoa...pungent layered and balanced.
Good solid malt spine, silky mouthfeel, medium-full body, drinkable malty character.
Up front a good chew on spiced raisin bread, mid-palate the hop mixture creates some more layered flavors; herbs, nuts spice, cocoa...then the finish is excellent...this chewy malt monster dries out in a light herbal bittering and a warmth generated by the alcohol...light cocoa-bready aftertastes...like unsweetened chocolate.
Overall impression: Not as rich or full bodied as some doppels but a very drinkable flavorful doppelbock...very satisfying and warming, mellow but layered, malty but easy to have more than a couple...one of the best I've tasted from North American brewers.
Thanks Mike I'll savor the few of these over a Xmas fireplace.
1,006 characters
More User Reviews:

3.93
/5
rDev
+5.1%
look: 4 | smell: 3.5 | taste: 4 | feel: 3.5 | overall: 4.5
Taking my first crack at Alley Kats new fall seasonal. It says on the bottle that this is the 2006 Aurora Brewing Challenge Gold Medal Recipe made by Glen Burns.
Appearance – Pours a very nice deep brown with tons of redness to it. There is a little tan head which dissipates to a ring. Looks nice all in all.
Smell – The aroma is quite malty and sweet. Brown sugar comes to mind along with a little smoky character. I also detect something reminding me of black licorice.
Taste – It's very very sweet up front. Quite malty and fairly complex. There are roasted characteristics as well as a slight amount of dark fruit flavor. The aftertaste is almost smoky. Overall very pleasant here.
Mouthfeel – Feels nice but a touch thinner than I would expect. Carbonation is about right.
Drinkability – Great…entices you to sip again and goes down effortlessly.
877 characters
3.77
/5
rDev
+0.8%
look: 3.5 | smell: 4 | taste: 3.5 | feel: 4 | overall: 4
This beer poured amber with a fluffy head that dwindled quickly to a sticky ring. It smelled slightly vinous, but roasted malt was the most recognizable aroma. A bit smoky, too.
The smokiness carried over into the flavour, but the taste is dominated by toffee and sweet malt. A full-bodied brew with a dry finish. Nicely drinkable on a crisp autumn day. It's a subtle-tasting beer and I could see myself appreciating it more and more over time.
447 characters
4
/5
rDev
+7%
look: 3.5 | smell: 3.5 | taste: 4.5 | feel: 3.5 | overall: 4
Pours a medium to dark brown with some redness to it. Light enough that you can just barely see through it when held up. A centimetre of beige head fizzed up from an aggressive pour, but didn't last for any time at all.
Smells of caramel spread on toast, raisin and a hint of licorice. Quite sweet, as one would expect from the style. Could be fuller though.
The malt hits the palate right away. Toffee first, then a bit of dark fruity flavours. Raisin for sure. As it crosses the halfway point it turns towards a burnt caramel and licorice flavour, finishing with some spicy alcohol. Really a nice taste when it hits just the right temperature.
Mouthfeel is a touch thinner than most of the dopplebocks I've had. Carbonation is subtle. Overall it isn't bad.
A pretty nice beer. The flavours are not overdone, but there is plenty in it to enjoy.
857 characters

3.62
/5
rDev
-3.2%
look: 3.5 | smell: 4 | taste: 3.5 | feel: 3.5 | overall: 3.5
The lone bottle of this left after the few cases that I've bought of this over the holidays. Sitting there patiently, waiting to be reviewed. My god, their Kiltlifter is out already again, I'm falling behind...
Pours out with a quick fading thin splash of beige head, the body is a transparent cola hue, auburn and garnet.
Things pick up with the aroma, toasted and bready malts, some sweet milk chocolate (that fades in time to a more dry biscuity cocoa), spice and raisins, along with a touch of brown sugar.
Sweet caramel malt provides a canvas for splashes of spice, dried fruit and dry chocolate, even some sweet dry berries in their as well. All of the flavours in this profile seem condensed, but it works.
The mouthfeel hints of more in the beginning, but thins out in the end. Still works for the ale, but the back of my mind is expecting more body for such rich flavours.
A nice treat for the Fall (and already into the new year on some liquor store shelves) from Alley Kat, especially for malt heads with a sweet tooth, as this is quite rich.
1,068 characters
3.45
/5
rDev
-7.8%
look: 4 | smell: 4 | taste: 3 | feel: 3.5 | overall: 3.5
Received a bottle of this in a trade with CBA. Thanks!
Poured a deep, relatively clear brown into a pint glass (sadly, was visiting family and that's all they had). Not much head, but still looks very promising!
Aroma is excellent; lots of dark fruit (especially raisin) and cocoa, mild coffee, and a bit of alcohol tang. Some spicy citrus in there as well, interestingly enough.
Flavour is a little milder than I'd like, with more of the same flavours, although the raisin/prune/plum that is usually prominent in the style is relegated to the background here behind some sourdough bread notes. A little bit light in the mouthfeel department as well, although certainly not watery.
Overall, above average, and a great attempt for a Canadian doppelbock.
764 characters
3.15
/5
rDev
-15.8%
look: 4 | smell: 4 | taste: 2.5 | feel: 3.5 | overall: 3
Thanks to fisherman34 for his extra bottle of this stuff. My first Alley Kat beer...
Poured into a snifter to catch the aromatics. 1/4 inch head subsides quickly and leaves a very pretty lacing. Mild carbonation. The brew itself is a dark but slightly translucent ruby/copper colour. Nose is full of dark fruity esters, plum, a little bit of buttery caramel. Peppery spiciness is in evidence, and a little bit of brandy and candied cherries.
Taste is, for lack of a better term, a bit awkward off the bat. The elements of this beer almost seem to be battling each other a little bit. The caramel sweetness is much more cloying than is my personal preference, and there's a nuttiness that almost comes off as soapy. I'm tasting a lot more Alcohol than I would expect from a brew that is only 1.5% above the "norm". The fruity aspects of the beer are almost obliterated by the generic "sweet" character that I'm getting. Hops are detectable, but almost too much so, and only serve to lend the beer a generic drying and bittering flavour. This is a hard beer to enjoy just because I find that there's no particular flavours that stand out for me. Mouthfeel is very drying even though the beer itself is pretty creamy as a Doppelbock should be. Body was definitely lighter than some hefty Doppelbocks, but that increases the drinkability a little bit. There's no way this is close to the best Doppelbock I've had, but I'm really surprised, I was expecting more.
I think this beer might be a little past it's prime, it seems a bit stale although I can't confirm due to there not being a date on the bottle. If that is the case, than I will edit this review when I have a fresher bottle or have a generally better experience with it. The flavour was just really wacky.
1,772 characters
3.8
/5
rDev
+1.6%
look: 4 | smell: 4 | taste: 3.5 | feel: 4 | overall: 4
Deep copper in colour with medium carbonation. Fairly malty aroma, with secondary notes of sweedish berries, caramel, and cola. Quite bready in the mouth with a bit of black pepper and loads of smooth munich malts. Thick mouthfeel. Perhaps not as overwhelmingly boozy as doppelbocks can be, but I liked that it was a bit on the light side for the style. Good stuff indeed!
372 characters
Radiator Doppelbock from Alley Kat Brewing Company
Beer rating:
3.74
out of
5
with
8
ratings