Coffee Porter
| Alley Kat Brewing Company
BA SCORE
84
good
14
Reviews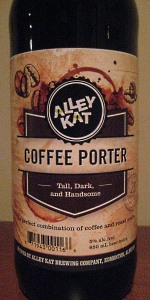 BEER INFO
Brewed by:
Alley Kat Brewing Company
Alberta
,
Canada
alleykatbeer.com
Style:
American Porter
Alcohol by volume (ABV):
5.20%
Availability:
Rotating
Notes / Commercial Description:
No notes at this time.
Added by elricorico on 09-25-2007
Reviews: 14 | Ratings: 20
3.22
/5
rDev
-13.7%
look: 3.5 | smell: 4 | taste: 3 | feel: 2.5 | overall: 3
Hitchiker from BigBrye. Fairly marginal coffee porter. The aroma was definately there, it was coffee. The carbonation was fizzy. It was brown with absolute minimal head. Thin mouthfeel, some coffee taste,a tad of chocolate flavoring, ending in sweetness. Not finishable.
270 characters
3.75
/5
rDev
+0.5%
look: 4 | smell: 4 | taste: 3.5 | feel: 3.5 | overall: 4
12oz bottle. About a month ago I proffered a six pack of this (among other choices) at my company's weekly Friday afternoon "let's stop working and start drinking" shindig. Like clockwork, the first six people grabbed the six bottles straight away. "Cool, man - coffee beer, like Buzz Beer!"
Now, I liked the Drew Carey Show as much as the next young university schmuck out there, but I never imagined their homebrew being all that good. So, I thought, swell, Alley Kat's most recent seasonal is appealing to the office drone masses. The next week, in a bout of atypical laziness, I procured the same. The result - there are still, to this day, 5 bottles in the office fridge. Hmmmm - fickleness or sub-par beer? Well, I brought one home to figure that out.
Into a proper pint glass (don't get me started on the serving vessel options at the office), this coffee porter seems akin to a dream - the vigorous yet effortless clear, dark brownish-amber pour did not overrun the sides of the glass (that's happened a lot lately), and produced an attractive two fingers of puffy, and kind of creamy tan head.
It smells, pure and simple, of Coffee Crisp chocolate bar. I should state now that I am not a coffee drinker, unlike every single person that I know. The smell of coffee in the morning makes me queasy, however, I liked the aroma of this beer, perhaps due to the fact that I inexplicably like Coffee Crisps, now and then. The taste definitely has coffee in it, but is supplemented by more bitter cocoa, sour milk, mildly meaty caramel malt, and a softly grassy and leafy noble hop counterbalance.
The carbonation is a bit more headier than I had expected, but was still very reasonable in its whirlwind frothiness, with a relatively smooth, and slightly creamy (in an aerosol sense) mouthfeel. It finishes sweet, the coffee carrying the chocolaty, milky, and fruity hangers-on.
Overall, one relatively tasty coffee-afflicted beer, with a very strong inherent flavour that would limit me to the one, but in a good way; ipso facto, there's more for guests and further wintertime imbibing alike - a quality sipper, especially if you're into this sort of thing.
2,168 characters

3.99
/5
rDev
+7%
look: 3.5 | smell: 4.5 | taste: 4 | feel: 3 | overall: 4
341ml bottle poured into pint glass nov17 2010
A dark cola with some dark reddish brown once held to the light, two finger tan head quickly falls to a 1/4in film that retains well and leaves a few specks of lace
S they got the smell of coffee bang on, almost like a cold espresso, not much else going on but what is going on I like
T a little toned down from the smell and a little sweet
M pretty thin for a porter but the bubbles fluff it up a bit
D decent beer for this chilly weather, I could drink a few of these while staring at the snow outside
this one is 5.0% not whats listed here, it's great how Alley Kat's pumping out the seasonal brews and special releases I hope they keep it up
699 characters
3.95
/5
rDev
+5.9%
look: 4 | smell: 4 | taste: 4 | feel: 3.5 | overall: 4
Cheers to joemcgrath27 for the trade.
A - Pours a deep mahogany coour with a rudy red tinge, thumb of off-white head with decent retention and some fine lacing throughout.
S - Bitter spent coffee grinds, a bit of caramel and chocolate malts with burnt sugar.
T - This one is definitely heavy on the coffee, however, the bitterness of it seems to take away from it a bit. Some nice chocolate malts linger on the finish along with some roasted almonds.
M - Nice carbonation, medium bodied ale that finishes a bit dry, but nothing I couldn't tolerate.
D - Overall a worthy offering from Alley Kat, and worth a try to any coffee porter fan. Unfortunately, I have had better coffee porters and the bitterness of this offering took away from it a bit. Easily drinkable though and you could definitely toss back a couple of these in a session.
841 characters
3.97
/5
rDev
+6.4%
look: 3.5 | smell: 4 | taste: 4 | feel: 4 | overall: 4
A - deep amber bordering on black, thumb of mocha head dissipated to random covering with a consistent lacing
S - medium roast coffee and dark chocolate, roasty and bready malt
T - coffee and cream, sweet dark chocolate, burnt nutty malt, and a light earthy hop
M - healthy carbonation kick, smooth texture finishing slightly bitter likely from hops and coffee bean
D - the coffee aspect is well feature while keeping a nice mix of heavy malt and light hops making this a very sessionable porter, well done Alley Kat
520 characters

3.62
/5
rDev
-2.9%
look: 3.5 | smell: 4 | taste: 3.5 | feel: 3.5 | overall: 3.5
The new winter seasonal from Alley Kat, brown 341 ml bottle, from a 6 pack (shared with northyorksammy and NASH).
I have really liked other coffee beers, so was excited about this one.
Black in color, with reddish highlights when held up to the light. Thin tan head quickly forms then disappears. The smell is full of coffee, but not like a fresh brewed pot. Instead it is kind of like cold coffee grounds. The taste and mouthfeel is a bit thin, not a big robust flavor like some others. The coffee is there, but not overwhelming.
Decent, but I still prefer Yukon and even Mill Street coffee beers ahead of this one, but better than their Smoke Porter from a couple years back.
678 characters

3.86
/5
rDev
+3.5%
look: 3.5 | smell: 5 | taste: 3.5 | feel: 3.5 | overall: 3.5
I always look forward to the Alley Kat seasonals, they've been improving considerably over the years. The sight of their recent coffee porter was a curious surprise, but I've snatched up a few 6's of these since. Honestly, I have to confess that I am not a coffee drinker, nor do I enjoy coffee much at all. But this stuff is the cat's ass!
Pours out a deep opaque black, yet gives up garnet/cola highlights when held up to direct light. Tan head lasts a minute but not much longer, and recedes to a thin ring.
The smell is amazing. Like I stated above, I'm not big into coffee, but even this is appealing, and impressive to pull off. This porter does nothing but give off an intense and clean cafe au lait aroma, straight to the point.
Roasted malt and equally roasted coffee grounds in the flavour. Fairly one-dimensional, but they do a good job with that singular flavour profile. The coffee is certainly present, but not too overbearing over the malt.
The mouthfeel is medium-bodied and somewhat gritty, but carries the flavour fairly well.
In the end this is an enjoyable coffee porter, and one brewed well enough that I can easily shake off my personal bias for coffee and enjoy it for what it is, as the coffee grounds do nothing but compliment the roasted malts of this style. It's greatest attribute is the aroma however, that is really phenomenal.
1,363 characters
3.96
/5
rDev
+6.2%
look: 3.75 | smell: 4 | taste: 4 | feel: 3.75 | overall: 4
I was pumped to find this seasonal in my local bottle shop, for the very fair price of $6. This beer pours dark, with a brownish head that fizzes away. The smell is what a coffee porter should be - deep, roasty and delicious. In terms of flavor, the roasted malt balances nicely with the quality coffee to make a fairly complex brew. The mouthfeel is a bit thinner than I prefer. Overall, however, this is an enjoyable offering from one of Alberta's pioneer breweries.
468 characters

3.18
/5
rDev
-14.7%
look: 4 | smell: 3.5 | taste: 3 | feel: 3 | overall: 3
Trackside in the Hat is becoming the place to get beer in this city. found this there recently.
nice aroma. def. coffee grounds, some dark chocolate,
Taste isn't up to par however. Nice coffee bitterness, with hints of dark cocoa. What i found unsettling was a strange medicinal aftertaste along with a watery middle.
Starts off creamy but decends into watery mediocrity quite quickly.
Worth a try, but there are better examples of the style readily available.
466 characters
3.94
/5
rDev
+5.6%
look: 3 | smell: 4 | taste: 4.5 | feel: 3 | overall: 3.5
Latest seasonal from Alley Kat. I was disappointed after hearing rumors of an Eisbock, it seems just about every Canadian brewer does a coffee beer. Bottle says 5% while the box says 5.2% ABV
Deep root-beer brown in colour, with a thin tan head that didn't stick around. About average looking.
Smell is a very nice balance of coffee beans and caramel. Quite sweet and roasty at the same time. Very inviting.
First impression in the mouth is the coffee. A mild roasted bean flavour. A bit of sweetness that first seems like chocolate milk and later evolves to a more rich caramel flavour as it warms. As far as coffee beers go, I'd say this has my favourite flavour.
There is a medium body to this beer, and the carbonation feels a little prickly. Smoothing out the mouthfeel would be beneficial.
Alley Kat's previous porters haven't floored me, and this one hasn't either, but I'd say it is an improvement. Worth checking out.
931 characters
2.77
/5
rDev
-25.7%
look: 3 | smell: 3.5 | taste: 2.5 | feel: 2.5 | overall: 2.5
A- This is a fairly dark porter, some light coming through around the edges. The light beige head dissapears really quick leaving just the smallest trace of lacing..
S- Very strong aroma of ground coffee. Hard to pull much else out of it.
T- Palate is overwhelmed with coffee from beginning to end. Just the faintest taste of roasted malt coming through near the finish.
M- Highly carbonated, needs some weight to beef it up.
D- Depthless sums this up. I understand it's a coffee porter, but come on, ground coffee is the only thing I got out of this one. The mouthfeel was way off for the style as well.
608 characters
4.15
/5
rDev
+11.3%
look: 4 | smell: 4 | taste: 4 | feel: 4.5 | overall: 4.5
Pours with about a finger of foamy head. Frosts up the glass with its cold temperature, looks like very very dark coffee or a bar of 90% dark chocolate the head disappears quickly, leaving a slight amount of foam on the top of the glass and a ring of foam around the edge. Looks very refreshing.
Smells strong but not extremely deep. Mouthwatering, hard to write this review up without tasting it right away. Luckily, the smell and the taste are extremely similar. Coffee and chocolate notes blend with strong sour cherries. Delicious. The coffee is particularly strong and authentic in the smooth aftertaste.
Mouthfeel is great, perfect, refreshing carbonation, and extremely drinkable brew. Wow!
700 characters
4.31
/5
rDev
+15.5%
look: 4 | smell: 4.25 | taste: 4.5 | feel: 4 | overall: 4.25
L: Dark Black with a slight brown head on it that lasts for most of the beer.
S: Strong Black Coffee, almost to the point of smelling like an espresso.
T: Pretty much tastes like you are drinking a cold black iced coffee, you could throw some cubes in there and drink it for breakfast and no one would even know.
F: low carbonation but still enough to know thats is a beer and not a coffee.
O: a super good beer, idk how many you could drink of them though before you got tired of it.
488 characters
3.32
/5
rDev
-11%
look: 3 | smell: 3.5 | taste: 3.5 | feel: 3 | overall: 3
Half inch, slightly mocha head. Fades quickly. Lacing is average. Colour is a dark copper brown, almost black.
Scent is fresh, lightly roasted coffee bean and milk chocolate. Like a Coffee Crisp candy bar. Doesn't smell anything like beer, but oh well.
Light body and watery, low carbonation, and dry. Taste is mildly sharp, nutty, and bitter (roast); a light coffee. Beefy broth, mild hops, and finish is faint chocolate.
I was expecting a bit more from this one. It's not bad, but it doesn't stand up to the more flavourful dark beers out there. It is easy drinking with a coffee-chocolate edge. I don't mind it.
It works as a seasonal, but I would rather have seen Alley Kat's Ein Prosit! make a return (and who says you can't have two seasonals?).
756 characters
Coffee Porter from Alley Kat Brewing Company
3.73
out of
5
based on
20
ratings.