Sherbrooke Chocolate Cherry Ostiarius
| Alley Kat Brewing Company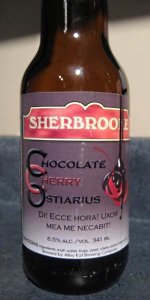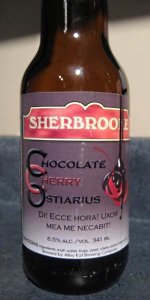 BEER INFO
Brewed by:
Alley Kat Brewing Company
Alberta
,
Canada
alleykatbeer.com
Style:
American Porter
Alcohol by volume (ABV):
6.50%
Availability:
Rotating
Notes / Commercial Description:
No notes at this time.
Added by nafnikufesin on 11-24-2007
Ratings: 15 | Reviews: 13
4.03
/5
rDev
-2.2%
look: 4.5 | smell: 4 | taste: 4 | feel: 4 | overall: 4
341ml bottle. This was last year's holiday seasonal release from Alley Kat for the Sherbrooke liquor store; I found a bottle of this porter buried in my fridge underneath a bunch of summer purchases. Now that summer is officially, and meteorologically, over, the cool weather calls for a drink of this nature.
This beer pours a clear, deep, dark cola hue, with two fingers of frothy, foamy beige head, which leaves some pleasant sea plume lace around the glass as it evenly and slowly subsides.
It smells of chalky cocoa, bitter cherry, a touch of chocolate liqueur - you get the idea - a very inviting aroma, as it evokes the holiday season oh so well. The taste is more big milky cocoa nibs and cherry cordial 'sweetness' battling it out for flavour dominance, with a roasted maltiness and very subtle hop presence rounding out this strangely balanced holiday porter.
The carbonation is moderate and laid back enough, the body a decent medium weight, and generally smooth, with a wee twinge of smoothness, all of which would make for a lovely accompaniment to seasonal desserts.
The play on words in the name is amusing, as is the Latin lament to being out drinking with the boys, which would make more sense if one could actually sit in a dark, dank little pub and down a few pints of this; however, it's a Sherbrooke special, meaning it's best to stay at home and share this with the missus, if she's so inclined.
1,422 characters
3.86
/5
rDev
-6.3%
look: 3 | smell: 4.5 | taste: 3.5 | feel: 4 | overall: 4
Bottle: Poured a light black color porter with a small foamy head with minimal retention and no lacing. Aroma of cherry and sweet chocolate is quite enticing though originating form some syrup. Taste is also a well balance mix between some some cherry blossom with great notes of sweet milk chocolate. Body is a bit thin with low carbonation. I know it does taste somewhat fake but still very good nonetheless.
410 characters

4.25
/5
rDev
+3.2%
look: 4 | smell: 4 | taste: 4.5 | feel: 3.5 | overall: 4.5
341ml bottle poured into pint glass mar8 2011
A looks black until held to the light where it's a super dark cola with ruby hues, thick mocha head quickly falls to a film that leaves a few patches of lace
S black forest cake with some coco and cherry liqueur
T like it smells but with a little more cherry liqueur and some chocolate syrup, faint booze but pretty mellow, almost has a cherry coke thing going for it on the finish pretty darn tasty
M not overly thick but the bubbles give it a creamy feel saving its cause
D super easy to down my only complaint is a thin feel and my lack of desert to go with it
6 months beyond its BB date and I think it could go for a while longer, very mellow yet has strong flavors and I would just love to compare it to a young bottle. Props to Alex at Kawa for stocking this bad boy
826 characters
4.2
/5
rDev
+1.9%
look: 4 | smell: 4 | taste: 4.5 | feel: 4 | overall: 4
Props to joemcgrath27 for hooking me up with this one!
A - Pours a dark dark ruby red with a thin layer of head which dissipates into small islands with no real lacing.
S - Chocolate malts, a bit smokey, and roasted coffee beans. Slight sweet cherry scent on the finish.
T - I definitely noticed the cherry bomb right off the top, and it was much stronger than I anticipated based on the scent. Nicely balanced with a chocolate malt flavour, and the dark cocoa lingers for a while after.
M - Pretty light on the palette, again surprised, as I thought it might be a bit more syropy.
D - Another gem of a recipe. This one packs a nice punch, goes down smooth and gives you a wonderful blend of flavours. The higher ABV is easily hidden and I could easily toss back a few of these in one sitting!
799 characters
3.84
/5
rDev
-6.8%
look: 4.25 | smell: 4 | taste: 3.75 | feel: 3.75 | overall: 3.75
Thanks to biboergosum for this one.
Poured from a 341ml. bottle, no freshness info.
Appearance: 3/4 of the glass fills with a tan head that is bubbly, frothing and as it slowly breaks away, leaves gaping holes and bubbles.
Smell: Dessert-like a bit, more chocolate syrup than cherry.
Taste: Strong on the cocoa, has a mellow cherry flavor.
Mouthfeel: Tad high on carbonation, some nice smoothness though.
Overall: A good stout, not quite dessert-like but enough flavor to keep you hooked.
494 characters
4.02
/5
rDev
-2.4%
look: 3.5 | smell: 4 | taste: 4 | feel: 4.5 | overall: 4
A - poured a very dark barely see through black, with very little mocha coloured head that didn't last
S - a rich dark chocolate dominates, along with a creamy cherry smell, as well as some smokey burt malt
T - smokey and sweet malt along with some hoppy bitterness at first, then the smooth rich chocolate comes through nicely, and while the cherry flavour is subtle but pleasant, it seems a little too "synthetic cherry" for my liking.
M - for how dark it is I found it surprisingly light in feel, and the hop bitterness balanced out the rich sweetness nicely
D - basically a desert unto itself, reminded me of a cherry cream chocolate from a pot of gold box. For such rich flavour, the lightness of feel and overall balance make it very drinkable
749 characters

4.17
/5
rDev
+1.2%
look: 3.5 | smell: 4 | taste: 4.5 | feel: 4 | overall: 4
From notes -
Loaded up last time I was in Edmonton at Sherbrooke.
This beer is a nice dark one, basically black with a thin ring of red hilights when held to the light. Big, bubbly, beige head. Foam fades quickly, minimal lacing.
The aromas are just as advertised, cocoa and dark chocolate, and sweet cherry.
The taste follows, with a nice balance between the porter elements of cocoa, coffee, and roasted malts against the cherry fruit. Moderate carbonation, solid body. Alcohol is well hidden, making this very drinkable. Flavor-filled, but not too heavy or cloying.
Another hit from Alley Kat and Sherbrooke.
614 characters

4.27
/5
rDev
+3.6%
look: 4 | smell: 4.5 | taste: 4 | feel: 3.5 | overall: 5
Oh boy, just moved back to Edmonton and managed to snag a remaining 6 pack of this at the Sherbrooke Liquor Store.
Dark black in colour, although the opaque facade shatters when held up to light, where it takes on a bright reddish cola hue. Thin beige head that quickly dissipates.
The aroma is heavenly decadence... Rich potent chocolate and cocoa, and the unmistakable smell of cherry extract, it all works. I couldn't even tell the characteristics of the malt, the adjuncts are that intense.
The flavour is a big hit of milky chocolate, with the sweet cherry appearing close to the finish. The finish is actually a dry sweet hit of cocoa, which blends with the cherry again on the aftertaste.
The mouthfeel is medium-bodied, yet on the light side. It doesn't accentuate the bold flavours, but it does make them easier to swig down faster.
This is basically liquid black forest cake in a bottle. Not something I can drink everyday, but I do hope Jim plans on possibly making this the Xmas seasonal at his store, as it is a wonderful little indulgence, and one that I enjoyed sharing. There have been some new beer converts with the aid of this one.
1,157 characters
4.15
/5
rDev
+0.7%
look: 3.5 | smell: 3.5 | taste: 4.5 | feel: 5 | overall: 4
A: Nearly opaque, looking mahogany when light is able to shine through. Roasted marshmallow head, sticking around the sides of the glass as it recedes... retention is mediocre.
S: Reminiscent of cherry liquor dark chocolates; Cherry Blossom candy. Nice smelling brew, though the malts and such don't come through a great deal.
T: Managing to keep cherries from tasting like cough syrup tends to be a bit of a challenge. It is successful here... unsweetened/baker's chocolate, rich cherry flavour - but not assaulting. A roasted maltiness that is not really spotted in the aroma. Pretty nicely done.
M: Creamy, almost a little slick. Carbonation is spot on for such a style, just adding enough to give some life without being skimpy or sharp.
D: A pretty nicely done brew... a good weekend treat, a suitable dessert beer, or even for no special occasion. Worth a try.
873 characters
3.95
/5
rDev
-4.1%
look: 3.5 | smell: 3.5 | taste: 4 | feel: 4 | overall: 4.5
Nearly black, very deep brown on the edges. An aggressive pour formed a finger of mocha coloured head, but that faded to a ring rather quickly.
Smells of bakers chocolate and sweet cherry. The cherry smell makes me think of Lifesavers candies. Pleasant smelling, though it gives a slightly artificial impression.
Flavours are a little more "real" than the aroma was. Semi-sweet chocolate with a sweet cherry twist. Slightly roasted finish reminds you that it is a porter base. Chocolate lingers on the tongue for a while.
There is a reasonable amount of body for the style, and the carbonation is on the lighter side, making for a smooth impression. The alcohol is completely invisible. This is an easy beer to drink, and an easy beer to like.
746 characters

4.08
/5
rDev
-1%
look: 4.25 | smell: 4.25 | taste: 4 | feel: 4 | overall: 4
4.23
/5
rDev
+2.7%
look: 4.5 | smell: 4 | taste: 4.5 | feel: 4 | overall: 4
Deep solid black with a thick mocha head that settles nicely. Lacing is thick and beautiful.
Dominant scent of creamy milk chocolate...and cherries. No hint of beer, maybe a hint of hops...but chocolate and cherries all the way.
Medium to full body, creamy with low carbonation. Initially the cherries are quite strong, almost like cough syrup but they mellow out and are quite delicious. Nice hops offering that balances with the chocolately malt and cocoa. Very faintly roasted, ripe cherries that don't overpower, and plenty of balanced porter flavour.
Quite a good show from Alley Kat and Sherbrookes. Pumpkin Pi was ok, but this one is top notch. Have it with a slice of chocolate cake for dessert, or on it's own. Very entertaining and fruitful porter.
762 characters
4.66
/5
rDev
+13.1%
look: 3.5 | smell: 5 | taste: 5 | feel: 3.5 | overall: 4.5
It's a shame that this is only brewed once, we can only hope it's made an annual offering.
Dark, deep reddish brown appearance with slight lacing, bubbles remaining to the finish.
The smell initial of roasted hops in the beer, with chocolate becoming quickly apparent, and finally the cherry starts to blend in with the chocolate, leaving a beautiful aroma that you can simply hold and smell for long periods.
The flavor matches the smell, with the chocolate readily apparent, and intense cherry flavor adding a sweetness at the front of the mouth, being counterbalanced by a pleasant hoppy finish.
Medium bodied with a slightly thin texture, making this a very drinkable beer despite the intense flavors, this is sure to be a favorite of mine through the holiday season.
784 characters
4.12
/5
rDev 0%
look: 4 | smell: 4.5 | taste: 4 | feel: 4 | overall: 4
On my last trip to Sherbrooke I was not planning to come back with a box of this but was convinced (quite rightly) by the staff that this is a beer that I should not leave without.
A: Pours dark, not totally black but certainly opaque enough to get you ready for a full flavored taste
S: Like some of the previous reviewers my first thought after smelling this beer was "I think someone bottled a cake". The aroma is deep with hints of chocolate, quite appealing.
T: This beer tastes like it could be a desert by itself. There are layers of flavor which fade in and out during each sip that will keep you coming back for more.
M: Smooth, quite smooth
D: I could see myself having one of these once in a while but it is definitely too heavy to make into a session beer.
All in all quite tasty!
798 characters
Sherbrooke Chocolate Cherry Ostiarius from Alley Kat Brewing Company
Beer rating:
100%
out of
100
with
15
ratings