Sherbrooke Bad Hare Day
| Alley Kat Brewing Company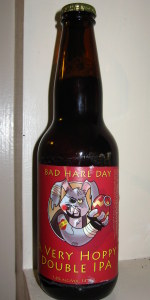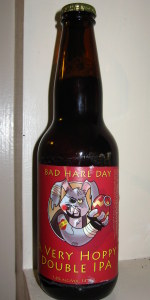 BEER INFO
Brewed by:
Alley Kat Brewing Company
Alberta
,
Canada
alleykatbeer.com
Style:
American Double / Imperial IPA
Alcohol by volume (ABV):
7.80%
Availability:
Spring
Notes / Commercial Description:
No notes at this time.
Added by nafnikufesin on 03-25-2008
Ratings: 30 | Reviews: 25
4.15
/5
rDev
+0.7%
look: 4 | smell: 4 | taste: 4 | feel: 4.5 | overall: 4.5
Quite clear and coppery in colour, with a finger of beige head that has a bit of staying power.
A fresh mix of flowery and citrus hop aromas hit the nose. Grapefruit is probably the most notable single aroma. Even a bit of pine sneaks in there. Malt practically hidden in the smell.
Balance isn't ignored even though this is a hophead's style. There is enough malt to open the taste with a hit of honey or toffee sweetness. From there in the hops take over. Citrus and pine. Not overpowering if you like hops, but more than enough to satisfy.
Not thick but not thin, the body has a faintly oily feel. Carbonation is lively but doesn't seem coarse.
For this style, this is a fairly drinkable brew. I've been going through these fairly quickly since picking up the six pack.
776 characters
4.2
/5
rDev
+1.9%
look: 4 | smell: 4 | taste: 4.5 | feel: 4 | overall: 4
Great clarity on a deep amber brew. Lasting one-inch head with thick lacing.
Apricots, peaches...candy-like scent and nicely floral from the hops. Very nice for spring.
Medium bodied, crisp, slightly creamy. Initial sharp bitterness from the hops that follows through well with a nice malt popping out in the dry, woody finish. Well balanced and full of flavour with a piney, zesty edge and a hint of roasted barley.
Great on it's own, but would be tasty with a spicy dish...or maybe butter chicken? I'm impressed and will see this again, high-five Alley Kat!
562 characters

4.32
/5
rDev
+4.9%
look: 4 | smell: 4.5 | taste: 4.5 | feel: 4 | overall: 4
Contract brewed for the Sherbrooke Liquor Store in Edmonton by Alley Kat, and this comes in a white 6-pack case with a listing of various strange sentences pasted all over. Bottle label is a simple red one with a cartoon rabbit. Pours a lovely ruby/copper colour, with excellent head rentention. The aroma is a blast of North American hoppiness, plenty of grapefruit and medicinal herbal notes. Never overwhelmingly dry or one-sided, blended with some robust malting as well. The hopping is expertly balanced here though, folks. Taste is a wonderful burst of herbal sweetness, along with flowers, honey, cinnamon and just all in all well balanced, but hops taking a commanding role, without overwhelming bitter qualities. Mouthfeel is nice and full, lingering well, and the drinkabilty, due to balance, is better than average. There's something to be said in the balance of the hopping here. Never overwhelming in taste, but absolutely dominating the aroma with lovely floral characteristics and filled to bursting with sweet grapefruit and pomegranate. Cheers. Like Tree's Hophead, this is a western canadian strong ipa to be reckoned with. Superb. Paired nicely with brie.
1,174 characters
4.27
/5
rDev
+3.6%
look: 4 | smell: 4.5 | taste: 4 | feel: 4.5 | overall: 4.5
341ml bottle. Well, well, well. My favorite brew style, which I normally have to cross provincial and international borders to get my hop-crazy hands on, is now being made by my local micro for a local liquor store. Bring. It. On! It is indeed a little strange seeing the regular-sized Alley Kat bottles housing a DIPA, I was half expecting a bomber, but oh well. The ongoing flippant approach to major holiday themes on their labels works for me - Bugs Bunny's reprobate cousin graces this one in a nod to Easter.
This beer pours a glassy, pale orange-tinted amber hue, with two healthy fingers of foamy, porous, off-white head, which dissipates after quite a lazy spell, leaving some thick limestone cliff lacing around the glass.
It smells quite fully of floral, perfumed hops up front, followed closely by grapefruit rind, orange flesh, and a subtle tint of pine resin, with a sturdy bready caramel maltiness. The flavour, is, as the bottle proclaims, quite hoppy and bitter - unripened grapefruit mostly - a hint of apple and peach orchard fruitiness, with a caramel/toffee malt presence that keeps the hops from becoming overpowering, but just barely.
A mild carbonation gives this an actually decent mouthfeel, but with all that lovely hop astringency still roiling things up somewhat, I'd say. The body is an ethereal medium weight, and duly smooth, and it finishes on the sweet side, the caramel malt bolstered by the sugary nature of all that fruity hoppiness.
Oh, what else can I say - I'm rather infatuated with this beer, on so many levels! The best double IPA that I've encountered? Well, probably not. But the fact that it's made right here in Edmonton, finally, and true to the style? That makes me want to further wax poetic, but I'll spare the sensibilities of anyone reading this, and just say, Huzzah, Alley Kat (and Sherbrooke Liquor), it's been a long time coming for our neck of the woods, and it was well worth the wait.
1,949 characters
4.1
/5
rDev
-0.5%
look: 4 | smell: 4 | taste: 4 | feel: 4 | overall: 4.5
Alley Kat and Sherbrooke Liquor Store combine forces to strike gold once again!
Brown color with nice wisping, very nice hoppy aroma with citrus and floral hints. Very smooth, with a hoppy punch that is bold but not overpowering, leaving a very flavorful, yet very drinkable and thristquenching brew.
301 characters
Sherbrooke Bad Hare Day from Alley Kat Brewing Company
Beer rating:
93.3%
out of
100
with
30
ratings